High-SchoolBoys-Basketball:

Arkansas
June, 1, 2012
6/01/12
12:26
PM ET
Let's get something out the way real quick:
Bobby Portis
could care less about player rankings.
The Hall (Little Rock, Ark.) junior rarely visits recruiting databases, opting to test his mettle against the nation's top players on the hardwood rather than in cyberspace.
But after receiving a tweet last week notifying him that he was rated the No. 12 player in the new
ESPN 100 rankings for the Class of 2013
, the Arkansas commit grew a bit curious and had to sneak a peek. Portis' new rating heading into the thick of the AAU season was 20 spots higher than his previous status in the ESPN 60.
"I hadn't looked at them since last August when I was like 35th," says the 6-foot-9 power forward. "I think it's an honor, but you can't get caught up looking at it."
Portis made a name for himself during his sophomore season as a defensive ace with the ability to defend up to four spots on the court. But he was admittedly a weak player who was soft in the paint and lacked the conditioning of an elite prospect. Therefore, he didn't garner the same attention as his peers.
"I think being ranked in the 30s was right at the time," Portis said. "People said I should have been higher, but I never looked at it like that. I just kept working hard."
Portis attributes his recent rise in notoriety to enhancements to his mid-range game and ball handling. He also became a high motor player on both ends of the floor thanks to improved conditioning and put more of an emphasis on his leadership and doing the grunt work necessary to will his team to victory.
He was a changed player during the high school season, notching 17 points and ripping down 11 boards a contest as Hall completed a three-peat at state. His retooled offensive arsenal (13.4 points a game) has turned heads nationally on the AAU scene, as he powered the Arkansas Wings to a 13-7 record at EYBL and a berth in July's Nike Peach Jam.
"If you're not getting better, you're getting worse," says Portis. "Looking on ESPN and seeing No. 12, it motivates me. But when I step on the court, (I know) other players want to out-perform me. I just want to move up even more."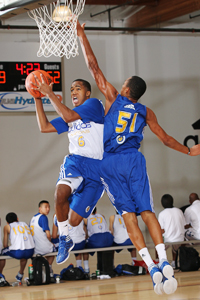 Kelly Kline/Getty ImagesFresh off a huge performance at NHSI, Montverde guard Kasey Hill is No. 6 in the Class of 2013.
Like Portis, Montverde Academy (Montverde, Fla.) point guard
Kasey Hill
has never been a big believer in player rankings. But after lighting it up at some prestigious postseason events, Hill saw his stock rise from No. 18 to No. 6 in the current ESPN 100.
The Florida recruit averaged 15.4 points and 7.2 assists per game during the regular season, but it was his showing at the
National High School Invitational
in April that helped vault him toward the top of the rankings. Hill posted 20 points and seven assists in a semifinal win over Montrose Christian (Rockville, Md.), then exploded for 23 points and six assists in the championship game against powerhouse Findlay Prep (Henderson, Nev.).
Hill was the best player on the floor against Findlay Prep, which finished No. 2 in the
POWERADE FAB 50
. His quickness, court vision and superior ball-handling were on full display in an overtime loss.
"I think it started with the NHSI," says Hill. "I played pretty well there. I showed I can get my teammates involved and play consistently against the best competition."
Hill tries not to think about his current ranking, but that doesn't mean he's satisfied, either.
"I like being ranked highly," says Hill. "But the important thing is for me to continue to work hard and stay consistent so I don't drop. If I work hard enough, I feel like I can go even higher."
Here's a look at four other players who have seen their stock rise dramatically.
Ishmail Wainright
, Montrose Christian (Rockville, Md.)
Previous ranking: No. 27
Current ranking: 18
Differential: 9
Why the rise: This talented small forward boasts an NBA body at 6-foot-6, 220-pounds, and he is coming off a junior season in which he helped power the Mustangs to No. 14 in the POWERADE FAB 50. Wainwright was a stat-stuffer playing alongside Virginia-bound star Justin Anderson, averaging 8.0 points, 8.2 assists, 4.4 rebounds and 2.6 steals per game in his first season at Montrose after transferring from St. Louis, Mo. He ended the year on a high note by averaging a near double-double at NHSI.
Sindarius Thornwell
, Oak Hill Academy (Mouth of Wilson, Va.)
Previous ranking: 47
Current ranking: 23
Differential: 24
Why the rise: Thornwell has been one of the most impressive players during Nike Elite Youth Basketball League play, scoring 16.9 points per game while leading Team United to a 9-5 record and a berth in the Nike Peach Jam. At 6-foot-4, Thornwell brings physicality to his shooting guard position, as evidenced by his 7.3 rebounds per game in EYBL. If he improves his outside shooting touch, he has the potential to rise even higher in the rankings.
Rondae Jefferson
, Chester (Pa.)
Previous ranking: No. 38
Current ranking: 22
Differential: 16
Why the rise: Jefferson is all about versatility. The 6-foot-6, 210-pounder is still growing into his body, and his potential has college coaches salivating. This past season, Jefferson showed he could play anywhere from point guard to power forward, and while he averaged just 12.1 points per game, he flashed the kind of offensive skills that could someday translate to the NBA game.
James Young
, Troy (Mich.)
Previous ranking: No. 10
Current ranking: 5
Differential: 5
Why the rise: High school juniors are usually far from finished products, and that's what makes Young so impressive. The 6-foot-6 shooting guard is a polished scorer, able to score off the dribble or from the outside with his smooth shooting stroke. This past season, he averaged 25.1 points and 10.5 rebounds per game, and he's continued to show a well-rounded scoring arsenal on the summer circuit.
November, 2, 2011
11/02/11
12:44
AM ET
By
Jason Jordan
| ESPN.com
Matt Jones
is far from rude, but, on this one, his interjection is well-warranted.
Why?
He doesn't have to think about the question. Not even a bit.
Jones knows exactly how to answer it immediately, so when he hears "Where would your career be without the 3-point line?" Jones interrupts very matter-of-factly with "Nowhere."
"The reality is that I've got all of these schools recruiting me because of my ability to shoot the 3," said Jones, a junior shooting guard at DeSoto (DeSoto, Texas) who is mulling over offers from Duke, North Carolina, Texas, Florida, Kansas and Arizona, among others. "So if there's no 3-point line, there may be no Matt Jones. I'd probably be fighting for a low D-II scholarship. I owe the people that brought the 3-point line to the high school game. I owe them big."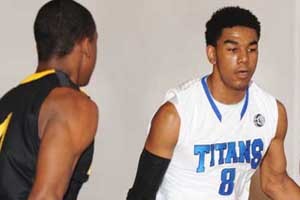 Scott Kurtz/ESPNHSMatt Jones said his ability to shoot the three is what makes him a hot commodity.
Jones' sentiments are shared by thousands of other marksmen around the country who are grateful that in 1987, the National Federation of State High School Athletic Associations adopted the 3-point line. College hoops introduced it the year before.
"The creation of the 3-point line was the most impactful change the high school game has ever seen," said NFHS executive director
Bob Gardner
. "Obviously, high schools don't have the financial resources that colleges do, so we needed that extra year to paint the lines and things like that. We also wanted to see what type of impact it made on the game, and it was bigger than anyone could've ever imagined."
Huntington Prep (Huntington, W.Va.) swingman
Andrew Wiggins
agreed. He said that without a 3-point line, the game would have less excitement.
"I think that would change a lot of the endings of games," said Wiggins, a sophomore who is the top-ranked player in the
ESPNU 25
. "You could be down 12 with one minute to go and hit a 3, and it just does something to your team. It hypes everyone up. Without 3s, so many players would be just average. I mean, where would Ray Allen be without 3s? Shooting guards would be real average."
That's precisely the reason the NFHS decided to implement the arc 24 years ago.
"The high school game was being dominated in the paint," Gardner recalled. "So if you didn't have a tall guy down there, you were at a tremendous disadvantage. The 3-point line was the ultimate equalizer. It really expanded the game for smaller guards."
Big guards, too.
As Sylvan Hills (Little Rock, Ark.) shooting guard
Archie Goodwin
, a 6-foot-5 athlete who is notoriously known for posterizing defenders, pointed out, the 3-point line makes the defense guard the perimeter, thus opening up the lane for breakdown guards.
"If there wasn't a 3-point line they'd just drop back to the free throw line, so you couldn't finish with high-percentage shots," Goodwin said. "It would all be two points, so that would be the smart thing to do defensively. I'm so glad we have an arc because I don't think basketball would have as many dunks and highlights. Having it helps everyone."
That prevailing theme became more real to Jones as the conversation progressed. He paused suddenly, as though he was pending for thought, then revisited his gratitude.
"I'm telling you, man, I owe them a lot for bringing that 3-point line," Jones said. "This line has changed my life. I owe them one or two thanks."
Maybe even three.
Jason Jordan is the basketball editor for ESPNHS. He can be reached at
jason.x.jordan.-ND@espn.com
. Don't forget to follow him on Twitter:
@JayJayESPN
September, 21, 2011
9/21/11
3:56
PM ET
By
Jason Jordan
| ESPN.com
Goodwin Picks Kentucky
When
Archie Goodwin
took to
Twitter
Tuesday night to announce what he'd known ever since Kentucky coach
John Calipari
left his house less than a week ago, he expected that the response would be overwhelming.
"Any time someone commits it's big news," said Goodwin, a senior shooting guard at Sylvan Hills (Little Rock, Ark.). "But when you commit to a place like Kentucky, it can be a little crazy. There's so much tradition there."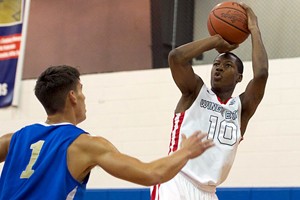 Steven Johnson/ESPNHSArchie Goodwin said he wants to play with other top players.
Goodwin, who is ranked No. 13 in the
ESPNU 100
, picked the Wildcats over Memphis and Arkansas, and estimates that he's fielded "more than 100 calls" since 11 p.m. last night from reporters, friends, family and fans.
"When I woke up this morning I had 160 text messages, 40 voicemails and I had over 200 emails," Goodwin said. "It's crazy. I've got about 2,000 more followers on
Twitter
since Tuesday night at 11 p.m. I couldn't get to a lot of the calls, there were just so many."
Goodwin did, however, find time to answer a few; specifically the ones he got from recruits expressing their interest in joining him in Lexington.
Hamilton Southeastern's (Fishers, Ind.)
Gary Harris
, a senior shooting guard who is ranked No. 10 in the
ESPNU 100
, and Arlington Country Day's (Jacksonville, Fla.)
Torian Graham
, a senior shooting guard who is ranked No. 38, both contacted Goodwin congratulating him and inquiring about the possibility of playing together in college.
And though Bishop Gorman (Las Vegas, Nev.) swingman
Shabazz Muhammad
, the top-ranked player in the
ESPNU 100
, didn't say so last night, Goodwin said the two have spoken about the possibility of teaming up as well.
"I told them let's do it," Goodwin said. "I'm not that guy who's gonna pressure anyone so I let them reach out to me first, but when they do I definitely try and get them to join me. I want to play with the best because I think it's the best way to win. And I definitely plan to win."
Don't forget to follow Jason Jordan on Twitter: @JayJayESPN