High-SchoolBoys-Basketball:

Billy Donovan
June, 10, 2012
6/10/12
9:01
PM ET
By
Ronnie Flores
| ESPN.com
Following nine U18 national team training sessions, USA Basketball announced its 12-man roster that will train through June 11 before departing for Brazil on June 12.
There the 2012 USA Men's U18 national team will compete for the 2012 FIBA Americas U18 Championship. The event takes place June 16-20 in Sao SebastiŠo do Paraiso, Brazil.
The eight teams competing in the event include Argentina, Brazil, Canada, Colombia, Mexico, Puerto Rico, the United States and the U.S. Virgin Islands. The top four finishers qualify for next summer's 2013 FIBA U19 World Championship.
The following is the official 12-man 2012 USA Men's U18 National Team:
Nate Britt
, Gonzaga (Washington, D.C.) 2013
Sam Dekker
, Sheboygan Lutheran (Sheboygan, Wis.) 2012
Shaq Goodwin
, Southwest DeKalb (Decatur, Ga.) 2012
Jerami Grant
, DeMatha Catholic (Hyattsville, Md.) 2012
Montrezl Harrell
, Hargrave Military Academy (Chatham, Va.) 2012
Jake Layman
, King Philip Regional (Wrentham, Mass.) 2012
Rodney Purvis
, Upper Room Christian (Raleigh, N.C.) 2012
Julius Randle
, Prestonwood Christian Academy (Plano, Texas) 2013
James Robinson
, DeMatha Catholic (Hyattsville, Md.) 2012
Marcus Smart
, Marcus (Flower Mound, Texas) 2012
Jarnell Stokes
, Southwind (Memphis, Tenn.) 2011
Rasheed Sulaimon
, Strake Jesuit College Prep (Houston) 2012
All players eligible for the FIBA U18 Championship must have been born on or after Jan. 1, 1994.
The USA Basketball Men's U18 National Team is coached by the University of Florida's Billy Donovan. His assistants are Gonzaga's Mark Few and Virginia Commonwealth's Shaka Smart.
The team includes two former high school teammates -- Grant and Robinson. Last season the duo helped DeMatha Catholic to a 30-5 record and No. 13 ranking in the
POWERADE FAB 50
. The team also includes nine players ranked in the
2012 ESPN 100
and two ranked in the
class of 2013 ESPN 100
-- Randle (No. 2) and Britt (No. 22).
One player on the roster has collegiate experience. Stokes was originally a member of the 2012 class, but enrolled at the University of Tennessee mid-term after the Tennessee Secondary School Athletic Association ruled he was ineligible to play at Southwind for the 2011-12 season. He averaged 9.6 points and 7.4 rebounds for the Vols last season.
The USA Men's U18 National Team is 38-2 since it began competing in 1990. In its previous appearance in the FIBA Americas U18 Championship in 2010, team USA won the Gold Medal when former Baylor forward
Quincy Miller
hit a game winning 3-pointer in an 81-78 victory over Brazil. Former Duke guard
Austin Rivers
led team USA to a 5-0 record by averaging 20.2 points per game.
Ronnie Flores is a senior editor for

ESPNHS

. He can be reached at
ronnie

.

flores

@

espn

.com
. Don't forget to follow him on Twitter:
@

RonFloresESPN
June, 5, 2012
6/05/12
10:00
AM ET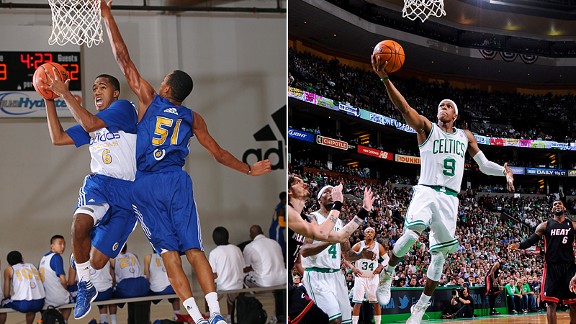 Kelly Kline/Getty Images and Brian Babineau/NBAE via Getty ImagesKasey Hill, the No. 6 player in the ESPN 100, enjoys being compared to Celtics superstar Rajon Rondo.
This summer, ESPNHS will sit down with some of the nation's elite players to break down their game, talk about the inevitable comparisons to college and pro players and get their take on who they pattern their game after.
Player:
Kasey Hill
School:
Montverde Academy (Montverde, Fla.)
Position:
Point guard
Height/weight:
6-0/170
ESPN 100:
No. 6
Who is Kasey Hill?
The term "pure point guard" is in vogue right now, and it's a label that describes Hill perfectly. A textbook floor general, Hill is always in complete command on the court. As a junior last season, he posted 15.4 points and 7.2 assists per game while guiding Montverde Academy to the finals of the
National High School Invitational
and a No. 9 ranking in the
POWERADE FAB 50
. But more impressive than the numbers is the way Hill controls the game.
"I don't get rattled under pressure," says Hill, a Florida recruit. "No matter what the defense is doing, I don't let them rush me into making decisions. I take my time and put my teammates in position to make plays."
Scouting report:
Sure, Hill can slither to the rim for lay-ups or step back and bury jumpers, but he's not a scorer -- he's a point guard first and foremost. Few high school players see the court the way Hill does, and he has the natural athleticism to make difficult passes, either on the break or in the half-court. According to
ESPN Recruiting Nation
, Hill can "get to wherever he wants on the court," combining a "tight and fluid" handle with "excellent court vision and feel for the game." His jump shot isn't perfect yet, but he shows good enough form to believe he'll eventually become a productive outside shooter. He should fit in perfectly at Florida, where coach Billy Donovan likes to run a guard-heavy spread offense.
Most frequent comparisons: Rajon Rondo, Kyrie Irving, John Wall

ESPNHS comparison: Rajon Rondo
Hill's coach at Montverde Academy, Kevin Boyle, knows a thing or two about point guards -- he also coached Kyrie Irving in high school. And some scouts see similarities between the two players, pointing to Hill as a mid-tempo point guard who can cruise into the lane at will. But we see Hill as a more natural and creative distributor, someone who can draw defenders and then whip a wraparound pass at an impossible angle and hit an open teammate in stride. Someone like Rajon Rondo, the Boston Celtics' triple-double machine. Hill can push the tempo when the opportunity is there, and his slick dribbling ability allows him to cave in defenses just like Rondo.
Kasey's comparison: Rajon Rondo
Hill says the two comparisons he hears most often are Rajon Rondo and John Wall, and he particularly enjoys the Rondo resemblance.
"People say that the way I pass is kind of like Rajon Rondo, and the way I move my feet is like John Wall," says Hill. "I love Rondo, and to say my passing is like his is like the highest level you can get. I love John Wall, too. I don't think I'm anywhere near their level yet, but I try to take things from them and put it in my game."
Follow Mike Grimala on Twitter (@MGrimalaESPN).