High-SchoolBoys-Basketball:

Bishop Gorman
March, 29, 2012
3/29/12
1:19
AM ET
By
Ronnie Flores
| ESPN.com
CHICAGO -- With the approach he took to this game, did it really surprise anyone that
Shabazz Muhammad
of Bishop Gorman (Las Vegas) captured MVP honors at the 2012 McDonald's All-American Game?
Muhammad let it be known early he was in charge, scoring nine consecutive points for the West squad in the game's first three minutes. The 6-foot-6 forward set the tone and gave the West team a quick 11-2 lead en route to its 106-102 victory.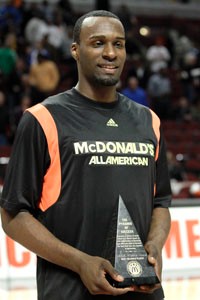 Charles Rex Arbogast/APShabazz Muhammad scored a game-high 21 points to earn MVP honors at the McDonald's All-American Game.
"At the shootaround, I was thinking I wanted to come out and dominate," said Muhammad, who finished with a game-high 21 points on 10-of-18 shooting to go along with six rebounds. "At the beginning of the game, I was really getting up and down the court, and things were going good for me."
Rated the No. 2 recruit in the
ESPNU 100
, Muhammad's competitive fire is one of the attributes that separates him from the other players in the Class of 2012. Capturing MVP honors at Wednesday night's game was the culmination of that approach.
"No matter what event you go to, you want to be known as the best player in the event," Muhammad said. "When everything is cooking, it's a beautiful thing."
Muhammad said he's going to return to Las Vegas and relax for a few days before focusing on his next endeavors -- playing in the Jordan Brand Classic (ESPN, April 14, 7 p.m. ET) and making his much-anticipated college decision.
In a nationally televised pregame interview, Muhammad said three colleges are still in play for his services: UCLA, Kentucky and Duke, in no particular order. At the news conference following the game, Muhammad said it would be special to join
Archie Goodwin
of Sylvan Hills (Little Rock, Ark.) and
Alex Poythress
of Northeast (Clarksville, Tenn.) at Kentucky if he were to choose the Wildcats. Those were the two players seated next to him at the podium.
"If I went to Kentucky," Muhammad said, "that can be a really good class."
Same Town, Different Team
Despite growing up 15 minutes apart,
Gary Harris
of Hamilton Southeastern (Fishers, Ind.) and
Yogi Ferrell
of Park Tudor (Indianapolis) ended up playing on opposite McDonald's All-American teams Wednesday night.
Ferrell was one of the standouts for the winning West squad, finishing with three points and a team-high eight assists. Harris suited up for the losing East squad, finishing with two points and five rebounds.
"It's kind of crazy ... we live in the same state and the same city," said Harris, a Michigan State pledge who is rated the No. 11 recruit in the ESPNU 100. "I think it's kind of funny how it all worked out."
"When it was announced on ESPN, a lot of people [in Indianapolis] were surprised by it," said Ferrell, an Indiana recruit who led Park Tudor to its second consecutive Indiana Class 2A state title this season.
They never attended school together but got to know each other quite well on the AAU circuit over the years. They first met in fourth grade, and to say Harris was impressed with Ferrell's game would be an understatement.
"The first time I saw him, he was the quickest player I've ever seen," Harris said. "Things haven't changed much since then."
Ronnie Flores is a senior editor for ESPNHS. He can be reached at
ronnie.flores@espn.com
. Don't forget to follow him on Twitter:
@RonFloresESPN
February, 22, 2012
2/22/12
11:44
AM ET
By
Mark Tennis & Doug Huff
| ESPN.com
This week's highest-ranked newcomer to the
FAB 50
is No. 32 La Lumiere (La Porte, Ind.).
The Lakers created national headlines on Dec. 29 when they defeated current FAB 50 No. 2 Findlay Prep (Henderson, Nev.) 67-66 at the Mike Miller Classic event in Sioux Falls, S.D.
Since the 200-student, 47-year-old private co-ed boarding school had no previous comparable wins over an elite prep program, observers couldn't help but wonder if the northern Indiana school was a "one-hit wonder."
After that holiday contest, neither team has lost a game.
Findlay has won 13 in a row, including wins over three top-ranked foes -- No. 5 Marcus (Flower Mound, Texas), No. 6 Simeon (Chicago) and No. 15 Bishop Gorman (Las Vegas) -- and it is a solid No. 2 in the FAB 50 behind unbeaten Oak Hill Academy (Mouth of Wilson, Va.). The Lakers, meanwhile, are now riding an 18-game win streak with a 24-2 overall record and moved into the FAB 50 for the first time.
To be eligible for the FAB 50, schools must not accept post-graduates and confirm they are allowed to participate against member schools that belong to the state high school association where the program resides. Once the Indiana State High School Association confirmed the Lakers met those requirements, the only reason they wouldn't be ranked was if their on-the-court resume was not strong enough.
Until a few years ago, La Lumiere was noted mostly for its academics and college prep curriculum. With graduates like Supreme Court Chief Justice John Roberts, the reputation was well-earned.
In 2005, the school, in an effort to improve its athletic program, hired former Indiana high school basketball All-American Delray Brooks as basketball coach. The Lakers improved their talent level under Brooks before he departed after a five-year stint.
Enter current coach Alan Huss in 2010, who had coached at Culver Academics (Culver, Ind.). Beefing up the schedule and talent base even more, the Lakers currently have five college scholarship players on the roster, including 6-foot-5 Raphael Davis (Purdue), 6-foot-8 Hanner Perea (Indiana) and point guard Andre Drummond (Southern Illinois). A touted sophomore is 6-foot-10 Johnathon Wilkins.
Newcomer Mitty familiar with Jeremy Lin
This week's other newcomer to the FAB 50 is No. 50 Archbishop Mitty (San Jose, Calif.). And since Jeremy Lin connections are sought wherever possible, we can bring it to the FAB 50 through the Monarchs.
When Lin was a senior at Palo Alto (Calif.) in the 2006 season, Archbishop Mitty stood in the way of Lin's team as it was going for the CIF Division II state title. Palo Alto had to beat Mitty to win the Central Coast Section crown and then had to get past the Monarchs again in the Northern California championship. Palo Alto won both times (the second time it took a last-second 3-pointer by one of Lin's teammates) and eventually won the state title.
Mitty's team that season was led by sophomore Drew Gordon, the older brother of current Monarchs' sensation Aaron Gordon. Drew is now starring at the University of New Mexico. Aaron still has one more year left of high school.
It's more of a reach, but two other current FAB 50 schools with ties to Lin would be No. 1 Oak Hill Academy (Mouth of Wilson, Va.) and No. 17 St. Benedict's (Newark, N.J.). Oak Hill is the alma-mater of Lin's New York teammate, Carmelo Anthony, while St. Benedict's is the alma-mater of another teammate, the newly acquired J.R. Smith.
FAB 50 Spotlight Player of the Week
Cleveland "Pancake" Thomas, Scotlandville (Baton Rouge, La.)
The 6-foot-3 senior guard helped the Hornets advance to last year's Class 5A state title game before they lost to St. Augustine (New Orleans).
This year, the Louisiana-Lafayette Ragin' Cajun recruit wants to close the deal as his team has been seeded No. 1 in the state playoffs that start this week.
Earlier in the season, Thomas led the Hornets to a 54-53 revenge win over St. Augustine.
Last week, in a tune-up game for the playoffs, Thomas scored a game-high 28 points to pace the Hornets to an 86-41 victory over Walker (La.) and push the team's record to 31-2 and up to No. 18 in the FAB 50.
At Louisiana-Lafayette, Thomas will join brother J.J. on the Ragin' Cajun roster.
Looking Ahead: Bishop Gorman season to end
Several teams in this week's rankings have just two weeks left before hopefully wrapping up their seasons with a state championship.
For No. 15 Bishop Gorman (Las Vegas), though, its attempt at finishing off its year with a state crown will take place this weekend.
The Gaels, led by
Mr. Basketball USA front-runner Shabazz Muhammad
, open the Class 4A state tourney Friday night at the Lawlor Events Center in Reno against Douglas (Minden, Nev.).
If Bishop Gorman wins, its state championship opponent will be either Proctor Hug (Reno, Nev.) or Green Valley (Henderson, Nev.).
Last year, just like this year, the Gaels (26-4) were a huge favorite to win their state title, but they were upset in the semifinals by Bishop Manogue (Reno, Nev.).
Of the teams potentially finishing in two weeks, No. 36 Wayne County (Waynesboro, Miss.) already knows it will be in the Class 5A state semifinals on Feb. 28 with a matchup against Starkville (Miss.). The War Eagles are the defending champions and have won 62 of their last 63 games.
February, 5, 2012
2/05/12
9:59
AM ET
By
Ronnie Flores
| ESPN.com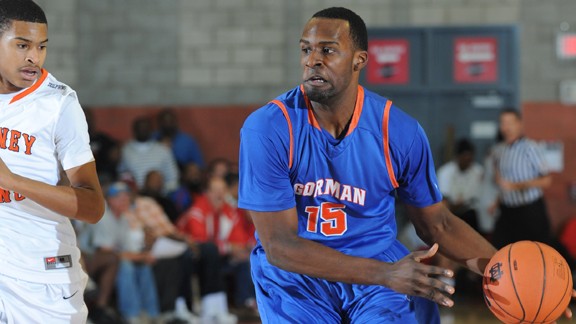 Scott Kurtz/ESPNHSShabazz Muhammad of Bishop Gorman (Las Vegas) had a 41-point performance in the final showcase game of his high school career.
Nike Extravaganza:
Saturday morning recap
|
Friday recap
|
Preview
SANTA ANA, Calif. -- Whitney Young (Chicago) came into its matchup against
POWERADE FAB 50
No. 20 Bishop Gorman (Las Vegas) on Saturday at the Nike Extravaganza without much to lose.
After all, Whitney Young was missing two starters, guard
Paul White
and center
Thomas Hamilton Jr.
, to injury. The team played a grueling national schedule and limped into the contest as a dangerous 12-7 squad.
Bishop Gorman had its own statement to make. It wanted to prove it was still among the nation's best teams despite four losses. Star player
Shabazz Muhammad
wanted to make a statement about being the nation's best player despite his recent drop from No. 1 to No. 2 in the
ESPNU 100
.
Gorman stated its case by capitalizing on a 29-12 third-quarter advantage en route to a 69-50 victory.
Muhammad did the same, converting 13 of 20 shots, including 6-of-6 from 3-point range, and making 9 of 10 free throws in a 41-point performance.
"I have been asked that question thousands of times," said Bishop Gorman coach Grant Rice on Muhammad's new spot in the ESPNU 100. "I don't have the answer, but I know [Muhammad] doesn't need motivation. You guys have seen him for the past two years. He's just trying to get through this season, make his college decision and leave his mark on high school basketball."
Muhammad, the top vote getter in the latest
ESPNHS Mr. Basketball USA Tracker
, scored Bishop Gorman's first 12 points. When he hit a 3-pointer near the end of the first quarter, he had 15 of the Gaels' 18 points.
Muhammad had 21 points in the first half. He keyed a 10-0 run in the pivotal third quarter with two 3-pointers.
January, 30, 2012
1/30/12
7:00
AM ET
By
Jason Jordan
| ESPN.com
Rodney Purvis has never been one to rest on his laurels so it's no wonder that when asked what midseason grade he'd give himself, Purvis didn't hesitate to start with what he wanted to improve on.
"As a player you can't think that you're doing everything right," Purvis said. "You should always be looking to improve. That's the only way you'll reach your goals, and mine are high."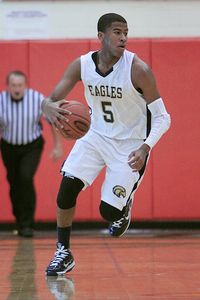 Steve Blake/CKY SportsL.J. Rose is happy with where he's at, but wants to continue to improve.
Purvis isn't alone there.
We asked a handful of players to grade their performances at the midpoint of the high school season. From the top players in the country to players on the come-up, the consensus was that there's room for improvement.
Rodney Purvis
, Upper Room Christian Academy (Raleigh, N.C.), SG, 2012
Signed to: North Carolina State
My midseason grade is…

"Definitely a B+ because there is so much more that I want to improve on. Things like defense, rebounding, talking more and getting a more consistent motor."
L.J. Rose
, Westbury Christian (Houston), PG, 2012
Signed to: Baylor
My midseason grade is…
"Got to say a B because you can always get better. But I feel like I've done a great job of being more of a vocal leader on the court and also been playing pretty well. We are now 20-2 and we are hoping to keep the losses at two and finish out March with a state title."
Rasheed Sulaimon
, Strake Jesuit (Houston), SG, 2012
Signed to: Duke
My midseason grade is…

"B+ because I feel like I've done a really good job of leading my team to a 19-3 record and played well offensively and defensively. I still need to get better, get my teammates better and just get better as a whole."
Shabazz Muhammad
, Bishop Gorman (Las Vegas), SF, 2012
Uncommitted
My midseason grade is…

"B+ because I feel like I've done a good job of leading my team and contributing on the offensive and defensive ends. I do whatever it takes to help my team win."
Xavier Rathan-Mayes
, Huntington Prep (Huntington, W.Va.), SG, 2013
Uncommitted
My midseason grade is…

"A- and the reason for that is I've been playing real well this season putting up big numbers, getting other guys involved and playing good defense. I always take the challenge of guarding the best player on the other team."
Jason Jordan is the basketball editor for ESPNHS. He can be reached at jason.x.jordan.-ND@espn.com. Don't forget to follow him on Twitter: @JayJayESPN.
January, 21, 2012
1/21/12
8:50
PM ET
By
Ronnie Flores
| ESPN.com
LAS VEGAS -- In a scene reminiscent of the glory days of UNLV basketball when iconic coach Jerry Tarkanian led the Runnin' Rebels to three NCAA Final Fours between 1987 and 1991, basketball was the talk of Sin City on Saturday.
It wasn't a college game, however, that had the city buzzing. The excitement surrounded a contest dubbed the Big City Showdown Challenge between POWERADE FAB 50 No. 16 Bishop Gorman (Las Vegas) and No. 3 Findlay Prep (Henderson, Nev.).
In front of a standing-room-only crowd at Cox Pavilion for a game that sold out two days after tickets went on sale, Findlay Prep used an 18-1 second-half run to spark its 73-61 victory.
Dominic Artis
and
Nigel Williams-Goss
led the way for Findlay Prep, scoring 21 points apiece and making big plays seemingly every time Bishop Gorman made a push. Artis also had seven assists and two steals to pace the victors.
"Artis is just comfortable out there," said Findlay Prep head coach Michael Peck. "It took him a while to get used to playing and being effective in our system. He's now comfortable and confident. He may go all 32 minutes the rest of the way for us."
Findlay Prep took control early after both teams started the contest tight. A baseline jumper by Bishop Gorman's
Shabazz Muhammad
ended a 16-5 run by Findlay Prep and made the score 28-22 midway through the second quarter. Bishop Gorman (14-4) eventually cut its deficit to two points, but Findlay Prep's
Amedeo Della Valle
hit a 3-pointer to give Findlay Prep (19-1) a 33-28 lead with with 20 seconds remaining in the half.
That's when Bishop Gorman's
Rashad Muhammad
(nine points) hit a 3-pointer and
Ben Carter
followed by connecting on a 70-foot heave at the halftime buzzer to give Bishop Gorman a 34-33 lead and all the momentum heading into intermission.
But the momentum didn't last.
Findlay Prep ended the third quarter with a 13-0 run to take a 53-39 lead heading into the fourth, and the Pilots eventually grew their lead to 17 points, 58-41, in the final quarter. Bishop Gorman competed until the end and were able to cut the deficit to nine, 66-57, on a put-back layup by Shabazz Muhammad with 2:17 remaining, but the Gaels never truly threatened to complete the comeback.
Shabazz Muhammad, the No. 1 player in the
ESPNU 100
and frontrunner for
ESPNHS Mr. Basketball USA honors
, was coming off a 37-point performance five days ago
in a victory
over DeMatha Catholic (Hyattsville, Md.). In this game, however, he struggled from the field (9-of-25) and finished with 19 points. He also had a team-high nine rebounds.
"I take (guarding Shabazz Muhammad) personal," said Findlay Prep's
Winston Shepard
, who finished with 12 points and eight rebounds and did a good job defensively on Gorman's star. "I've been playing against him a long time and I'm a good player, too."
Findlay Prep was
coming off a victory
over Simeon (Chicago), the preseason No. 1 team in the
POWERADE FAB 50
, in a game the Pilots played without the services of
Anthony Bennett
, the No. 7 prospect in the ESPNU 100.
Making Findlay Prep's victory over Bishop Gorman even more impressive was Bennett did not play in this game, either. On top of that, Findlay Prep forward
Brandon Ashley
, No. 4 in the ESPNU 100, was in early foul trouble and finished with three points, but had a big impact in the third quarter.
"In the first minutes of the third quarter, Brandon gave us exactly what we needed -- a defensive presence," Peck said. "That's how we maintained our lead."
With its victory Saturday, Findlay Prep will now be seriously considered for the No. 2 spot in next week's POWERADE FAB 50. The Pilots have a tremendous amount of firepower on their roster and find ways to win with different contributors.
Currently, they trail unbeaten Oak Hill Academy (Mouth of Wilson, Va.) and two-loss Grace Prep (Arlington, Texas) in the national rankings.
"When their guards play well, they are the best team in high school basketball," said ESPN director of basketball recruiting Paul Biancardi.
Findlay Prep is now 4-0 all time against Bishop Gorman. The Pilots have never lost to an NIAA school.
Ronnie Flores is a senior editor for ESPNHS. He can be reached at
ronnie.flores@espn.com
. Don't forget to follow him on Twitter:
@RonFloresESPN
January, 20, 2012
1/20/12
10:06
AM ET
By
Ronnie Flores
| ESPN.com
Being the younger brother of the No. 1 recruit in the nation and playing on the same basketball team isn't always easy, but it helps to have a coach who is in a similar predicament.
It happened last year in the middle of a heavyweight bout at Las Vegas' Cox Pavilion between high school basketball powers Bishop Gorman (Las Vegas) and Findlay Prep (Henderson, Nev.). Midway through the third quarter of Findlay's dramatic double-overtime win,
Shabazz Muhammad's
instincts as an older brother, rather than teammate, took over.
An out-of-bounds play under the basket was designed for Muhammad to receive a back pick from a teammate, roll to his strong side and receive the ball for a close-range shot or possibly a lob near the front of the rim. Gorman's screener coming from the opposite baseline was
Rashad Muhammad
, Shabazz's younger brother.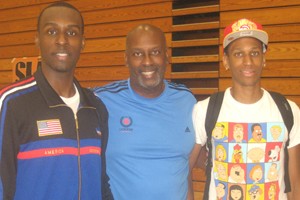 Ronnie Flores/ESPNHSRon Holmes, the father of No. 1 recruit Shabazz Muhammad (left) and youger brother Rashad, has seen his sons grow closer off the court as Rashad expands his on-court game.
"Rashad," Shabazz called out.
"Rashad!" he said louder.
"RASHAD, what are you doing?"
The younger Muhammad never set the screen before the ball came into play. It probably was insignificant to the game, but it was a perfect example of the Muhammads' on-court relationship last season.
It was also indicative of Rashad's play at times during his sophomore season -- and big brother's normal reaction.
"Last year I would play thinking coach will take me out if I made a mistake," Rashad said. "This year I play my game. I have no worries."
So what actually happened? Did Rashad (who does not recall the actual moment) not understand the play or did he simply get tight during the course of battle? Their father, Ron Holmes, offers his own theory.
"On the court, Rashad doesn't like to listen to [Shabazz]. ... It goes in one ear and out the other," Holmes said. "Shabazz is always trying to help him out, and when they are not competing he's all ears."
This year Shabazz is still the alpha male on the team, but he's also the nation's top-ranked recruit in the
ESPNU 100
. Rashad, meanwhile, sees more than the spot minutes he did last season, averaging roughly 10 points and four rebounds as a pass-first combo guard and defensive specialist for a Bishop Gorman team ranked No. 16 in the latest
POWERADE FAB 50
. His expanded role has brought the brothers closer, and 6-foot-4, 170-pound junior Rashad hopes to make a big contribution in the rematch with No. 3 Findlay Prep Saturday at
5 p.m. ET on ESPNU
.
The siblings' relationship is one Bishop Gorman coach Grant Rice has seen evolve -- and can relate to.
Rice has a special relationship with Rashad because he understands what the younger Muhammad is going through. The Gaels' 11th-year coach often plays second fiddle in Las Vegas to older brother Dave Rice, who's in his first season as UNLV head coach.
"I feel for him because we have a lot in common," said Grant, the winning coach at last summer's
Boost Mobile Elite 24
and a four-time state title-winning coach. "I get a lot of, 'Aren't you Dave Rice's little brother?' I have to tell them I've been coaching here in Las Vegas a long time.
"I've had a heart-to-heart talk with [Rashad] about being his own person and own player. I tell him just because I have a successful older brother, doesn't mean my job isn't important, too. I can also make an impact on kids' lives."
Because he knows Shabazz's dominant personality, Holmes gets a laugh out of watching his oldest son get on his younger brother on the court. On the other hand, he understands how being the younger sibling of a budding celebrity can be difficult.
"They're close as brothers, but it's tough for [Rashad] sometimes because he puts pressure on himself to be on the same level [as Shabazz]," Holmes said. "It's been tough for him trying to figure out how to deal with it."
Rashad does get tired of answering the same questions over and over about his brother, but he brushes it off as no big deal because of their strong bond and because he's aware how good a player his brother is.
"We've been close all of our lives, so it hasn't really hit me how big he is," Rashad said.
As far as the public is concerned, Holmes doesn't have many concerns about people using Rashad to get closer to or be associated with Shabazz -- unless it's an adult. In that case, he would step in. If it's a kid, however, it's just another aspect of Rashad's maturation process.
"You got to allow kids to be kids," Holmes said.
Long term, Rashad would like to play a big role in sending his brother off to college with three state titles on his resume. Short term, he wants to hit his double-digit norm in helping the Gaels to their first-ever win over Findlay Prep.
Like any normal teenager, he also wouldn't mind getting some recognition of his own. After all, he is getting the opportunity to play in a nationally televised game for the second time in six days.
"It's a lot different this year; I'm way more comfortable and catching up to the speed of varsity," Rashad said. "I want people to know I'm trying to make a name for myself, too."
Ronnie Flores is a senior editor for ESPNHS. He can be reached at
ronnie.flores@espn.com
. Don't forget to follow him on Twitter:
@RonFloresESPN
January, 20, 2012
1/20/12
10:05
AM ET
By
Jason Jordan
| ESPN.com
On a frigid January afternoon,
Shabazz Muhammad
calmly stands in the media room at Blake Arena in Springfield, Mass., dead-center in a mob of audio and video recorders shoved just inches away from his face while notebook-jotting reporters attempt to disguise the same questions over and over.
Forget about the fact that he's just led Bishop Gorman (Las Vegas) -- then ranked No. 24 in the
POWERADE FAB 50
-- past then-No. 5 DeMatha (Hyattsville, Md.) with
37 points and six rebounds at the Spalding Hoophall Classic
; all these guys want to know about is his recruitment.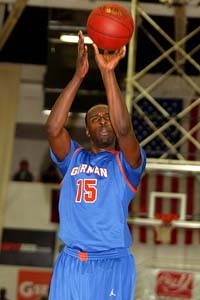 J. Anthony Roberts/ESPNHSShabazz Muhammad said the best chance to stop him is to turn him into a 3-point shooter.
Muhammad handles the organized chaos like a champ. His answers are quick and concise. He even has a little fun finding new ways to say the same thing.
But when event staff whisks him away for a private interview, we manage to stump him slightly with, by his own admission, the simplest yet most complex question he's heard in quite some time: "How do you stop Shabazz Muhammad?"
"That's a good one," he said.
Muhammad's got an answer, but it's obvious that he doesn't want to come across as cocky. He hesitates, seemingly by design, smiles and settles on, "Well, my dad [Ron Holmes] and I train so hard on so many different aspects of my game that it's given me the ability to hurt teams in a lot of different ways. Let's just say it'd be really hard."
The next attempt at the improbable takes place Jan. 21 when No. 3 Findlay Prep (Henderson, Nev.) heads over to Cox Pavilion in Las Vegas to take on No. 16 Bishop Gorman at
5 p.m. ET on ESPNU
.
"There are guys who are hard to stop, then there's Shabazz," Holmes said. "Of course it can be done, but he does so many things well that it's very difficult to key in on one thing. He's got the size and strength [6-foot-6, 210 pounds], and that makes it even tougher. Our training is specifically designed to be unstoppable."
When posed with the question of stopping Muhammad, Findlay Prep swingman
Winston Shepard
seemed instantly offended. He wore an incredulous frown and then repeated the question while shaking his head and laughing. Then he quickly pointed to the fact that in
Findlay's last game against then-No. 1 Simeon
(Chicago),
Jabari Parker
, the top-ranked player in the
ESPNU 60
, scored 24 points on 22 shots.
"And we won by 25," said Shepard, a 6-8 senior. "I guarded Jabari. I'm not gonna sit up here and talk junk or anything, but I know Shabazz's game very well."
Shepard has been playing with and against Muhammad since the seventh grade. The pair teamed up for Dream Vision AAU.
"Shabazz is a great player, everyone knows that," Shepard said. "But I'm gonna just come out and play my game. No player is impossible to stop."
Muhammad's a realist. Even as the top-ranked senior in the
ESPNU 100
, he knows that there are flaws in his game, most notably his perimeter jump shot.
"If I had to think of a scenario that gives teams the best shot at stopping me it would be to make me a 3-point shooter," said Muhammad, who's averaging 30 points and nine rebounds per game this season while shooting 68 percent from the field. "That's the part of my game that I want to improve the most."
Don't write that in the scouting report just yet, though. There are reasons he doesn't mind revealing that information.
"For one, I just don't think people can stop me from getting into the lane," Muhammad said. "It's how I'm wired, I guess."
And the whole turn-him-into-a-3-point-marksman suggestion?
"During my workout I have to get 400 makes a day," Muhammad said. "It usually takes me around 600 shots to do that. I'd say it's getting a lot better."
Still, as daunting as the task of stopping Muhammad will be, Findlay point guard
Dominic Artis
doesn't just think they can get it done -- he knows they can.
"Shabazz is a great player, there's no doubt about it," said Artis, a senior who is signed to Oregon. "We're gonna put Winston on him, and I think that'll help a lot because he knows his game better than anyone. They've got a good team, but if we stop him we'll have a better chance to win. I mean, anyone can be stopped. As great a player as Shabazz is, I know that we can stop him. Like hold him under double digits. I'm confident in that."
Good luck with that.
The last team to hold Muhammad under double digits was Bishop Manogue (Reno, Nev.) in the state semifinals last February. In that game, Muhammad, who played with a severely sprained ankle, had just nine points and the Gaels lost by one.
Still, by mid-conversation, Muhammad seems to have fully conceded that stopping him isn't as farfetched as people think.
Seems odd for a guy who knows he's the best player every time he steps on the court.
He's got to know. It's what makes him who he is.
"His mentality is to be relentless," Holmes said. "It's not something you see too often. He's just a workhorse. You can't teach the mindset he's got. You're born with that relentless mindset."
That's why it came as no shock that, just before parting, Muhammad backed off the whole notion of stopping him being a realistic aspiration.
"You know, it's like, stopping me, I don't know if I'd say that," Muhammad said. "I just have the mentality that no one can stop me. I can have a bad game, but stopping me -- nah, I don't think anyone can stop me because I'm not gonna stop until I'm succeeding. I'm just not gonna stop."
Relentless mindset indeed.
Jason Jordan is the basketball editor for ESPNHS. He can be reached at jason.x.jordan.-ND@espn.com. Don't forget to follow him on Twitter: @JayJayESPN.
January, 16, 2012
1/16/12
5:21
PM ET
SPRINGFIELD, Mass. --
Shabazz Muhammad
began his scoring barrage against No. 5 DeMatha (Hyattsville, Md.) with a dunk just moments after the opening tip. He put the game away in the same manner with a ferocious fourth-quarter jam. In between, the Bishop Gorman (Las Vegas, Nev.) forward was equally brilliant, torching the Stags for 37 points and six boards in a 73-65 upset at the Spalding Hoophall Classic on Monday.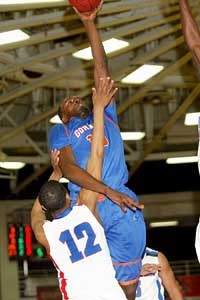 J. Anthony Roberts/ESPNHSShabazz Muhammad is still considering Kentucky, UNLV, Duke, Kansas, UCLA and USC.
"We were playing Superman, and I guess we didn't have enough kryptonite," said DeMatha head coach
Mike Jones
.
A slew of high-profile college coaches, including front-row spectators
Mike Krzyzewski
and
John Calipari
, witnessed Muhammad go to work.
The nation's No. 1 senior recruit
scored in a variety of ways and electrified Blake Arena with a series of dunks. Senior forward
Rosco Allen
did his part, chipping in 18 points and nine boards as the 24th-ranked Gaels (13-3) avenged last year's loss to DeMatha by scoring a victory that will surely shake up
the POWERADE FAB 50
.
"I definitely wanted to make an impact, because I knew they would devote a lot of attention to Shabazz," said Allen, a Stanford signee. "We lost to them last year at Les Schwab, so it's sweet winning this little rematch."
Gorman's length was evident on defense, as the Gaels forced several turnovers early and stormed to a 12-2 advantage in the first quarter. Muhammad's 19 first-half points paced the squad to a 33-25 edge at the intermission.
"We talked about making them make tough shots," said Gorman coach
Grant Rice
. "We made it tough on them all night. I think we're as deep and long as anyone in the country. I think that's always going to cause some problems."
DeMatha chipped away at the lead in the third quarter behind senior
Marcellous Bell
(12 points, 4-of-9 shooting from 3-point range) and junior
Jairus Lyles
(team-high 17 points). The Stags pulled within two early in the fourth, but Muhammad eventually put the game away with a scintillating windmill flush just feet from Coach K.
For DeMatha (15-1), the loss was the team's first of the season and its second straight on national television at Hoophall after losing to St. Anthony (Jersey City, N.J.) last year. Again, a slow start forced the Stags to play catch-up the rest of the way, while foul trouble limited frontcourt standouts junior
BeeJay Anya
and senior
Jerami Grant
to a combined 16 points.
"Every time we scored we thought we were going to get over the hump," Jones said. "I like the way our team kept fighting, kept fighting. But it wasn't enough."
Not with Muhammad on the prowl. It was a signature game for
one of the nation's most popular players
, who is deciding between Duke, Kansas, Kentucky, Arizona, USC, UCLA and UNLV. But it was more than just a one-man show.
"When we needed a big bucket," Rice said, "the guys came through."
David Auguste covers high school sports for ESPNHS. Be sure to follow him on Twitter @ESPNHS_Auguste or email him at David.Auguste@espn.com.
January, 13, 2012
1/13/12
12:56
PM ET
By
Ronnie Flores
| ESPN.com
Related:
Watch the Hoophall Classic on ESPN family of networks
ESPNHS' Ronnie Flores answers the most pressing questions about this year's Spalding Hoophall Classic.
Which team has the most to prove at Hoophall?
That would be
POWERADE FAB 50
No. 1 Simeon (Chicago). The Wolverines do have some quality victories so far this season, but they haven't faced a team with the talent level and big-game experience of No. 6 Findlay Prep (Henderson, Nev.). Simeon beat local rival Whitney Young (Chicago), 62-55, on Dec. 22 and No. 34 Miller Grove (Lithonia, Ga.), 59-56, at the Cancer Research Classic, but it was expected to beat those teams. With Dominic Artis, Nigel Williams-Goss and Amedeo Della Valle, Findlay Prep will put tremendous pressure on Simeon's backcourt when the teams meet on Monday (ESPNU, 3 p.m. ET). Simeon junior guard Kendrick Nunn had 19 points against Miller Grove and we'll put Nunn's magic number at 24 in order for the Wolverines to win this game.
Which player will have a breakout performance?
Six-foot-2 junior
Jairus Lyles
of No. 5 DeMatha Catholic (Hyattsville, Md.). He is a big-time scorer for the Stags who is well known in the D.C. area, but isn't as well known nationally as some of his teammates. Lyles made a huge impact for the Stags when they captured the Torrey Pines Holiday Classic earlier this year and his play will be key against Northwest Catholic (West Hartford, Conn.) tomorrow and No. 24 Bishop Gorman (Las Vegas) on Monday (ESPNU, 1 p.m. ET). According to DeMatha coach Mike Jones, he was the Stags' leading scorer halfway through last season before injuries curtailed him. Now healthy, Lyles is the X-factor in DeMatha's run for the program's sixth mythical national title.
Which team can make a big move up in the FAB 50?
No. 19 Prestonwood Christian Academy (Plano, Texas), if the Lions are on their game when they take on No. 2 Oak Hill Academy (Mouth of Wilson, Va.) tomorrow. We know
Julius Randle
and company can play with the nation's best teams (they won the City of Palms tournament), but they've been a bit inconsistent against national-level competition. Which Prestonwood team will show up? The one that won the City of Palms or the one soundly defeated by No. 3 Grace Prep (Arlington, Texas) on Dec. 15? The Lions will need big performances from complementary players
Zach Peters
and
Mickey Mitchell
because Oak Hill is probably the most complete team in high school basketball.
Which FAB 50 team is most ripe to be upset?
No. 4 St. Anthony (Jersey City, N.J.). Coach Bob Hurley's team nearly stumbled against No. 28 St. Benedict's (Newark, N.J.), but pulled out a 51-50 victory after trailing by six points entering the fourth quarter. One thing is clear -- the Friars don't have as much firepower as last season, but on Monday they could make a statement against a hungry Miller Grove team (ESPNU, 11 a.m. ET). Last season, St. Anthony's 50-point win over DeMatha Catholic at Hoophall springboarded the Friars to the program's fourth mythical national title, but they'll be facing a dangerous opponent that desperately doesn't want to go 0-3 in nationally televised games this season.
Can the West Region's top teams compete nationally?
Yes, they can compete against the nation's top-ranked teams, but only at full strength. No. 6 Findlay Prep needs
Anthony Bennett
to contribute when it faces top-ranked Simeon. According to associate head coach Todd Simon, Bennett will suit up against the Wolverines, but is likely to sit out Friday against Thurgood Marshall (Dayton, Ohio) at the Flyin' To The Hoop Invitational in Kettering, Ohio. No. 24 Bishop Gorman hasn't played at a national championship level without
Ben Carter
and
Ronnie Stanley
, but both should be in the lineup when the Gaels face DeMatha Catholic. Without Carter making a double-digit scoring contribution and Stanley earning his keep down low against DeMatha's
BeeJay Anya
, Gorman will be hard pressed to pull off the upset.
Ronnie Flores is a senior editor for ESPNHS. He can be reached at
ronnie.flores@espn.com
. Don't forget to follow him on Twitter:
@RonFloresESPN
January, 11, 2012
1/11/12
1:20
PM ET
Shabazz Muhammad, Bishop Gorman (Las Vegas)

No. 1 in the ESPNU 100
@phenom15balla
The nation's No. 1 recruit coasted into the semis thanks to some help from his more than 15k Twitter followers. Muhammad has made things look just as easy on the court so far in his senior season. He torched nationally ranked Prestonwood Christian for 42 points in December and is averaging better than 20 points a contest. Muhammad helped Gorman defeat preseason POWERADE FAB 50 No. 2 Miller Grove (Lithonia, Ga.) in December and took home Most Outstanding Player honors at the Beach Ball Classic a few weeks later. Want to see more before you cast your vote? You can catch Muhammad live on ESPNU in a pair of nationally televised contests on Jan. 16 against DeMatha (Hyattsville, Md.) and on Jan. 21 to face fellow Nevada power Findlay Prep.
Julius Randle, Prestonwood Christian (Plano, Texas)

No. 3 in the ESPNU 60
@J30_Randle
Randle received 51 percent of the nearly 3,000 votes in the first round to hold off Gabe York in the tightest of the four early matchups. He may experience a spike in popularity and votes after his two nationally televised performances against Grace Prep (Arlington, Texas). Randle had viewers wearing out the rewind button on their DVRs with an emphatic one-hand flush in transition during a 15-point outing in the first game on Dec. 15. He then pumped in 26 points to lead the Lions to the City of Palms Classic title in the rematch days later despite facing tough defense from Isaiah Austin (No. 3 in the ESPNU 100). Randle also went blow-for-blow with Muhammad in the tourney's quarterfinal, leading PCA to victory with 26 points. He copped MVP honors at City of Palms and was also named to the Beach Ball Classic's All-Tourney squad.
Discuss this matchup on Twitter
#espnhsfans
.
Check out the players' campaign videos and see the first-round entrants on the
player intro page
.
---
The choice is yours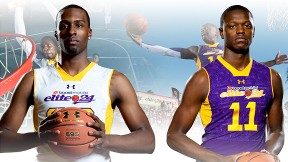 Take your pick: Will it be Shabazz Muhammad, the No. 1 player in the Class of 2012, or Julius Randle, who could be the nation's top junior recruit?
December, 1, 2011
12/01/11
2:46
PM ET
The
2011-12 GEICO ESPNHS Basketball Showcase
will feature 16 televised games plus a Skills Competition which will include a Slam Dunk and 3-point shooting contest on ESPN, ESPN2, ESPNU and ESPN3.
This year's Showcase will highlight the top nine teams ranked in the
POWERADE FAB 50 ESPNHS Preseason Rankings
: No. 1 Simeon (Ill.), No. 2 Miller Grove (Ga.), No. 3 Oak Hill Academy (Va.), No. 4 Montrose Christian (Md.), No. 5 Marcus Flower Mound (Texas), No. 6 Mater Dei (Calif.), No. 7 Bishop Gorman (Nev.), No. 8 Findlay Prep (Nev.) and No. 9 St. Anthony (N.J.).
The 2012 Spalding Hoop Hall Classic will be featured on ESPN, ESPNU and ESPN3 the weekend of Jan. 15-16. The event will bring together nine ranked teams for a weekend of basketball with top high school teams, prep schools and prospects from across the nation including No. 1
Shabazz Muhammad
of Bishop Gorman (Las Vegas), No. 2
Mitch McGary
of Brewster (Wolfeboro, N.H.), No. 3
Isaiah Austin
of Grace Prep (West Arlington, Texas), No. 4
Brandon Ashley
of Findlay Prep (Henderson, Nev.) and more.
To view the complete television listings,
CLICK HERE.
November, 18, 2011
11/18/11
3:23
PM ET
By
Jason Jordan
| ESPN.com
It's not that
Shabazz Muhammad
is being difficult or "Hollywood" or even a primo prima donna, he's merely saying that come springtime he wants the college that receives his signed scholarship to be able to pronounce the name that's on it.
Fair enough.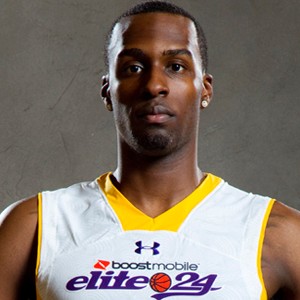 Kelly Kline/ESPNHSShabazz Muhammad said that coaches who mispronounce his name surprise him.
"I absolutely can't stand when people in general pronounce my name wrong," said Muhammad, the top player in the
ESPNU 100
. "But when coaches do it, it's really surprising honestly. Throughout my recruitment it's happened a lot, but a school that just keeps on doing it, they're pretty much off the list."
Most mistakenly pronounce Muhammad's first name
Shuh-BAZZ
because of the way it's spelled, but Shabazz is pronounced
Shuh-BOZZ
.
"I'm used to it because people mispronounce my name all the time," said Muhammad, a senior swingman at Bishop Gorman (Las Vegas). "I understand because of the spelling of it so I'll let it slide if it's once or twice, but I'll politely correct them if it goes past that. But coaches recruiting me, I'd think they would get it right. Seems like you'd want to get that right."
Muhammad's name pronunciation mishaps are similar to what North Carolina freshman guard
P.J. Hairston
said he went through when Duke recruited him in high school.
Hairston said that when
Coach K
and Co. would send him recruitment letters they'd write "T.J. Harrison," which eventually made him sour on the Blue Devils.
Apparently, they learned from the alleged slip-up because Muhammad said Duke has never mispronounced his name. The same can't be said for all of the schools – UCLA, Kentucky, Kansas, Texas A&M, Arizona and UNLV – on his list.
The two guilty parties?
Kentucky and Kansas.
"Coach
(Bill) Self
said it wrong when I went there at Kansas, and I think he realized it pretty quick and changed it to the right pronunciation," Muhammad said. "Then one of the assistants at Kentucky said it wrong on a visit and
Coach (John) Calipari
said it the right way real quick. Then the assistant caught on after that."
Adaptation is the key, and Muhammad appreciates it.
"Most definitely," he said. "I mean how bad can a school want you if there calling you something you don't answer to? You've got to get stuff like a name right."
That's the name of the game.
Jason Jordan is the basketball editor for ESPNHS. He can be reached at
jason.x.jordan.-ND@espn.com
. Don't forget to follow him on Twitter:
@JayJayESPN
November, 16, 2011
11/16/11
1:08
PM ET
Shabazz Muhammad, Bishop Gorman (Las Vegas)

No. 1 in the ESPNU 100
@Phenom15Balla
The consensus No. 1 player in the country, Muhammad boasts a superior skill set that has made him the target of nearly every elite collegiate program with national title aspirations. He is one part smooth-stroking lefty and one part ferocious finisher mixed in with a tireless work ethic and a killer instinct in the clutch. Last year, Muhammad tallied 25.1 points and 7.7 boards a contest to cop ESPNHS All-American first-team honors.
Brandon Ashley, Findlay Prep (Henderson, Nev.)
No. 4 in the ESPNU 100
@Easy_Bo
Planning on shutting down Ashley? You better come with a Plan B and C because this 6-foot-8 Arizona commit is among the nation's most versatile scorers. Big men need to be cognizant of his guard skills and handle, while smaller defenders are going to need to hit the weight room to deal with his deceptive strength on the block. Ashley transferred to national power Findlay after averaging 15 points and 10 boards last winter at two-time Cali champ Bishop O'Dowd.
Discuss this matchup on Twitter
#espnhsfans
.
Meet the other candidates on the
player intro page
.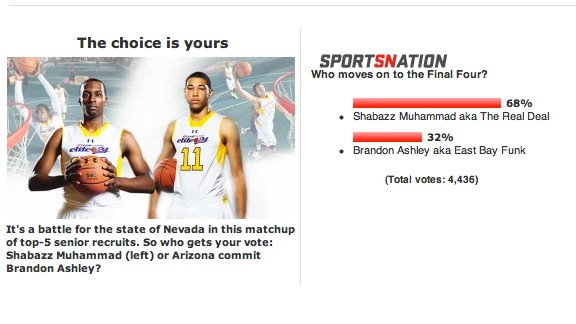 ESPNHSShabazz Muhammad won his in-state showdown against Brandon Ashley, and now he moves on to face Julius Randle.
November, 9, 2011
11/09/11
12:11
AM ET
By
Jason Jordan
| ESPN.com
There's a common misconception about the country's elite high school ballers when it comes to the NCAA's early signing period, which begins today and runs through Nov. 16.
"Sometimes people think we wait until the spring so we can be the last one to sign," said
Shabazz Muhammad
, a senior swingman at Bishop Gorman (Las Vegas) and the top player in the
ESPNU 100
. "That's definitely not true. Trust me; I'd rather be signing with everyone else this week. I'm definitely not doing this for attention."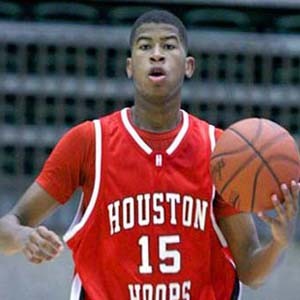 Scott Kurtz/ESPNHSL.J. Rose said signing early gives you more credibility when trying to recruit fellow players.
Muhammad will likely decide and sign in the spring; a mistake to hear some of his fellow ballers tell it.
We caught up with five players and had them dish on the top five reasons why it's better to sign early.
5.
Reduces stress.

Yogi Ferrell
, Park Tudor (Greenfield, Ind.), 2012, PG
Signing with:
Indiana
"The recruitment process can be one big headache with all of the media interviews and all of the coaches calling and you having to remember to call them back and things like that. When you sign during the early period you sleep better because there's no stress. That stuff is stressful and it gets to be a lot when people are constantly asking you where you're going. I definitely know that I'm reducing my stress by signing this week."
4. Stops the calls from coming.

Rasheed Sulaimon
, Strake Jesuit (Houston), 2012, SG
Signing with:
Duke
"When you're open you get so much attention from all of the different media sites wanting to know who your favorites are and what the visit was like that you just went on and what coach you talk to the most. It can be a lot with all of the practices we have and all of the work we have during school. Plus, on top of that, you've got all the coaches calling you to try and get you to their school and checking on you to see if you're still open to their school. But when you sign on the dotted line all of that stops. I guess it's not as big a story when you already know where you're going, but when your phones not ringing all the time it gives you more time to work on what you need to work on."
3. Gives you credibility to actively recruit other players.

L.J. Rose
, Westbury Christian (Houston), 2012, PG
Signing with:
Baylor
"When you're committed it's one thing, but when you sign with a school it shows a higher level of commitment to that school. That only shows the other players that you're trying to recruit to join you that you're actually coming to the school. People de-commit all the time so if someone was trying to get me to join them and they were committed but said they were waiting to sign in the late period I would be a little skeptical about that. Maybe they're looking to see who will jump on them late? To go ahead and sign now lets the players know how serious you are about them joining you. It helps sell your school better."
2. Gives you time to work on your game.

Marcus Paige
, Linn-Mar (Marion, Iowa), 2012, PG
Signing with:
North Carolina
"Basically, during the season you're busy practicing with your team throughout the week and playing games so most of the time any individual work that you do is on the weekends. That's hard to do when you're traveling to different schools taking unofficial and official visits every weekend. It leaves you no time to get those individual workouts in to work on the weaker parts of your game, but when you're signed you can have your weekends to work on everything. Plus, you'll have the coaches from your future college chiming in on what you need to work on during those weekend workouts. That's the best part about signing during the early period; it frees you up to work on your game."
1. Allows you to focus on your season.

Justin Anderson
, Montrose Christian (Rockville, Md.), 2012, SF
Signing with:
Virginia
"When you sign early there is absolutely no pressure on you to perform well enough to land the best scholarship possible. That's everyone's goal. So when you've already signed you've already reached your goal and you can kick back and relax and go into your last season ready to dominate and win. People don't understand how much pressure deciding on a school is. You can't honestly say that your main focus is on your season when you haven't signed yet. That's why it's so important to go ahead and get that out of the way before your season starts."
Jason Jordan is the basketball editor for ESPNHS. He can be reached at
jason.x.jordan.-ND@espn.com
. Don't forget to follow him on Twitter:
@JayJayESPN
October, 19, 2011
10/19/11
5:00
AM ET
By
Ronnie Flores
| ESPN.com
RELATED: Simeon Is Preseason No. 1
1. Will programs designed to excel at basketball be forced to play only against each other?

No, not as long as the National Federation of State High School Associations (NFHS) defers to state associations with regards to restrictions to whom member schools can play. Some state associations allow their teams to play programs such as Huntington Prep (Huntington, W. Va.) or Findlay Prep (Henderson, Nev.) and others do not. These non-members follow the rules of the association in their home state to varying degrees. We say programs and not schools because the players at Findlay Prep and Huntington Prep attend other secondary schools; the one on their jerseys do not exist. If the National Federation doesn't take a stand or strongly suggest state association members not to play these programs, they will continue to be relevant and that's fine with us as ratings compilers. Our job is to enforce general guidelines for ranked teams to follow to ensure a level playing field, have as much accurate info about as many teams as possible and use the result of games as the basis for our rankings. It's not our job to pass judgment about who should be allowed to compete against whom.
2. What kind of impact will the NBA lockout have on the high school game?

Lost in the hoopla around the sticking points of revenue allotment between owners and players and the length of player contracts is the 19-year old age rule that was administered the last time the NBPA negotiated the collective bargaining agreement (CBA) in 2005. The rule could be abolished, but it's not the focus in this work stoppage. While the country waits for both parties to come to their senses, general fans looking for their hoop fix might turn to the college and high school game, a huge plus for teenagers who love the game.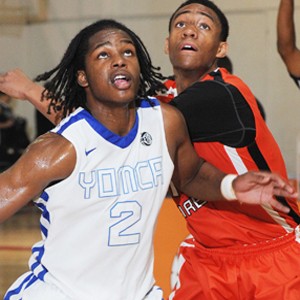 Scott Kurtz/ESPNHSShaq Goodwin and other senior Mr. Basketball USA candidates will get strong competition from junior Jabari Parker for the coveted honor.
3. Which ranked teams have the most pressure to live up to lofty expectations?

The two teams located on opposite ends of the desert oasis known as Las Vegas -- Bishop Gorman and Findlay Prep. The Bishop Gorman coaching staff felt its team should have won last season's Class 4A state title even with the nation's No. 1 recruit, Shabazz Muhammad, nursing a bothersome ankle in the state semifinals. The Gaels lost that game by a point and what made that result even more shocking is the team that upset them, Bishop Manogue of Reno, lost in the final by 35 points. In a recent fall showcase, Gorman took on Findlay Prep, minus Muhammad, and even with "ringer" Katin Reinhardt of Mater Dei (Santa Ana, Calif.) in the lineup, the Pilots led early by more than 20 points. Findlay Prep probably has its most talented roster since 2008-09 when it finished No. 1 in the FAB 50, but the Pilots have to prove they can survive a murderous schedule and not have letdowns similar to the ones they've had the previous two seasons.
4. Can an underclassman win ESPNHS Mr. Basketball USA honors?

Yes, there is a solid chance it could happen for the first time since LeBron James earned the honor after his junior season at St. Vincent-St. Mary (Akron, Ohio) in 2001-02. Some high school experts feel juniors Nerlens Noel of The Tilton School (Tilton, N.H.), Julius Randle of Prestonwood Christian Academy (Plano, Texas) and Jabari Parker of Simeon (Chicago, Ill.) are the best prospects in high school basketball, regardless of class. Noel's candidacy is somewhat hindered by playing at a school that allows post-graduates while opinion varies on Randle. Some recruiting experts feel Randle is a once-in-a-decade type player, while others feel he has a lot of work to do on his perimeter game. Either way, he'll have to elevate the play of his teammates to have a chance and that's where Parker might have the edge. His Simeon team plays a tough enough schedule to put him in great position for a historic season.
5. Does the summer have an impact on team rankings?

Yes it does. When most think of the summer scene they think of endless games, long travel days and earning -- or losing -- college scholarships. But the summer is also an aid in team evaluations, although the top players on many POWERADE FAB 50 teams don't play together. It's the improvements shown by lesser-known players that are key, or team success among a group of players from the same high school. For instance, DeMatha (Hyattsville, Md.) was an inconsistent team last year but came on strong towards the end of the season. The Stags' top three returnees -- CG James Robinson, WF Jerami Grant and PF BeeJay Anya -- had a standout summer with Team Takeover and that bumped up the team a few spots in the preseason rankings.
Ronnie Flores is a senior editor for ESPNHS. He can be reached at
ronnie.flores@espn.com
. Don't forget to follow him on Twitter:
@RonFloresESPN