High-SchoolBoys-Basketball:

Brandon Jennings
August, 23, 2012
8/23/12
1:24
PM ET
By
Ronnie Flores
| ESPN.com
Under Armour Elite 24 alumni
Brandon Jennings
and
Kemba Walker
will lead the coaching staffs at this year's event, which will be held Aug. 24-25 at Venice Beach, Calif.
Jennings, a point guard for the Milwaukee Bucks who dished out an event-record 23 assists in the 2007 game, will team with
Derrick Williams
, the No. 2 pick of the 2011 NBA draft, to lead the "Raymond Lewis" squad. Walker, who made 7-of-8 field goals en route to 16 points in that same 2007 game, will join forces with
DeAndre Jordan
, who participated in the inaugural event at Harlem's famed Rucker Park in 2006, to lead the "Marques Johnson" squad.
Teams, in the tradition of the event, are named after Los Angeles playground legends.
Featuring 24 of the nation's top high school basketball players, Under Armour Elite 24 participants are selected based on their performances during AAU tournaments and national summer camps by ESPN high school basketball experts.
The 2012 Under Armour Elite 24 will be held at the Venice Beach outdoor courts in Los Angeles. The game airs live on ESPNU at 7 p.m. ET Aug. 25, while the Under Armour Slam Dunk Contest will air at 7 p.m. ET Aug. 24 on ESPNU.
Raymond Lewis squad
Head Coach: Brandon Jennings (Milwaukee Bucks)
Assistant Coach: Derrick Williams (Minnesota Timberwolves)
Marques Johnson squad
Head Coach: Kemba Walker (Charlotte Bobcats)
Assistant Coach: DeAndre Jordan (Los Angeles Clippers)
Join
our Under Armour Elite 24 fan page on Facebook and don't forget to follow the event on twitter:
@UAElite24
May, 24, 2012
5/24/12
12:35
PM ET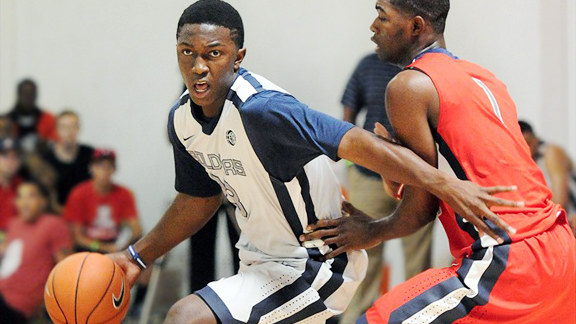 Chris Williams/Icon SMIStanley Johnson's "meat and potatoes" game has powered the Oakland Soldiers this summer.
Each week this summer leading up to the AAU National Championships in Orlando in July, ESPNHS will profile one of the nation's top AAU teams and tell you why you should be paying attention.
Team:
Oakland Soldiers

Location:
Oakland, Calif.

Coach:
Mark Olivier
What you need to know about the Oakland Soldiers:
The Oakland Soldiers are probably best known for being one of
LeBron James
' AAU teams back when the King was in high school, but the program has produced enough NBA talent in addition to James to form its own All-Star team.
Coach Mark Olivier says that's one of the reasons why the Soldiers are able to draw such elite talent, year after year.
"I think we have a history that makes kids want to play for us," says Olivier. "Guys like LeBron James played for us. And in the last couple years we've had
Nick Johnson
,
Jabari Brown
. That's a draw for kids."
The current roster is loaded with elite prospects, led by
Aaron Gordon
and
Jabari Bird
, both of whom are highly ranked in the
Class of 2013
. Gordon, a 6-foot-7 forward, can
dominate the paint and play in the open court
, while Bird is one of the nation's top scoring guards. Small forward
Stanley Johnson
is ranked No. 28 in the
Class of 2014
, with multiple Division I offers already on the table.
"We've got a really well-rounded team," says Gordon. "We don't have a lot of bigs, but we have a lot of athletes who can get out and run. We outrun other teams."
The Soldiers are currently playing without Gordon, who is resting a foot injury, and Bird has been forced to miss time with a shoulder injury. But the team has hardly missed a beat, compiling an impressive 9-5 record in Nike Elite Youth Basketball League play. Johnson has come up big, leading the team with 16.1 points per game in EYBL action.
"My role kind of changed when we had the injuries," says Johnson. "I went from basically having one-third of the scoring load to having two-thirds of the scoring load. I'm just trying to do a little bit of everything."
Key Players:
Aaron Gordon, F, 2013: Gordon is currently sitting out with a broken bone in his foot, but he's progressing nicely and expects to be back by the end of the summer. "He told me he could play right now if he had to," says Olivier. "But the foot needs rest. He'll be back at 100 percent." Gordon is No. 4 in the ESPN 100.
Jabari Bird, G/F, 2013: A 6-foot-5 swingman, Bird possesses a deadly outside shot. "I think he's the best mid-range shooter in the country," says Gordon. "I know that's a bold statement, but I really think he's the best." Bird is averaging 11.2 points per game during EYBL play. He's ranked No. 11 in the ESPN 100.
Stanley Johnson, F, 2014: A 6-foot-5 forward, Johnson has stepped up in Gordon's absence, averaging a team-high 16.1 points during EYBL play. He's also posting 6.6 rebounds per game and shooting 50 percent from the floor. "He's a meat-and-potatoes player," says Olivier. "He's just so fundamentally sound. He's the ultimate team player."
Key Dates:
EYBL Session 4: May 25-27 in Oakland, Calif.
Nike Peach Jam: July 18-22 in Augusta, S.C.
Fab 48 AAU Finals: July 22-28 in Las Vegas
The Soldiers came up short at last year's Nike Peach Jam but rebounded to take the FAB 48 title in Las Vegas. They would like to win both crowns this season, and once Gordon returns to the lineup, they may have to be considered the favorite at both events.
"When we had everybody playing, we were really good," says Johnson. "So I think as we start to get them back and the season goes on and we get more practice, I think we'll be able to compete for the final four at Peach Jam, or even win the championship."
"That's our main focus this summer," says Gordon. "We don't just want to get to Peach Jam, we want to compete and come out on top there."
Famous Alums:
LeBron James (Three-time NBA Most Valuable Player)
Kendrick Perkins
(2003 1st-round NBA Draft pick)
Chauncey Billups
(2004 NBA Finals Most Valuable Player)
Brandon Jennings
(2009 1st-round NBA Draft pick)
Follow Mike Grimala on Twitter (@MGrimalaESPN).
November, 28, 2011
11/28/11
2:08
PM ET
By
Matthew Remsberg
| ESPN.com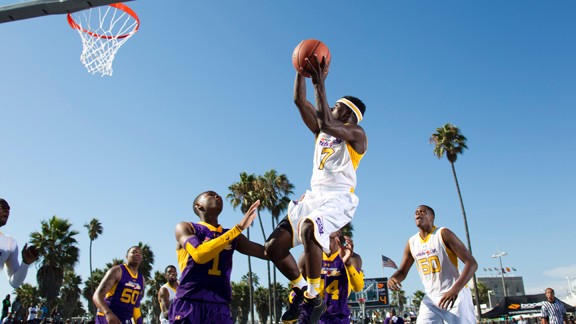 Kelly Kline/ESPNHSAquille Carr turned down a $750,000 contract to play overseas.
According to the
ESPNU 60
, there are 58 players from the Class of 2013 better than
Aquille Carr
.
That may be true. After all, he's a 5-foot-7 guard who struggles from the outside. So when you look at it like that, Carr's ranking seems generous.
There's another way to look at it, though. A way that puts less emphasis on measurables and projection and more on results. And if you look at it like that, Carr is in a class by himself.
Let's start with a quick glance at his high school play for Patterson (Baltimore, Md.). After regularly dropping 30-plus points as a freshman, he led the Clippers to their first city title since 1976 last season and their first-ever state title game appearance while averaging 31.3 points per game.
Along the way he has become a city legend. Fans flock to watch his games, earning him the nickname The Crime Stopper because typically dangerous streets are empty every time he suits up.
And there's more.
On a trip to Europe last fall for an international tournament, Carr captivated a whole different audience. Italian fans literally carried him off the court after he dropped 45 points in one game, and he was offered a $750,000 contract by the professional team Lottomatica Roma — the same team
Brandon Jennings
played for during his stint overseas.
Carr turned the offer down, but not before giving it some serious thought.
"It wasn't the right time," Carr says. "It was fun in Italy, but I have other things I want to do."
He crossed one item off his to-do list in August when he played in the prestigious Boost Mobile Elite 24 in Venice Beach, Calif. The game was televised on ESPNU, allowing Carr to show his stuff on the national stage against many of the nation's top recruits.
All he did was effortlessly slice through traffic and get to the rim at will en route to a 21-point, 10-assist performance that earned him co-MVP honors.
"That meant a lot," he says. "Getting to play with those big names, that's what I work hard for every day, for that opportunity."
So that's the other case for Aquille Carr. Local fans idolize him, foreign teams want to sign him and top recruits can't match him.
Which case is correct? Only time will tell.
But we can't wait to watch.