High-SchoolBoys-Basketball:

Brice Johnson
April, 13, 2012
4/13/12
5:14
PM ET
By
Jason Jordan
| ESPN.com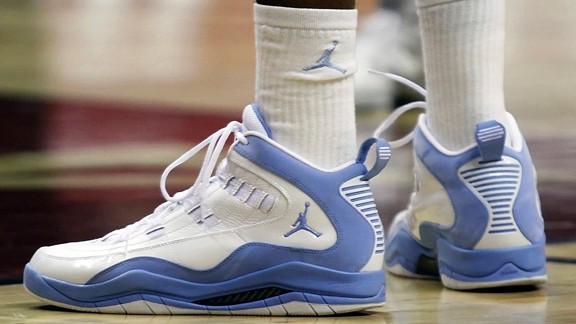 UNC fans will be out in full force Saturday night in Charlotte, N.C., for the Jordan Brand Classic to watch future Tar Heels J.P. Tokoto and Brice Johnson.
CHARLOTTE, N.C. --
J.P. Tokoto
signed with North Carolina for the tradition,
Roy Williams
and to win a national title, but another big reason Tokoto was excited about being a Tar Heel was to have the chance to learn from swingman
Harrison Barnes
.
That won't happen now.
Barnes,
Kendall Marshall
and
John Henson
all declared for the NBA draft recently, and for Tokoto that meant just one thing.
"We're gonna have to be ready to step right in and produce," said Tokoto, a bouncy forward at Menomonee Falls (Wis.). "We've still got plenty of talent, but I think we may get called on a little earlier than most people thought we would."
Brice Johnson
feels the same way, and he said he's ready for whatever the staff needs him to do.
Johnson and Tokoto are teaming up this weekend at Saturday's Jordan Brand Classic (7 p.m. ET, ESPN) for the East. Another UNC commit, Linn-Mar (Marion, Iowa) point guard
Marcus Paige
, was supposed to play in the game, but he had surgery to repair a stress fracture in his left foot and couldn't travel. Dwyer (Fort Lauderdale, Fla.) forward
Joel James
rounds out the Heels' 2012 class.
"We're all gonna need to be ready sooner," said Johnson, a forward at Edisto (Cordova, S.C.). "That's fine with me, though. Bring it on. I'm ready. I've just gotta gain weight."
He's contemplated giving up track, because the little weight he does gain ends up falling right off with training. But when you're the reigning state champion in the high jump, long jump and triple jump, it's hard to walk away.
"I'm about 210 now, but I'm gonna get it up," Johnson said. "I eat a large pizza and a half of another large in one sitting, so I'm going hard at it. Either way we're gonna be ready. All of us. I don't want fans to drop their standards. We will show people next year. We're gonna be a force."
Starting Lineups
The probable starters for the West are
Rasheed Sulaimon
,
Shabazz Muhammad
,
Anthony Bennett
,
Grant Jerrett
and
Brandon Ashley
. The probable starters for the East are Brice Johnson, J.P. Tokoto,
Rodney Purvis
,
Nerlens Noel
and
Tony Parker
. Both lineups are as of Friday and could change by game time.
2K Challenge Owned by Wildcats
Last year,
Anthony Davis
took home the Jordan Brand Classic NBA 2K Challenge. Davis went on to win the Wooden National Player of the Year Award and be named NCAA Most Outstanding Player after leading Kentucky to the national title.
This year, Noel kept the Kentucky tradition alive when he and the Miami Heat took out Tokoto and the Memphis Grizzlies in overtime.
"It's just the Kentucky swag already coming on me," said Noel, who announced for Kentucky Wednesday night on ESPNU. "All we do is win, no matter what. What can I tell ya?"
Courting Parker
Once Muhammad announced that he would take his talents to UCLA next season, he made it clear what his first order of business would be with the Bruins.
"I've got to get Tony [Parker] to come along with me and
Kyle [Anderson]
," said Muhammad, a swingman at Bishop Gorman (Las Vegas). "I think we can get him. He'd just bring a lot to the team next year. I think with him in the class we'd be set."
Anderson, who was the first to commit to the Bruins, will team up with Parker, a forward at Miller Grove (Lithonia, Ga.), on the East against Muhammad at the Jordan Brand Classic this weekend. But if he has it his way, this will be the last organized game that the three are divided.
"We've got to get Tony," said Anderson, a point guard at St. Anthony (Jersey City, N.J.). "I think with me and now Shabazz coming at him, it's even more appealing to him. We've been on him all week here. I think we'll be able to get it done."
Sulaimon is on Point
With West point guard Paige out, Sulaimon will have to step in and run the point.
"I'm very comfortable running the point," said Sulaimon, a shooting guard at Strake Jesuit (Houston). "I'm willing to do whatever I've got to do in order for my team to get this win. That's all I'm worried about. This will only continue to help me develop."
Sulaimon, a Duke signee, said that the Blue Devils' coaching staff has talked to him about running the point at times next season.
"I've talked to Coach
[Mike] Krzyzewski
about it and they want me to be ready to play some point next season," Sulaimon said. "I'm fine with that. I've always trained to be versatile in the backcourt and even though I'm a scorer first I know the importance of setting my teammates up. I'll be ready to roll."
Highlight of the Practice
East point guard Anderson threw swingman Tokoto an alley-oop and Tokoto caught it and did a 360 dunk. The gym went into a brief frenzy.
Jason Jordan is the basketball editor for ESPNHS. He can be reached at
jason.x.jordan.-ND@espn.com
. Don't forget to follow him on Twitter:
@JayJayESPN
.
February, 7, 2012
2/07/12
9:00
AM ET
By
Jason Jordan
| ESPN.com
If you're a college hoops fan, you probably have an opinion on who'll take Round 1 in the sport's most storied rivalry.
The future of the two programs have their opinions as well. So we caught up with every player from Duke and North Carolina's 2012 recruiting classes and had them make predictions for Wednesday's Duke-UNC game (9 p.m. ET, ESPN).
Naturally, objectivity wasn't their strong suit, so we added one 2013 player at the top of both schools' wish lists, Prestonwood Christian (Plano, Texas) junior Julius Randle, to see who he thought would reign supreme on Tobacco Road.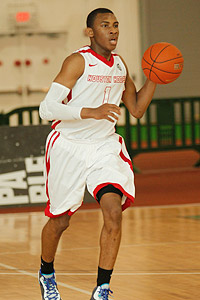 Courtesy of Andrew ShurtleffRasheed Sulaimon said Duke will sweep UNC this season.
The Duke Recruit
Rasheed Sulaimon

Strake Jesuit (Houston), SG
Who gets the win?

"Duke absolutely wins this game. We've been a little inconsistent this year, but I spoke with Coach K recently and he told me he's got the guys doing 5 a.m. workouts and [he's] really challenging them trying to wake them up to finish out the season strong. I just feel like we're too talented on the perimeter for them, and I think we'll get it done in the paint, too. I'm calling the sweep against North Carolina this year. You heard it here first."
UNC wins if ...

" ...
Michael Jordan
leaves the front office for the Bobcats, drives down and suits up for the Tar Heels. And when he does he's playing like he was in his prime. I'm talking the 'dropping 63 on Boston' prime. That's the only way."
The UNC Recruits
J.P. Tokoto

Menomonee Falls (Wis.), SF
Who gets the win?

"I am definitely picking North Carolina in this one. This season we suffered a bad loss against Florida State, but other than that we've been playing really well. Our guys know exactly what to do in order to keep Duke off the boards and to guard the 3-point line."
Duke wins if ...

" ... The Carolina players drink laxative-laced water before the game."
[+] Enlarge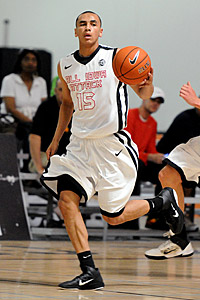 Chris Williams/Icon SMIMarcus Paige said UNC has too much inside for Duke to handle.
Marcus Paige

Linn-Mar (Marion, Iowa), PG
Who gets the win?

"Most definitely North Carolina all the way. I think we have too many weapons and too much versatility for Duke to be able to handle what we do offensively. Even though we don't guard the 3-point line too well at times, I feel like our size will wind up getting to them."
Duke wins if ...

" ... They manage to find the special stuff in Bugs Bunny's water bottle from 'Space Jam'!"
Brice Johnson

Edisto (Cordova, S.C.), PF
Who gets the win?

"No question that North Carolina will get the win in this game. I just think we've got too much for Duke to handle inside, and I think that's the thing that will win the game for us. We've definitely got this one."
Duke wins if ...

" ...
J.J. Redick
comes back and plays for Duke and goes 20 of 20 from the 3-point line. He's got to be 100 percent. Got to."
Joel James

Dwyer (Fort Lauderdale, Fla.), PF
Who gets the win?

"North Carolina. The reason I say that is because our players have the edge in experience. Our guards are bigger and stronger and we know how to handle that type of big stage. I also feel like our bigs will have good games against them, and I think
Harrison Barnes
will have a big game, too."
Duke wins if ...

" ...
John Henson
, Harrison Barnes,
Tyler Zeller
and
Kendall Marshall
all foul out in the first half. That's the only way they get it done."
The Objective Take
Julius Randle

Prestonwood Christian (Plano, Texas), PF, undeclared (class of 2013)
Who gets the win?

"Man, I'm being put on the spot with this one! Since they're playing at home I'm gonna pick UNC in this one. Duke hasn't been playing their best ball in the past couple of games, so I think this will wake them up and get them ready for the tournament. I do think Duke will win the next one, though."
Jason Jordan is the basketball editor for ESPNHS. He can be reached at jason.x.jordan.-ND@espn.com. Don't forget to follow him on Twitter: @JayJayESPN.