High-SchoolBoys-Basketball:

Chris Herren
November, 7, 2011
11/07/11
2:59
PM ET
By
Ronnie Flores
| ESPN.com
Last week the program at United Faith Christian Academy (Charlotte, N.C.), ranked No. 30 in the preseason
POWERADE FAB 50
, was
banned from the North Carolina Independent Schools Athletic Association (NCISAA) playoffs
this season and next because of a violation of the NCISAA's rules on recruiting. The basketball program was also placed on probation for two years, according to the
Charlotte Observer
.
The violation stemmed from an email sent out in September by school headmaster
Dr. Joe Siragusa
, a NCISAA Board of Directors member, to guardians of the basketball program's international basketball players. The email was intended to inform its recipients the program was still going to compete at the national level in light of former NBA guard
Muggsy Bogues
replacing
Shaun Wiseman
as coach in the off-season.
"I never would have thought ...that my email would have waded into the area of recruitment," Siragusa told the newspaper. "They still will play a decent schedule. I feel terrible for the juniors and seniors who this directly affects."
The Falcons are still FAB 50 eligible. The playoff ban stems from a ruling determined to be an act of recruiting potential student-athletes. As we interpret it, the violation had nothing to do with player eligibility issues regarding UFCA's current roster.
The Falcons' 2011-12 season is going to end sooner than it normally would otherwise, hence they will play fewer games and see less quality opponents. At some point as other teams advance in the post-season in their respective state, the playoff ban will effect their national ranking.
"Unguarded" Uncut
"Unguarded," the
ESPN documentary
about the trials and tribulations of former NBA, Fresno State and Durfee (Fall River, Mass.) standout
Chris Herren
, premiered last week and made a strong impact in the basketball community. Current NBA and college players quickly hit their Twitter accounts to express respect for Herren's courage to speak publicly about the drug addiction that nearly took his life.
"Man this Chris Herren story really hit me. One of the strongest people I've ever seen. Made it through all he has been through," said Duke freshman guard
Quinn Cook
(@QCook323).
"This story on Chris Herren on ESPN is amazing!!!!!! Drugs will tear a family down. He might of lost millions but he MADE it," said Phoenix suns forward
Jared Dudley
(@JaredDudley619).

What if I told you a movie could change the way you look at sports? From the producers of 30 for 30, ESPN Films presents a new series. Every Tuesday at 8 p.m. ET on ESPN. ESPN Films index »

The documentary centered on Herren detailing his story in various public settings. He's spoken at correctional facilities to recovering addicts and shared his gripping experiences at last summer's
Boost Mobile Elite 24
with the event participants. What viewers didn't see, however, was any interviews or commentary from Herren's former teammates.
"How can Chris' story be told without Dominick Young? I'm the one who kept him eligible to play and stayed up night after night," said former Fresno State teammate
Dominick Young
. "Chris is one of my best friends, but he was a wreck, a mess and only I can explain that because we lived together the whole time. But that's why we parted over the years because my battle with trying to get him to shake drugs."
In
Jerry Tarkanian's
first year coaching at his alma mater in 1995-96, Herren sat out the season as a transfer from Boston College. That team was made up of holdovers from the
Gary Colson
era -- guards
DeAndre Austin
and Young, forward
Darnell McCulloch
and center
Khary Stanley
. They blended in with late JUCO signees
James "Gumby" Gray
and
Kendric Brooks
to form one of Tark's Bulldog teams that actually played up to expectations with a 22-11 record.
The next season Herren, former prep All-American
Terrance Roberson
and JUCO All-American
Daymond Forney
joined the fold with Young, McCulloch, Brooks and Stanley, but the team finished with two less wins than the year before. In 1997-98, an ultra-talented team that lost the core from 1995-96 was replaced by
playground legend Rafer Alston
, 1994-95 Pac-10 Freshman of the Year
Tremaine Fowlkes
, and former prep All-Americans
Winfred Walton
and
Avondre Jones
. That unit limped to a second place finish in the WAC's Pacific Division before a late run landed them in the NIT semifinals.
As documented in "Unguarded," the team lost Herren for a few weeks when he left for drug rehab. Forney, Fowlkes and Roberson were also suspended for failed drug tests. Alston was out at the beginning of the season because of a domestic incident and Jones was kicked off the team during the Bulldogs' NIT run for famously brandishing a samurai sword during an argument with an acquaintance at Jones' apartment.
"Every guy they brought in was a pro, but they didn't put the work in the gym," Young (@iceneeko) said. "It was crazy, there was always a suspension, an injury, or someone who could only play a certain amount of minutes."
Amazingly, many of the stories surrounding the team were chronicled by a production crew that followed the players throughout the 97-98 season. The final product,
"Between the Madness"
was an eye-opening look at a dozen or so scholarship student-athletes who were as unfocused as they were talented.
The documentary not only foreshadowed Herren's troubles, but was a prelude to today's popular sports reality shows such as
HBO's "24/7"
.
Herren, Roberson, Fowlkes and Alston eventually made it to the NBA, but only Alston enjoyed prolonged success.
"They were great guys, but they didn't work on their game and get better," Alston said.
Dorial Green-Beckham Bucks Trend
ESPNHS has honored the nation's best football-basketball combo athletes for over two decades, names such as
Ron Curry
of Hampton (Hampton, Va.),
Greg Paulus
of Christian Brothers Academy (Syracuse, N.Y.) and
Terrelle Pryor
of Jeannette (Jeannette, Pa.). A majority of the nation's top Grid-Hoop athletes have aspirations to play both sports at the Division I level, but the reality is most end up focusing on one sport and the sport that materializes into a pro career more often than not is football.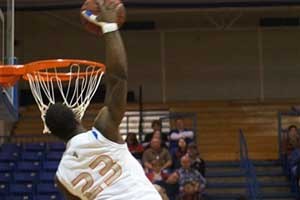 Tracy BeckhamDorial Green-Beckham is arguably the nation's top Grid-Hoop athlete.
With the competition so fierce to earn an athletic scholarship, there are less great Grid-Hoop athletes than ever before. Many top football recruits graduate mid-term and skip basketball in order to participate in spring drills in what would normally be their spring semester of high school. Others simply drop basketball to prepare for their freshman season in college.
A recent example of the trend is quarterback
Cody Kessler
of Centennial (Bakersfield, Calif.), the 2010
Gatorade State Player of the Year
in football who entered his senior year with a school record 1,771 points, but did not play basketball in order to participate in spring football practice at USC.
Record-setting wide receiver/forward
Dorial Green-Beckham
of Hillcrest (Springfield, Mo.), the No. 3 prospect in the
ESPNU 150
for football, confirmed to ESPNHS he will play basketball for the Hornets in his senior year. On October 27, Green-Beckham
set a reported national career record
for receiving yards, becoming the first gridder ever to surpass the 6,000 yard-mark.
Last season on the hardwood, the 6-foot-6 forward earned
ESPNHS second team Underclass All-American
and Ozark Conference Player of the Year honors for a team that reached the state Class 4 quarterfinals. As a sophomore, he led Hillcrest to the Class 5 state title while averaging 20 points and 8.5 rebounds per game.
Green-Beckham has a solid chance to earn All-American honors in both sports this year. He'll be hard-pressed to earn ESPNHS Mr. Basketball USA honors, but look for him on our early season watch list next week.
Oak Hill Academy Now 4-0
On November 1, Oak Hill Academy (Mouth of Wilson, Va.), the No. 3 ranked team in the POWERADE FAB 50, had an early road test against Quality Education Academy (Winston-Salem, N.C.) and came away with a 84-69 victory.
Jordan Adams
, a first team ESPNHS Underclass All-American last year headed for UCLA, led the Warriors with 22 points. Point guard
Tyler Lewis
, a transfer from Forsyth Country Day (Lewisville, N.C.), dished out 14 assists and had 19 points. Guard
D'Vauntes Smith-Rivera
, a newcomer from North Central (Indianapolis, Ind.), added 18 points.
If early results are any indication, Lewis might challenge
Rajon Rondo's
single-season school record of 494 assists set in 2003-04. That season, Rondo and forward
Josh Smith
led the Warriors to the No. 1 ranking in the FAB 50 with a 38-0 mark.
In their latest game on Saturday, the Warriors defeated Stoneridge Prep (Tarzana, Calif.), a non-member of the California Interscholastic Federation (CIF) whose program is ineligible for the POWERADE FAB 50. In the 80-64 victory, Adams finished with 29 points and eight rebounds while Lewis also has 20 points, dished out six assists and reportedly had zero turnovers.
Ronnie Flores is a senior editor for ESPNHS. He can be reached at
ronnie.flores@espn.com
. Don't forget to follow him on Twitter:
@RonFloresESPN
November, 1, 2011
11/01/11
12:10
AM ET
By
Jason Jordan
| ESPN.com
Today when the clock struck midnight,
Chris Herren
celebrated three years and three months of being drug- and alcohol-free.
Just over a month ago, on Sept. 27, he celebrated his 36th birthday.
Both are milestones that he's proud of.
Both seemed impossible to reach at one point.
"I just knew I'd be dead by this age," Herren said. "Truth is I should be dead, and being sober? Never thought it was a reality. I'd done so much I couldn't imagine coming back from it. My life … It was bad, but with a lot of help I was able to turn it around."
Tonight at 8 p.m. on ESPN, "Unguarded," a documentary from ESPN Films, chronicles everything from Herren's rise from high school All-American to NBA baller to his tragic fall to drug addiction and alcoholism to his rebirth.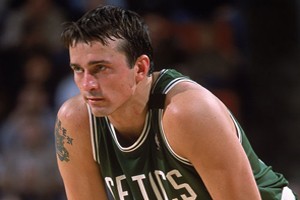 Getty ImagesChris Herren travels around the country sharing his story so young players can learn from his mistakes.
"It's an emotional roller coaster," Herren said of the documentary. "The story is mostly darkness, and that's OK because I did this for the sole purpose of inspiring someone who is in or has a loved one in the same situation. I had what every young basketball player dreamt of, but through bad choices at a young age it all fell apart for me in the end. But even with that you can bounce back and find peace like I did."
Herren was the star every high school player aspires to be. The type of player who, these days, would have multiple highlight mix tapes all over YouTube and thousands of followers on Twitter.
As a senior at Durfee (Fall River, Mass.), Herren, a combo guard, averaged 27 points, nine rebounds and eight assists in 1993-94 and was subsequently named Massachusetts Player of the Year. He was also a legend on the AAU circuit and once scored 63 points in a game for the Boston Amateur Basketball Club (BABC).
He played in the McDonald's All-American Game and went to Boston College before transferring to Fresno State. In 1999, Herren was selected by the Denver Nuggets in the second round of the NBA draft and was later traded to the Boston Celtics.

What if I told you a movie could change the way you look at sports? From the producers of 30 for 30, ESPN Films presents a new series. Every Tuesday at 8 p.m. ET on ESPN. ESPN Films index »

Still, off the court, addiction wasn't just destroying his life, it actually ended it.
Herren's autobiography
"Basketball Junkie,"
which he co-wrote with
Bill Reynolds
, opened with this chilling fact:
"I was dead for 30 seconds."
"It was a terrible situation, there's no way around it," Herren said. "It was the lowest of low, but that's why I tell it. I'm a living testament that you can turn things around even at your lowest point. When I get an email telling me I helped pull a kid back from going down the wrong path, it's better than any NBA contract I ever had. That's real."
ESPN national recruiting director
Paul Biancardi
was a part of the coaching staff at Boston College that helped reel in Herren in 1994. Biancardi said he never saw Herren's life taking the route that it did.
"Chris loved the game and he was so competitive and coachable, that always stood out about him," Biancardi said. "He was such a personable kid with us, but we knew there were issues off the court. To see the path he went down was surprising in a way, but when you have issues that stay unresolved they become bigger issues and it leads to worse things. But now to see him turn it all around is special. It's truly extraordinary. His message is relatable, so it will resonate with these younger players."
Rasheed Sulaimon
can vouch for Herren's appeal. Sulaimon was front and center when Herren spoke to the Boost Mobile Elite 24 players in Los Angeles in August.
Sulaimon recalled Herren's story about how his addiction had gotten so bad that he once stood in the rain in his Celtics uniform outside the Boston Garden, waiting for his dealer just minutes before tipoff.
"That story was just so crazy," said Sulaimon, a senior shooting guard at Strake Jesuit (Houston) who is committed to Duke. "The whole talk was a real eye-opener. He was sitting in those seats where we were and ended up making bad choices that led to his downfall. I really appreciated him sharing his story. It's one that I'll never forget."
Herren's No. 1 goal is to have the same lasting impression on the masses "to keep kids on the right path," so he travels around the country speaking to high school and college players about his life. He also started The Herren Project, a nonprofit organization that pays for addicts to receive treatment.
"I just really want these kids to get it," Herren said. "At the end of the day, there will be more drug addicts than NBA players. That's a fact. It can go so fast. I was making half a million dollars a year, and four years later I was smoking cigarettes from public ashtrays and drinking $2 pints of vodka to get through the day.
"When you're in that life, things can change drastically and they can change quickly. My only hope is that people's lives are changed after seeing the documentary. I've been to hell, but I want to inspire people to come out of that hell."
For more information on Chris Herren's nonprofit organization, visit: TheHerrenProject.org
Jason Jordan is the basketball editor for ESPNHS. He can be reached at
jason.x.jordan.-ND@espn.com
. Don't forget to follow him on Twitter:
@JayJayESPN