High-SchoolBoys-Basketball:

Christian Faith Center Academy
December, 30, 2011
12/30/11
6:50
AM ET
By
Jason Jordan
| ESPN.com
Xavier guard
Dezmine Wells
has typically operated under the adage that experience is the best teacher, but on Dec. 10, Wells learned, more than ever, that it doesn't have to be.
Wells was one of four Musketeers who were suspended for their roles in a
brawl with Cincinnati
that ended the Bearcats' blowout loss. Cincinnati also suspended four players.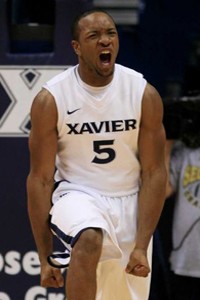 Al Behrman / APDezmine Wells said it's important to recognize the difference between intensity and anger.
"I was really upset with myself because I got out of character," said Wells, who will return from a four-game suspension Saturday when the Musketeers host Gonzaga at 8 p.m. ET on ESPN2. "I definitely wish it never happened. I hated that we acted like that."
After the incident, one of Wells' first calls was to
Kendrick Williams
, who coached Wells in AAU and at Word of God (Raleigh, N.C.).
Williams, now the coach at Christian Faith Center Academy (Creedmoor, N.C.), was the mentor who helped Wells kick his "bad attitude" when he was 11 by implementing what Williams now calls the "Dez Rule."
"I'll never forget it," Wells said. "I was young and I had a temper at practice and I was mouthing off and I didn't want to run sprints at the end, so Coach K had one of my teammates buy me a Gatorade and another teammate put a chair at midcourt, and I watched the team run for hours. That was the day I changed my attitude for the better."
Williams, who still uses the "Dez Rule" today, said he wanted to show Wells how his actions can ultimately affect his teammates, a lesson that was reinforced after the Dec. 10 melee. Xavier has gone 1-3 over its past four games.
"He's a great young man," Williams said of Wells. "We talked for an hour and a half after the Cincinnati game, and I really got on him. I don't let him get away with anything. He understood and admitted where he was wrong in the end, and he genuinely learned a lesson. That's what it's all about."
Added Wells: "It hurt me because I knew Coach K, who's like my father figure, was disappointed, plus I knew I'd hurt my mom and family. I was disappointed in myself too, but I learned a lot. I am planning to talk to some kids at the Boys & Girls Club about the importance of self-control. I know some good can come from the whole thing."
Wells came up with five things to remember during the inevitable heated situations on the court.
Cooler heads prevail.

"You've all heard this one before, but it's so true. You've got to keep your cool in every situation, not just on the court but in life. You're accountable for everything that you do.
"No matter what happens out there you've got to keep your cool and good things will happen."
Laugh it off.

"In every game, no matter who you're playing, there will be a time when someone says something slick to you or bumps you a little too hard, and the best thing you can do when that happens is to laugh it off.
"Nothing good can come from you retaliating, and any player will tell you that the retaliator is the one who usually gets caught. Just laugh it off and keep it moving."
It's not worth it.

"I've been sitting out for four games, and that alone makes it not worth it. There's always a consequence for your actions and in hindsight it's never worth it.
"You always regret it when you mess up, so you've got to use your head."
Don't mistake intensity for anger.

"This is my favorite one. A lot of guys think that being intense is all about talking smack and being all up in the opposing team's face, but it's not. It's more about playing hard and communicating with your teammates and respecting the game.
"You've got to remember that it's just intensity when things get testy on the court. You aren't really mad at the other guy; you're both just being intense. It's something you should actually respect, not get mad at. Got to learn to identify the different emotions."
Walk away.

"There are times when a guy will take it too far, whether he steps to you or pushes you or whatever, and you have a decision to make. Always choose to turn around and walk away. Take it from me.
"I would absolutely handle my situation different if I could do it over. Win or lose, you walk away and stay respectable. It sounds cliché but it's true, the bigger man always walks away."
Jason Jordan is the basketball editor for ESPNHS. He can be reached at jason.x.jordan.-ND@espn.com. Don't forget to follow him on Twitter: @JayJayESPN.
December, 8, 2011
12/08/11
10:26
PM ET
By
Jason Jordan
| ESPN.com
Related:
Sixth grader may be next hoops phenom
From Sebastian Telfair's appointment as "The Chosen One" to Demetrius Walker being the subject of a popular book, the careers of young phenoms has intrigued the masses for quite some time.
We take a look back at five players who were dubbed "great" as pre-teens and see how it all turned out for them.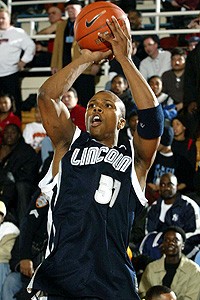 Dave Saffran/WireImage.comSebastian Telfair was a legend in NYC, but never panned out as a pro.
O.J. Mayo
averaged 23 points a game for Rose Hill's (Ashland, Ky.) varsity squad as a seventh grader. He went on to star at North College Hill (Cincinnati) where he claimed two state titles. Mayo was voted Ohio's Mr. Basketball for two straight seasons and his team finished the season ranked No. 3 in the country. As a sophomore, Mayo averaged 27.4 points and 7.8 rebounds and became only the second sophomore named Ohio's Mr. Basketball. LeBron James was the first. Mayo transferred to Huntington (Huntington, W.Va.) for his senior season and was named West Virginia Player of the Year after averaging 28.2 points, 7.2 assists and 6.1 rebounds a game and winning the state title. Mayo spent a season at Southern Cal before being drafted third overall by the Minnesota Timberwolves in 2008. He was immediately traded to the Memphis Grizzlies. Mayo averaged 11.3 points for the Grizzlies last season.
Demetrius Walker
was dubbed "the next LeBron James" when he was just 12 years old, was featured in Sports Illustrated at 14 and was also the subject of the book
"Play Their Hearts Out."
Walker went on to be named all-conference during his freshman season at Fontana (Fontana, Calif.) High School. He ended up transferring to St. Mary's (Phoenix) and in 2009 led the school to its first state title since 2001. Walker averaged four points a game at Arizona State as a freshman and ended up transferring to New Mexico, where he currently averages 8.9 points per game as a sophomore.
Sebastian Telfair
was widely regarded as the next great New York City point guard since he was in the fifth grade, dubbed "The Chosen One" by the Dallas Morning News as a seventh grader and was the subject of the book "The Jump." The Brooklyn-born baller finished his high school career at Lincoln as the all-time leading scorer in New York with 2,785 points, claiming three PSAL titles and one state title. He averaged 33.2 points and 9.2 assists his senior season and was picked 13th by the Portland Trailblazers in the 2004 NBA draft. Last season, he averaged seven points a game for the Minnesota Timberwolves.
Taylor King
made national headlines when he committed to UCLA prior to his freshman year at Mater Dei (Santa Ana, Calif.). He eventually signed with Duke out of high school, but bounced around from Duke to Villanova and then last season to Concordia University in Irvine, Calif. King decided not to return to Concordia this season and is now playing for the London Lightning of the National Basketball League of Canada.
Ryan Boatright
committed to Southern Cal before he even picked a high school. He went on to star at East Aurora (Aurora, Ill.), where he averaged 31.2 points per game last season as a senior. Boatright never did end up at USC, switching his commitment to West Virginia and then switching his pledge to UConn, where he's now a freshman reserve guard.
Jason Jordan is the basketball editor for ESPNHS. He can be reached at
jason.x.jordan.-ND@espn.com
. Don't forget to follow him on Twitter:
@JayJayESPN
Jon Mahoney contributed to this story.