High-SchoolBoys-Basketball:

Coolidge
March, 29, 2012
3/29/12
10:45
PM ET
By
Ronnie Flores
| ESPN.com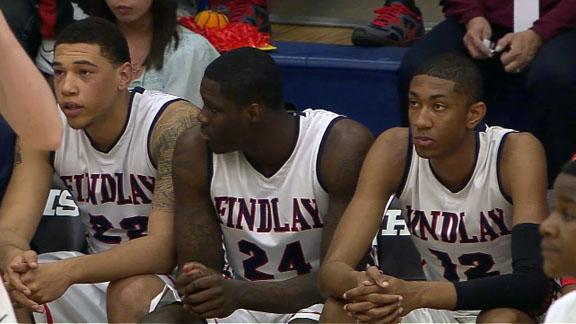 BETHESDA, Md. -- Instant analysis from No. 1 seed Findlay Prep's (Henderson, Nev.) 79-44 victory over No. 8 seed Coolidge (Washington, D.C.) in Thursday's quarterfinals of the ESPNHS National High School Invitational at Georgetown Prep.
Overview:
Findlay Prep coach Mike Peck didn't start forwards
Anthony Bennett
and
Brandon Ashley
, McDonald's All-Americans who played in Chicago on Wednesday night. It hardly mattered as the Pilots were just too big and talented. Nearly every field goal Coolidge made was a chore and Coolidge was out rebounded, 60-29.
After leading 18-12 at the end of the first quarter, Findlay Prep doubled up on the Colts by the middle of the second quarter and never looked back. "Rebounding was the difference in the game," Coolidge coach Mike Jones said. "Our speed usually gives top teams problems, but we just missed the shots we needed to make."
Turning Point:
When Findlay Prep took the floor and jumped out to a 7-2 lead. The Pilots quickly established it would take a near miracle for the Washington D.C. Public Schools champs to stay within single digits. Outside of two spectacular lay-ups by Central Connecticut State recruit
Khalen Cumberlander
(team-high 13 points) that cut Coolidge's deficit to three points (12-9) midway through the first quarter, once-beaten Findlay Prep was firmly in control. To put it into perspective, Coolidge lost to
POWERADE FAB 50
No. 13 Paul VI (Fairfax, Va.) in the Abe Polin City Title Game on March 20 by six points, 70-64.
Key Player:
Bennett. When he entered the game with 4:32 remaining in the first quarter it changed its complexion. Bennett, ranked No. 7 in the
ESPNU 100
, played 13 minutes in the McDonald's Game. While Ashley's fatigue from his 15 minutes in that game, combined with the travel from Chicago to Maryland, caused him to play sluggishly, Bennett was dialed in. The unsigned recruit played inspired on the defensive end and was a difficult match up for Coolidge's defense. He constantly drew fouls underneath and finished plays in transition.
Bennett finished with a game-high 23 points in 18 minutes. He made 14-of-17 free throws and also grabbed a game-high 10 rebounds. "I didn't want to have the same thing that happened to us last year (a quarterfinal loss) happen again," Bennett said. "I want to play for the opportunity to win a national championship."
Key Stat:
Findlay Prep made 18-of-23 free throws in the first half when they built a 43-25 lead. Coolidge just didn't have the size inside to contend with the two-time NHSI champions. When the Pilots got fouled, they went to the line and converted to create separation. For the game, Findlay Prep went 31-of-43 from the charity stripe, whereas Coolidge went 8-of-15.
Up Next:
The Pilots, ranked No. 2 in the FAB 50, will meet No. 15 St. Benedict's (Newark, N.J.) in tomorrow's second boys' semifinal at 1:30 PM ET. All the top seeds and higher ranked team won in their openers.
Ronnie Flores is a senior editor for ESPNHS. He can be reached at
ronnie.flores@espn.com
. Don't forget to follow him on Twitter:
@RonFloresESPN
March, 28, 2012
3/28/12
11:10
PM ET
By
Jason Jordan
| ESPN.com
CHICAGO --
Brandon Ashley
had to admit that the point was valid, but he wasn't about to agree with it completely.
Last year,
Quinn Cook
,
Austin Rivers
and
Myck Kabongo
were all adamant that their hectic schedule during the week of the McDonald's All-American Game plus the minimal amount of sleep they got the night before they flew from Chicago to Bethesda, Md., to play in the National High School Invitational wouldn't have any bearing on how they performed in the opening round.
The result?
Kabongo's Findlay Prep (Henderson, Nev.) and Rivers' Winter Park (Winter Park, Fla.) squads both got sent packing on the first day, while Cook and the Oak Hill Academy (Mouth of Wilson, Va.) Warriors made it to the title game and lost in double overtime to Montrose Christian (Rockville, Md.).
All three later conceded that fatigue from a week's worth of Windy City grinding played a major role in their teams' ultimate demise.
"I hear all that, and that makes sense, but I'm gonna say exactly what they said," said Ashley, a forward at Findlay Prep who suited up for the West in the McDonald's All-American Game. "I'm gonna say it won't affect my game in the least."
Added Ashley's
Findlay Prep
and West teammate
Anthony Bennett
: "We do this. We will be ready to go out there and do what we've got to do at the NHSI, no question."
We'll find out Thursday (8 p.m. ET on ESPNU) when the top-seeded Pilots take on No. 8
Coolidge
(Washington, D.C.) in the quarterfinals at Georgetown Prep.
"See, what most people don't understand is that the schedule we've been on this week isn't even as bad as our AAU schedule," said Ashley, an Arizona signee. "It's way crazier during the summer. Three games a day; play at 10 p.m. one night and 8 a.m. the next morning. This is nothing."
Their "nothing" would be overwhelming for many high school players, but at Findlay Prep, even with a lighter load, the travel schedule is more Division I college than high school.
"What's crazy is we haven't even traveled as much as we did in the past," said Bennett, a forward who is ranked No. 7 in the
ESPNU 100
. "We still play in the big tournaments, but the schedule hasn't been as hectic this year."
That's something that "shocked" Ashley, who transferred to Findlay from Bishop O'Dowd (Oakland, Calif.) for his senior season.
"I expected the travel to be a little worse," said Ashley, who is ranked No. 10 in the ESPNU 100. "Because it's 'Findlay' and all that. It hasn't been that bad at all. This week may have been the craziest week, travel-wise, for us."
Ashley and Bennett will hop on a plane Thursday morning and plan to head straight to the shootaround. After that, both said they plan to grab a long nap before tonight's game.
"We'll just rest up and relax as much as possible," Bennett said. "We know how important this tournament is and we know what happened last year, so we won't have a repeat of that."
Kabongo, who just finished his freshman season running the point at Texas, said that the Pilots should be playing "with an enormous chip on their shoulders" after falling so early in last year's NHSI.
"We fell short of the Findlay standard," Kabongo said. "They will have to come out and play hard to regain that. I know they will."
Even if that means they won't get a shot at knocking off Oak Hill, the top team in the
POWERADE FAB 50
. Warriors coach Steve Smith opted not to participate in the NHSI this season for the first time since the tournament's inception in 2009 due to the timing.
The Warriors just returned from a 12-day trip to China on March 20 and immediately went on spring break.
"As a competitor we would've loved to see Oak Hill because they're No. 1 and we're No. 2," Ashley said. "But they went and did their thing in China, so it's all good. We're focused on what's in front of us and that's Coolidge. That's all we're worried about."
To the casual observer, a No. 1 facing a No. 8 is a gift, but Bennett was quick to point out that such thinking was "fool's gold."
"I don't know a whole lot about Coolidge, but I know you've got to be good to get in this tournament," Bennett said. "Only big-time teams get in this."
Added Ashley: "This isn't the NCAA tournament. It's not like a 16-seed playing the top seed. This is a small tournament and everyone is elite. You can't come in and expect a blowout. I'm not guaranteeing a championship, but what I will say is that we'll be giving a championship effort."
Jason Jordan is the basketball editor for ESPNHS. He can be reached at
jason.x.jordan.-ND@espn.com
. Don't forget to follow him on Twitter:
@JayJayESPN
.
March, 21, 2012
3/21/12
2:01
PM ET
By
Ronnie Flores
| ESPN.com
ESPNHS has announced the
seedings
for the eight boys' teams that will compete in the fourth annual ESPNHS National High School Invitational.
The year's event, which features six
POWERADE FAB 50
-ranked teams, will be March 29-31 at Georgetown Prep in Bethesda, Md. The championship game is set for 2 p.m. ET March 31 on ESPN.
As expected, two-time NHSI champion
Findlay Prep
(Henderson, Nev.) was awarded the top seed and will face No. 8 seed
Coolidge
(Washington, D.C.) March 29. Coolidge (29-7) will have its hands full with the No. 2 team in the country. In three years, only Montrose Christian (Rockville, Md.) has played the top seed in the No. 1 versus No. 8 game down to the wire, and that came in 2010 when Montrose lost to Montverde Academy (Montverde, Fla.) by two points.
This year, FAB 50 No. 9
Montrose Christian
(20-2) snagged the second seed and opens the tournament with seventh-seeded
Ravenscroft
(Ravenscroft, N.C.). The North Carolina Independent Schools Athletic Association Class 3A champions come in with a 31-3 mark, but they didn't venture too far from home this season and are decided underdogs against the defending NHSI champions.
Returning from last year's championship team is emotional leader
Justin Anderson
, a Virginia recruit, and
Michael Carrera
, who averaged a record 12.7 rebounds in Montrose Christian's three victories. Stu Vetter's club has to show its backcourt is capable without reigning tourney MVP Tyrone Johnson (now at Villanova), but Ravenscroft has even more to prove. The last two years, the NCISAA entrant has been routed in its opener.
After missing last year's event because of key early season losses, No. 12
Montverde Academy
is back in the fold as the third seed. Kevin Sutton coached the team in 2010 when they advanced to the finals, but this year the 21-3 Mustangs have a new coach in Kevin Boyle. He turned
St. Patrick (Elizabeth, N.J.)
into a national power but his program never had the opportunity to compete at the NHSI.
Boyle now gets the opportunity against No. 6 seed
La Lumiere
(La Porte, Ind.), a newcomer on the national scene with a big and talented roster. Montverde not only faces the challenge of a hungry 25-2 team ranked No. 23, they also face the challenge of idle time. Montverde had not played another high school since Feb. 4.
One team that certainly won't have any problems with idle time is fourth seed
St. Benedict's
(Newark, N.J.), which competed in the prestigious Alhambra Catholic Invitational last weekend. Gray Bees lost only their second game of the season (33-2) to eventual tournament champion DeMatha Catholic (Hyattsville, Md.) in the semifinals.
Had St. Benedict's won that tournament without its point guard (Tyler Ennis) and sixth man (Jordan Forehand), there's a strong possibility they would have been seeded second. They only dropped five spots in the FAB 50 to No. 15 (two spots behind DeMatha) and will open the NHSI against fifth-seeded
Ely
(Pompano Beach, Fla.), the FHSAA Class 7A state champ ranked No. 16. If Ennis and Forehand are not healthy for St. Benedict's, they could have trouble stopping the backcourt of Ely, which has proven its scoring ability in big games this season.
If St. Benedict's situation is any indication, this could be the most balanced NHSI field yet. Findlay Prep wants another crack at La Lumiere to avenge its only loss, but in order for that to occur both teams have to advance to the championship game. If history is any indication, La Lumiere might have a good shot at the semifinals (where defending champion Montrose Christian could be waiting) since the No. 6 seed has won in the opening round the past two years.
"You play 30 games for a seeding, but when the ball goes up, everyone is 0-0," said Findlay Prep coach Michael Peck. "We're blessed to be able to participate, as these games give the competing teams some closure."
Ronnie Flores is a senior editor for ESPNHS. He can be reached at
ronnie.flores@espn.com
. Don't forget to follow him on Twitter:
@RonFloresESPN
March, 8, 2012
3/08/12
9:00
AM ET
By
Ronnie Flores
| ESPN.com
The fourth annual ESPNHS National High School Invitational, set for March 29-31 at Georgetown Prep (Bethesda, Md.), is highlighted by the return of previous champions among the eight-team boys' field.
Findlay Prep
(Henderson, Nev.), which won the inaugural event in 2009 and repeated as champions in 2010, is a slight favorite to win this year's NHSI title. The No. 2 ranked team in the
POWERADE FAB 50
is not a prohibitive favorite because the field of talented teams -- including No. 10
St. Benedict's Prep
(Newark, N.J.), and No. 11 and defending NHSI champion
Montrose Christian
(Rockville, Md.) -- includes the only team to beat the Pilots this season.
That team is No. 25
La Lumiere
(La Porte, Ind.), which made national headlines in late December by defeating Findlay Prep 67-66 at the Mike Miller Invitational in South Dakota. The Lakers jumped on the Pilots early and went up 18 points before holding on at the end. This will be the first opportunity for La Lumiere to play on national television and show the country the win over Findlay Prep was no fluke.
"I think we feel like we got something to prove," La Lumiere coach Allan Huss said. "What you'll see is a hungry group. We might be a little sloppy right off the bat from the layoff, but we have some guys who, individually, think they don't get the recognition they deserve."
Since many of the participating teams don't compete for state championships, there will be sizable layoffs before quarterfinal play begins on March 29 at 2 p.m. ET (ESPNU). For instance, No. 14
Montverde Academy
(Montverde, Fla.), the 2010 NHSI runner-up, concluded its regular season on Feb. 4.
The one team that might have an advantage in this area is St. Benedict's Prep, which will compete against a tough field at the Alhambra Catholic Invitational in Frostburg, Md., March 15-17. That tournament should be a good test for the level of competition the Gray Bees could face should they advance past the first round. If they lose at Alhambra, it will likely affect the seedings for this year's NHSI, which will be announced the week of March 19.
No. 16
Ely
(Pompano Beach, Fla.) will be a dangerous public school entrant and could be a dark horse to win it all, if last year is any indication. At the 2011 NHSI, Florida Class 5A state champ Dwyer (Palm Beach Gardens, Fla.) upset Findlay Prep in the first round as a No. 6 seed behind a memorable performance by
Jacoby Brissett
, currently the starting quarterback at Florida. Ely is currently ranked in the same spot as Dwyer was entering last year's tournament and the Class 7A state champ Tigers will enter the NHSI battle-tested. Led by forward
Clide Geffrard
, Ely's only two losses are to No. 13 Bishop Gorman (Las Vegas) and Montverde Academy.
Rounding out the field is North Carolina Independent Schools Athletic Association Class 3A champion
Ravenscroft
and District of Columbia Interscholastic Athletic Association champion
Coolidge
(Washington, D.C.). Coolidge will take on No. 9 Paul VI (Fairfax, Va.) for the city title on March 20. Win or lose, you can't count them out against this NHSI field. After all, they did hand Montrose Christian one of its two regular season losses.
Regardless of how the brackets play out, this year's NHSI has a tough act to follow. In last year's championship game, Montrose Christian defeated Oak Hill Academy (Mouth of Wilson, Va.) in double overtime 71-64.
"It's always good to get another chance to repeat," said Montrose Christian's
Justin Anderson
, whose last second 3-pointer sent last year's title game into a second overtime. "It's not the same team we had last year, so I want to put our heads together and lead my team to another title."
Ronnie Flores is a senior editor for ESPNHS. He can be reached at
ronnie.flores@espn.com
. Don't forget to follow him on Twitter:
@RonFloresESPN