High-SchoolBoys-Basketball:

DeMatha Catholic
February, 10, 2012
2/10/12
10:05
PM ET
By
Jason Jordan
| ESPN.com
When pressed about the keys to DeMatha Catholic's (Hyattsville, Md.) rematch with Gonzaga College (Washington, D.C.), Stags point guard
James Robinson
offered one reason why he thought DeMatha would avenge its early-season loss to the Eagles.
"We've just got a lot of talent," Robinson said. "Too many weapons."
Too many indeed.
Jerami Grant
and
BeeJay Anya
dominated the paint, combining for 33 points, while
Jairus Lyles
was stellar in the backcourt with 15 points to help the Stags, ranked No. 29 in the
POWERADE FAB 50
, leave little doubt about who runs the Washington Catholic Athletic Conference with a 76-47 win over No. 14 Gonzaga Friday night at DeMatha in a game that was nationally televised on ESPN2.
The win avenged a two-point loss to the Eagles on Jan. 21.
Nate Britt
led Gonzaga with 21 points.
Fueled by a raucous crowd, the Stags stormed out of the gate early with a 9-2 run. But Gonzaga responded and Britt capped off a late first-quarter 8-0 run with a 3-pointer from the right wing to give the Eagles their first lead of the game, 13-12.
Lyles reignited the Stags' transition game midway through the second quarter, throwing down a hard breakaway slam and following that up with an easy layup to give the Stags a 28-21 lead.
When the Eagles answered with a 6-2 run, Lyles heaved a halfcourt buzzer-beater to give DeMatha a 33-27 lead at the half.
The Stags kept the momentum rolling, opening the third quarter with a 7-0 run to extend its lead to 40-27. Then with 4:33 left in the third quarter, Robinson got ejected when he picked up his second technical foul after hitting Gonzaga guard
Charles Glover
in the back with the ball. Robinson's first tech came in the first half after swatting Eagles' guard Tavon Blackmon's shot out of bounds and mouthing off about it.
It helped the Stags that the Eagles scored their first points of the second half – when Anya goaltended Britt's layup – at the 1:59 mark of the third quarter.
The Stags did an exceptional job down the stretch of exposing mismatches to continue the rout. The Stags also held
Kris Jenkins
, the Eagles' leading scorer, to just three points in the second half and 12 total.
Jason Jordan is the basketball editor for ESPNHS. He can be reached at jason.x.jordan.-ND@espn.com. Don't forget to follow him on Twitter: @JayJayESPN.
January, 14, 2012
1/14/12
11:30
PM ET
SPRINGFIELD, Mass. –
BeeJay Anya
, a junior forward who is ranked No. 37 in the
ESPNU 60
, scored 24 points and snagged nine rebounds to lead POWERADE FAB 50 No. 5 DeMatha (Hyattsville, Md.) past Northwest Catholic (West Hartford, Conn.) 78-57 Saturday at the Hoophall Classic in Springfield, Mass.
Jerami Grant
, a senior forward who is signed to Syracuse, added 14 points for the Stags, while
Zach Lewis
led Northwest with 23 points.
Read all about the Stags' big win
here
.
January, 13, 2012
1/13/12
12:56
PM ET
By
Ronnie Flores
| ESPN.com
Related:
Watch the Hoophall Classic on ESPN family of networks
ESPNHS' Ronnie Flores answers the most pressing questions about this year's Spalding Hoophall Classic.
Which team has the most to prove at Hoophall?
That would be
POWERADE FAB 50
No. 1 Simeon (Chicago). The Wolverines do have some quality victories so far this season, but they haven't faced a team with the talent level and big-game experience of No. 6 Findlay Prep (Henderson, Nev.). Simeon beat local rival Whitney Young (Chicago), 62-55, on Dec. 22 and No. 34 Miller Grove (Lithonia, Ga.), 59-56, at the Cancer Research Classic, but it was expected to beat those teams. With Dominic Artis, Nigel Williams-Goss and Amedeo Della Valle, Findlay Prep will put tremendous pressure on Simeon's backcourt when the teams meet on Monday (ESPNU, 3 p.m. ET). Simeon junior guard Kendrick Nunn had 19 points against Miller Grove and we'll put Nunn's magic number at 24 in order for the Wolverines to win this game.
Which player will have a breakout performance?
Six-foot-2 junior
Jairus Lyles
of No. 5 DeMatha Catholic (Hyattsville, Md.). He is a big-time scorer for the Stags who is well known in the D.C. area, but isn't as well known nationally as some of his teammates. Lyles made a huge impact for the Stags when they captured the Torrey Pines Holiday Classic earlier this year and his play will be key against Northwest Catholic (West Hartford, Conn.) tomorrow and No. 24 Bishop Gorman (Las Vegas) on Monday (ESPNU, 1 p.m. ET). According to DeMatha coach Mike Jones, he was the Stags' leading scorer halfway through last season before injuries curtailed him. Now healthy, Lyles is the X-factor in DeMatha's run for the program's sixth mythical national title.
Which team can make a big move up in the FAB 50?
No. 19 Prestonwood Christian Academy (Plano, Texas), if the Lions are on their game when they take on No. 2 Oak Hill Academy (Mouth of Wilson, Va.) tomorrow. We know
Julius Randle
and company can play with the nation's best teams (they won the City of Palms tournament), but they've been a bit inconsistent against national-level competition. Which Prestonwood team will show up? The one that won the City of Palms or the one soundly defeated by No. 3 Grace Prep (Arlington, Texas) on Dec. 15? The Lions will need big performances from complementary players
Zach Peters
and
Mickey Mitchell
because Oak Hill is probably the most complete team in high school basketball.
Which FAB 50 team is most ripe to be upset?
No. 4 St. Anthony (Jersey City, N.J.). Coach Bob Hurley's team nearly stumbled against No. 28 St. Benedict's (Newark, N.J.), but pulled out a 51-50 victory after trailing by six points entering the fourth quarter. One thing is clear -- the Friars don't have as much firepower as last season, but on Monday they could make a statement against a hungry Miller Grove team (ESPNU, 11 a.m. ET). Last season, St. Anthony's 50-point win over DeMatha Catholic at Hoophall springboarded the Friars to the program's fourth mythical national title, but they'll be facing a dangerous opponent that desperately doesn't want to go 0-3 in nationally televised games this season.
Can the West Region's top teams compete nationally?
Yes, they can compete against the nation's top-ranked teams, but only at full strength. No. 6 Findlay Prep needs
Anthony Bennett
to contribute when it faces top-ranked Simeon. According to associate head coach Todd Simon, Bennett will suit up against the Wolverines, but is likely to sit out Friday against Thurgood Marshall (Dayton, Ohio) at the Flyin' To The Hoop Invitational in Kettering, Ohio. No. 24 Bishop Gorman hasn't played at a national championship level without
Ben Carter
and
Ronnie Stanley
, but both should be in the lineup when the Gaels face DeMatha Catholic. Without Carter making a double-digit scoring contribution and Stanley earning his keep down low against DeMatha's
BeeJay Anya
, Gorman will be hard pressed to pull off the upset.
Ronnie Flores is a senior editor for ESPNHS. He can be reached at
ronnie.flores@espn.com
. Don't forget to follow him on Twitter:
@RonFloresESPN
January, 12, 2012
1/12/12
11:41
AM ET
By
David Auguste
| ESPN.com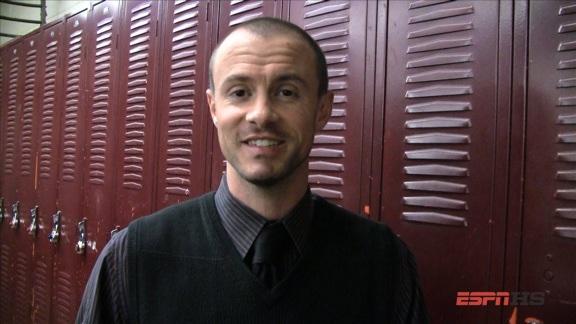 James Robinson III
just can't get enough basketball.
A fervent Magic Johnson fan, the DeMatha (Hyattsville, Md.) guard never passes up an opportunity to immerse himself in hardwood history.
The Pittsburgh signee is a hoophead to his core, so you can understand why he gets amped when it's time for DeMatha to play in the annual Spalding Hoophall Classic in Springfield, Mass., just steps away from the Basketball Hall of Fame.
"We take a tour of the Hall and it's a great experience for us," the DeMatha guard said. "I love seeing the lockers with DeMatha's name on it since us and Oak Hill (Va.) are the only high schools at the Hall. That and seeing all of Michael Jordan's rings, shows and jerseys. I enjoy the entire experience."
But the excitement surrounding last year's event would be short-lived for Robinson and Co. Playing in front of Hall of Famer and former DeMatha coach Morgan Wootten, the Stags were historically bad once they took the court. The team had the dubious distinction of suffering the worst defeat in school history, falling 75-25 to St. Anthony (Jersey City, N.J.) on national television.
"It was bad," said Robinson. "We were too careless with the ball. They punched us first and we didn't respond."
DeMatha came out lackadaisical and quickly fell behind the more aggressive Friars. The Stags' first basket came in the waning minutes of the opening quarter as they trailed 18-2. Things got so out of hand that St. Anthony's guard Myles Mack (28 points) outscored DeMatha by himself.
"I can't imagine there was a worst loss for us," said Stags coach Mike Jones. "We played as bad as we're capable of and St. Anthony's played very, very well. It was very humbling."
The loss sent the team into a tailspin as DeMatha lost three of its next six contests and struggled to regain its swagger.
"It was embarrassing and a wake-up call," senior forward
Jerami Grant
said. "Our season went downhill after that loss. I think we were a little too confident going into that game."
Jones' troops will finally get their shot at redemption this weekend when they return to the scene of that ugly loss.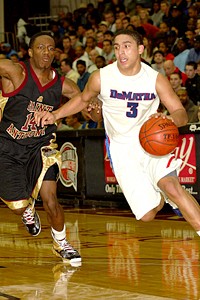 J. Anthony Roberts/ESPNHSDeMatha guard James Robinson will lead the Stags into action at this weekend's Spalding Hoophall Classic.
The Stags begin with a Saturday night matchup against Northwest Catholic (West Hartford, Conn.) followed by a nationally televised tilt on Monday (1 p.m. ET, ESPNU) with Bishop Gorman (Las Vegas) and the nation's top senior prospect, Shabazz Muhammad.
"We all know what happened last year, and we've matured," said Robinson. "I think we'll approach the game differently this time."
The circumstances surrounding this weekend's contests are eerily similar to last year's. DeMatha was 13-1 and ranked No. 14 in the POWERADE FAB 50 last year. Going into this week's action, it sports an 11-0 mark and sits in the No. 5 spot nationally.
DeMatha was able to rebound from its poor Hoophall performance to win its 22
nd
City crown last winter, but the loss still stings for the team's veterans. Robinson and Grant are intent on flipping the script at this year's event and proving that last season's effort was out of character for DeMatha basketball.
"We want to let everybody know the team that played last year wasn't us," said Grant, who signed with Syracuse in the fall. "We know we're better than that."
Robinson and Grant are each averaging double figures, but the key to sweeping the two contests could be the continued emergence of juniors
BeeJay Anya
and
Jairus Lyles
.
Anya, a 6-foot-8 forward, has been a dominant force on the interior with his scoring and shot blocking, while Lyles, a guard, has been a valuable starter with his ball-handling and 3-point shooting. That foursome can create some serious matchup problems and their experience manifests itself in clutch situations.
"Those guys bring a lot of experience to the table," Jones said. "We're a lot more experienced this time around. Last year we had a lot of guys playing their first year on varsity."
It's apparent playing better at Hoophall is of the utmost importance to the Stags, but even if they win both games, they're not ready to put that St. Anthony loss out of their minds just yet. It still serves as motivation for a larger goal — another City crown.
"In terms of forgetting that loss, I don't think that's possible," says Jones. "But that game is not the memory we want people to have of DeMatha basketball. We hope people get to see the real DeMatha this time."
David Auguste is an associate editor for ESPNHS and ESPNHS.com. Follow him on Twitter
@ESPNHSAuguste
or email him at David.Auguste@espn.com.