High-SchoolBoys-Basketball:

DeSoto
February, 29, 2012
2/29/12
8:00
AM ET
By
Jason Jordan
| ESPN.com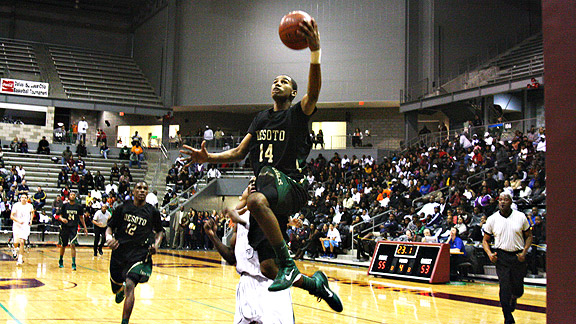 Travis L. Brown/ESPNDallas.comMatt Jones said the only way to advance in the postseason is to increase your intensity.
Matt Jones
was a bit perplexed.
Here he was leading DeSoto (Texas) into what was widely considered a gimmee first-round playoff game against Ellison (Killeen, Texas) on Feb. 21 and the Eagles were getting out of character.
DeSoto had made easy work of Ellison earlier this season, routing them by 60 points, but that was then, and this was, well, the playoffs.
"That was a completely different team that we played," said Jones, a junior shooting guard who is ranked No. 22 in the
ESPNU 60
. "They were fighting so hard out there and they really brought it to us at first. We had to regroup and come out and match their intensity, match their execution. We learned a lot from that win. You've gotta bring it in the playoffs."
As cliché as it is accurate, it's a realization that every high school baller has come to in the last few weeks: Go hard or go home.
"That's the bottom line," said Jones, who is committed to Duke. "If you don't bring it every night you're going home, period."
It's a concept that
Chris Walker
wished his team would've had the foresight to fully grasp before getting booted from the playoffs a week ago.
"I feel like we kinda knew that we'd have to raise our game to another level, but I don't know if we knew to the level that we needed to," said Walker, a junior forward at Holmes County (Bonifay, Fla.) who is ranked No. 7 in the ESPNU 60. "It's so important to play harder than you've ever played before. It sounds crazy, but even your best game in the regular season probably won't be enough in the playoffs. You've got to go to another higher level."
That goes for the country's most elite program too.
Oak Hill Academy (Mouth of Wilson, Va.), the top-ranked team in the
POWERADE FAB 50
, has already broken a school record for wins with 43 this season and even though they're record is, by definition, perfect, Warriors' coach
Steve Smith
said his team will have to raise its level of play when they head over to China where they will play nine games against international competition.
"It's very important to continually push yourself, especially at the end of the year," said Smith, who was
recently named Naismith High School Coach of the Year
. "We've consistently challenged our guys and we'll continue to do that as we come down the stretch. It's up to them to respond, but they've been doing it all year. The kids have to buy in because at the end of the year everyone's typically worn down."
L.J. Rose
has definitely felt the fatigue of a long, grueling season, but his motivation to push through the tired legs, mental fatigue and small nagging injuries is to consider the flip-side.
"It could all be over if you give in to all that," said Rose, a senior point guard at Westbury Christian (Houston) who is signed to Baylor. "Everyone's tired so you're all still even. But when you're in this position you don't think about how tired you are. You just think about what it's gonna take to get the job done. That's the main focus."
Jones agreed.
He said at this point it doesn't matter how it happens, as long as his team wins, he's happy.
"That's another major difference between the regular season and the playoffs," Jones said.
"Regular season you can have a bad game and get down about it and be upset, but now it doesn't even matter. If I don't score at all and we win, I am so excited. I don't even give it two thoughts. You just win any way that you can."
Jason Jordan is the basketball editor for ESPNHS. He can be reached at jason.x.jordan.-ND@espn.com. Don't forget to follow him on Twitter: @JayJayESPN.
November, 2, 2011
11/02/11
12:44
AM ET
By
Jason Jordan
| ESPN.com
Matt Jones
is far from rude, but, on this one, his interjection is well-warranted.
Why?
He doesn't have to think about the question. Not even a bit.
Jones knows exactly how to answer it immediately, so when he hears "Where would your career be without the 3-point line?" Jones interrupts very matter-of-factly with "Nowhere."
"The reality is that I've got all of these schools recruiting me because of my ability to shoot the 3," said Jones, a junior shooting guard at DeSoto (DeSoto, Texas) who is mulling over offers from Duke, North Carolina, Texas, Florida, Kansas and Arizona, among others. "So if there's no 3-point line, there may be no Matt Jones. I'd probably be fighting for a low D-II scholarship. I owe the people that brought the 3-point line to the high school game. I owe them big."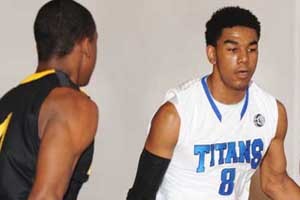 Scott Kurtz/ESPNHSMatt Jones said his ability to shoot the three is what makes him a hot commodity.
Jones' sentiments are shared by thousands of other marksmen around the country who are grateful that in 1987, the National Federation of State High School Athletic Associations adopted the 3-point line. College hoops introduced it the year before.
"The creation of the 3-point line was the most impactful change the high school game has ever seen," said NFHS executive director
Bob Gardner
. "Obviously, high schools don't have the financial resources that colleges do, so we needed that extra year to paint the lines and things like that. We also wanted to see what type of impact it made on the game, and it was bigger than anyone could've ever imagined."
Huntington Prep (Huntington, W.Va.) swingman
Andrew Wiggins
agreed. He said that without a 3-point line, the game would have less excitement.
"I think that would change a lot of the endings of games," said Wiggins, a sophomore who is the top-ranked player in the
ESPNU 25
. "You could be down 12 with one minute to go and hit a 3, and it just does something to your team. It hypes everyone up. Without 3s, so many players would be just average. I mean, where would Ray Allen be without 3s? Shooting guards would be real average."
That's precisely the reason the NFHS decided to implement the arc 24 years ago.
"The high school game was being dominated in the paint," Gardner recalled. "So if you didn't have a tall guy down there, you were at a tremendous disadvantage. The 3-point line was the ultimate equalizer. It really expanded the game for smaller guards."
Big guards, too.
As Sylvan Hills (Little Rock, Ark.) shooting guard
Archie Goodwin
, a 6-foot-5 athlete who is notoriously known for posterizing defenders, pointed out, the 3-point line makes the defense guard the perimeter, thus opening up the lane for breakdown guards.
"If there wasn't a 3-point line they'd just drop back to the free throw line, so you couldn't finish with high-percentage shots," Goodwin said. "It would all be two points, so that would be the smart thing to do defensively. I'm so glad we have an arc because I don't think basketball would have as many dunks and highlights. Having it helps everyone."
That prevailing theme became more real to Jones as the conversation progressed. He paused suddenly, as though he was pending for thought, then revisited his gratitude.
"I'm telling you, man, I owe them a lot for bringing that 3-point line," Jones said. "This line has changed my life. I owe them one or two thanks."
Maybe even three.
Jason Jordan is the basketball editor for ESPNHS. He can be reached at
jason.x.jordan.-ND@espn.com
. Don't forget to follow him on Twitter:
@JayJayESPN