High-SchoolBoys-Basketball:

Dezmine Wells
February, 6, 2012
2/06/12
11:15
AM ET
By
Rodney Purvis
| ESPN.com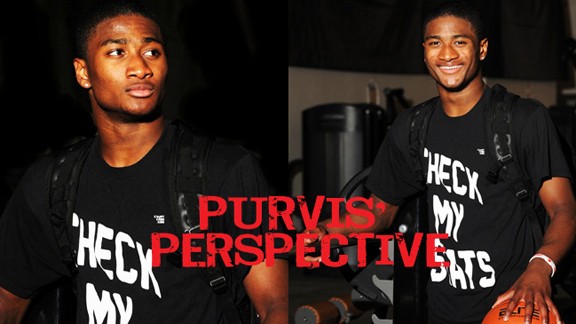 Scott Kurtz/ESPNHSESPNHS Student Blogger: Rodney Purvis
Rodney Purvis
| Senior | Shooting Guard | Upper Room Christian Academy (Raleigh, N.C.)
Purvis Blog 1
|
Purvis Blog 2
|
Purvis Blog 3
|
Purvis Blog 4
|
Purvis Blog 5
|
Purvis Blog 6
|
Purvis Blog 7
|
ESPNHS - North Carolina
Rodney Purvis is the No. 6 shooting guard in the ESPNU 100. Purvis, a senior at Upper Room Christian Academy (Raleigh, N.C.), ended one of the hottest recruitments of the summer in late September by picking North Carolina State. He's agreed to give ESPNHS exclusive access to his life and chronicle his thoughts in a monthly blog.
What's up world.
It's your boy Rodney Purvis again, and as you probably already know by now I'm a Jordan Brand All-American! I'm really excited about making this game because it's been a dream of mine for a long time now.
My bro
John Wall
played in this game and my bro
Dezmine Wells
did, too. When I told them about making the game they both said that they were proud of me and that they wanted to see me do my thing.
I'm honored and blessed to be a part of this game.
Michael Jordan
is the greatest so I'm looking forward to meeting him.
I was at school when I got the text from one of the Nike guys saying that I was picked for the game. I was so excited for the rest of the day I couldn't even think straight.
I was shocked. I've never been the type of player to think I automatically will be given things because I've always had to work for it. I just thanked him and called my mom immediately. Of course she was excited too.
I'm looking forward to seeing all of the guys down there at Jordan. I haven't really seen most of the guys since the summer in AAU. I know we'll have a good time together.
My bros
Kyle Anderson
and
Shabazz Muhammad
are coming so I already know we're gonna be buggin' out the whole time.
I know that a lot of people will come out to watch the game and I'm hoping a lot of N.C. State fans can make the game too. I would love to see guys who have played in this game in the past like John and
Kemba Walker
come back and watch us. That would be cool.
I don't really have any expectations about stats or anything like that. I just want to make an impact on the game and leave my mark.
That's it.
As always, thanks for reading my blog and check back soon for my next entry.
Take care y'all.
Don't forget to follow Rodney Purvis on Twitter:
@RPurvis_5
December, 30, 2011
12/30/11
6:50
AM ET
By
Jason Jordan
| ESPN.com
Xavier guard
Dezmine Wells
has typically operated under the adage that experience is the best teacher, but on Dec. 10, Wells learned, more than ever, that it doesn't have to be.
Wells was one of four Musketeers who were suspended for their roles in a
brawl with Cincinnati
that ended the Bearcats' blowout loss. Cincinnati also suspended four players.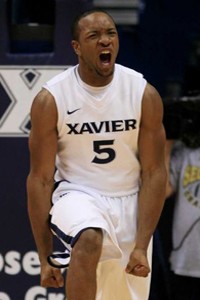 Al Behrman / APDezmine Wells said it's important to recognize the difference between intensity and anger.
"I was really upset with myself because I got out of character," said Wells, who will return from a four-game suspension Saturday when the Musketeers host Gonzaga at 8 p.m. ET on ESPN2. "I definitely wish it never happened. I hated that we acted like that."
After the incident, one of Wells' first calls was to
Kendrick Williams
, who coached Wells in AAU and at Word of God (Raleigh, N.C.).
Williams, now the coach at Christian Faith Center Academy (Creedmoor, N.C.), was the mentor who helped Wells kick his "bad attitude" when he was 11 by implementing what Williams now calls the "Dez Rule."
"I'll never forget it," Wells said. "I was young and I had a temper at practice and I was mouthing off and I didn't want to run sprints at the end, so Coach K had one of my teammates buy me a Gatorade and another teammate put a chair at midcourt, and I watched the team run for hours. That was the day I changed my attitude for the better."
Williams, who still uses the "Dez Rule" today, said he wanted to show Wells how his actions can ultimately affect his teammates, a lesson that was reinforced after the Dec. 10 melee. Xavier has gone 1-3 over its past four games.
"He's a great young man," Williams said of Wells. "We talked for an hour and a half after the Cincinnati game, and I really got on him. I don't let him get away with anything. He understood and admitted where he was wrong in the end, and he genuinely learned a lesson. That's what it's all about."
Added Wells: "It hurt me because I knew Coach K, who's like my father figure, was disappointed, plus I knew I'd hurt my mom and family. I was disappointed in myself too, but I learned a lot. I am planning to talk to some kids at the Boys & Girls Club about the importance of self-control. I know some good can come from the whole thing."
Wells came up with five things to remember during the inevitable heated situations on the court.
Cooler heads prevail.

"You've all heard this one before, but it's so true. You've got to keep your cool in every situation, not just on the court but in life. You're accountable for everything that you do.
"No matter what happens out there you've got to keep your cool and good things will happen."
Laugh it off.

"In every game, no matter who you're playing, there will be a time when someone says something slick to you or bumps you a little too hard, and the best thing you can do when that happens is to laugh it off.
"Nothing good can come from you retaliating, and any player will tell you that the retaliator is the one who usually gets caught. Just laugh it off and keep it moving."
It's not worth it.

"I've been sitting out for four games, and that alone makes it not worth it. There's always a consequence for your actions and in hindsight it's never worth it.
"You always regret it when you mess up, so you've got to use your head."
Don't mistake intensity for anger.

"This is my favorite one. A lot of guys think that being intense is all about talking smack and being all up in the opposing team's face, but it's not. It's more about playing hard and communicating with your teammates and respecting the game.
"You've got to remember that it's just intensity when things get testy on the court. You aren't really mad at the other guy; you're both just being intense. It's something you should actually respect, not get mad at. Got to learn to identify the different emotions."
Walk away.

"There are times when a guy will take it too far, whether he steps to you or pushes you or whatever, and you have a decision to make. Always choose to turn around and walk away. Take it from me.
"I would absolutely handle my situation different if I could do it over. Win or lose, you walk away and stay respectable. It sounds cliché but it's true, the bigger man always walks away."
Jason Jordan is the basketball editor for ESPNHS. He can be reached at jason.x.jordan.-ND@espn.com. Don't forget to follow him on Twitter: @JayJayESPN.