High-SchoolBoys-Basketball:

Duke
June, 18, 2012
6/18/12
2:39
PM ET
Jahlil Okafor
is in the middle of the busiest summer of his life. In addition to criss-crossing the country while playing for one of the nation's
elite AAU teams
, he's currently in Colorado trying out for the USA Basketball U17 National Team.
With such a stuffed schedule, it's understandable that Okafor is putting his college plans on the back burner for now.
"I'm just listening to everyone," said Okafor. "There's a lot of other things going on right now, so I'm taking my time. I haven't cut down my list yet."
The Class of 2014 center is in high demand. Ranked No. 2 in the
ESPN 60
, Okafor has the size, the hands and the footwork to be a dominant big man, and his gift for scoring in the post is rare for a player his age. He'll find out on Tuesday whether he makes the final cut for the U17 team, but you have to like his chances.
Last year, the 6-foot-9 Okafor played for the U16 team and averaged 14.6 points and 9.2 rebounds during the 2011 FIBA Americas Championships, shooting an incredible 71 percent from the field to help Team USA win gold.
The leading scorer on that U16 squad was fellow Chicago native
Jabari Parker
, the No. 1 player in the Class of 2013 and the reigning
Gatorade National Player of the Year
. Okafor and Parker both play for the same AAU team, and they'll both likely make the final cut for the U17 team.
Okafor says he talks recruiting with Parker, who can relate to being a top uncommitted prospect. Parker has said he will decide on a college before the start of his senior season.
"Jabari gives me advice," said Okafor. "He tells me what to expect, just the things that he's going through now and how it's going to be for me."
Okafor is still in the early stages of his decision process, but there are a few things he's looking for as he zeroes in on prospective colleges.
"I definitely want to play for a school that throws the ball in the post," he said. "I like playing in the post, so a system that plays to my strengths is important. My decision will also involve the players around me. I want good players around me, because it's all about winning."
Okafor already has offers from schools like Duke, North Carolina, Ohio State, Michigan State, Illinois, Arizona and UConn.
May, 31, 2012
5/31/12
9:00
AM ET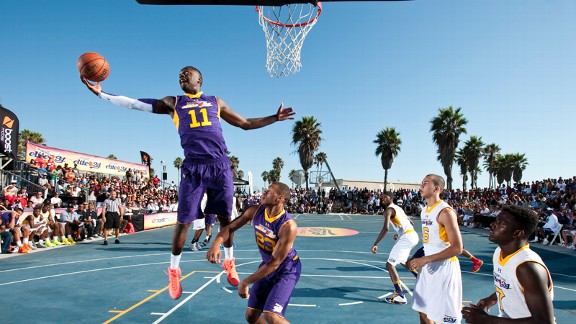 Kelly KlineThe Texas Titans rely on forward Julius Randle, an "absolute beast," to dominate the paint.
Each week this summer leading up to the AAU National Championships in Orlando in July, ESPNHS will profile one of the nation's top AAU teams and tell you why you should be paying attention.
Team:
Texas Titans

Location:
Dallas, Texas
Coach:
Scott Pospichal
What you need to know about the Texas Titans:
The Texas Titans are just in their seventh year of existence, but coach Scott Pospichal has already developed his squad into an elite national program. Many of the key contributors on the Titans' 17U team have played together for the entire seven years, so they're extremely familiar with each other and with Pospichal's system.
"We've been together since the fifth grade," said Class of 2013 shooting guard
Matt Jones
. "We just know how to play together. As a team, we know what we want. We know where the ball should go, so we don't have to worry about that. We're just out there, playing and having fun."
Combine that continuity with the Titans' absurd talent level and you've got a recipe for a national championship contender. In addition to Jones, one of the sweetest shooters in the country, the Titans also have
Julius Randle
, the No. 2 player in the
ESPN 100
and power forward
Damian Jones
, No. 70 on the list. And all of the team's stars buy into Pospichal's defense-first approach
"We're a very disciplined team," says Pospichal. "We want to be a tough defensive team. We're not trying to be great in transition, and very rarely do we take the first shot. We're a deliberate, half-court team and we pride ourselves on execution."
The Titans went 15-5 during Nike Elite Youth Basketball League play, tying for the fourth-best record during the circuit's regular season. That qualified the squad for the Nike Peach Jam, where they reached the quarterfinals in 2011.
Key Players:
Julius Randle, F, 2013:
At 6-foot-9, 225 pounds, Randle is almost impossible to defend around the basket. "He's an absolute beast," says Pospichal. "He's a talent like I've never seen." Randle is the Titans' No. 1 option on offense, and he's posted 16.7 points and 9.3 rebounds per game during EYBL play.
Matt Jones, G, 2013:
A pure shooter in the
Ray Allen mold
, Jones stretches defenses and makes opponents pay for double-teaming Randle. The Duke recruit hit 51 percent of his 3-point attempts in EYBL play and averaged a team-high 17.0 points per game. "I try to pick my spots when I want to score or attack," says Jones. "I want to focus on making my teammates better and helping our offense run with confidence."
Preston Troutt, G, 2013:
Troutt doesn't get as much attention as his highly-recruited teammates, but the 5-foot-11 guard has been with the Titans since the beginning and understands how to run the system. "He's our third scorer," says Pospichal. "He's a really good jump shooter, and he plays an important role in spacing the floor for us." Despite playing through a shoulder injury, Troutt has averaged 7.0 points per game this summer while hitting 47 percent of his 3-pointers.
Damian Jones, F, 2013:
A new addition to the Titans, Jones hasn't been in the system as long as lifers like Matt Jones and Troutt. But the Louisiana native brings a rugged low-post game and a willingness to do the dirty work under the basket.
Key Dates:
Great American Shootout: June 8-10 in College Station, Texas
Great American Shootout: June 22-24 in Pearland, Texas
Nike Peach Jam: July 18-22 in North Augusta, S.C.
AAU Super Showcase: July 24-30 in Orlando, Fla.
The Titans were one of the most impressive teams during the EYBL regular season, and they have to be considered among the favorites to win the Nike Peach Jam. The team has championship experience, as Randle, Jones and Troutt have all won national titles before in various age groups.
"It's something we've done before," says Pospichal. "Our younger teams have won national championships, and these guys expect to win."
Beyond Peach Jam, the Titans will also be playing at the AAU Super Showcase in Florida. Because of team's familiarity, they expect to be playing their best ball at the end of the summer.
"We've got a deep team," says Matt Jones. "The whole team believes we can win. When everyone is out there playing and performing their role, we can really get it rolling. We're just trying to get better with every game."
Follow Mike Grimala on Twitter (@MGrimalaESPN).
May, 14, 2012
5/14/12
10:05
AM ET
By
David Auguste
| ESPN.com
Entertaining Division I offers has become old hat for members of the Milton basketball team.
The nation's premier coaches as well as legions of evaluators have flocked to the Alpharetta, Ga., school in recent years to catch a glimpse of coach David Boyd's wealth of talented ballers. The veteran skipper has watched as seven members from the past two season's starting lineups signed with major D-I programs.
The Eagles' latest prospect could very well be the team's most intriguing to date. Not because the volume of interest in him, but because he hasn't even donned a Milton jersey yet. In fact, he's only 14 years old and still taking eighth grade courses at Milton feeder school Northwestern.
Chris Lewis, an athletic 6-foot-7 double-double machine, received a pair of offers from New Mexico and Memphis earlier this month. And as his game continues to evolve, you can count on several more schools joining in the running for services.
"I was really surprised when I heard of the offers. My coach told my dad and my dad told me," says Lewis. "It took me a while to take it all in, but I'm just trying to stay humble and work hard."
The significance of an early offer and a program showing continued interest throughout a player's prep career shouldn't be discounted. Current Milton seniors
Evan Nolte
(Virginia) and
Shaq Johnson
(Auburn) were both offered early in their careers and rewarded those schools when it came time to sign.
Lewis isn't the only middle school hoop star college coaches have set their sights on. Eron Gordon, who is expected to attend North Central (Indianapolis) next year and is the younger brother of NBA star Eric Gordon, is another hot name. He already holds an
offer from Indiana
.
"It shows that (young) players are working hard, too," says Lewis of the attention. "Yeah, it could have a negative effect, but that depends on how you take it. It should make you work harder and inspire you."
Lewis has distanced himself from his peers with his non-stop motor and commitment on the defensive end. His penchant for swatting balls into the stands has made him a deterrent to opposing scorers both on and off the ball, and he has also made significant strides on offense with a developing mid-range game and his ability to finish above the rim.
Count Boyd, who sees shades of Dennis Rodman in Lewis' game, among those enamored with the youngster's potential.
"He's the first player in our program's history to receive a scholarship this early," Boyd said. "I was sort of surprised, but at the same time when you look at Chris, he's been playing at a high level for the last three years. He's always played up (in competition) and scrimmaged our varsity last year."
Considering Lewis' rich bloodlines, it was only a matter of time before the major programs came knocking.
His older brother Mo IV, a sophomore, was the sixth man on Milton's Class AAAAA championship squad this past winter and his mother, Christalyn, also claimed a state title playing for Baldwin County in the late '80s. His father,
Mo Lewis
, starred in the NFL for 13 seasons, making three Pro Bowls during his tenure as a hard-hitting linebacker.
"He's just doing what he's supposed to do; going out and playing hard and the coaches are looking at his potential," Mo said. "I tell him, 'there's no way they can sign you now and it doesn't solidify where you will go. You still have four years of high school to play.'"
Not to mention an incredibly difficult summer working out with a personal trainer and hooping with the Georgia Stars 15U AAU team. Earning significant minutes with four-time state finalist Milton isn't necessarily a given, either.
Last year's squad captured the program's second title in four years and finished No. 7 in the
POWERADE FAB 50
. And even though the cupboard was stripped with Nolte, Johnson and
Charles Mann
(Georgia) departing for the next level, freshmen rarely get the opportunity to start for this talent-rich squad.
"We hope he can play at a high level for us," Boyd said. "If he gets to be as solid as his older brother, he'll be scary."
As good as he is on the court, Lewis might be even better in the classroom. He is a straight-A student with a fascination with robotics and hopes of being an engineer, leading Mo to affectionately label him "a nerd."
"It's fascinating that he is also such an excellent student," Boyd said. "He has Duke, UNC and Harvard as his top three schools. That just tells you all you need to know about him."
David Auguste covers high school sports for ESPNHS. Be sure to follow him on Twitter @DAugusteESPN or email him at David.Auguste@espn.com.
March, 2, 2012
3/02/12
7:00
AM ET
By
Julius Randle
| ESPN.com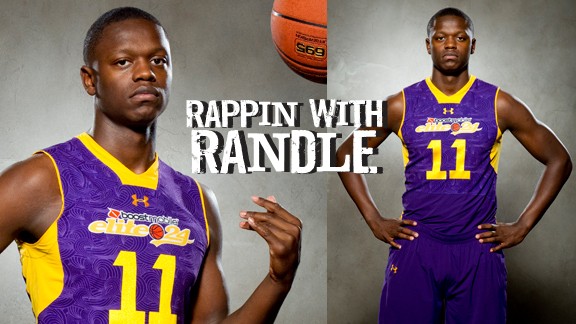 Kelly Kline/ESPNHSESPNHS Student Blogger: Julius Randle
Julius Randle
| Junior | Forward | Prestonwood Christian (Plano, Texas)
Randle Blog 1
|
Randle Blog 2
|
Randle Blog 3
|
Randle Blog 4
|
Randle Blog 5
|
Randle Blog 6
|
Randle Blog 7
Julius Randle is ranked No. 2 in the ESPNU 60. As a junior, Randle, a forward at Prestonwood Christian (Plano, Texas), is one of the most sought after prospects in the country, regardless of class, with heavyweights like Duke, North Carolina, Kentucky, Ohio State and Texas all pursuing him hotly. Randle has agreed to give ESPNHS exclusive access to his world by chronicling everything from intimate details about his recruitment to cooking recipes in a monthly diary.
Hey what's up everybody!
The biggest thing, by far, that's going on with me is that my team plays St. Thomas (Houston) in the Final Four of the state tournament today. We're so focused right now on winning states and it's even bigger because St. Thomas is the team that beat us last year in the title game.
We feel like they took something from us and we're really hungry to get this win. Last year we came into the game a little overconfident because we were blowing teams out. We got a big lead on them and didn't keep playing hard. They hit a few threes and took the lead and beat us.
I haven't forgotten that. It was definitely a learning experience.
If we win today we'll play Saturday for the state title. So hopefully this will be a big weekend for us.
Of course we don't have the only big game this weekend. It's Duke-UNC part two and you guys already know I picked Duke to win this one.
I picked UNC in the first game
and they let me down, and I just can't pick against Duke twice. Especially at home.
I expect a really competitive game, but I just think that
Austin Rivers
is gonna be too much again this time and he'll go off again. That guy is just crazy. He'll probably drop a 30-piece or something.
I won't say that Carolina doesn't have a chance because Duke has lost twice at home this year, but in their last home game I don't see them losing. I just can't see that.
Last week I went to the Mavericks-Lakers game and that was a good time because I'm a big time
Kobe Bryant
fan. I just try and watch his mannerisms to pick up tips from his game. I'm a fan but I'm a student first. His footwork is just crazy and his attention to detail on the court is even crazier. He plays every possession like it's his last.
I sat courtside for that game and that's a great experience.
Pau Gasol
and
Andrew Bynum
are just huge. I look small compared to those guys, and the game looks a lot slower than it does on TV. It's weird.
As far as my recruitment things are still going pretty good.
Coach
Mike Krzyzewski
called me yesterday and wished me luck in the Final Four. I also talked to coach
Orlando Early
from N.C. State, I talked to TCU and Coach
Roy Williams
talked to my mom the other day too.
I'm thinking about coming down to visit N.C. State again in the spring. I've really been building a good relationship with Coach Early and the staff there and he wants me to get down there to meet my mom and show us both around.
N.C. State is kind of new to me, but I've definitely got some interest in them with my bro
Rodney Purvis
there and I had a good time when I visited there a few months back.
If I do come I would probably visit UNC and Duke too, but I don't know for sure if I'm coming yet. I'll keep you guys posted on that.
I don't have a recipe this time guys. I gave up fried food for Lent so I haven't been cooking a whole lot.
I definitely want to remind everyone to go and vote for me for the
Fans Choice Player of the Year
award too.
OK guys, well hopefully the next time I write I'll be telling you about my state title.
Thanks again for reading, and I'll holla at you all later.
Don't forget to follow Randle on Twitter:
@J30_Randle
February, 24, 2012
2/24/12
9:01
AM ET
By
Tony Parker
| ESPN.com
Tony Parker
| Senior | Center | Miller Grove
Parker Blog No. 1
|
Parker Blog No. 2
Tony Parker, a senior at Miller Grove (Lithonia, Ga.), is the No. 21 player in the Class of 2012 and one of the most sought-after recruits in the nation, with UConn, Duke, UCLA, Ohio State, Georgetown, Memphis, Kentucky and Kansas all in the running for his services. He has agreed to chronicle the remainder of his final season and recruiting experiences leading up to his decision through a blog with ESPNHS.
Wassup.
Since my last blog, I have won another region championship -- the third I've won out of the four years in my career under head coach Sharman White. The game was extremely tough. Both teams really came to play. Southwest DeKalb played really hard and they have two big-time players in Auburn signee
Jordan Price
and Memphis signee
Shaq Goodwin
.
This time, with it being the region championship and SWD having lost the last two times we played, they came in with a huge chip on their shoulders and played like it. We came out with a chip also because SWD beat us the year before in the region championship. So both teams had a huge chip and felt like we had something to prove, and to me, both teams proved that SWD and MG are two of the best teams in Class 4A. And when we come to play, we are very hard to beat. SWD came out strong, but in the end we came out and finished strong so we were able to escape with a
close win
.
My Kansas visit
Kansas is a great school and they have produced very good post players. Right now they have a dominant big in
Thomas Robinson
, and a commitment from
Brannen Greene
, who is also from Georgia. Brannen and I are cool and he makes Kansas sound great. The Kansas game this weekend is where I might use my last official visit simply because that game will have one of the best -- if not the best -- atmospheres in college basketball. With Missouri being highly ranked and coming off a loss and Kansas still trying to prove themselves as a dominant team, I think it would be a showdown between two hungry teams.
On Hearing Negative Things About UCLA...
It really doesn't affect my decision to go to UCLA. Everyone has a bad experience with every school on their list and how they don't like the coach and what he does and does not do. ... You have to filter out the reasonable stories and the outrageous ones. It really won't faze me because I've been to UCLA and I know what it's about. It's like when everyone says Coach K is "stuck up," but I've met him and know him. I know what is true and what is not. That talk doesn't matter to me.
Thanks again, ESPN and ESPNHS
Oh, and congrats to coach White (who had a baby) on his new addition.
Make sure to follow Tony on Twitter: @Tonyparker32.
February, 9, 2012
2/09/12
5:03
PM ET
By
Tony Parker
| ESPN.com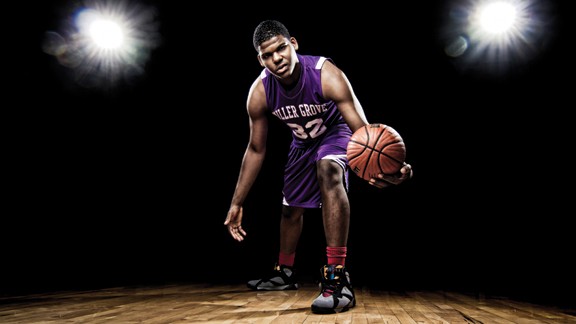 Ryan Gibson/ESPNHSMiller Grove center Tony Parker is the No. 21 player in the ESPNU 100.
Tony Parker
| Senior | Center | Miller Grove
Parker Blog No. 1
Tony Parker, a senior at Miller Grove (Lithonia, Ga.), is the No. 21 player in the Class of 2012 and one of the most sought-after recruits in the nation, with UConn, Duke, UCLA, Ohio State, Georgetown, Memphis, Kentucky and Kansas all in the running for his services. He has agreed to chronicle the remainder of his final season and recruiting experiences leading up to his decision through a diary with ESPNHS.
Wassup!
I'm coming off a great week of basketball!!! I made the Jordan Brand Classic roster for the East team. This is a great accomplishment for me and my family, and it really shows what hard work and character can do for a basketball player. A lot of great players and NBA stars have played in this great event, so I'm extremely excited to represent my family, school, community and state.
I have also been so blessed to make the leader of all high school All-Star games as I was also selected as a McDonald's All-American. It's a big honor. I'm blessed for this accomplishment and my parents, family, coaches and teammates are very proud of me for making such a prestigious event.
Last Friday, we played against Southwest DeKalb. This game is probably the biggest game in Georgia. We have played twice (this year) and it has sold out both times. The rivalry is big time! It's a great basketball environment and the atmosphere is a great representation of one of the best rivalries in Georgia history.
Everybody wants to see the matchup with me and
Shaq
(Goodwin), which has been compared to the Dwight Howard-Randolph Morris matchups (in the early 2000s). Plus, our schools absolutely have no love-lost between each other, so it was trending on Twitter the night before!
There was so much hype around the game. It's crazy and we all love the atmosphere and the support from the community. We won the first matchup by six in a very hard-fought game that went down to the wire. This game didn't go into overtime like the last one because we finished this one in regulation (59-53).
My teammates really came out strong and played a really good game. Christian Houston,
Justin Colvin
,
Tony Evans
, and
Brandon Morris
really came to play and it showed. We look forward to possibly seeing Southwest again in the region tournament They beat us in the championship last year, so we have to come ready to play.
Southwest has a really good team and a short memory because they forget every loss and come out like they have won every game. We really have to match their intensity (if we meet again).
Thanks again, ESPN and ESPNHS
Make sure to follow Tony on Twitter: @Tonyparker32.
February, 2, 2012
2/02/12
1:08
PM ET
By
Tony Parker
| ESPN.com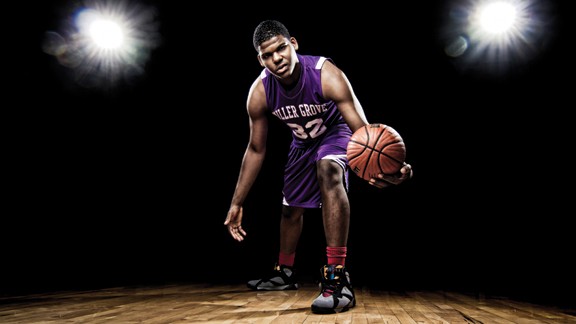 Ryan Gibson/ESPNHSMiller Grove center Tony Parker is the No. 21 player in the ESPNU 100.
Tony Parker, a senior at Miller Grove (Lithonia, Ga.), is the No. 21 player in the Class of 2012 and one of the most sought-after recruits in the nation, with UConn, Duke, UCLA, Ohio State, Georgetown, Memphis, Kentucky and Kansas all in the running for his services. He has agreed to chronicle the remainder of his final season and recruiting experiences leading up to his decision through a diary with ESPNHS.
Wassup!
I'm
Tony Parker
, a 6-foot-9 senior center at Miller Grove (Lithonia, Ga.). I play for the Sharman White, a great high school coach who has really pushed me to be a great basketball player. I love the game of basketball. It has given me a ton of recognition and attention to my community and school. This sport has made me grow as an athlete and as a man. It has allowed me to travel all over the world, and I've won two gold medals (Argentina and Germany) while playing for my country. The gold medals were and still are the best achievements in my career.
I have a great support system in my dad, Virgil, my mom, Hazel, and my sisters Jasmine and Kelsey Parker. I also have a great girlfriend in
Destinie Gibbs
, who attends McEachern [the No. 3 team in the
POWERADE FAB 50
ESPNHS girls' basketball rankings]. She is currently committed to Ole Miss and, yes, she is a good basketball player who has never beat me in shooting (although she claims she hasn't lost, ha ha).
OK, time for what you all have been waiting for: My recruitment.
So far it's going great! My schools are pretty consistent, and I have great coaches and staffs recruiting me in
Ohio State
,
Duke
,
UCLA
,
Georgetown
,
Memphis
,
Kentucky
,
UConn
and
Kansas
. Those are all great programs with a lot of championships and NBA players to boast. These schools have all seen me play numerous times. Recently, Coach K was at our
game
vs. St. Anthony. I played absolutely horrible without question. St. Anthony's coach Bob Hurley did a great job of making sure there was more than one player (sometimes more than two) around me to keep me at bay. It really worked! But I watched film and learned from my mistakes, so in the near future I won't have to worry about that problem because I've seen it before. Duke and Ohio State coaches make it a point to come see me during the season and I do appreciate them coming. It doesn't faze me much because I know I still I have to play hard regardless.
My coaches said Big John (former Georgetown coach John Thompson Sr.) was at my game last Saturday versus Dunwoody. Having him at one of my games is an absolute honor because he is a great coach and man. He has done a lot for basketball, and my family really appreciated him coming because they grew up watching Georgetown in their neighborhood. If you were a good basketball player, Georgetown was the place to be.
UCLA is a great place and L.A. is a great city! They have two recruits in
Jordan Adams
(Oak Hill Academy) and
Kyle Anderson
(St. Anthony), both of whom I've known since seventh grade. We all have good chemistry and are close friends, so they do try to recruit me. I know I would have two close friends there if I were to choose UCLA.
Kentucky is a great basketball state and they are crazy about the Wildcats in Lexington. I'm also very close with UK commit
Alex Porythress
, who was my AAU teammate this past summer on great Georgia Stars. He also tries to recruit me to Kentucky of course and I have played with him a lot, so our chemistry is unbelievable which gives them a good shot.
Memphis is close to home and they have signed
Shaq Goodwin
, a close friend who has been playing with and against me for years. We know each other like the back of our hands. Memphis, the city is absolutely crazy about the Tigers, which is also a plus.
In my spare time I love NBA 2K12. I am an absolute beast with the new Clippers. I enjoy playing point guard with Chris Paul because I'm a point at heart. I am very close with my young bro "little"
Julius Randle
. He is a great kid and was my roommate at the Nike Global Challenge. I have had a lot of success in high school (three consecutive state championships and currently working on No. 4) simply because I feel like success is in hard work and without hard work you will never be successful. God has blessed me with knowing the difference between working hard and hardly working. Thank you ESPNHS. Until next time!
Make sure to follow Tony on Twitter: @Tonyparker32.
September, 19, 2011
9/19/11
12:58
AM ET
By
Jason Jordan
| ESPN.com
Myck Kabongo
isn't as eccentric as
Ron Artest
, er,
Metta World Peace
, as accomplished as
Kobe Bryant
and doesn't have
Shaquille O'Neal's
larger-than-life persona, but all four have a commonality that transcends ankle-breaking crossovers and rim-rocking dunks.
"Rapping," Kabongo said matter-of-factly. "It's just in me. It's something that I used to play around with and grew to really love. So I decided to do it for real."
That's right, Kabongo, Texas' highly-touted freshman point guard, is joining the ranks of hoopers who double as hip hop emcees. His debut, 15-track album entitled "Late Nights and Early Mornings," is set to drop next spring after basketball season.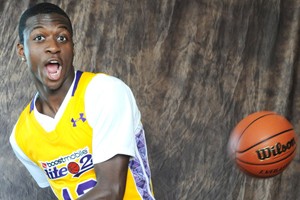 Kelly Kline/ESPNHSTexas point guard Myck Kabongo says he's "definitely" the top rapper in college basketball.
"It won't be for sale or anything," said Kabongo, whose stage name is Yung Swag. "Just for free. I haven't worked out where people will be able to get it and all that, but I'll make sure it's available to everyone. It should be pretty tight."
It certainly won't lack star power, not with Oklahoma City Thunder star
Kevin Durant
, the reigning NBA scoring champ, spitting hot bars on the album.
"K.D. can really flow… Like really," Kabongo said. "I definitely had to get him on the album. He goes hard on the tracks. People just don't know. K.D.'s style is real unique."
As for his own flow, Kabongo, who claimed to be "by far, easily the best rapper in college basketball," said he's a cross between rappers
J. Cole
and
Drake
.
"I'm a very positive person and that comes out in my music," Kabongo said. "I'm from a tough neighborhood back in Canada so I rap about things I've seen and been through and how I overcame things. Now I'm rapping about the college experience. I'd say I'm a motivational rapper. I've been in both extremes so that's what I rap about. That's my lane."
Kabongo's close friend
Austin Rivers
said that he can vouch for Kabongo's skills in the booth.
"Everything I've heard from him goes hard," said Rivers, a freshman scoring guard at Duke. "He's nice."
Still, Kabongo knows that news of his impending album will undoubtedly prompt an immediate eye-roll reaction, but said he's confident that "when people hear the music they'll see it's not just another basketball player trying to rap."
"I didn't want it to be corny or anything like that," Kabongo said. "It's really good and I guarantee that it'll be better than what people expect."
Don't forget to follow Jason Jordan on Twitter: @JayJayESPN
September, 12, 2011
9/12/11
2:00
PM ET
By
Jason Jordan
| ESPN.com
If you watched
Quinn Cook
run the point for Oak Hill Academy (Mouth of Wilson, Va.) last season then what he's about to say will probably shock you.
"I'm finally back to 100 percent," said Cook, now a freshman playing at Duke. "It feels great."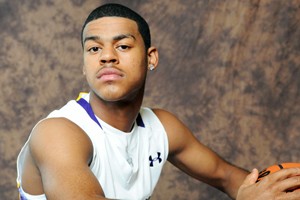 Kelly Kline/ESPNHSQuinn Cook says he's 100 percent after a year of playing on an injured knee.
The immediate "head-scratch" reaction would come from the fact that, despite playing his entire senior season with torn ligaments in his right knee, Cook managed to average 21 points and 11 assists to lead the Warriors, who finished ranked No. 7 in the
POWERADE Fab 50
.
Cook averaged 28 points per game in the ESPNHS National High School Invitational in April but fell in the championship game to Montrose Christian (Rockville, Md.), 71-64, in a
double-overtime thriller
.
The lingering injury left Cook sidelined for Duke's trip to China and Dubai in August, but for Cook it's all about what's ahead.
"I'm happy to be healthy now," Cook said. "I'm ready to go."
Don't forget to follow Jason Jordan on Twitter:
@JayJayESPN