High-SchoolBoys-Basketball:

D'Vauntes Smith-Rivera
May, 14, 2012
5/14/12
3:15
PM ET
By
Ronnie Flores
| ESPN.com
MOUTH OF WILSON, Va. -- When you've been running the same program for as long as Oak Hill Academy coach Steve Smith -- 27 years and counting -- you tend to build rituals that become part of maintaining excellence. Every year after the first three practices, Smith writes down what he expects of his team. He keeps the paper in his desk drawer in the basketball office alongside the numerous trophies and artifacts he's accumulated in winning 860 games against only 53 losses since the 1985-86 season.
"I felt like we'd probably lose a couple games because of our scheduling," Smith said. "I didn't tell that to the guys, of course, but they were 11 guys that bonded together and got it done."
In the end, the team exceeded expectations and set a school record with 44 victories. In a school assembly May 11, they were honored for that feat and for capturing their seventh FAB 50 national title. The Warriors' received medals, special Jordan Brand shoes and the ultimate team prize, the 2011-12
POWERADE FAB 50
national championship trophy.
"This is awesome," said point guard
Tyler Lewis
of the 200-person assembly that included Oak Hill's student body, administration, longtime supporters and parents who make the trek from out of town to rural southwest Virginia. "Finishing No. 1 and winning a ring is the reason why you come to Oak Hill."
Lewis' season at Oak Hill embodied the makeup of this year's team. Traditionally, Oak Hill players transfer in from all over the world, usually just for a season or two. So when Smith's coaching brethren heard Lewis arrived from Statesville, N.C., they were a bit skeptical. Lewis, an N.C. State recruit, ended up being Oak Hill's 28th McDonald's All-American.
"I told them 'guys, I think this kid is a little better than you guys think,'" Smith said. "He helped ground the other players like
D'Vauntes Smith-Rivera
. He knew what play to run, what side of the floor to run it on and knew what guy needed the ball."
In the spirit of this team-first oriented group, Smith named team tri-MVPs for the first time ever: Lewis, two guard Smith-Rivera (Georgetown) and wing
Jordan Adams
(UCLA).
Smith has named team co-MVPs twice in his tenure -- in 1992-93 with Jerry Stackhouse and Jeff McInnis and in 2003-04 with Josh Smith and Rajon Rondo. Not surprisingly, all four of those players made the NBA and both those unbeaten teams are not only considered Oak Hill's two best ever, but two of the best teams in high school basketball history.
This season Oak Hill's sum was greater than its individual parts and 7-foot center
A.J. Hammons
(Purdue), the team's best rebounder, put it best.
"If somebody wasn't playing well, there was always somebody willing to step up," Hammons said. "We weren't the most talented team [at Oak Hill], but we came together as a team and with 44 wins and zero losses we made a statement."
Ronnie Flores is a senior editor for ESPNHS. He can be reached at
ronnie.flores@espn.com
. Don't forget to follow him on Twitter:
@RonFloresESPN
February, 8, 2012
2/08/12
11:54
AM ET
By
Mark Tennis & Doug Huff
| ESPN.com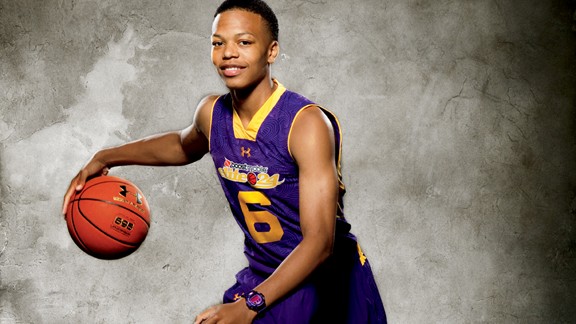 Kelly Kline/ESPNHSJunior guard and North Carolina recruit Nate Britt II will lead No. 14 Gonzaga (Washington, D.C.) against No. 29 DeMatha (Hyattsville, Md.) on Friday night on ESPN2.
The New Jersey-based PrimeTime Shootout has been around since 1976 and in recent years the event has served as the last major showcase for some
FAB 50 teams
before postseason playoffs and tournaments.
The 10-game, two-day event Saturday and Sunday at Roselle Catholic (Roselle, N.J.) features four top 20 teams, including all three New Jersey teams in the FAB 50 -- No. 3 St. Anthony (Jersey City, N.J.), No. 20 Gill St. Bernard (Gladstone, N.J.) and No. 24 St. Benedict's (Newark, N.J.). The other ranked team playing is No. 4 Chester (Pa.).
Last season, PrimeTime Shootout results had a major impact on crowning the FAB 50 national poll champion. Eventual No. 1 St. Anthony didn't take part, but Montrose Christian (Rockville, Md.) did and lost its only game of the season 57-53 to Linden (N.J.). Montrose later ended at No. 2 and would have been ahead of St. Anthony if it hadn't lost that game.
This weekend, St. Anthony, riding a 48-game win streak entering the week, faces a major Shootout challenge from once-loss Huntington Prep (Huntington, W.Va.), a private academy ineligible for the rankings that has already handed one FAB 50 ranked team its only loss -- No. 35 Northland (Columbus, Ohio).
Another long win streak is also on the line in the Shootout. Chester entered the week with a 45-game run and will face Neptune (N.J.).
Gill St. Bernard will be tested by East Region-ranked Plainfield (N.J.), while St. Benedict's, which lost its only game this season by one point to St. Anthony, plays two Shootout games. The Gray Bees go up against Lakewood (N.J.) Saturday, then meet St. Patrick (Elizabeth, N.J.) Sunday.
What2Watch4
No. 14 Gonzaga (Washington, D.C.) at No. 29 DeMatha (Hyattsville, Md.)
7:30 p.m. ET, Friday on ESPN2
This Washington Catholic Athletic Conference showdown is a rematch of a Jan. 21 game won by a shorthanded Gonzaga team 76-74.
Gonzaga's
Nate Britt II
, a 6-foot-1 junior guard who has committed to North Carolina, missed that game after injuring his left calf on Jan. 14 at the Hoophall Classic in Springfield, Mass., and was sidelined until last week's 75-48 win over Bishop Ireton (Alexandria, Va.).
Britt
came off the bench and scored 11 points with five assists.
Britt continued his comeback Tuesday night with 17 points, including four 3-pointers, in a win by the Eagles over Bishop O'Connell (Arlington, Va.). In Britt's absence, 6-6 junior forward
Kris Jenkins
has picked up the scoring slack.
DeMatha improved to 20-3 Tuesday with a 64-37 win over Good Counsel (Olney, Md.) and faces Bishop Ireton on Thursday before the Gonzaga showdown. The balanced Stags have five players with double-figure point averages, including 6-foot-9 junior
BeeJay Anya
, 6-foot-8 senior
Jerami Grant
and 6-foot-3 senior
James Robinson
. Grant is a Syracuse recruit, while Robinson has committed to Pittsburgh.
FAB 50 Spotlight Player of the Week
D'Vauntes Smith-Rivera, Oak Hill Academy (Mouth of Wilson, Va.)
The 6-foot-3, 220-pound senior shooting guard is making the most of his only year on the Warrior roster. A Georgetown recruit, he has been a consistent scoring threat as the FAB 50 No. 1 ranked Warriors have posted a 35-0 record entering the week.
Last weekend, Smith-Rivera scored 37 points to help the Warriors hold off Christ School (Arden, N.C.) 71-63 in overtime after netting 29 points in a 93-73 romp past previously unbeaten West Oaks Academy (Orlando, Fla.).
Smith-Rivera transferred to Oak Hill last summer after starting the last two seasons for Indiana power North Central (Indianapolis). He was a sophomore starter on an underclass-led Class 4A state title team and helped the Panthers advance to the 2011 state semifinals before bowing to eventual champion Bloomington South (Bloomington, Ind.).
Without Smith-Rivera, North Central is 16-4 this season and is ranked No. 3 in Indiana.
Highest-Ranked Newcomer
Trinity Christian (Lubbock, Texas)
Whether the Lions get another upset or get dumped in Saturday's matchup in Lubbock against FAB 50 No. 2 Findlay Prep (Henderson, Nev.), they have certainly put themselves on the map this season.
Last week's 57-56 win against previous FAB 50 No. 3 Grace Prep (Arlington, Texas) improved Trinity Christian's record to 34-1 and avenged an earlier 68-55 loss to Grace Prep.
Senior guard Parker Wentz netted a game-winning shot with 3.5 seconds left and finished with 31 points. The team's leading scorer is senior guard Dave Miller at 11.5 points per game.
Just a few years ago, it seemed impossible that a Texas school not part of the massive University Interscholastic League could be in the national rankings. With Trinity Christian going in this week, the Texas Association of Private Prep Schools (TAPPS) now has four schools in the FAB 50. The UIL has two.
January, 14, 2012
1/14/12
8:34
PM ET
By
Jason Jordan
| ESPN.com
ESPN Dallas:
Oak Hill neutralizes Prestonwood
SPRINGFIELD, Mass. -- Oak Hill Academy (Mouth of Wilson, Va.) point guard
Tyler Lewis
doesn't take too kindly to empty promises or trash talk so when he read Prestonwood Christian (Plano, Texas) forward
Julius Randle's
ESPNHS blog prior to the Warriors' matchup against Randle, Lewis and his teammates weren't happy.
J. Anthony Roberts/ESPNHSOak Hill point guard Tyler Lewis scored 15 points and handed out 10 assists.
In the blog
, Randle said he was happy that the Warriors were undefeated because it would give the Lions a chance to "give them their first loss."
Warriors' coach
Steve Smith
had
D'Vauntes Smith-Rivera
read the statement aloud to the team last Wednesday and after that he taped it up in the Warriors' locker room.
"We didn't like that blog too much," said Lewis, a senior who is signed to North Carolina State. "It motivated us. We wanted to make sure that we dominated this game. We didn't just want to win; we wanted to blow them out."
Lewis made sure of that.
He scored 15 points and handed out 10 assists to lead the Warriors, ranked No. 2 in the
POWERADE FAB 50
, past the No. 19 Lions, 85-55, Saturday at the Spalding Hoophall Classic in Springfield, Mass.
Smith-Rivera added 16 points and
Jordan Adams
, a senior shooting guard who is signed to UCLA, led Oak Hill with 23. Randle led Prestonwood with 23 points and nine rebounds.
"If you're gonna say something like that then at least come out and give us a game," Lewis said. "We definitely used it as motivation. I think it added to our quick start."
Lewis had the Warriors rolling from the opening tip, finding A.J. Hammons in the paint for a monster slam then draining a deep three before dropping it off to Hammons once again for another dunk.
The Warriors never let off after that.
With Lewis at the controls, Oak Hill got out in transition and knocked down five 3-pointers in the first half in route to a commanding 39-24 halftime lead.
"It was important for us to start off hot," said Smith-Rivera, a senior combo guard who is signed to Georgetown. "After that first half we knew that we were gonna just keep pouring it on. We were in a groove."
The Warriors opened the second half on a 14-4 run, thwarting any hope of a spirited rally.
"I respect what Julius said in his blog on some level," Smith-Rivera said. "I mean he's a competitor and I am too so I know that's how I would feel. But we've got a squad over here. You don't want to give us any more fuel than when already have."
When asked if he would have made the same statements in retrospect, Randle immediately answered, "Yes."
"I have a lot of respect for that team and it wasn't meant as disrespect to them at all," said Randle, who is ranked No. 3 in the
ESPNU 60
. "It was more me believing in my team and coming into the game with a confidence in my teammates. They have a great program and if that was what motivated them, so be it."
Jason Jordan is the basketball editor for ESPNHS. He can be reached at jason.x.jordan.-ND@espn.com. Don't forget to follow him on Twitter: @JayJayESPN.
December, 15, 2011
12/15/11
10:37
PM ET
By
Jason Jordan
| ESPN.com
This year more than any other, Oak Hill Academy (Mouth of Wilson, Va.) coach
Steve Smith
firmly believes in the saying "never judge a book by its cover." Smith said his point guard,
Tyler Lewis
, was "the only player I've ever coached that wouldn't get picked up in an open-gym setting."
Good thing Smith and the Warriors knew better.
Lewis scored 18 points and dished out eight assists to lead
POWERADE FAB 50
No. 3 Oak Hill past No. 2 Miller Grove (Lithonia, Ga.), 82-78, Thursday in a
nationally televised game
at Morehouse College in Atlanta.
D'Vauntes Smith-Rivera
led Oak Hill (17-0) with 20 points while
Tony Parker
led Miller Grove (6-1) with 29 points and 10 rebounds.
The frantic pace to start favored Oak Hill and its high-octane transition offense, which has averaged 94 points per game this season.
Lewis picked the usually suffocating Miller Grove defense apart, finding
Jordan Adams
for three 3-pointers in the first quarter. That helped Oak Hill claim a 23-20 lead early on.
The Wolverines switched to a match-up zone in the second quarter and fed Parker in the paint to keep it close. Parker dominated the Warriors' big men with 15 points in the first half, but Lewis paced Oak Hill to a 42-36 lead at the half. Miller Grove shot a scorching 69 percent from the field before the break, but Oak Hill drained three more 3-pointers than the Wolverines.
Late in the fourth quarter, the Wolverines pulled to within one after
Justin Colvin
drilled a 3-pointer from the right wing with 47 seconds left. After two free throws from Lewis, Miller Grove forward
Brandon Morris
went 1-for-2 at the free-throw line, got his own rebound and got fouled again on the putback, putting him at the line with a chance to tie the game.
But Morris failed to convert on both free throws and the Warriors went 5-for-6 from the line down the stretch to secure the win.
The road doesn't get any easier for either team.
Oak Hill heads to Evelyn Mack Academy (Charlotte, N.C.) on Saturday before heading off to the Chick-fil-A Classic in Columbia, S.C. Miller Grove leaves Friday for Fort Myers, Fla., where it will compete in the City of Palms Classic.
Elsewhere in the POWERADE FAB 50
The Oak Hill-Miller Grove game was one of three games televised on ESPN networks Thursday night with FAB 50 ramifications.
With its
79-64 setback
to No. 15 Grace Prep (Arlington, Texas), No. 42 Prestonwood Christian Academy (Plano, Texas) will need a big performance at the upcoming
City of Palms Tournament
to remain in the next set of rankings due for Dec. 27. Prestonwood (5-1) opens the loaded tournament against Constitution (Philadelphia) and the winner is likely to take on No. 6 Bishop Gorman (Las Vegas) in the second round.
Also last night, No. 11 Marcus (Flower Mound, Texas) upped its record to 14-1 with its
42-40 victory
over No. 4 Montrose Christian (Rockville, Md.), and the victory bodes well for No. 7 Findlay Prep (Henderson. Nev.). The
Pilots beat Marcus
47-39 on Dec. 3 to snap a 42-game winning streak. Since Findlay Prep won't compete at the City of Palms and plays two winnable games this upcoming weekend, there is a chance the Pilots could climb to as high as No. 3 in the next FAB 50 depending who wins the City of Palms. In addition to Bishop Gorman, No. 5 Mater Dei (Santa Ana, Calif.) and No. 2 Miller Grove will be in Ft. Myers, Fla.
Miller Grove's loss Thursday night to Oak Hill bodes well for Grace Prep since its only loss so far came in a 68-59 setback to Oak Hill. Grace Prep opens at the City of Palms with No. 35 Taft (Cincinnati, Ohio) and could meet Mater Dei in the second round.
Ronnie Flores contributed to this report