High-SchoolBoys-Basketball:

ESPN basketball
June, 6, 2012
6/06/12
8:00
AM ET
By
Ronnie Flores
| ESPN.com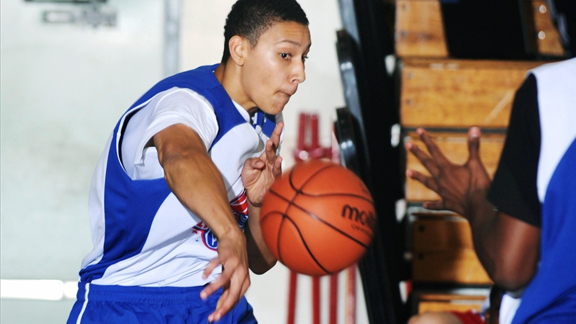 Scott KurtzPower forward Ben Simmons, a class of 2015 prospect from Australia, created some buzz at the Pangos Camp last week.
Wait 'til next year
Akoy Agau
of Omaha Central (Omaha, Neb.) wasn't getting the attention of some of the other high-major forwards at last weekend's Pangos Camp in Long Beach, Calif., but was one of the most accomplished players in attendance.
As a junior, he led Omaha Central to a 30-0 record, its third consecutive Class A state title and a No. 31 spot in the final
POWERADE FAB 50
rankings. Next season with most of the starting lineup returning intact, the Eagles stand a good chance of finishing higher than No. 31 in the FAB 50.
Last month, the Nebraska School Activities Association board
granted Omaha Central a waiver
for its Christmas moratorium to allow the highly-regarded team an opportunity to travel to Fort Myers, Fla., for the prestigious City of Palms holiday tournament. Agau added that his team is scheduled to play the FAB 50 No. 1-ranked team Oak Hill (Mouth of Wilson, Va.) next season and that they are trying to schedule a bout with Chicago's Simeon,
Jabari Parker's
team that finished No. 6 in the rankings.
For Agau and his teammates, the goal is to become the best team the state of Nebraska has ever produced. The highest FAB 50-ranked Nebraska team ever is the 2004-05 unit from Bellevue West of Bellevue, which finished No. 17.
"We have definitely talked about it and it's definitely something we're working for," Agau said about the lofty goal of finishing ranked higher than Bellevue West. "Most people don't think of Nebraska when they think of basketball, but we have the chance to achieve something special. Before last season, I was thinking of perhaps transferring to Oak Hill, but I play for a winning program already and I want to accomplish something people around the state can be proud of."
High riser from Down Under
The player who created the biggest buzz at the Pangos Camp wasn't
Cliff Alexander
, the first underclassmen ever to earn camp Most Outstanding Player honors, but 6-foot-8
Ben Simmons
, a 2015 prospect from Australia. A smooth lefty with the ability to play both forward positions, Alexander turned heads with his touch around the basket and his knack for being around the ball in the correct spots on the floor.
There is no doubt Simmons, who attends Box Hill in Melbourne, Australia, will be a high major college basketball player. The big question at camp was what American high school he'll eventually end up at. The rumors are rampant, but Simmons told ESPNHS the plan is to play one more year Down Under before heading to the states.
"The camp was good for me," Simmons said. "It was good to see where I'm at compared to the other top players. The game is more up-tempo and more athletic here. In Australia, just one or two of the players can dunk, but here even the point guards can."
As far as colleges, Simmons obviously doesn't have a list right now, but he's most familiar with Duke. He stated there are not many televised college basketball games in Australia, but mentioned the Blue Devils and Texas as the schools he's most familiar with.
Little things equal big results
At the Pangos Camp last weekend, the games were dominated by short offensive possessions and shoot-first guards. It was difficult for players who thrive off teammates' play or who do the little things to stand out.
Brandon Austin
of Imhotep (Philadelphia) was one of those players. A long and skilled guard with the ability to operate and finish with both hands, Austin was satisfied with his showing far from home.
"Coming in, I knew there was going to be a lot of competition," said Austin after scoring four points on three shot attempts in the Top 30 all-star game. "I wanted to show my talent and I think I accomplished my goals this weekend."
Austin was one of two Penn State recruits to shine at Pangos -- the other being Top 60 all-star game participant
Geno Thorpe
of Shaler (Pittsburgh).
Ballin' like I'm Rodney
You know you're big when an artist spits your name in a verse.
Well, Upper Christian (Raleigh, N.C.) guard
Rodney Purvis
must be feeling rather large these days after local rappers Woozie and JayRoc dropped a song last week paying homage to the N.C. State recruit.
The near-four minute track features a catchy hook that goes:
"They yelling, Wolfpack, Wolfpack, Wolfpack, Wolfpack. Put me in the game, 'cause I'm ballin' like I'm Rodney. Coming through the lane, and nobody can stop me."
The track can be heard here on
YouTube
and also shows some love to Brewster Academy (Brewster, N.H.) small forward
T.J. Warren
, another Wolfpack recruit.
"I actually heard it in the car with loud speakers (before it was on YouTube) so it made it that much better to me," said Purvis. "The song is nice, man. I appreciate those guys for it. It needs to get on the radio around the world."
We're not sure if the song will blow up, but we'll cosign Purvis as an instant hit once he touches down at N.C. State. The 6-foot-4 guard earned
McDonald's All-American
honors as a senior and is targeted as an impact college freshman.
David Auguste contributed to this report. Ronnie Flores is a senior editor for

ESPNHS

. He can be reached at
ronnie

.

flores

@

espn

.com
. Don't forget to follow him on Twitter:
@

RonFloresESPN
May, 16, 2012
5/16/12
12:20
PM ET
By
Ronnie Flores
| ESPN.com
The last time Sports Illustrated featured a high school basketball underclassman on its cover, it was a 17-year-old prodigy from Ohio named LeBron James. Now you can add Simeon (Chicago) star
Jabari Parker
to that exclusive club, as the junior will grace the front of SI's
May 21 issue
.
Parker was the
Gatorade National Player of the Year
this season, and he's ranked
No. 1 in the class of 2013
by ESPN. Most scouts believe he's a sure thing to become an All-Star in the NBA, and SI even touts him as "the best high school basketball player since LeBron James." The smooth, 6-foot-8 forward has led Simeon to three consecutive state championships, and he's spending his summer playing with the elite
Mac Irvin Fire
AAU team.
This is a huge moment for Parker. Lots of players are ranked No. 1 at one point or another, but few reach a level where Sports Illustrated feels the need to put them on the cover. Parker will now have a ton of pressure placed upon him during his senior season, especially since he hasn't committed yet. His college decision is likely to become a huge national media story until he signs his letter of intent, and that kind of intense spotlight can have a negative effect on some players. After all, since LeBron in 2002, the only other high school baller on the cover of SI has been Sebastian Telfair (March 8, 2004), who never quite lived up to the hype.
But as the SI story points out, Parker is a humble, faith-driven kid who seems to have his head on straight. It's up to him whether he becomes the next Sebastian Telfair or the next LeBron James.
MCI drops post-grads
Maine Central Institute (Pittsfield, Maine) will drop its post-graduate basketball team, according to
The Portland Press Herald
. Last week, MCI's Board of Trustees voted to discontinue the team beginning July 1.
Post-graduate teams traditionally exist to allow student-athletes an extra year after high school to raise their academic marks in order to meet NCAA athletic eligibility standards for incoming freshmen and to further develop their basketball skills after their regular high school eligibility has expired. The school's post-graduate team produced more than 130 Division I players and 10 who eventually played in the NBA, but MCI Athletic Director Earl Anderson told the newspaper, "the post-graduate basketball program no longer fit into the vision for MCI's future."
The school opened in 1866 and the student body is made up of both boarding and local students. According to the school's website, tuition for boarding students for the 2012-13 school year is $40,850.
In year's past, prominent MCI post-graduates -- including future NBA players Erick Barkley and Caron Butler -- came under NCAA scrutiny in regards to who paid part of their tuition.
Last season, MCI's post-graduate team went 10-17 while competing in the New England Prep School Athletic Conference after winning the NEPSAC's Class AAA title in 2011. During a 10-year period in the 1990s under former coach Max Good, MCI went 275-30, won five NEPSAC titles and managed a 79-game winning streak. Good developed nine of MCI's 10 NBA players including Barkley, Butler, DerMarr Johnson and Brad Miller.
It's not clear at this time if MCI will compete only as a regular high school team in the Maine Principals' Association division of interscholastic activities.
More on post-grad front
The news about MCI dropping its post-graduate team came on the heels of The Winchendon School (Winchendon, Mass.) also leaving the NEPSAC's Class AAA ranks. The Winchendon School is looking to move down to Class C.
Despite the NEPSAC's Class AAA ranks losing two members once considered flagship programs, the news shouldn't be considered any sign of the demise of post-graduate basketball at prep schools in New England.
The NCAA's Division I Board of Directors recently implemented new eligibility requirements that will take effect in 2016 and those requirements will be tougher than ever for freshman eligibility. That will continue to make prep schools a desirable option for student-athletes looking to improve their academic marks.
Under the new NCAA academic standards, potential scholarship players must complete their required 16 core courses before their four years of high school are complete. That is likely to lead to an increased number of student-athletes leaving to a prep school prior to the completion of their senior season of high school in order to increase their chances of qualifying under the new guidelines.
NYC AAU figure passes
Ernie Lorch, the founder of the New York Riverside Church AAU program whose legacy was tarnished amid charges of sex abuse, died on May 13, according to the New York Daily News.
Lorch, who reportedly suffered from dementia and diabetes, was 80.
Lorch, a Manhattan-based lawyer, founded the Riverside Church program in 1961 as an avenue to help underprivileged New York City kids. Erick Barkley of Christ the King (Queens, N.Y.) was one of the kids he helped and the NCAA ruled Lorch paid $3,150 of Erick Barkley's tuition at Maine Central Institute for the 1997-98 school year in violation of its rules. During the NCAA's investigation of Barkley's eligibility for St. John's University, Lorch admitted to financially assisting many student-athletes over the years.
During the Riverside Church's heyday in the 1980s and 1990s, the flagship program won countless national tournaments and produced future NBA players such as Chris Mullin, Mark Jackson, Malik Sealy, Ron Artest (now Metta World Peace) and 1989 Mr. Basketball USA Kenny Anderson. The 1996 unit that included Barkley, Artest and Elton Brand, was honored in July 2007 by the Grassroots Basketball Association of America as the best Nike-sponsored AAU team ever.
Over the last decade, Lorch's legacy as an AAU pioneer was tainted by accusations of sex abuse. Because the incident was said to have occurred in the late 1970's, New York's statue of limitations laws prevented him from ever being charged. Massachusetts' statue of limitations laws are different, and Lorch was indicted in that state but never extradited to stand trial on those charges because of his dementia.
Former dropout signs with D1 school
When a 6-foot-8 junior college transfer signs with a Big Sky conference school, it usually isn't big news. When that player was a highly-regarded prospect in high school who dropped out of school before his senior season and is a main subject of a critically acclaimed book, however, it's noteworthy.
Aaron Moore, who was a freshman standout at Dominguez (Compton, Calif.) in 2005-06, signed with Portland State for the 2012-13 school year after a standout season at San Bernardino (Calif.) Junior College.
Moore's youth career and turbulent high school career was chronicled in George Dohrmann's "Play Their Hearts Out." Dohrmann, a Pulitzer Prize winner and a writer for Sports Illustrated, followed the triumphs and tragedies of a Southern California AAU team over a period of eight years. Based on the content in the book, it looked like Moore was going to be the most tragic figure among the players on the team and now he has a new chapter.
Ronnie Flores is a senior editor for ESPNHS. He can be reached at
ronnie.flores@espn.com
. Don't forget to follow him on Twitter:
@RonFloresESPN
March, 21, 2012
3/21/12
2:01
PM ET
By
Ronnie Flores
| ESPN.com
ESPNHS has announced the
seedings
for the eight boys' teams that will compete in the fourth annual ESPNHS National High School Invitational.
The year's event, which features six
POWERADE FAB 50
-ranked teams, will be March 29-31 at Georgetown Prep in Bethesda, Md. The championship game is set for 2 p.m. ET March 31 on ESPN.
As expected, two-time NHSI champion
Findlay Prep
(Henderson, Nev.) was awarded the top seed and will face No. 8 seed
Coolidge
(Washington, D.C.) March 29. Coolidge (29-7) will have its hands full with the No. 2 team in the country. In three years, only Montrose Christian (Rockville, Md.) has played the top seed in the No. 1 versus No. 8 game down to the wire, and that came in 2010 when Montrose lost to Montverde Academy (Montverde, Fla.) by two points.
This year, FAB 50 No. 9
Montrose Christian
(20-2) snagged the second seed and opens the tournament with seventh-seeded
Ravenscroft
(Ravenscroft, N.C.). The North Carolina Independent Schools Athletic Association Class 3A champions come in with a 31-3 mark, but they didn't venture too far from home this season and are decided underdogs against the defending NHSI champions.
Returning from last year's championship team is emotional leader
Justin Anderson
, a Virginia recruit, and
Michael Carrera
, who averaged a record 12.7 rebounds in Montrose Christian's three victories. Stu Vetter's club has to show its backcourt is capable without reigning tourney MVP Tyrone Johnson (now at Villanova), but Ravenscroft has even more to prove. The last two years, the NCISAA entrant has been routed in its opener.
After missing last year's event because of key early season losses, No. 12
Montverde Academy
is back in the fold as the third seed. Kevin Sutton coached the team in 2010 when they advanced to the finals, but this year the 21-3 Mustangs have a new coach in Kevin Boyle. He turned
St. Patrick (Elizabeth, N.J.)
into a national power but his program never had the opportunity to compete at the NHSI.
Boyle now gets the opportunity against No. 6 seed
La Lumiere
(La Porte, Ind.), a newcomer on the national scene with a big and talented roster. Montverde not only faces the challenge of a hungry 25-2 team ranked No. 23, they also face the challenge of idle time. Montverde had not played another high school since Feb. 4.
One team that certainly won't have any problems with idle time is fourth seed
St. Benedict's
(Newark, N.J.), which competed in the prestigious Alhambra Catholic Invitational last weekend. Gray Bees lost only their second game of the season (33-2) to eventual tournament champion DeMatha Catholic (Hyattsville, Md.) in the semifinals.
Had St. Benedict's won that tournament without its point guard (Tyler Ennis) and sixth man (Jordan Forehand), there's a strong possibility they would have been seeded second. They only dropped five spots in the FAB 50 to No. 15 (two spots behind DeMatha) and will open the NHSI against fifth-seeded
Ely
(Pompano Beach, Fla.), the FHSAA Class 7A state champ ranked No. 16. If Ennis and Forehand are not healthy for St. Benedict's, they could have trouble stopping the backcourt of Ely, which has proven its scoring ability in big games this season.
If St. Benedict's situation is any indication, this could be the most balanced NHSI field yet. Findlay Prep wants another crack at La Lumiere to avenge its only loss, but in order for that to occur both teams have to advance to the championship game. If history is any indication, La Lumiere might have a good shot at the semifinals (where defending champion Montrose Christian could be waiting) since the No. 6 seed has won in the opening round the past two years.
"You play 30 games for a seeding, but when the ball goes up, everyone is 0-0," said Findlay Prep coach Michael Peck. "We're blessed to be able to participate, as these games give the competing teams some closure."
Ronnie Flores is a senior editor for ESPNHS. He can be reached at
ronnie.flores@espn.com
. Don't forget to follow him on Twitter:
@RonFloresESPN
March, 9, 2012
3/09/12
10:43
AM ET
By
Ronnie Flores
| ESPN.com
Last week, we took a look at the most important criteria in the ESPNHS Mr. Basketball. This week, we asked players from across the country to give their opinions on what makes a national player of the year.
It should come as no surprise top vote-getter
Shabazz Muhammad
(94 points, 10 ballots) solicited plenty of support, but the reasons why he and other top candidates were the choice varied.
Student-athletes around the country placed great emphasis on leadership skills and the ability to make teammates better which leads to team success, regardless of the amount of talent on the roster.
"Is he a winner? How's his attitude? Does he play hard consistently? Has he had big games against good teams? ...I haven't seen all the guys this year, so I guess I'll go with Shabazz (Muhammad)."
-Zena Edosomwan, Harvard-Westlake (North Hollywood, Calif.), 2012
"Of course I'm going to say myself. But if not me, then Shabazz Muhammad. I think the player of the year should be a great person on and off the court. He should also be a warrior that hates to lose."
-Archie Goodwin, Sylvan Hills (Sherwood, Ark.), 2012
To read the rest of this story and see the Mr. Basketball USA voting results,
CLICK HERE.
Ronnie Flores is a senior editor for ESPNHS. He can be reached at
ronnie.flores@espn.com
. Don't forget to follow him on Twitter:
@RonFloresESPN