High-SchoolBoys-Basketball:

ESPNHS Mr. Basketball USA
March, 2, 2012
3/02/12
10:29
AM ET
By
Ronnie Flores
| ESPN.com
As the playoffs heat up in many states, this week is a perfect opportunity to explain the criteria that goes into selecting the ESPNHS Mr. Basketball USA winner and give some insight on what it takes to earn national player of the year honors.
The talent of previous winners is clearly evident to those lucky enough to witness them in high school, but what separates the winner from other strong candidates?
Talent level
This is the most important factor. The winner must possess the skills to make an immediate impact on the college level. Nearly all past winners projected as NBA players, but not all of them start the ascension to player of the year candidate from the same point.
Just look at where 1997 winner Tracy McGrady was as an underclassman compared to runner-up Lamar Odom. McGrady was a non-descript forward at Auburndale (Fla.) as a junior. He wasn't on anyone's radar the summer before transferring to Mount Zion (Durham, N.C.), whereas Odom was one of the nation's best players since his sophomore year at Christ the King (Middle Village, N.Y.).
Of the 57 eventual Mr. Basketball USA choices, only two did not go on to play in the NBA: forward Bill Raftery of St. Cecelia's (Kearney, N.J.) in 1959 and Damon Bailey of North Lawrence (Bedford, Ind.) in 1990.
Team success
Leading a
POWERADE FAB 50
-ranked team and helping it win a state title is a significant factor. Those teams generally play tough competition, which nowadays means the candidate's team challenged itself against competition from outside its region.
Two years ago, Jared Sullinger of Northland (Columbus, Ohio) led the nation's No. 1 ranked team before the Vikings were stunned 71-45 in the Ohio regional playoffs by an unranked team. The other top candidate that season, Harrison Barnes of Ames (Iowa), led his team to a 27-0 record and No. 10 final FAB 50 rating. If Barnes' team would have lost even one game, or if Sullinger's team would have won the state title, Sullinger might have been the winner instead of Barnes.
To read the rest of this story and see the Mr. Basketball USA voting results,
CLICK HERE.
Ronnie Flores is a senior editor for ESPNHS. He can be reached at
ronnie.flores@espn.com
. Don't forget to follow him on Twitter:
@RonFloresESPN
February, 24, 2012
2/24/12
12:21
PM ET
By
Ronnie Flores
| ESPN.com
Candidacy of Michigan State recruit Gary Harris sparked by long-term production
The Mr. Basketball USA Tracker updates the progress of the nation's top national player of the year candidates on a weekly basis, but this is the time of year when the panel has a tendency to step back and look at the overall picture.
While the tracker rewards stellar game performances or recent hot streaks, the actual honor is awarded to the player with the strongest overall resume as it relates to team success. It's the reason
Michael Kidd-Gilchrist
, who led St. Patrick (Elizabeth, N.J.) to a 105-12 career record in his four varsity seasons while never allowing the Celtics to fall lower than No. 17 in the POWERADE FAB 50, won the award last year over players such as current Kentucky teammate Anthony Davis and Duke star Austin Rivers.
Overall resume is the reason Gary Harris of Hamilton Southeastern (Fishers, Ind.) has emerged as a legitimate candidate. He appeared on four ballots, including a third-place vote, to garner 22 points. That tied him for seventh place this week with Marcus Smart of Marcus (Flower Mound, Texas), who has been garnering votes all season long.
To read the rest of this story and see the Mr. Basketball USA voting results, CLICK HERE.
Ronnie Flores is a senior editor for ESPNHS. He can be reached at ronnie.flores@espn.com. Don't forget to follow him on Twitter: @RonFloresESPN
February, 15, 2012
2/15/12
10:07
AM ET
Here are this week's high school boys' basketball Players of the Week. One player is chosen from each region of the country. No player will be chosen more than once during a season.
(After games of Sunday, Feb. 12)
EAST
Nigel Johnson, Broad Run (Ashburn, Va.)

The 6-foot-1 junior point guard highlighted a 110-point, three-game week with a career-high 55 points in a 109-104 overtime loss to Osbourn (Manassas, Va.). Johnson converted 20 of 22 free throws and cashed in five shots from 3-point land in the outburst, which was witnessed by several college coaches. Johnson has nine 30-point games this season with a low of 19 points. He leads Virginia's Class AAA in scoring at 29.2 points per game and also sports averages of 8.5 assists and 4.6 rebounds. Johnson scored 34 and 21 points in his other two contests last week.
SOUTHEAST
Alex Poythress, Northeast Clarksville (Clarksville, Tenn.)

After being selected to the
2012 McDonald's All-American Game
last week, Poythress celebrated by scoring a career-high 48 points to lead Northeast Clarksville past Dickson County (Dickson, Tenn.) 68-60. The 6-foot-9 Kentucky recruit also hauled in 22 rebounds. He surpassed his previous career bests of 46 and 47 established earlier this season. Poythress is averaging better than 31 points per game, well above the 22.3 mark he turned in last winter. In addition to scoring, rebounding and leading his team to a 25-2 record, Poythress also boasts a 3.9 GPA.
MIDWEST
Connar Tava, Warren De La Salle (Warren, Mich.)

The 6-foot-6, 230-pound senior forward had a monster game in a 72-53 Detroit Catholic League Central Division win over U-D Jesuit. The Western Michigan recruit scored 43 points and collected 22 rebounds to lead the Pilots, who are favored to win the Catholic League playoffs for the fourth straight year, something that hasn't been done since 1952. In avenging the team's only league loss, Tava scored 29 of his points in the second half while connecting on 14 of 17 shots from the floor as the Pilots claimed their fifth straight Central Division crown.
MIDLANDS
Justise Winslow, St. John's (Houston)

Following a 31-point outing from the previous week, Winslow came through for two more all-around top-notch efforts that lifted his team to the Southwest Preparatory Conference Division I championship. Winslow, a 6-foot-6 sophomore forward ranked No. 15 in the ESPNU 25, had 27 points, eight rebounds and three blocks in a 49-46 triumph against Episcopal (Dallas) and then put up 25 points with 10 rebounds and eight assists as St. John's beat Kinkaid (Houston) 70-60 in the final. Winslow averages 22.5 points per game.
WEST
Nick Stover, Windward (Los Angeles)

A 6-foot-5 senior on his way to Loyola Marymount, Stover collected 65 points in two wins last week to help the Wildcats vault back into the top 20 of the
Cal-Hi Sports
state rankings. Stover, who is averaging 21.7 points per game this season, had 33 points in a 77-71 triumph over Campbell Hall (North Hollywood, Calif.). He then hit for 32, including the game-tying free throws with 1.5 seconds remaining in regulation, in a 75-71 overtime win over state-ranked Pacific Hills (Los Angeles). Earlier this season, Stover had 23 points as Windward beat defending CIF Division II state champion Archbishop Mitty (San Jose, Calif.). He was a major contributor last year, leading the Wildcats to the CIF Division IV state crown.
February, 8, 2012
2/08/12
10:31
AM ET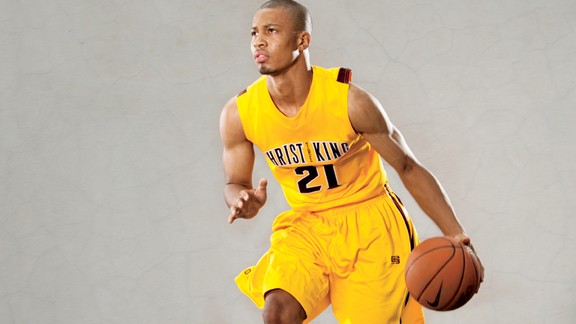 Steve Boyle/ESPNHSChrist the King (Middle Village, N.Y.) senior guard and UConn recruit Omar Calhoun scored a combined 60 points in two wins last week.
Here are this week's high school boys' basketball Players of the Week. One player is chosen from each region of the country. No player will be chosen more than once during a season.
(After games of Sunday, Feb. 5)
EAST
Omar Calhoun, Christ the King (Middle Village, N.Y.)
The 6-foot-3 shooting guard, who will play next season at UConn, came up big in two key victories last weekend to propel the Royals to the top the New York City rankings. The four-year varsity player scored 60 points in wins over St. Raymond's (Bronx, N.Y.) and Cardinal Hayes (Bronx, N.Y.).
Calhoun
netted 33 in an 84-74 victory over St. Raymond's and 27 the next night in a 68-52 win over Cardinal Hayes. Against St. Raymond's, Calhoun scored 20 points in a fast-paced first-half that saw the Royals take a 44-39 lead.
SOUTHEAST
Jacob Roark, Concord (Ark.)
The 5-foot-10 sophomore guard from a top Class 1A school in Arkansas started this week with three straight 40-point games. Roark, who received Class 1A all-state honors as a freshman, had 40 points in his last game from the previous week. He followed that with 41 in a 89-81 win against Viola (Ark.) and then hit for 41 again to lead his team past Sacred Heart (Morrilton, Ark.) 86-77. In the win against Sacred Heart, Roark converted two rare 4-point plays in the fourth quarter.
MIDWEST
Sam Meyer, Totino-Grace (Fridley, Minn.)
The 6-foot-1 senior guard was a one-player shooting star in a 90-59 romp past St. Francis (St. Francis, Minn.), converting 12-of-13 on 3-point attempts and scoring a personal-high 47 points. The sharpshooter outscored the Saints' team in the first half with 34 points, including 9-of-10 from beyond the 3-point arc, as the Eagles took a 52-32 cushion into intermission. Meyer averages 16.9 points a game and his previous personal scoring best this season came in the opening game, a 79-50 win over Rogers (Minn.) when he scored 32 points.
MIDLANDS
Conner Frankamp, Wichita North (Wichita, Kan.)
Once Perry Ellis leaves nearby Heights and heads off to the University of Kansas, Frankamp won't be far behind. The Kansas commit poured in 47 points, making seven straight 3-pointers during one stretch, in a 69-66 victory last week over East (Wichita, Kan.). It was the junior guard's fourth 40-point game of the season (he scored a season-high of 48 points in one game), and he' averaging 33.7 points per game. While Frankamp isn't a huge inside presence like Ellis, his prolific scoring from the perimeter will make him a bona fide All-American candidate next season.
WEST
Justin Johnson, Green River (Utah)
Another small-town hero, Johnson attracted our attention by scoring 54 points last week in a 72-38 victory over Monument Valley (Utah). He also had a 51-point game to lead the Pirates past Navajo Mountain (Utah) and is averaging 36.7 points per game. The 6-foot-4 senior also plays baseball and was recently named to the Academic All-State Team with a 4.0 GPA. Small schools in Utah actually play a fall season in baseball, so Johnson's senior season in that sport is done. He threw a no-hitter in one game, which gives him the distinction of throwing a no-hitter in baseball and scoring more than 50 points in a basketball game. Small school or not, that's hard to beat.
February, 1, 2012
2/01/12
2:24
PM ET
Here are this week's high school boys' basketball Players of the Week. One player is chosen from each region of the country. No player will be chosen more than once during a season.

(After games of Sunday, Jan. 29)

EAST

Brandon Camic, Serra Catholic (McKeesport, Pa.)
The 6-foot-5 senior forward has made his wait to play at Serra Catholic worthwhile. He set a school single-game scoring record last week by chalking up 51 points in an 88-33 rout of Elderton (Pa.). Camic had to sit out his junior season after transferring from South Allegheny (McKeesport, Pa.) following his sophomore year. Camic, who recently passed the 1,000-point career mark, leads Pittsburgh area Class A scorers with a 23.8 per game average. He also averages 10 rebounds and six assists per game.

SOUTHEAST

Devonte Boykins, East Rutherford (Forest City, N.C.)
As a freshman last year, Boykins started alongside older brother Devince, who is now playing at Marshall University, and helped East Rutherford win the Class 2A state title. He's now one of the most promising sophomores in the state. Boykins posted a triple-double of 30 points, 10 rebounds and 10 assists and also had four steals in his team's 69-48 win over Patton (Morgantown, N.C.). He added 20 points and eight rebounds in a 58-47 triumph against A.C. Reynolds (Ashville, N.C.).

MIDWEST

Casey Kasperbauer, Carroll (Iowa)
The 6-foot-1 senior guard scored 47 points, including 17 in the fourth quarter, in a 84-70 victory over Winterset (Iowa). The South Dakota recruit, who also plays quarterback in football, connected on eight 3-point field goals and all 11 of his free throw attempts in the second highest scoring game for an Iowa player this season. Kasperbauer leads Class 3A in scoring with a 25.3 points per game this season. A four-year regular and three-time all-state honoree, he has led Carroll in scoring, assists and steals for four straight seasons.

MIDLANDS

Quinton Threadgill, Haworth (Okla.)
This senior guard is from a school of less than 400 in the far southeast lip of the state and has been putting up huge numbers. Threadgill broke his own school record last week with 52 points in a 90-65 victory over Valliant (Okla.) and went over 1,500 points for his career. Threadgill scored 50 in a game earlier this season and is averaging 26.8 points and 7.1 rebounds per game. He will play next at Southeast Oklahoma State.

WEST

Corey Lange, Tehachapi (Calif.)
After starting the season late due to being on a 10-2 football team, Lange has become one of the most explosive scorers in California. He began last week with 45 points, 12 rebounds, four steals, two blocks and two assists in a 76-63 victory over Taft (Calif.). That was followed up with 48 points, which ties a school record and is the highest total in a game this season in the CIF Central Section, when Tehachapi beat Bakersfield Christian (Bakersfield, Calif.) 98-84. Lange, a 6-foot-2 guard, is averaging 25.8 points per game.
January, 25, 2012
1/25/12
10:24
AM ET
Here are this week's high school boys' basketball Players of the Week. One player is chosen from each region of the country. No player will be chosen more than once during a season.
(After games of Monday, Jan. 16)
EAST
Frank Mason, Petersburg (Va.)

The 6-foot senior point guard led the Crimson Wave to a statement victory in a matchup of the top two-ranked teams in the Richmond area and two of the top three in the state. The Towson recruit scored 37 points while cashing in on 21-of-26 free throws, including 7-for-7 in the fourth quarter, to lead Petersburg (17-1) to a 75-69 win over John Marshall (Richmond, Va.), which fell to 14-2. Mason, who was also credited with nine rebounds, took charge in the home stretch by scoring 12 of his team's final 17 points. Entering the game, Petersburg was ranked No. 1 and John Marshall No. 3 in state polls.
SOUTHEAST
Stetson Billings, Strong (Ark.)

The 6-foot-5 senior shooting guard netted his first 50-point game and his first triple-double in the same performance. Billings, the No. 4-ranked prospect in the state according to ESPNU, racked up 57 points and also had 16 rebounds and 10 assists when Strong defeated Bearden (Ark.), 89-65. In his two other games last week, Billings had 28 points in a win against Norphlet (Ark.) plus 29 in a victory over Woodlawn (Rison, Ark.). He is averaging more than 29 points per game and is headed to Arkansas-Little Rock.
MIDWEST
Matt Costello, Bay City Western (Auburn, Mich.)

The 6-foot-9 senior center had a career game as Western outlasted Southwestern (Flint, Mich.), 80-75, in a double-overtime triumph.
Costello
scored a career-best 49 points, two off the 21-year-old school reeord, as the Warriors rallied from a 38-26 halftime deficit. The Michigan State recruit also was credited with 20 rebounds, six assists and seven blocked shots. Costello is averaging 22 points and 20 rebounds per game this season. His 6-foot-4 twin brother, John, also starts for the Warriors and averages 12 points and six rebounds per game.
MIDLANDS
Josh Scott, Lewis-Palmer (Monument, Colo.)

On the strength of making 16-of-19 shots in one game and then 12-of-14 in the next,
Scott
continued his dominance for the Rangers last week in a pair of easy wins. The 6-foot-10 senior center, who has signed with Colorado, first had 36 points, seven rebounds and two blocks in a 94-40 romp past Harrison (Colorado Springs, Colo.). He then added 33 points and 12 rebounds when Lewis-Palmer swamped Woodland Park (Colo.), 102-28. Scott is averaging 29.9 points, 11.9 rebounds and 3.5 blocks per game. He is Colorado's top recruit, checking in at No. 36 player in the
ESPNU 100
.
WEST
Marcus LoVett Jr., Providence (Burbank, Calif.)

This high-scoring freshman point guard plays at a school directly across the street from Disney world headquarters, but that is not why we're writing him up as a national player of the week. In a 73-66 victory by the Pioneers last week over Campbell Hall (North Hollywood, Calif.) that involved two of the top freshmen in California, LoVett scored 45 points to push his season scoring average to 32.4 per game. Freshman Aaron Holiday, younger brother of NBA guard Jrue Holiday, led Campbell Hall with 27. Last year, Providence was led by junior Patrick Gonzalez, who was the state's top scorer with more than 37 points per game. This season, Gonzalez is the squad's second-leading scorer at 19 points per game.
October, 26, 2011
10/26/11
11:17
PM ET
By
Jason Jordan
| ESPN.com
With the offseason in full effect, ballers around the country have begun what is widely regarded as one of the most grueling grind modes of the year as they prepare for the up-and-coming season.
Every week we'll profile an elite player and have them dish on one of their most unorthodox training methods and explain why it's been so beneficial.
Next up?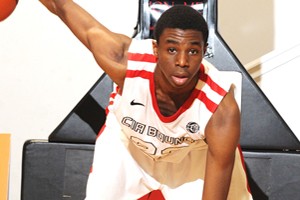 Scott Kurtz/ESPNHSAndrew Wiggins said repetition is key when it comes to making and creating shots.
Huntington Prep (Huntington, W.Va.) swingman
Andrew Wiggins
, the No. 1 player in the
ESPNU 25
.
The Drill
: Double-crossover pull-up jumpers
The Rundown
: "Well, I start at the halfcourt line and do one in-and-out cross then I cross it back over to the opposite direction. After that I take a few more speed dribbles toward the goal and stop and pull up for a mid range jump shot. I do that for about 10 minutes.
I don't really take a count of my makes because it's more about the repetition of it all. I definitely make most of the shots though."
The Benefit
: "This drill really helps with your repetition. When you're shooting and trying to create your own shot it's so important to get in a routine of doing the right things.
You never want to change your shot. So it kinda gets you in the mindset of doing the right things at all times."
Jason Jordan is the basketball editor for ESPNHS. He can be reached at
jason.x.jordan.-ND@espn.com
. Don't forget to follow him on Twitter:
@JayJayESPN
October, 19, 2011
10/19/11
5:00
AM ET
By
Ronnie Flores
| ESPN.com
RELATED: Simeon Is Preseason No. 1
1. Will programs designed to excel at basketball be forced to play only against each other?

No, not as long as the National Federation of State High School Associations (NFHS) defers to state associations with regards to restrictions to whom member schools can play. Some state associations allow their teams to play programs such as Huntington Prep (Huntington, W. Va.) or Findlay Prep (Henderson, Nev.) and others do not. These non-members follow the rules of the association in their home state to varying degrees. We say programs and not schools because the players at Findlay Prep and Huntington Prep attend other secondary schools; the one on their jerseys do not exist. If the National Federation doesn't take a stand or strongly suggest state association members not to play these programs, they will continue to be relevant and that's fine with us as ratings compilers. Our job is to enforce general guidelines for ranked teams to follow to ensure a level playing field, have as much accurate info about as many teams as possible and use the result of games as the basis for our rankings. It's not our job to pass judgment about who should be allowed to compete against whom.
2. What kind of impact will the NBA lockout have on the high school game?

Lost in the hoopla around the sticking points of revenue allotment between owners and players and the length of player contracts is the 19-year old age rule that was administered the last time the NBPA negotiated the collective bargaining agreement (CBA) in 2005. The rule could be abolished, but it's not the focus in this work stoppage. While the country waits for both parties to come to their senses, general fans looking for their hoop fix might turn to the college and high school game, a huge plus for teenagers who love the game.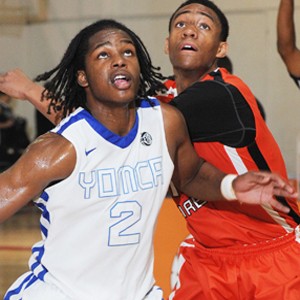 Scott Kurtz/ESPNHSShaq Goodwin and other senior Mr. Basketball USA candidates will get strong competition from junior Jabari Parker for the coveted honor.
3. Which ranked teams have the most pressure to live up to lofty expectations?

The two teams located on opposite ends of the desert oasis known as Las Vegas -- Bishop Gorman and Findlay Prep. The Bishop Gorman coaching staff felt its team should have won last season's Class 4A state title even with the nation's No. 1 recruit, Shabazz Muhammad, nursing a bothersome ankle in the state semifinals. The Gaels lost that game by a point and what made that result even more shocking is the team that upset them, Bishop Manogue of Reno, lost in the final by 35 points. In a recent fall showcase, Gorman took on Findlay Prep, minus Muhammad, and even with "ringer" Katin Reinhardt of Mater Dei (Santa Ana, Calif.) in the lineup, the Pilots led early by more than 20 points. Findlay Prep probably has its most talented roster since 2008-09 when it finished No. 1 in the FAB 50, but the Pilots have to prove they can survive a murderous schedule and not have letdowns similar to the ones they've had the previous two seasons.
4. Can an underclassman win ESPNHS Mr. Basketball USA honors?

Yes, there is a solid chance it could happen for the first time since LeBron James earned the honor after his junior season at St. Vincent-St. Mary (Akron, Ohio) in 2001-02. Some high school experts feel juniors Nerlens Noel of The Tilton School (Tilton, N.H.), Julius Randle of Prestonwood Christian Academy (Plano, Texas) and Jabari Parker of Simeon (Chicago, Ill.) are the best prospects in high school basketball, regardless of class. Noel's candidacy is somewhat hindered by playing at a school that allows post-graduates while opinion varies on Randle. Some recruiting experts feel Randle is a once-in-a-decade type player, while others feel he has a lot of work to do on his perimeter game. Either way, he'll have to elevate the play of his teammates to have a chance and that's where Parker might have the edge. His Simeon team plays a tough enough schedule to put him in great position for a historic season.
5. Does the summer have an impact on team rankings?

Yes it does. When most think of the summer scene they think of endless games, long travel days and earning -- or losing -- college scholarships. But the summer is also an aid in team evaluations, although the top players on many POWERADE FAB 50 teams don't play together. It's the improvements shown by lesser-known players that are key, or team success among a group of players from the same high school. For instance, DeMatha (Hyattsville, Md.) was an inconsistent team last year but came on strong towards the end of the season. The Stags' top three returnees -- CG James Robinson, WF Jerami Grant and PF BeeJay Anya -- had a standout summer with Team Takeover and that bumped up the team a few spots in the preseason rankings.
Ronnie Flores is a senior editor for ESPNHS. He can be reached at
ronnie.flores@espn.com
. Don't forget to follow him on Twitter:
@RonFloresESPN
September, 21, 2011
9/21/11
4:42
PM ET
By
Ronnie Flores
| ESPN.com
Perry Ellis
, ranked No. 37 in the
ESPNU 100
, will continue his much-celebrated basketball career at the University of Kansas, he announced at a Wednesday afternoon press conference at his high school gymnasium.
The Wichita Heights (Wichita, Kan.) product chose the Jayhawks over Kansas State, Wichita State and Kentucky. Ellis, a 6-foot-9 power forward, plans to sign his letter of intent during the early signing period.
"Perry felt totally comfortable with the coaches, players, campus and great winning tradition," said his mother,
Fonda
. "He also thinks [assistant coach]
Danny Manning
can help him."
A three-time Gatorade State Player of the Year honoree, Ellis has also participated in two
Boost Mobile Elite 24
events. In 2009, he played in the game in New York and last month was at Venice Beach, Calif., for the 2011 edition.
Last season, Ellis joined
Tony Parker
of Miller Grove (Lithonia, Ga.) and
Shabazz Muhammad
of Bishop Gorman (Las Vegas, Nev.) as the only juniors named to the 20-man
ESPNHS All-American first team
.
Two years ago, Ellis earned
ESPNHS National Sophomore of the Year
honors and was just as spectacular as a junior. He shot over 72 percent from the field while averaging 22.6 points and 7.9 rebounds for a 25-0 team ranked No. 11 in the
POWERADE FAB 50
. With Ellis in the lineup, Heights has won 72 of 75 games and three consecutive Class 6A state titles.
He's a strong preseason candidate for the 2011-12
ESPNHS Mr. Basketball USA
award given to the nation's top player. He's already considered along with
Greg Dreiling
of Kapaun Mt. Carmel (Wichita, Kan. '81) and former Heights standouts
Aubrey Sherrod
,
Darnell Valentine
and
Antoine Carr
as one of Kansas' all-time prep greats.
Manning, his future mentor at Kansas, was runner-up to
John Williams
of Crenshaw (Los Angeles, Calif.) for ESPNHS Mr. Basketball USA honors in 1983-84 at Lawerence (Lawrence, Kan.). He began his prep career at Paige (Greensboro, N.C.) before moving to Kansas after his father Ed joined
Larry Brown's
KU staff.
Don't forget to follow Ronnie Flores on Twitter: @RonFloresESPN