High-SchoolBoys-Basketball:

Florida
June, 19, 2012
6/19/12
11:58
AM ET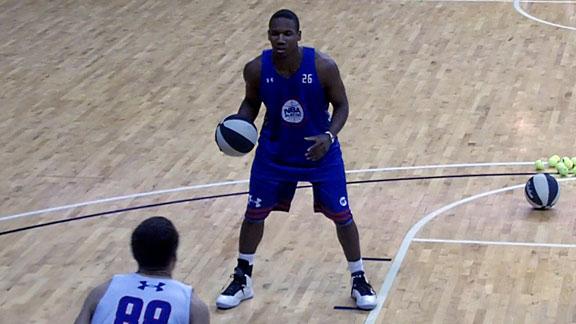 Wayne Selden
recently
reclassified
from the Class of 2014 to the Class of 2013, but that doesn't mean the Tilton School (Tilton, N.H.) shooting guard is in a hurry.
A week after starting the process of joining the senior class of 2013, Selden's college recruitment is still wide open.
"I'm still weighing my options," Selden said. "Nothing is close to definite yet."
An athletic 6-foot-5 slasher, Selden is ranked No. 20 in the
ESPN 100
, and he has no shortage of early suitors.
He lists Florida, UCLA, Missouri, Kentucky and Ohio State among the schools that have been recruiting him hardest so far, but he's not close to trimming them to a final list.
"I'm going to form a list by the end of the summer," he said. "Those schools are recruiting me hard, but I want to look at everything."
Selden says he's putting an emphasis on the programs and coaches that would best foster his game.
"Whether it's a run-and-gun or a slower pace, I want to be able to develop in the system," Selden said.
Follow Mike Grimala on Twitter (@MGrimalaESPN).
June, 1, 2012
6/01/12
12:26
PM ET
Let's get something out the way real quick:
Bobby Portis
could care less about player rankings.
The Hall (Little Rock, Ark.) junior rarely visits recruiting databases, opting to test his mettle against the nation's top players on the hardwood rather than in cyberspace.
But after receiving a tweet last week notifying him that he was rated the No. 12 player in the new
ESPN 100 rankings for the Class of 2013
, the Arkansas commit grew a bit curious and had to sneak a peek. Portis' new rating heading into the thick of the AAU season was 20 spots higher than his previous status in the ESPN 60.
"I hadn't looked at them since last August when I was like 35th," says the 6-foot-9 power forward. "I think it's an honor, but you can't get caught up looking at it."
Portis made a name for himself during his sophomore season as a defensive ace with the ability to defend up to four spots on the court. But he was admittedly a weak player who was soft in the paint and lacked the conditioning of an elite prospect. Therefore, he didn't garner the same attention as his peers.
"I think being ranked in the 30s was right at the time," Portis said. "People said I should have been higher, but I never looked at it like that. I just kept working hard."
Portis attributes his recent rise in notoriety to enhancements to his mid-range game and ball handling. He also became a high motor player on both ends of the floor thanks to improved conditioning and put more of an emphasis on his leadership and doing the grunt work necessary to will his team to victory.
He was a changed player during the high school season, notching 17 points and ripping down 11 boards a contest as Hall completed a three-peat at state. His retooled offensive arsenal (13.4 points a game) has turned heads nationally on the AAU scene, as he powered the Arkansas Wings to a 13-7 record at EYBL and a berth in July's Nike Peach Jam.
"If you're not getting better, you're getting worse," says Portis. "Looking on ESPN and seeing No. 12, it motivates me. But when I step on the court, (I know) other players want to out-perform me. I just want to move up even more."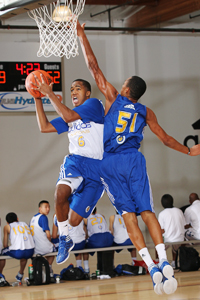 Kelly Kline/Getty ImagesFresh off a huge performance at NHSI, Montverde guard Kasey Hill is No. 6 in the Class of 2013.
Like Portis, Montverde Academy (Montverde, Fla.) point guard
Kasey Hill
has never been a big believer in player rankings. But after lighting it up at some prestigious postseason events, Hill saw his stock rise from No. 18 to No. 6 in the current ESPN 100.
The Florida recruit averaged 15.4 points and 7.2 assists per game during the regular season, but it was his showing at the
National High School Invitational
in April that helped vault him toward the top of the rankings. Hill posted 20 points and seven assists in a semifinal win over Montrose Christian (Rockville, Md.), then exploded for 23 points and six assists in the championship game against powerhouse Findlay Prep (Henderson, Nev.).
Hill was the best player on the floor against Findlay Prep, which finished No. 2 in the
POWERADE FAB 50
. His quickness, court vision and superior ball-handling were on full display in an overtime loss.
"I think it started with the NHSI," says Hill. "I played pretty well there. I showed I can get my teammates involved and play consistently against the best competition."
Hill tries not to think about his current ranking, but that doesn't mean he's satisfied, either.
"I like being ranked highly," says Hill. "But the important thing is for me to continue to work hard and stay consistent so I don't drop. If I work hard enough, I feel like I can go even higher."
Here's a look at four other players who have seen their stock rise dramatically.
Ishmail Wainright
, Montrose Christian (Rockville, Md.)
Previous ranking: No. 27
Current ranking: 18
Differential: 9
Why the rise: This talented small forward boasts an NBA body at 6-foot-6, 220-pounds, and he is coming off a junior season in which he helped power the Mustangs to No. 14 in the POWERADE FAB 50. Wainwright was a stat-stuffer playing alongside Virginia-bound star Justin Anderson, averaging 8.0 points, 8.2 assists, 4.4 rebounds and 2.6 steals per game in his first season at Montrose after transferring from St. Louis, Mo. He ended the year on a high note by averaging a near double-double at NHSI.
Sindarius Thornwell
, Oak Hill Academy (Mouth of Wilson, Va.)
Previous ranking: 47
Current ranking: 23
Differential: 24
Why the rise: Thornwell has been one of the most impressive players during Nike Elite Youth Basketball League play, scoring 16.9 points per game while leading Team United to a 9-5 record and a berth in the Nike Peach Jam. At 6-foot-4, Thornwell brings physicality to his shooting guard position, as evidenced by his 7.3 rebounds per game in EYBL. If he improves his outside shooting touch, he has the potential to rise even higher in the rankings.
Rondae Jefferson
, Chester (Pa.)
Previous ranking: No. 38
Current ranking: 22
Differential: 16
Why the rise: Jefferson is all about versatility. The 6-foot-6, 210-pounder is still growing into his body, and his potential has college coaches salivating. This past season, Jefferson showed he could play anywhere from point guard to power forward, and while he averaged just 12.1 points per game, he flashed the kind of offensive skills that could someday translate to the NBA game.
James Young
, Troy (Mich.)
Previous ranking: No. 10
Current ranking: 5
Differential: 5
Why the rise: High school juniors are usually far from finished products, and that's what makes Young so impressive. The 6-foot-6 shooting guard is a polished scorer, able to score off the dribble or from the outside with his smooth shooting stroke. This past season, he averaged 25.1 points and 10.5 rebounds per game, and he's continued to show a well-rounded scoring arsenal on the summer circuit.
February, 29, 2012
2/29/12
8:00
AM ET
By
Jason Jordan
| ESPN.com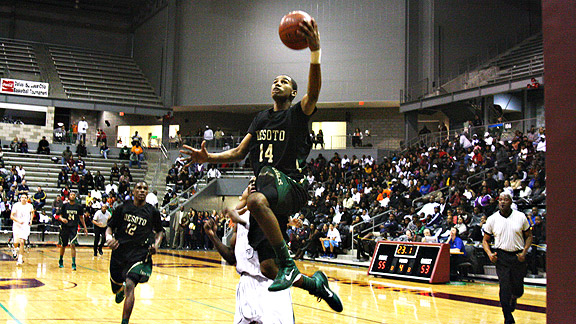 Travis L. Brown/ESPNDallas.comMatt Jones said the only way to advance in the postseason is to increase your intensity.
Matt Jones
was a bit perplexed.
Here he was leading DeSoto (Texas) into what was widely considered a gimmee first-round playoff game against Ellison (Killeen, Texas) on Feb. 21 and the Eagles were getting out of character.
DeSoto had made easy work of Ellison earlier this season, routing them by 60 points, but that was then, and this was, well, the playoffs.
"That was a completely different team that we played," said Jones, a junior shooting guard who is ranked No. 22 in the
ESPNU 60
. "They were fighting so hard out there and they really brought it to us at first. We had to regroup and come out and match their intensity, match their execution. We learned a lot from that win. You've gotta bring it in the playoffs."
As cliché as it is accurate, it's a realization that every high school baller has come to in the last few weeks: Go hard or go home.
"That's the bottom line," said Jones, who is committed to Duke. "If you don't bring it every night you're going home, period."
It's a concept that
Chris Walker
wished his team would've had the foresight to fully grasp before getting booted from the playoffs a week ago.
"I feel like we kinda knew that we'd have to raise our game to another level, but I don't know if we knew to the level that we needed to," said Walker, a junior forward at Holmes County (Bonifay, Fla.) who is ranked No. 7 in the ESPNU 60. "It's so important to play harder than you've ever played before. It sounds crazy, but even your best game in the regular season probably won't be enough in the playoffs. You've got to go to another higher level."
That goes for the country's most elite program too.
Oak Hill Academy (Mouth of Wilson, Va.), the top-ranked team in the
POWERADE FAB 50
, has already broken a school record for wins with 43 this season and even though they're record is, by definition, perfect, Warriors' coach
Steve Smith
said his team will have to raise its level of play when they head over to China where they will play nine games against international competition.
"It's very important to continually push yourself, especially at the end of the year," said Smith, who was
recently named Naismith High School Coach of the Year
. "We've consistently challenged our guys and we'll continue to do that as we come down the stretch. It's up to them to respond, but they've been doing it all year. The kids have to buy in because at the end of the year everyone's typically worn down."
L.J. Rose
has definitely felt the fatigue of a long, grueling season, but his motivation to push through the tired legs, mental fatigue and small nagging injuries is to consider the flip-side.
"It could all be over if you give in to all that," said Rose, a senior point guard at Westbury Christian (Houston) who is signed to Baylor. "Everyone's tired so you're all still even. But when you're in this position you don't think about how tired you are. You just think about what it's gonna take to get the job done. That's the main focus."
Jones agreed.
He said at this point it doesn't matter how it happens, as long as his team wins, he's happy.
"That's another major difference between the regular season and the playoffs," Jones said.
"Regular season you can have a bad game and get down about it and be upset, but now it doesn't even matter. If I don't score at all and we win, I am so excited. I don't even give it two thoughts. You just win any way that you can."
Jason Jordan is the basketball editor for ESPNHS. He can be reached at jason.x.jordan.-ND@espn.com. Don't forget to follow him on Twitter: @JayJayESPN.
February, 7, 2012
2/07/12
9:00
AM ET
By
Jason Jordan
| ESPN.com
If you're a college hoops fan, you probably have an opinion on who'll take Round 1 in the sport's most storied rivalry.
The future of the two programs have their opinions as well. So we caught up with every player from Duke and North Carolina's 2012 recruiting classes and had them make predictions for Wednesday's Duke-UNC game (9 p.m. ET, ESPN).
Naturally, objectivity wasn't their strong suit, so we added one 2013 player at the top of both schools' wish lists, Prestonwood Christian (Plano, Texas) junior Julius Randle, to see who he thought would reign supreme on Tobacco Road.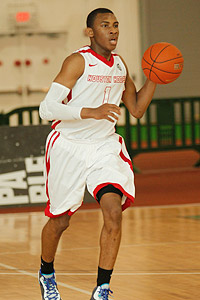 Courtesy of Andrew ShurtleffRasheed Sulaimon said Duke will sweep UNC this season.
The Duke Recruit
Rasheed Sulaimon

Strake Jesuit (Houston), SG
Who gets the win?

"Duke absolutely wins this game. We've been a little inconsistent this year, but I spoke with Coach K recently and he told me he's got the guys doing 5 a.m. workouts and [he's] really challenging them trying to wake them up to finish out the season strong. I just feel like we're too talented on the perimeter for them, and I think we'll get it done in the paint, too. I'm calling the sweep against North Carolina this year. You heard it here first."
UNC wins if ...

" ...
Michael Jordan
leaves the front office for the Bobcats, drives down and suits up for the Tar Heels. And when he does he's playing like he was in his prime. I'm talking the 'dropping 63 on Boston' prime. That's the only way."
The UNC Recruits
J.P. Tokoto

Menomonee Falls (Wis.), SF
Who gets the win?

"I am definitely picking North Carolina in this one. This season we suffered a bad loss against Florida State, but other than that we've been playing really well. Our guys know exactly what to do in order to keep Duke off the boards and to guard the 3-point line."
Duke wins if ...

" ... The Carolina players drink laxative-laced water before the game."
[+] Enlarge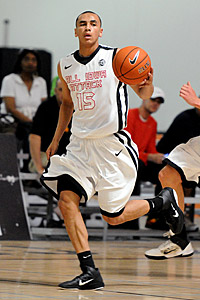 Chris Williams/Icon SMIMarcus Paige said UNC has too much inside for Duke to handle.
Marcus Paige

Linn-Mar (Marion, Iowa), PG
Who gets the win?

"Most definitely North Carolina all the way. I think we have too many weapons and too much versatility for Duke to be able to handle what we do offensively. Even though we don't guard the 3-point line too well at times, I feel like our size will wind up getting to them."
Duke wins if ...

" ... They manage to find the special stuff in Bugs Bunny's water bottle from 'Space Jam'!"
Brice Johnson

Edisto (Cordova, S.C.), PF
Who gets the win?

"No question that North Carolina will get the win in this game. I just think we've got too much for Duke to handle inside, and I think that's the thing that will win the game for us. We've definitely got this one."
Duke wins if ...

" ...
J.J. Redick
comes back and plays for Duke and goes 20 of 20 from the 3-point line. He's got to be 100 percent. Got to."
Joel James

Dwyer (Fort Lauderdale, Fla.), PF
Who gets the win?

"North Carolina. The reason I say that is because our players have the edge in experience. Our guards are bigger and stronger and we know how to handle that type of big stage. I also feel like our bigs will have good games against them, and I think
Harrison Barnes
will have a big game, too."
Duke wins if ...

" ...
John Henson
, Harrison Barnes,
Tyler Zeller
and
Kendall Marshall
all foul out in the first half. That's the only way they get it done."
The Objective Take
Julius Randle

Prestonwood Christian (Plano, Texas), PF, undeclared (class of 2013)
Who gets the win?

"Man, I'm being put on the spot with this one! Since they're playing at home I'm gonna pick UNC in this one. Duke hasn't been playing their best ball in the past couple of games, so I think this will wake them up and get them ready for the tournament. I do think Duke will win the next one, though."
Jason Jordan is the basketball editor for ESPNHS. He can be reached at jason.x.jordan.-ND@espn.com. Don't forget to follow him on Twitter: @JayJayESPN.
December, 2, 2011
12/02/11
8:37
AM ET
By
Jason Jordan
| ESPN.com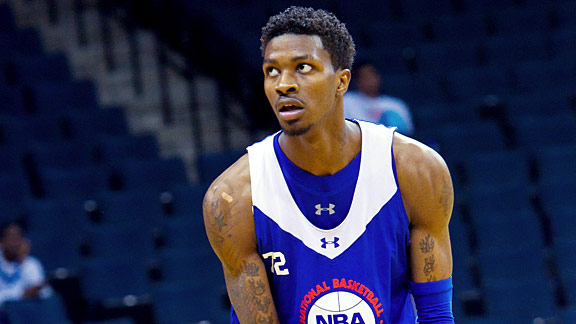 David De PasChris Walker said he'd listen to LeBron James on where to go to college.
Chris Walker
knows that deciding where he wants to play in college will be one of the hardest decisions he's ever made.
Walker, a junior forward at Holmes County (Bonifay, Fla.), is ranked No. 5 in the
ESPNU60
and can pretty much go wherever he wants with Ohio State, Florida, Kansas, Louisville, Kentucky, Connecticut, Memphis and Syracuse all in hot pursuit.
"The whole recruiting process can be a little overwhelming at times," Walker said. "So many great schools want me to come and play for them. It's hard to decide."
To make the impending decision easier, Walker took a shot in the dark and summoned the help of his favorite player
LeBron James
via Twitter posting: "
@KingJames
I'm a top 5 player in the country in class of 2013. Where should I go to college Mr. James?"
No response from James as of yet, but based off James' rooting interests during the Ohio State-Duke game earlier this week, Walker thinks he can guess what James' recommendation would be.
"I think he'd say I should go to Ohio State," Walker said.
But would Walker listen?
"I probably would," Walker said. "He's my favorite player, and I would trust his judgment."
Surprised? Don't be, Walker is a die-hard LeBron James fan and watches Miami Heat games religiously. When they lost to the Dallas Mavericks in the NBA Finals last season, Walker said he was probably more mad than the Heat because he wanted James to silence his critics.
"If LeBron hits me back and tells me where he thinks I should go, I'd do it," Walker said. "In my opinion, he's the best player in the league and I really look up to him. Plus, he's the King. Gotta listen to the King, right?"
And the loyal subject awaits.
Jason Jordan is the basketball editor for ESPNHS. He can be reached at
jason.x.jordan.-ND@espn.com
. Don't forget to follow him on Twitter:
@JayJayESPN
October, 25, 2011
10/25/11
12:00
AM ET
By
Ronnie Flores
| ESPN.com
The road to the
POWERADE FAB 50
mythical national title won't be an easy one.
That journey will definitely pass through Ft. Myers, Fla., and Springfield, Mass. Those two locations are home to the most loaded events this upcoming season in terms of FAB 50 ranked-caliber teams in attendance.
Ft. Myers, Fla., is the home of the
State Farm City of Palms Classic
, the nation's top holiday tournament in recent years. The 2011 edition (Dec. 16-21) is no different, as Bishop Verot High School will host no less than eight FAB 50-ranked teams between December 16-21. The field of teams include (listed with preseason FAB 50 ranking):
16-Team Classic:
No. 2 Miller Grove (Lithonia Ga.)
No. 6 Mater Dei (Santa Ana, Calif.)
No. 7 Bishop Gorman (Las Vegas)
No. 10 Montverde Academy (Montverde, Fla.)
No. 16 Grace Prep (Arlington, Texas)
No. 18 Riverside Academy (Reserve, La.)
No. 50 Trinity (Louisville, Ken.)
4-Team Signature Series:
No. 23 Friends' Central (Wynnewood, Pa.)
The third place and championship game on Wednesday, December 21 will be televised live on ESPNU.
Among the teams that did not make the FAB 50, the one that intrigues us the most is Salesian (Richmond, Calif.), led by standout junior wing
Jabari Bird
. The Pride open the season unranked in the
West Region Top 20
, but one has to wonder how high they would have been in the FAB 50 had standout point guard
Dominic Artis
, who recently de-committed from UCLA, not left NorCal for Findlay Prep (Henderson, Nev.).
Speaking of Findlay Prep, the rugged schedule for the No. 8 ranked Pilots includes a stop at Blake Arena in Springfield, Mass., on Monday, Jan. 16 at the
2012 Spalding Hoophall Classic
. In that game, Findlay Prep will battle No. 1 Simeon (Chicago, Ill.) as part of a four game set to be televised on ESPNU.
Seven of the top nine teams in the POWERADE FAB 50 will participate at the Hoophall Classic, which is quickly becoming the nation's top showcase. The top showcase games at the five-day event over Martin Luther King, Jr. weekend (Jan. 12-16) are:
Jan. 14
No. 47 La Verne Lutheran (La Verne, Calif.) vs. St. Patrick (Elizabeth, N.J.)
No. 18 Riverside Academy (Reserve, La.) vs. No. 19 Gonzaga (Washington, D.C.)
No. 3 Oak Hill Academy (Mouth of Wilson, Va.) vs. Prestonwood Christian (Arlington, Texas)
No. 13 DeMatha (Hyattsville, Md.) vs. Northwest Catholic (West Hartford, Conn.)
Jan. 15
No. 23 Friends' Central (Wynnewood, Pa.) vs. St. Mark's (Southborough, Mass.)
Jan. 16
No. 2 Miller Grove (Lithonia, Ga.) vs. No. 9 St. Anthony (Jersey City, N.J.)
No. 7 Bishop Gorman (Las Vegas) vs. No. 13 DeMatha (Hyattsville, Md.)
No. 1 Simeon (Chicago, Ill.) vs. No. 8 Findlay Prep (Henderson, Nev.)
No. 6 Mater Dei (Santa Ana, Calif.) vs. No. 24 Christ the King (Middle Village, N.Y.)
As if those games aren't enough to make fans and pollsters drool, there is a tentative game to be played on Jan. 7 at the
Cancer Research Classic
in Wheeling, W. Va., between No. 1 Simeon and No. 2 Miller Grove.
There is no guarantee that game at the Cancer Research Classic will pit the top two ranked teams in the FAB 50. But if Miller Grove can survive its early season schedule, including a game against No. 3 Oak Hill Academy, and win the City of Palms Tournament, there is no doubt the Wolverines will be pushing Simeon for the top spot.
Should Miller Grove falter before facing a potentially unbeaten Simeon club, there will be plenty of pressure on
Jabari Parker
and company to win that game. If not, a new No. 1 team heading towards the postseason could potentially emerge from the results of the Hoophall Classic.
At the conclusion of the 1989-90 season, four of the top five ranked teams in the
National Prep Poll
(precursor to the FAB 50) all finished with unbeaten records, led by No. 1 King (Chicago, Ill.) with a 32-0 mark.
With the stacked national schedules ranked teams are playing nowadays, that scenario is unlikely to materialize again.
Ronnie Flores is a senior editor for ESPNHS. He can be reached at
ronnie.flores@espn.com
. Don't forget to follow him on Twitter:
@RonFloresESPN
October, 9, 2011
10/09/11
11:32
PM ET
By
Jason Jordan
| ESPN.com
Last Wednesday marked the end of the NCAA's contact period, which had been in effect since September 9. That meant hundreds of high school hoopers around the country had to sift through all of their visits from college coaches and decide who made the most lasting impressions.
We rounded up a handful of the top players in the country and had them dish on the big winners over the last month.
Coolest customers:
Providence
Brannen Greene, Mary Persons (Monroe, Ga.), 2013, SG:
"Coach (Ed) Cooley told me he only recruits anacondas and not garden snakes. Very cool guy."
Best perspective:
Texas Christian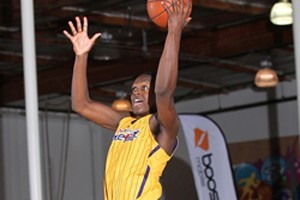 Kelly Kline/ESPNHSJulius Randle was impressed with TCU's "create your own legacy" perspective.
Julius Randle, Prestonwood Christian (Plano, Texas), 2013, F:
"TCU gave me a whole different way to look at things. They told me that I could come in and change the program and begin my own legacy. That's a different perspective than the other schools. A lot of those schools can't present that to me. Most already have hall of fame players. So definitely TCU on perspective because who wouldn't want to have their very own legacy."
Most swag:
Kentucky
Chris Walker, Holmes County (Bonifay, Fla.), 2013, F:
"The coach with the most swag… I would have to say Coach (John) Calipari and assistant Coach Orlando (Antigua). They came in and everyone was going crazy. Coach Cal is running things and he's put a lot of players in the NBA. Plus he came in wearing a suit. That's swag."
Best sales pitch:
Duke
Shabazz Muhammad, Bishop Gorman (Las Vegas, Nev.), 2012, SF:
"Coach K (Mike Krzyzewski) definitely has the best sales pitch. He talks a lot about the Duke brand and what he could do for me and how he could develop me and about all of the exposure that I could get at Duke. I think the thing that makes his sales pitch so good is that he's really speaking from the heart. That's the best part."
Most relatable:
Louisville
Isaiah Lewis, Christ the King (Middle Village, N.Y.), 2013, SG:
"I just had fun getting to know the coaches at Louisville, especially Coach (Wyking) Jones. After my workout he offered me, but that was in the middle of us talking about school, football, what kind of shoes we like. He just seemed like one of the guys. I definitely felt like he was just one of my friends."
Best gear:
Georgetown
Troy Williams, Phoebus (Hampton, Va.), 2013, SF:
"Definitely had to be Georgetown because they wear Jordan everything. The shoes were just fresh and the sweat suits they had were cool. I told them I like to ball in Nike's, but I walk around in J's. They had on the new Melo's (Carmelo Anthony) and they weren't tied all the way up."
Jason Jordan is the basketball editor for ESPNHS. He can be reached at
jason.x.jordan.-ND@espn.com
. Don't forget to follow him on Twitter:
@JayJayESPN
September, 21, 2011
9/21/11
3:56
PM ET
By
Jason Jordan
| ESPN.com
Goodwin Picks Kentucky
When
Archie Goodwin
took to
Twitter
Tuesday night to announce what he'd known ever since Kentucky coach
John Calipari
left his house less than a week ago, he expected that the response would be overwhelming.
"Any time someone commits it's big news," said Goodwin, a senior shooting guard at Sylvan Hills (Little Rock, Ark.). "But when you commit to a place like Kentucky, it can be a little crazy. There's so much tradition there."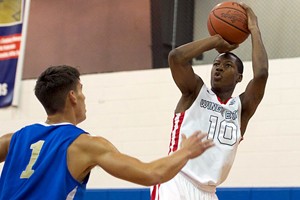 Steven Johnson/ESPNHSArchie Goodwin said he wants to play with other top players.
Goodwin, who is ranked No. 13 in the
ESPNU 100
, picked the Wildcats over Memphis and Arkansas, and estimates that he's fielded "more than 100 calls" since 11 p.m. last night from reporters, friends, family and fans.
"When I woke up this morning I had 160 text messages, 40 voicemails and I had over 200 emails," Goodwin said. "It's crazy. I've got about 2,000 more followers on
Twitter
since Tuesday night at 11 p.m. I couldn't get to a lot of the calls, there were just so many."
Goodwin did, however, find time to answer a few; specifically the ones he got from recruits expressing their interest in joining him in Lexington.
Hamilton Southeastern's (Fishers, Ind.)
Gary Harris
, a senior shooting guard who is ranked No. 10 in the
ESPNU 100
, and Arlington Country Day's (Jacksonville, Fla.)
Torian Graham
, a senior shooting guard who is ranked No. 38, both contacted Goodwin congratulating him and inquiring about the possibility of playing together in college.
And though Bishop Gorman (Las Vegas, Nev.) swingman
Shabazz Muhammad
, the top-ranked player in the
ESPNU 100
, didn't say so last night, Goodwin said the two have spoken about the possibility of teaming up as well.
"I told them let's do it," Goodwin said. "I'm not that guy who's gonna pressure anyone so I let them reach out to me first, but when they do I definitely try and get them to join me. I want to play with the best because I think it's the best way to win. And I definitely plan to win."
Don't forget to follow Jason Jordan on Twitter: @JayJayESPN