High-SchoolBoys-Basketball:

Gabe York
May, 18, 2012
5/18/12
9:00
AM ET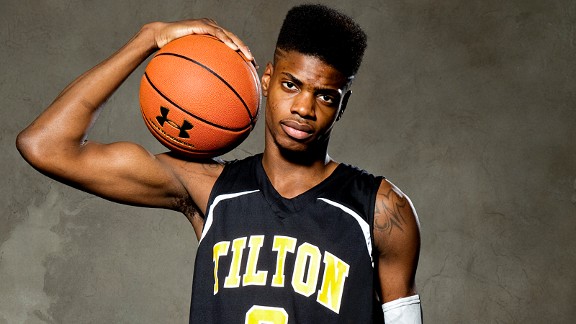 Kelly KlineWe think UK recruit Nerlens Noel is headed toward a bright future both on and off the court.
With graduation right around the corner, it's almost time to bid adieu to the class of 2012. Before the veteran ballers flip that tassel, we're going to bless them with some last-second love and immortalize them in the form of senior superlatives. We'll gaze into our crystal ball to make a few predictions as well as reflect on the myriad achievements of this talented crew.
These are our picks, but feel free to chime in with your selections on Twitter
@espnhs
.
Most important commitment
Kyle Anderson, St. Anthony (Jersey City, N.J.)
Sure, Anderson's commitment to UCLA might have been overshadowed by the subsequent pledges of Shabazz Muhammad and Tony Parker. But who knows if the Bruins would've landed those two prized recruits had it not been for Anderson -- the ultimate team-first guy and winner -- jumping on board first. Anderson's versatility will be valuable as the heralded class looks to restore UCLA's lore after a tumultuous last few years.
Runner-up: Baylor lands Isaiah Austin, Grace Prep (Arlington, Texas)
Most likely to succeed in the NBA
Shabazz Muhammad, Bishop Gorman (Las Vegas)
We're not the only ones envisioning Muhammad going toe-to-toe with Bron Bron and the rest of the league's heavyweights. The consensus among pro scouts at the Nike Hoop Summit was that 'Bazz was the most pro-ready domestic prospect in the class. His Kobe-like demeanor and ability to get buckets in a variety of ways should bode well for whatever squad scoops him up in the Association.
Runner-up: Anthony Bennett, Findlay Prep (Henderson, Nev.)
Most likely to land an acting role
Nerlens Noel, Tilton (Tilton, N.H.)
The high top fade alone should be enough to land this menacing shot blocker in the reboot of "The Fresh Prince of Bel-Air" or if they ever recast Kid or Play for the next "House Party." Combine his tight 'do with his affable personality and his ability to take over defensively on the hardwood, and we could be looking at a star both on and off the court.
Runner-up: Justin Anderson, Montrose Christian (Rockville, Md.)
November, 16, 2011
11/16/11
1:12
PM ET
Gabe York, Orange Lutheran (Orange, Calif.)

No. 36 in the ESPNU 100
@gabeyork1
Few shooting guards can fill up the stat sheet with as much style as this Arizona recruit. Off the dribble or with his feet set, York has video-game range from the perimeter, which has helped him earn praise as one of the nation's elite marksmen. Play him for the shot at your own peril because York has a quick first step, insane hops and a mean floater that would make Spurs guard Tony Parker proud.
Julius Randle, Prestonwood Christian (Plano, Texas)

No. 3 in the ESPNU 60
@J30_Randle
Randle might be the baller best suited to star in his own TV show. Kid's certainly got talent, as evidenced by his gaudy 24.6 points and 12.7 rebounds per game as a sophomore, and he has a multitude of offers from college hoops royalty. Randle won't be hurting for cameos, either, not with NBA superstar Kevin Durant lobbying the junior to play at Texas and fellow Texan Jamie Foxx showing him love during August's Boost Mobile Elite 24.
Discuss this matchup on Twitter
#espnhsfans
.
Meet the other candidates on the
player intro page
.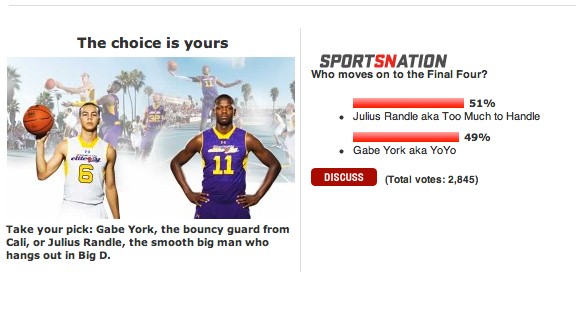 ESPNHSJulius Randle outlasted Gabe York in a tight first round matchup. His reward is a matchup with Shabazz Muhammad, the nation's No. 1 player.
October, 30, 2011
10/30/11
10:56
PM ET
By
Jason Jordan
| ESPN.com
Zena Endosomwan
was relieved.
All of the stressing and agonizing over Halloween costumes had finally come to an end by answering one simple, two-part question: If you had to dress up as the player that you most resemble on the court, who would it be and why?
"That should help me out!" said Endosomwan, a senior forward at Harvard-Westlake (Los Angeles).
ESPNHS
didn't stop there; we posed the same question to a handful of elite ballers around the country.
Here's what they had to say…
Kevin "Yogi" Ferrell
, Park Tudor, (Greenfield, Ind.), 2012, PG
Committed to:
Indiana
Halloween costume:
Isiah Thomas

Why:
"I'd have to say I'd dress up as Isiah because I want to do great things at Indiana like he did."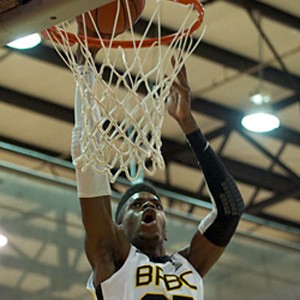 Steve Johnson/ESPNHSNerlens Noel said he wants to decide around the time of the McDonald's All-American game.
Archie Goodwin
, Sylvan Hills (Little Rock, Ark.), 2012, SG
Committed to:
Kentucky
Halloween costume:
Michael Jordan

Why:
"Well, I've actually heard this from a lot of different coaches on the AAU circuit plus Rick Barnes from Texas and Roy Williams from North Carolina told me this too… They said that I remind them of Michael Jordan when he was in high school. It's a great honor to hear that because of who he became so I'd definitely have to dress as him."
Nerlens Noel
, Tilton, (Tilton, N.H.), 2013, C
Uncommitted
Halloween costume:
Kevin Garnett

Why:
"I'd dress up as K.G. because he and I are similar because of his defensive presence, his leadership and his competitiveness."
Rodney Purvis
, Upper Room Christian Academy (Raleigh, N.C.), 2012, SG
Committed to:
N.C. State
Halloween costume:
John Wall
(Washington Wizards)
Why:
"I'd definitely go as John because he's someone I look up to and he's a really positive person like me. We're both fast guards who are willing to do whatever it takes to win."
L.J. Rose
, Westbury Christian (Houston), 2012, PG
Committed to:
Baylor
Halloween costume:
Deron Williams
(New Jersey Nets)
Why:
"I'd dress like Deron Williams because, like me, he isn't as athletic as the rest of the point guards in the league, but with his size he can dominate the game in so many different ways. He also has a great feel for the game."
Zena Endosomwan
, Harvard-Westlake (Los Angeles), 2012, PF
Uncommitted
Halloween costume:
Serge Ibaka
(Oklahoma City Thunder)
Why:
"I'd dress as Serge because we're both athletic, African, like to run and we play the same position. Oh, and we're both really dark."
Rasheed Sulaimon
, Strake Jesuit (Houston), 2012, SG
Committed to:
Duke
Halloween costume:
Jamal Crawford
(Atlanta Hawks)
Why:
"I'd dress like Jamal Crawford because the way I play is very similar to him. He's a combo guard that can play both the one and the two; plus he can create his own shot and create for his teammates as well. He's a good shooter, both off the dribble and stationary, and he makes shots when they count the most."
Isaiah Austin
, Grace Prep (Arlington, Texas), 2012, C
Committed to:
Baylor
Halloween costume:
Austin Daye
(Detroit Pistons)
Why:
"I'd dress as Austin Daye because like him I can play both inside and out. That and we're both long and athletic."
Gabe York
, Orange Lutheran (Orange, Calif.), 2012, SG
Committed to:
Arizona
Halloween costume:
Russell Westbrook
(Oklahoma City Thunder)
Why:
"I'd have to say that it would be Russell Westbrook. We're both guards that can shoot and are very athletic. He's just an explosive point guard who can drive to the basket and finish strong."
Matt Jones
, DeSoto (DeSoto, Texas), 2013, SG
Uncommitted
Halloween costume:
Ray Allen
(Boston Celtics)
Why:
"Definitely Ray Allen. It's the shooting and the stature and the way we carry ourselves on and off the court. I think I could pull him off for Halloween. Plus if someone really thought that I was him and needed me to prove it by knocking down a lot of jumpers I think I could do it."
Jason Jordan is the basketball editor for ESPNHS. He can be reached at
jason.x.jordan.-ND@espn.com
. Don't forget to follow him on Twitter:
@JayJayESPN
September, 21, 2011
9/21/11
3:32
PM ET
By
Ronnie Flores
| ESPN.com
At this year's
Boost Mobile Elite 24
, the
Marques Johnson
squad rolled to a 142-132 victory over the
Raymond Lewis
squad behind the play of Virginia recruit
Justin Anderson
of Montrose Christian (Rockville, Md.) and recent UCLA commit
Kyle Anderson
of defending
POWERADE FAB 50
mythical national champion St. Anthony (Jersey City, N.J.).
Nobody will remember the score as time passes, but besides the
broken backboard
caused by
Mitch McGary
of Brewster Academy (Wolfeboro, Mass.) in pre-game warm ups, the most memorable aspect of the event is, an will continue to be, the streetball nicknames earned by the players.
This year's streetball handles were given out by
Duke Tango
, the original voice of the The Entertainers Basketball Classic (EBC) held at Harlem's Rucker Park, and streetball entrepreneur
Bobbito Garcia
.
Outside of the nicknames game MVP's
Justin Anderson
aka "Slow-Mo" and
Aquille Carr
aka "The Crime Stopper" came to Venice Beach with, below are the nicknames handed out by Tango and Garcia, with a couple thrown in by the ESPNHS basketball staff!
2011 Boost Mobile Elite 24 Nicknames
Justin Anderson
aka "The Prime Objective" aka "Sinista"
Kyle Anderson
aka "Sinatra"
Brandon Ashley
aka "East Bay Funk"
Anthony Bennett
aka "The Barbarian"
Nate Britt
aka "Nate the Skate"
Savon Goodman
aka "The Rule Breaker" aka "Go Get It"
Rodney Purvis
aka "Runnin' Rod"
Aquille Carr
aka "Calling All Cars"
Robert Carter
aka "The Animal"
DaJuan Coleman
aka "Upstate" aka "Big Baby"
Aaron Harrison
aka "Ice"
Andrew Harrison
aka "Magic" aka "The Table Setter"
Grant Jerrett
aka "G"
Mitch McGary
aka "White Thunder" aka "Show stopper" aka "Unbreakable" aka "Full Metal Jacket"
Nerlens Noel
aka "Eraserhead" aka "The Eraser" aka "The 7-foot Leprechaun" aka "No No No No No"
Shabazz Muhammad
aka "The Real Deal" aka "Nice And Nasty Bazz"
Julius Randle
aka "The Jewels" aka "Much To Handle"
Rasheed Sulaimon
aka "Sheeeeeed"
Gabe York
aka "Yo Yo"
Some of the nicknames handed out by Tango are already the handle of well known players. There is no need to explain the origins of "Magic" and "Big Baby," but below are the original names behind some of the handles given out this year:
"Prime Objective" Lonnie Harrel
l -- The former Eastern (Washington, D.C.) standout is a 6-foot-7 guard who earned a scholarship to play for John Thompson at Georgetown. He finished his eligibility at Northeastern and has made stops in the ABA, USBL, IBL, and NBDL.
"Animal" Richie Adams
-- From now defunct basketball factory Ben Franklin (Harlem, N.Y.), Adams was one of two bookend high school All-Americans for a 1979-80 Franklin team (the other was Gary Springer) that spent a majority of that season ranked No. 1 in the country by Basketball Weekly. They were shocked by Stevenson (Bronx, N.Y.) in overtime of the PSAL semifinals, 65-63. Adams got his equivalency degree and matriculated to a junior college in Massachusetts before finishing his college career at UNLV. The 6-foot-9 left-handed shot-blocking phenom was twice named conference player of the year for the Runnin' Rebels, but a severe drug problem ruined not only is career, but his life.
"Ice" Jerry Reynolds
-- A 1980-81 prep All-American at Alexander Hamilton (Brooklyn, N.Y,), Reynolds was a 6-foot-8 wing who earned a scholarship to play for Dale Brown at LSU. He first attended Madison Tech Junior College in Wisconsin and developed into the No. 22 pick of the 1985 NBA Draft by the Milwaukee Bucks. He spent eight years in the NBA and is semi-famous for being the beneficiary of Scott Skiles' record-breaking 30th assist in a single game during the 1990-91 season and for coining the term "24/7" (as his jump shot was good "24/7").
"The Skate" Nate Archibald
-- In the NBA, the DeWitt Clinton (Bronx, N.Y.) product was known as "Tiny," the man who ran the point for the 1981 NBA champ Celtics and the only player to lead the league in points and assists in the same season. On the playgrounds, Archibald was known as "The Skate," the man who returned to Rucker Park (the original home of the Boost Mobile Elite 24) every summer even after he made it to the big-time. Archibald almost never made it, as academic troubles nearly derailed his prep career. He straightened things out by his senior season, when he was named all-city for a 21-0 team that won a mythical national championship. Archibald went the JUCO route and kept improving his game to the point where he was named one of the NBA's 50 Greatest Players in 1996.
Don't forget to follow Ronnie Flores on Twitter: @RonFloresESPN
September, 14, 2011
9/14/11
8:40
PM ET
By
Jason Jordan
| ESPN.com
ESPNHS - California | Mater Dei Alums On The Move
Ever wonder how shooters shake off misses to come back and go on their own mini-runs?
Gabe York
, a senior shooting guard at Orange County Lutheran (Orange, Calif.) who is committed to Arizona, said it's all about mentality.
Check out the video.
Don't forget to follow Jason Jordan on Twitter: @JayJayESPN
September, 2, 2011
9/02/11
11:00
AM ET
By
Jason Jordan
| ESPN.com
We caught up with a handful of players at the
Boost Mobile Elite 24
and had them dish on their favorite California-themed songs.
The big winner? The late rapper
Tupac Shakur.
Believe it or not, pop star
Katy Perry
even made the cut.
Check it out.