High-SchoolBoys-Basketball:

Gatorade National Player of the Year
June, 18, 2012
6/18/12
2:39
PM ET
Jahlil Okafor
is in the middle of the busiest summer of his life. In addition to criss-crossing the country while playing for one of the nation's
elite AAU teams
, he's currently in Colorado trying out for the USA Basketball U17 National Team.
With such a stuffed schedule, it's understandable that Okafor is putting his college plans on the back burner for now.
"I'm just listening to everyone," said Okafor. "There's a lot of other things going on right now, so I'm taking my time. I haven't cut down my list yet."
The Class of 2014 center is in high demand. Ranked No. 2 in the
ESPN 60
, Okafor has the size, the hands and the footwork to be a dominant big man, and his gift for scoring in the post is rare for a player his age. He'll find out on Tuesday whether he makes the final cut for the U17 team, but you have to like his chances.
Last year, the 6-foot-9 Okafor played for the U16 team and averaged 14.6 points and 9.2 rebounds during the 2011 FIBA Americas Championships, shooting an incredible 71 percent from the field to help Team USA win gold.
The leading scorer on that U16 squad was fellow Chicago native
Jabari Parker
, the No. 1 player in the Class of 2013 and the reigning
Gatorade National Player of the Year
. Okafor and Parker both play for the same AAU team, and they'll both likely make the final cut for the U17 team.
Okafor says he talks recruiting with Parker, who can relate to being a top uncommitted prospect. Parker has said he will decide on a college before the start of his senior season.
"Jabari gives me advice," said Okafor. "He tells me what to expect, just the things that he's going through now and how it's going to be for me."
Okafor is still in the early stages of his decision process, but there are a few things he's looking for as he zeroes in on prospective colleges.
"I definitely want to play for a school that throws the ball in the post," he said. "I like playing in the post, so a system that plays to my strengths is important. My decision will also involve the players around me. I want good players around me, because it's all about winning."
Okafor already has offers from schools like Duke, North Carolina, Ohio State, Michigan State, Illinois, Arizona and UConn.
May, 10, 2012
5/10/12
6:00
AM ET
Each week this summer leading up to the AAU National Championships in Orlando in July, ESPNHS will profile one of the nation's top AAU teams and tell you why you should be paying attention.
Team:
Mac Irvin Fire
Location:
Chicago, Ill.
Coach:
Mike Irvin
What you need to know about Mac Irvin Fire:
This team has star power. Leading the way is small forward
Jabari Parker
, the No. 1 junior in the country and reigning
Gatorade National Player of the Year
. But he's not the only elite talent on the squad. Power forward
Jahlil Okafor
is the No. 2 player in the class of 2014. There are two other
ESPN 60
players in the starting lineup:
Tommy Hamilton
at No. 42 and
Billy Garrett Jr.
at No. 50.
Coach Mike Irvin likes to play an up-tempo, open-court game in order to take advantage of all his playmakers.
"We get up and down," he says. "Jabari is 6-9 and runs the floor like a deer, and even Jahlil can run for a big man. We try to showcase the guys like that."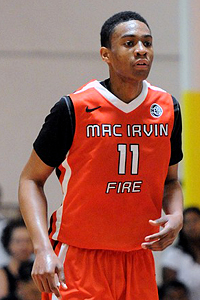 Chris Williams/Icon SMIWhen Jabari Parker, above, Tommy Hamilton and Jahlil Okafor are on the floor at the same time, the Mac Irvin Fire boasts the nation's best frontcourt.
Key Players:
Jabari Parker, F, 2013:
If there's a way to defend Parker effectively, we haven't seen it yet. The offense runs through the 6-foot-8 forward, who can score from any spot on the floor. "When you've got the No. 1 player in the country, you've got a shot to win any tournament," says Irvin.
Jahlil
Okafor, F, 2014:
Okafor gives the Fire a luxury that few other teams have -- an old-school low-post scorer. The 6-foot-9 forward has excellent touch around the basket, and the size to control the paint. "He's very strong around the basket," says Irvin. "He's a dominant big man."
Billy
Garrett Jr., G, 2013:
The No. 8 point guard in the ESPN 60, Garrett brings size and athleticism to the position. Irvin likes to let his 6-foot-5 floor general push the ball in transition. "We've got a lot of talent," says Garrett, "so I just try to get guys their shots."
Tommy
Hamilton, F, 2013:
A 6-foot-8 forward, Hamilton's smooth offensive game complements Okafor's power. When Hamilton, Okafor and Parker are on the floor at the same time, the Mac Irvin Fire boasts the nation's best frontcourt.
Key Dates:
EYBL Session 3: May 11-13 in Dallas
EYBL Session 4: May 25-28 in Oakland, Calif.
Nike Peach Jam: July 18-21 in North Augusta, S.C.
Las Vegas Fab 48: July 26-29 in Las Vegas
Garrett played on last year's Mac Irvin Fire team, which was bounced in the quarterfinals at the Nike Peach Jam, and he believes this squad has enough firepower to come out on top this time around.
"I think we have a great chance," says Garrett Jr. "We've got the players, we've got the coaches, we've got everything we need to win it this year. We can definitely do it."
Famous Alums:
Antoine Walker, Juwan Howard
Follow Mike Grimala on Twitter (@MGrimalaESPN).