High-SchoolBoys-Basketball:

Georges Niang
February, 23, 2012
2/23/12
9:00
AM ET
By
Jason Jordan
and
Ronnie Flores
| ESPN.com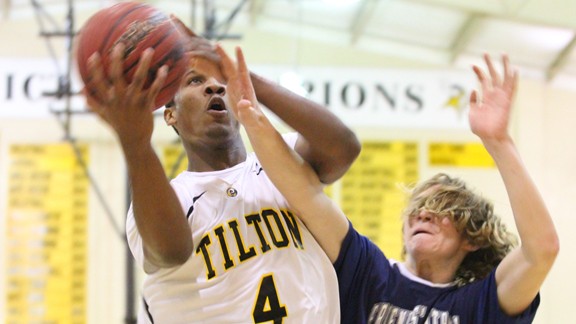 Lori Young/ESPNHSWayne Selden is Tilton's best guard, but the Rams aren't sure when he'll return from his sprained ankle injury.
Aaron Thomas
scored 19 points and
Jakarr Sampson
added 11 points and 14 rebounds to help Brewster Academy (Wolfeboro, N.H.) escape with a 60-56 win over Tilton (N.H.) on Feb. 20.
With the win, the Bobcats (28-0) completed the regular season sweep (3-0) of rival Tilton (25-6).
Georges Niang
did all he could to keep the Rams close, scoring 32 points and grabbing eight rebounds, but he didn't get much help.
Nerlens Noel
got held to just eight points in the loss.
Still, Noel, the top ranked player in the
ESPNU 100
, can sense that there will be a chance for payback in the coming weeks.
"I think we'll play them again," Noel said. "They're a great team and we're a great team. I think we'll see them again in the tournament championship."
If they do face Brewster again, it likely will be without sophomore shooting guard
Wayne Selden,
who severely sprained his ankle during practice three weeks ago.
Selden has yet to return and is currently on crutches with a walking boot.
"I don't know when I'll be back," said Selden, who is ranked No. 6 in the
ESPNU 25
. "Hopefully soon."
Warriors make history
With its 73-51 win over Flora Macdonald (Red Springs, N.C.) on Feb. 18, Oak Hill Academy (Mouth of Wilson, Va.) broke a school record for wins in a season with 41. After knocking off Shenandoah Valley Christian (Stephens City, Va.) on Feb. 21, the Warriors are now 42-0.
The Warriors, the top ranked team in the
POWERADE FAB 50
, have posted 40 wins three times (2006, 2007 and 2009). The 2006 and 2007 unit lost its final game while the 2007 unit finished No. 1 in the FAB 50.
"It feels amazing to be 42-0," said Warriors' point guard
Tyler Lewis
, a
McDonald's All-American
who is committed to North Carolina State. "It feels great to break records especially at Oak Hill. We've made history and hopefully we can win another championship. We've worked so hard to get to this point. Now we're hoping we can achieve our goal by getting a ring."
Oak Hill has two regular-season games left before heading to China where they will play nine games against international competition.
NBPA Camp Has New Personnel Director
Former NBA player and coach
John Lucas II
is the new director of player personnel for the National Basketball Players Association's Top 100 camp.
A three-time All-American at the University of Maryland, Lucas was the No. 1 pick of the 1976 NBA Draft and played in the league for 14 years. He's also been the head coach of three NBA teams and has experience executing summer camps for high school and middle school-aged players.
He will be responsible for securing players for the 19th annual camp, a key summer evaluation stop held June 13-17 at the University of Virginia.
Lucas takes over the player personnel role previously held by
Dave Telep
, the senior basketball recruiting analyst for ESPN.com. Telep was in that role for three years after taking over for
Bob Gibbons
of All-Star Sports.
December, 23, 2011
12/23/11
1:00
AM ET
By
Jason Jordan
| ESPN.com
FORT MYERS, Fla. -- In a tournament like the City of Palms Classic, which is full of stars, here are the players who managed to shine just a little brighter than the rest.
First Team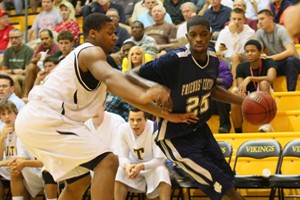 Lori Young/ESPNHSAmile Jefferson didn't have much help but still managed to put up big numbers at the City of Palms Classic.
Shabazz Muhammad
, Bishop Gorman (Las Vegas), SF, 2012
Muhammad was electrifying in every game, scoring in every way imaginable and willing his team back to contention. Though Bishop Gorman came up short, no other player was as dominant as Muhammad, who averaged 33 points a game for the week.
Wayne Selden
, Tilton (Tilton, N.H.), 2014, SG
Selden was dynamic for the Rams all week, coming up with the big plays Tilton needed to win the City of Palms Signature Series. Selden averaged 20 points, six rebounds a five assists.
Julius Randle
, Prestonwood Christian (Plano, Texas), PF, 2013
Randle was dominant in a variety of different ways all tournament. He overpowered the opposition in the paint and played the point-forward role to perfection finding open teammates and also rebounding exceptionally well. Randle averaged 22 points and 12 rebounds.
Nerlens Noel
, Tilton (Tilton, N.H.), C, 2013
Noel dominated both ends of the court, blocking, changing and deflecting shots on defense and scoring and finding teammates offensively. Noel was also a rebounding machine snatching 15 rebounds a game.
Mickey Mitchell
, Prestonwood Christian (Plano, Texas), SF, 2015
Mitchell was the spark that propelled the Lions to the title, scoring 19 points and grabbing eight rebounds in the championship. Mitchell was equally stellar all week.
Second Team
Amile Jefferson
, Friends Central (Philadelphia), 2012, PF
Jefferson didn't have much help form his team at the City of Palms, but managed to put up 19 points per game with the defensive focus solely on stopping him.
Georges Niang
, Tilton, (Tilton, N.H.), PF, 2012
Niang was one of the most versatile players on the court every time he played, which made him virtually impossible to stop. Niang averaged 21 points a game.
Ricardo Gathers
, Riverside Academy (Reserve, La.), PF, 2012
Gathers was dominant in the paint and on the wing all week and was the key to the Rebels big win over Miller Grove in the quarterfinals, where he pumped in 19 points against Tony Parker.
Jaylen Brantley
, Willbraham Monson (Willbraham, Mass.), 2013, PG
Brantley was the most clutch player at the City of Palms, and even hit the game-winning shot that sent his team to the finals. He was crafty, got his teammates involved and picked his spots exceptionally well.
Tony Parker
, Miller Grove (Lithonia, Ga.), 2012, PF
Parker carried the Wolverines inside offensively and was a workhorse on the boards as well. He pumped in 16 points and 13 rebounds a game.
Adolphus Washington
, Taft (Cincinnati, Ohio), 2012, SF
Washington was a matchup problem all week because of his versatility. He pumped in 21 points a game.
Alex Mitola
, Gill St. Bernard's (Gladstone, N.J.), 2012, PG
The speedy point guard wreaked havoc on opposing defenses all week pumping in 22 points and dishing out four assists a game.
Isaiah Austin
, Grace Prep (Arlington, Texas), 2012, C
Austin thrived at the City of Palms on both ends of the court, providing an intimidating last line of defense and pouring in 14 points and 12 rebounds a game.
Jason Jordan is the basketball editor for ESPNHS. He can be reached at
jason.x.jordan.-ND@espn.com
. Don't forget to follow him on Twitter:
@JayJayESPN