High-SchoolBoys-Basketball:

Hanner Perea
March, 29, 2012
3/29/12
5:19
PM ET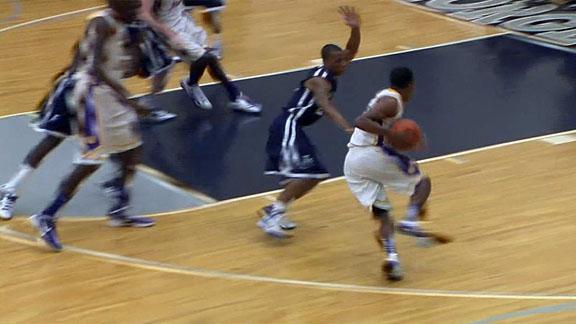 BETHESDA, Md. -- Instant analysis from No. 3 seed Montverde Academy's (Montverde, Fla.) 62-54 win over No. 5 La Lumiere (La Porte, Ind.) in the quarterfinals of the National High School Invitational at Georgetown Prep Thursday:
Overview:
If you like defense, this was the game for you. Montverde Academy used a pressure, trapping D to force La Lumiere into 19 turnovers en route to a 62-54 win in the opening game of the ESPNHS National High School Invitational.
Montverde, No. 12 in the
POWERADE FAB 50
, didn't need much offense to win this one, but most of the Eagles' scoring came from the backcourt of senior
Michael Frazier
and junior
Kasey Hill
. The duo combined for 35 points and consistently came up with big plays whenever La Lumiere threatened.
On the other end, Montverde's defensive performance was staggering. The Eagles held La Lumiere to 32.3 percent shooting from the field and totally shut down the Lakers' top offensive players. La Lumiere scored just six points in the first quarter and never recovered.
Turning Point:
La Lumiere came into the NHSI ranked No. 23 in the POWERADE FAB 50 thanks in large part to the frontcourt of senior forwards
Rapheal Davis
,
Hanner Perea
and
Jay Simpson
. But that trio was almost completely neutralized by Montverde, combining for just 35 points (on 32 shots). Davis and Perea averaged 36.5 combined during the regular season.
Montverde senior forwards
Michel Enanga
,
Landry Nnoko
and
Patricio Garino
were dominant on defense. Enanga grabbed 15 rebounds, Nnoko blocked three shots and Garino played solid man-to-man defense on Davis. They set the tone from the opening tip and La Lumiere was never able to effectively run its offense.
"That was absolutely the difference in the game — they took us out of everything we wanted to do," said La Lumiere coach Alan Huss. "Nnoko is the key to the whole thing. He's back there protecting the rim, and even when we were able to beat the press we had trouble finishing."
Key Players:
Florida Gators fans are probably still numb after their loss in the Elite 8, but the performances of Florida recruits Michael Frazier and Kasey Hill must have made them feel a bit better. Hill, a junior point guard, scored a game-high 19 points, while Frazier, a senior shooting guard, tallied 15.
Hill shot just 6-of-21 from the floor, but he put in work at the free-throw line, hitting seven of his eight attempts. Frazier shot 5-of-14 from the field and added seven rebounds while playing tough defense.
"I just tried to play hard," said Frazier. "My shot wasn't falling, so I tried to contribute in other ways."
Key Stat:
Montverde Academy coach Kevin Boyle recognized that La Lumiere was lacking in quality ball-handlers, so he applied a pressure defense from the opening tip. The result was 19 turnovers for La Lumiere, which led to 15 points for MVA.
"Whenever they got close, we were able to force a couple turnovers and get easy baskets," said Boyle."
Up Next:
Montverde Academy will take on the winner of the Ravenscroft-Montrose Christian game. Boyle is hoping for a better performance from Frazier, who was unable to practice for more than three weeks before Thursday's game because of an illness.
"He missed some shots that he normally makes," said Boyle of his leading scorer. "If he makes those, this is a completely different game. Hopefully he knocked the rust off and we get his normal results tomorrow."
March, 22, 2012
3/22/12
12:00
PM ET
By
Ronnie Flores
| ESPN.com
Team:
No. 6 seed La Lumiere (La Porte, Ind.)
Record, FAB 50 Rank:
25-2, No. 23 (No. 4 in the Midwest)
Head Coach:
Alan Huss (48-11 at La Lumiere, 109-49 career record)
Key Players:
Raphael Davis
The 6-foot-5 wing makes La Lumiere go on the perimeter. A Purdue recruit ranked No. 90 in the
ESPNU 100
, Davis is averaging 22.4 points and 4.5 rebounds per game. Huss mentioned Davis as the team's rock; they struggle when he's not in the lineup. When La Lumiere needs a bucket, they look for Davis. He plays well in transition and also excels in the half court game La Lumiere prefers.
Hanner Perea
The Columbia native has improved by leaps and bounds since he first arrived at Culver Academics (Culver, Ind.) to get an American education and learn the game. Perea, ranked No. 70 in the ESPNU 100, is 6-foot-8, 220 pounds and especially tough to knock off his base defensively. His offensive skills are coming along, but he's still enough of a scoring threat to put down 14 points to go along with 11 rebounds per game. Perea's scoring numbers were 2-3 points higher two-thirds of the way through the season, but he battled nagging injuries down the stretch. The time off might be a hindrance, but a healthy Perea could be the difference if La Lumiere advances past the first game.
Antonio Drummond
This two-year starting guard is the quarterback for La Lumiere's offense. In a lineup that changed more than once during the season, this Southern Illinois recruit was the steady performer. Drummond is not the most athletic guard around, but he tends to make clutch plays when La Lumiere is in need. Averaging 13 points per game, Drummond could be the catalyst to get the Lakers over the hump in that all-important first game.
Road to NHSI:
The Lakers successfully beefed up their schedule in their quest to take the program to a national level. In early December, La Lumiere took on Oak Hill Academy (Mouth of Wilson, Va.) at the Marshall County Hoopfest in Kentucky and lost 77-59. Davis wasn't 100 percent in that game. He attempted two field goals and finished with zero points.
Huss makes no excuses for the loss: "They were better than us that day, they didn't turn the ball over."
Right before Christmas the Lakers lost to Elgin (Elgin, Ill.) 40-34 after opening the game completely flat. La Lumiere fell behind 15-2, Elgin slowed the game down and the Lakers never recovered. At that point, they weren't on the FAB 50 map, but that changed when they defeated top seed Findlay Prep (Henderson, Nev.) in their next game, 67-66.
La Lumiere hasn't lost since, ending the season with 20 consecutive wins, including victories over Farragut (Chicago) and Detroit Country Day (Beverly Hills, Mich.). La Lumiere's resume looks even better when you consider Findlay Prep hasn't lost since and Elgin advanced to the Illinois Class 4A sectional championship.
Inside Scoop:
La Lumiere is typical Midwest-Big Ten type basketball team. They like to grind it out inside with 6-foot-7 Jay Simpson, a Purdue recruit, and 6-foot-10 sophomore Johnathon Wilkins, the son of former NBA player Jeff Wilkins. The Lakers go eight deep, but rely heavily on Davis to score. "If we lose him, we don't score well and if he struggles we don't play well," Huss said.
The one thing consistent is La Lumiere's defense, especially on the interior with Perea. "He played well against Anthony Bennett (of Findlay Prep) and we match up well with big teams," Huss said.
La Lumiere like their chances to make an impact in this tournament if they can keep turnovers to a minimum. "When it gets to a point where you have to win three games in three days, it comes down to guts, toughness and execution. We like to think we can execute well," Huss said.
Ronnie Flores is a senior editor for ESPNHS. He can be reached at
ronnie.flores@espn.com
. Don't forget to follow him on Twitter:
@RonFloresESPN