High-SchoolBoys-Basketball:

Harvard-Westlake
October, 30, 2011
10/30/11
10:56
PM ET
By
Jason Jordan
| ESPN.com
Zena Endosomwan
was relieved.
All of the stressing and agonizing over Halloween costumes had finally come to an end by answering one simple, two-part question: If you had to dress up as the player that you most resemble on the court, who would it be and why?
"That should help me out!" said Endosomwan, a senior forward at Harvard-Westlake (Los Angeles).
ESPNHS
didn't stop there; we posed the same question to a handful of elite ballers around the country.
Here's what they had to say…
Kevin "Yogi" Ferrell
, Park Tudor, (Greenfield, Ind.), 2012, PG
Committed to:
Indiana
Halloween costume:
Isiah Thomas

Why:
"I'd have to say I'd dress up as Isiah because I want to do great things at Indiana like he did."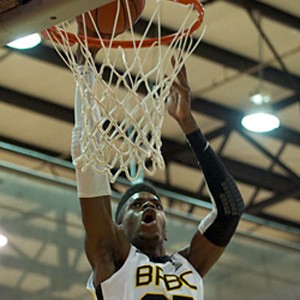 Steve Johnson/ESPNHSNerlens Noel said he wants to decide around the time of the McDonald's All-American game.
Archie Goodwin
, Sylvan Hills (Little Rock, Ark.), 2012, SG
Committed to:
Kentucky
Halloween costume:
Michael Jordan

Why:
"Well, I've actually heard this from a lot of different coaches on the AAU circuit plus Rick Barnes from Texas and Roy Williams from North Carolina told me this too… They said that I remind them of Michael Jordan when he was in high school. It's a great honor to hear that because of who he became so I'd definitely have to dress as him."
Nerlens Noel
, Tilton, (Tilton, N.H.), 2013, C
Uncommitted
Halloween costume:
Kevin Garnett

Why:
"I'd dress up as K.G. because he and I are similar because of his defensive presence, his leadership and his competitiveness."
Rodney Purvis
, Upper Room Christian Academy (Raleigh, N.C.), 2012, SG
Committed to:
N.C. State
Halloween costume:
John Wall
(Washington Wizards)
Why:
"I'd definitely go as John because he's someone I look up to and he's a really positive person like me. We're both fast guards who are willing to do whatever it takes to win."
L.J. Rose
, Westbury Christian (Houston), 2012, PG
Committed to:
Baylor
Halloween costume:
Deron Williams
(New Jersey Nets)
Why:
"I'd dress like Deron Williams because, like me, he isn't as athletic as the rest of the point guards in the league, but with his size he can dominate the game in so many different ways. He also has a great feel for the game."
Zena Endosomwan
, Harvard-Westlake (Los Angeles), 2012, PF
Uncommitted
Halloween costume:
Serge Ibaka
(Oklahoma City Thunder)
Why:
"I'd dress as Serge because we're both athletic, African, like to run and we play the same position. Oh, and we're both really dark."
Rasheed Sulaimon
, Strake Jesuit (Houston), 2012, SG
Committed to:
Duke
Halloween costume:
Jamal Crawford
(Atlanta Hawks)
Why:
"I'd dress like Jamal Crawford because the way I play is very similar to him. He's a combo guard that can play both the one and the two; plus he can create his own shot and create for his teammates as well. He's a good shooter, both off the dribble and stationary, and he makes shots when they count the most."
Isaiah Austin
, Grace Prep (Arlington, Texas), 2012, C
Committed to:
Baylor
Halloween costume:
Austin Daye
(Detroit Pistons)
Why:
"I'd dress as Austin Daye because like him I can play both inside and out. That and we're both long and athletic."
Gabe York
, Orange Lutheran (Orange, Calif.), 2012, SG
Committed to:
Arizona
Halloween costume:
Russell Westbrook
(Oklahoma City Thunder)
Why:
"I'd have to say that it would be Russell Westbrook. We're both guards that can shoot and are very athletic. He's just an explosive point guard who can drive to the basket and finish strong."
Matt Jones
, DeSoto (DeSoto, Texas), 2013, SG
Uncommitted
Halloween costume:
Ray Allen
(Boston Celtics)
Why:
"Definitely Ray Allen. It's the shooting and the stature and the way we carry ourselves on and off the court. I think I could pull him off for Halloween. Plus if someone really thought that I was him and needed me to prove it by knocking down a lot of jumpers I think I could do it."
Jason Jordan is the basketball editor for ESPNHS. He can be reached at
jason.x.jordan.-ND@espn.com
. Don't forget to follow him on Twitter:
@JayJayESPN