High-SchoolBoys-Basketball:

J.J. Redick
May, 22, 2012
5/22/12
11:05
AM ET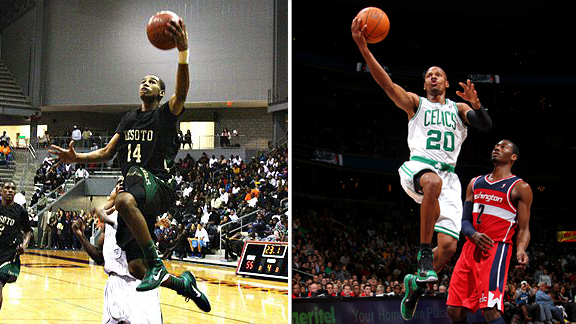 Travis L. Brown/ESPNDallas.com, Ned Dishman/NBAE via Getty ImagesDuke recruit Matt Jones, left, and NBA star Ray Allen are both prototypical shooting guards with range well past the 3-point line.
This summer, ESPNHS will sit down with some of the nation's elite players to break down their game, talk about the inevitable comparisons to college and pro players and get their take on who they pattern their game after.
Player:
Matt Jones
School:
DeSoto (Texas)
Position:
Shooting Guard
Height/Weight:
6-4/180
ESPN 60
: No. 22
Who is Matt Jones?

Rated the No. 9 shooting guard in the Class of 2013, Jones is a stone-cold assassin. His 3-point shot is already developed at an NCAA level, and he's capable of exploding at any moment. As a junior, he led DeSoto to the regional finals of the Class 5A state tournament, averaging 18.5 points, 8.5 rebounds and 3.4 assists per game. Jones has been just as good during the summer season. Going against some of the most talented AAU teams in the country during Nike Elite Youth Basketball League play, Jones is averaging 17.7 points per game and hitting 48 percent of his 3-point attempts. Jones has committed to Duke, and he seems destined to continue the Blue Devils' tradition of lights-out shooting guards (Trajan Langdon, J.J. Redick, Jon Scheyer, Austin Rivers).
Scouting Report
According to
ESPN RecruitingNation
, Jones has the prototypical build for a shooting guard. He's athletic enough to make plays in the open floor and around the rim, but his calling card is his sweet jumper. Jones might be the purest shooter in the country, with consistent catch-and-shoot range out to 20 feet.
"He's an extremely respected shooter," says Scott Pospichal, his AAU coach with the Texas Titans. "Teams know not to leave him. We run him off screens, and he's good at the pull-up, too. He can really shoot the ball."
Most frequent comparisons: Ray Allen, J.J. Redick
ESPNHS Comparison: Gordon Hayward
Jones' range and size make observers think of classic snipers like Ray Allen and J.J. Redick, but we see his game resembling that of up-and-coming Utah Jazz star Gordon Hayward. There is a size difference, as Hayward is one of the NBA's taller shooting guards at 6-foot-8, but everything else lines up. While Allen and Redick rely on deft footwork to curl around screens and pop long jumpers, Jones (like Hayward) is more of a spot-up shooter with less elevation on his release.
Jones also has enough length, athleticism and quickness to occasionally jump into passing lanes and disrupt things defensively. Gordon makes a living by deflecting passes, sneaking in for offensive putbacks and drilling 3-pointers (38.6 percent for his career), and we can see Jones evolving into the same type of player.
"I like to do a little bit of everything," says Jones. "I take pride in my defense. I can shoot off the dribble, and I have a quick first step. I try to contribute any way I can."
Matt's Comparison: Ray Allen

Jones has been hearing the Ray Allen comparisons for a long time, and he takes it as a compliment.
"A lot of people like to compare me to Ray Allen or J.J. Redick," he says. "I just feel blessed and grateful to be compared to great shooters like that. Ray Allen is one of the greatest of all-time, so that's an honor to be mentioned with him."
Jones says he is trying to get stronger over the summer, and he's also working on his ball handling. Allen was an underrated slasher in his prime, so Jones will need to continue tightening his handle if he wants to be the next "Jesus Shuttlesworth."
Mike Grimala covers high school sports for ESPNHS. Be sure to follow him on Twitter (@MGrimalaESPN).
February, 7, 2012
2/07/12
9:00
AM ET
By
Jason Jordan
| ESPN.com
If you're a college hoops fan, you probably have an opinion on who'll take Round 1 in the sport's most storied rivalry.
The future of the two programs have their opinions as well. So we caught up with every player from Duke and North Carolina's 2012 recruiting classes and had them make predictions for Wednesday's Duke-UNC game (9 p.m. ET, ESPN).
Naturally, objectivity wasn't their strong suit, so we added one 2013 player at the top of both schools' wish lists, Prestonwood Christian (Plano, Texas) junior Julius Randle, to see who he thought would reign supreme on Tobacco Road.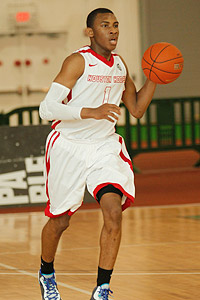 Courtesy of Andrew ShurtleffRasheed Sulaimon said Duke will sweep UNC this season.
The Duke Recruit
Rasheed Sulaimon

Strake Jesuit (Houston), SG
Who gets the win?

"Duke absolutely wins this game. We've been a little inconsistent this year, but I spoke with Coach K recently and he told me he's got the guys doing 5 a.m. workouts and [he's] really challenging them trying to wake them up to finish out the season strong. I just feel like we're too talented on the perimeter for them, and I think we'll get it done in the paint, too. I'm calling the sweep against North Carolina this year. You heard it here first."
UNC wins if ...

" ...
Michael Jordan
leaves the front office for the Bobcats, drives down and suits up for the Tar Heels. And when he does he's playing like he was in his prime. I'm talking the 'dropping 63 on Boston' prime. That's the only way."
The UNC Recruits
J.P. Tokoto

Menomonee Falls (Wis.), SF
Who gets the win?

"I am definitely picking North Carolina in this one. This season we suffered a bad loss against Florida State, but other than that we've been playing really well. Our guys know exactly what to do in order to keep Duke off the boards and to guard the 3-point line."
Duke wins if ...

" ... The Carolina players drink laxative-laced water before the game."
[+] Enlarge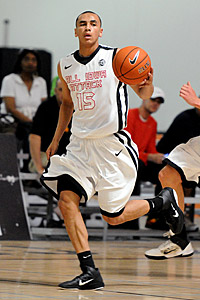 Chris Williams/Icon SMIMarcus Paige said UNC has too much inside for Duke to handle.
Marcus Paige

Linn-Mar (Marion, Iowa), PG
Who gets the win?

"Most definitely North Carolina all the way. I think we have too many weapons and too much versatility for Duke to be able to handle what we do offensively. Even though we don't guard the 3-point line too well at times, I feel like our size will wind up getting to them."
Duke wins if ...

" ... They manage to find the special stuff in Bugs Bunny's water bottle from 'Space Jam'!"
Brice Johnson

Edisto (Cordova, S.C.), PF
Who gets the win?

"No question that North Carolina will get the win in this game. I just think we've got too much for Duke to handle inside, and I think that's the thing that will win the game for us. We've definitely got this one."
Duke wins if ...

" ...
J.J. Redick
comes back and plays for Duke and goes 20 of 20 from the 3-point line. He's got to be 100 percent. Got to."
Joel James

Dwyer (Fort Lauderdale, Fla.), PF
Who gets the win?

"North Carolina. The reason I say that is because our players have the edge in experience. Our guards are bigger and stronger and we know how to handle that type of big stage. I also feel like our bigs will have good games against them, and I think
Harrison Barnes
will have a big game, too."
Duke wins if ...

" ...
John Henson
, Harrison Barnes,
Tyler Zeller
and
Kendall Marshall
all foul out in the first half. That's the only way they get it done."
The Objective Take
Julius Randle

Prestonwood Christian (Plano, Texas), PF, undeclared (class of 2013)
Who gets the win?

"Man, I'm being put on the spot with this one! Since they're playing at home I'm gonna pick UNC in this one. Duke hasn't been playing their best ball in the past couple of games, so I think this will wake them up and get them ready for the tournament. I do think Duke will win the next one, though."
Jason Jordan is the basketball editor for ESPNHS. He can be reached at jason.x.jordan.-ND@espn.com. Don't forget to follow him on Twitter: @JayJayESPN.