High-SchoolBoys-Basketball:

Jabari Bird
August, 9, 2012
8/09/12
1:42
PM ET
By
Ronnie Flores
| ESPN.com
The final 12 players selected to participate in the seventh annual Under Armour Elite 24 event at California's Venice Beach were announced on Thursday.
Featuring 24 of the nation's top high school basketball players, Under Armour Elite 24 participants are selected based on their performance during AAU tournaments and national summer camps by ESPN high school basketball experts. The
first 12 players
were announced last week.
The 2012 Under Armour Elite 24 will be held at the Venice Beach Courts in Los Angeles Aug. 24-25. The game airs live on ESPNU at 7 p.m. ET Aug. 25, while the Under Armour Slam Dunk Contest will air Aug. 24 at 7 p.m. ET on ESPNU.
Aaron Gordon
, ranked No. 6 in the
ESPN 100
, leads the class of 2013 contingent. Also included is
Jabari Bird
, ranked No. 20 in the ESPN 100 and Gordon's teammate on the Oakland Soldiers AAU club. The duo led the Oakland Soldiers to the Nike Peach Jam title last month. The Elite 24 roster includes five of the top 10 players in the ESPN 100.
Tyus Jones
, the No. 2-ranked player in the
ESPN 60
, leads the class of 2014 contingent. Three of the top six players in the ESPN 60 are on the Elite 24 roster.
Five Under Armour Elite 24 players have committed to colleges:
Nate Britt
II to North Carolina,
Aquille Carr
to Seton Hall,
Nigel Williams-Goss
to Washington, and both
Conner Frankamp
and
Brannen Greene
to Kansas.
Below is the full list of the second 12 players selected to the game. The specific team rosters and dunk contest participants will be announced prior to the event. To view the first dozen players,
CLICK HERE
.
Join
our Under Armour Elite 24 fan page on Facebook and don't forget to follow the event on twitter:
@UAElite24
May, 24, 2012
5/24/12
12:35
PM ET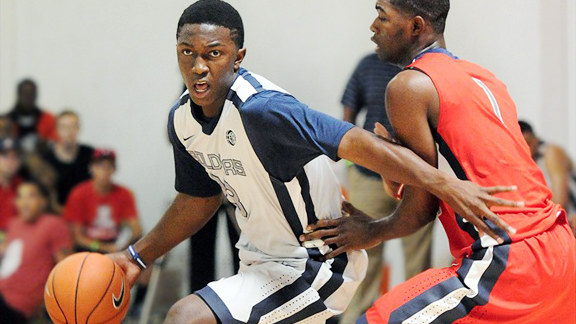 Chris Williams/Icon SMIStanley Johnson's "meat and potatoes" game has powered the Oakland Soldiers this summer.
Each week this summer leading up to the AAU National Championships in Orlando in July, ESPNHS will profile one of the nation's top AAU teams and tell you why you should be paying attention.
Team:
Oakland Soldiers

Location:
Oakland, Calif.

Coach:
Mark Olivier
What you need to know about the Oakland Soldiers:
The Oakland Soldiers are probably best known for being one of
LeBron James
' AAU teams back when the King was in high school, but the program has produced enough NBA talent in addition to James to form its own All-Star team.
Coach Mark Olivier says that's one of the reasons why the Soldiers are able to draw such elite talent, year after year.
"I think we have a history that makes kids want to play for us," says Olivier. "Guys like LeBron James played for us. And in the last couple years we've had
Nick Johnson
,
Jabari Brown
. That's a draw for kids."
The current roster is loaded with elite prospects, led by
Aaron Gordon
and
Jabari Bird
, both of whom are highly ranked in the
Class of 2013
. Gordon, a 6-foot-7 forward, can
dominate the paint and play in the open court
, while Bird is one of the nation's top scoring guards. Small forward
Stanley Johnson
is ranked No. 28 in the
Class of 2014
, with multiple Division I offers already on the table.
"We've got a really well-rounded team," says Gordon. "We don't have a lot of bigs, but we have a lot of athletes who can get out and run. We outrun other teams."
The Soldiers are currently playing without Gordon, who is resting a foot injury, and Bird has been forced to miss time with a shoulder injury. But the team has hardly missed a beat, compiling an impressive 9-5 record in Nike Elite Youth Basketball League play. Johnson has come up big, leading the team with 16.1 points per game in EYBL action.
"My role kind of changed when we had the injuries," says Johnson. "I went from basically having one-third of the scoring load to having two-thirds of the scoring load. I'm just trying to do a little bit of everything."
Key Players:
Aaron Gordon, F, 2013: Gordon is currently sitting out with a broken bone in his foot, but he's progressing nicely and expects to be back by the end of the summer. "He told me he could play right now if he had to," says Olivier. "But the foot needs rest. He'll be back at 100 percent." Gordon is No. 4 in the ESPN 100.
Jabari Bird, G/F, 2013: A 6-foot-5 swingman, Bird possesses a deadly outside shot. "I think he's the best mid-range shooter in the country," says Gordon. "I know that's a bold statement, but I really think he's the best." Bird is averaging 11.2 points per game during EYBL play. He's ranked No. 11 in the ESPN 100.
Stanley Johnson, F, 2014: A 6-foot-5 forward, Johnson has stepped up in Gordon's absence, averaging a team-high 16.1 points during EYBL play. He's also posting 6.6 rebounds per game and shooting 50 percent from the floor. "He's a meat-and-potatoes player," says Olivier. "He's just so fundamentally sound. He's the ultimate team player."
Key Dates:
EYBL Session 4: May 25-27 in Oakland, Calif.
Nike Peach Jam: July 18-22 in Augusta, S.C.
Fab 48 AAU Finals: July 22-28 in Las Vegas
The Soldiers came up short at last year's Nike Peach Jam but rebounded to take the FAB 48 title in Las Vegas. They would like to win both crowns this season, and once Gordon returns to the lineup, they may have to be considered the favorite at both events.
"When we had everybody playing, we were really good," says Johnson. "So I think as we start to get them back and the season goes on and we get more practice, I think we'll be able to compete for the final four at Peach Jam, or even win the championship."
"That's our main focus this summer," says Gordon. "We don't just want to get to Peach Jam, we want to compete and come out on top there."
Famous Alums:
LeBron James (Three-time NBA Most Valuable Player)
Kendrick Perkins
(2003 1st-round NBA Draft pick)
Chauncey Billups
(2004 NBA Finals Most Valuable Player)
Brandon Jennings
(2009 1st-round NBA Draft pick)
Follow Mike Grimala on Twitter (@MGrimalaESPN).
October, 25, 2011
10/25/11
12:00
AM ET
By
Ronnie Flores
| ESPN.com
The road to the
POWERADE FAB 50
mythical national title won't be an easy one.
That journey will definitely pass through Ft. Myers, Fla., and Springfield, Mass. Those two locations are home to the most loaded events this upcoming season in terms of FAB 50 ranked-caliber teams in attendance.
Ft. Myers, Fla., is the home of the
State Farm City of Palms Classic
, the nation's top holiday tournament in recent years. The 2011 edition (Dec. 16-21) is no different, as Bishop Verot High School will host no less than eight FAB 50-ranked teams between December 16-21. The field of teams include (listed with preseason FAB 50 ranking):
16-Team Classic:
No. 2 Miller Grove (Lithonia Ga.)
No. 6 Mater Dei (Santa Ana, Calif.)
No. 7 Bishop Gorman (Las Vegas)
No. 10 Montverde Academy (Montverde, Fla.)
No. 16 Grace Prep (Arlington, Texas)
No. 18 Riverside Academy (Reserve, La.)
No. 50 Trinity (Louisville, Ken.)
4-Team Signature Series:
No. 23 Friends' Central (Wynnewood, Pa.)
The third place and championship game on Wednesday, December 21 will be televised live on ESPNU.
Among the teams that did not make the FAB 50, the one that intrigues us the most is Salesian (Richmond, Calif.), led by standout junior wing
Jabari Bird
. The Pride open the season unranked in the
West Region Top 20
, but one has to wonder how high they would have been in the FAB 50 had standout point guard
Dominic Artis
, who recently de-committed from UCLA, not left NorCal for Findlay Prep (Henderson, Nev.).
Speaking of Findlay Prep, the rugged schedule for the No. 8 ranked Pilots includes a stop at Blake Arena in Springfield, Mass., on Monday, Jan. 16 at the
2012 Spalding Hoophall Classic
. In that game, Findlay Prep will battle No. 1 Simeon (Chicago, Ill.) as part of a four game set to be televised on ESPNU.
Seven of the top nine teams in the POWERADE FAB 50 will participate at the Hoophall Classic, which is quickly becoming the nation's top showcase. The top showcase games at the five-day event over Martin Luther King, Jr. weekend (Jan. 12-16) are:
Jan. 14
No. 47 La Verne Lutheran (La Verne, Calif.) vs. St. Patrick (Elizabeth, N.J.)
No. 18 Riverside Academy (Reserve, La.) vs. No. 19 Gonzaga (Washington, D.C.)
No. 3 Oak Hill Academy (Mouth of Wilson, Va.) vs. Prestonwood Christian (Arlington, Texas)
No. 13 DeMatha (Hyattsville, Md.) vs. Northwest Catholic (West Hartford, Conn.)
Jan. 15
No. 23 Friends' Central (Wynnewood, Pa.) vs. St. Mark's (Southborough, Mass.)
Jan. 16
No. 2 Miller Grove (Lithonia, Ga.) vs. No. 9 St. Anthony (Jersey City, N.J.)
No. 7 Bishop Gorman (Las Vegas) vs. No. 13 DeMatha (Hyattsville, Md.)
No. 1 Simeon (Chicago, Ill.) vs. No. 8 Findlay Prep (Henderson, Nev.)
No. 6 Mater Dei (Santa Ana, Calif.) vs. No. 24 Christ the King (Middle Village, N.Y.)
As if those games aren't enough to make fans and pollsters drool, there is a tentative game to be played on Jan. 7 at the
Cancer Research Classic
in Wheeling, W. Va., between No. 1 Simeon and No. 2 Miller Grove.
There is no guarantee that game at the Cancer Research Classic will pit the top two ranked teams in the FAB 50. But if Miller Grove can survive its early season schedule, including a game against No. 3 Oak Hill Academy, and win the City of Palms Tournament, there is no doubt the Wolverines will be pushing Simeon for the top spot.
Should Miller Grove falter before facing a potentially unbeaten Simeon club, there will be plenty of pressure on
Jabari Parker
and company to win that game. If not, a new No. 1 team heading towards the postseason could potentially emerge from the results of the Hoophall Classic.
At the conclusion of the 1989-90 season, four of the top five ranked teams in the
National Prep Poll
(precursor to the FAB 50) all finished with unbeaten records, led by No. 1 King (Chicago, Ill.) with a 32-0 mark.
With the stacked national schedules ranked teams are playing nowadays, that scenario is unlikely to materialize again.
Ronnie Flores is a senior editor for ESPNHS. He can be reached at
ronnie.flores@espn.com
. Don't forget to follow him on Twitter:
@RonFloresESPN