High-SchoolBoys-Basketball:

Jahlil Okafor
June, 18, 2012
6/18/12
2:39
PM ET
Jahlil Okafor
is in the middle of the busiest summer of his life. In addition to criss-crossing the country while playing for one of the nation's
elite AAU teams
, he's currently in Colorado trying out for the USA Basketball U17 National Team.
With such a stuffed schedule, it's understandable that Okafor is putting his college plans on the back burner for now.
"I'm just listening to everyone," said Okafor. "There's a lot of other things going on right now, so I'm taking my time. I haven't cut down my list yet."
The Class of 2014 center is in high demand. Ranked No. 2 in the
ESPN 60
, Okafor has the size, the hands and the footwork to be a dominant big man, and his gift for scoring in the post is rare for a player his age. He'll find out on Tuesday whether he makes the final cut for the U17 team, but you have to like his chances.
Last year, the 6-foot-9 Okafor played for the U16 team and averaged 14.6 points and 9.2 rebounds during the 2011 FIBA Americas Championships, shooting an incredible 71 percent from the field to help Team USA win gold.
The leading scorer on that U16 squad was fellow Chicago native
Jabari Parker
, the No. 1 player in the Class of 2013 and the reigning
Gatorade National Player of the Year
. Okafor and Parker both play for the same AAU team, and they'll both likely make the final cut for the U17 team.
Okafor says he talks recruiting with Parker, who can relate to being a top uncommitted prospect. Parker has said he will decide on a college before the start of his senior season.
"Jabari gives me advice," said Okafor. "He tells me what to expect, just the things that he's going through now and how it's going to be for me."
Okafor is still in the early stages of his decision process, but there are a few things he's looking for as he zeroes in on prospective colleges.
"I definitely want to play for a school that throws the ball in the post," he said. "I like playing in the post, so a system that plays to my strengths is important. My decision will also involve the players around me. I want good players around me, because it's all about winning."
Okafor already has offers from schools like Duke, North Carolina, Ohio State, Michigan State, Illinois, Arizona and UConn.
June, 11, 2012
6/11/12
9:00
AM ET
By
Jason Jordan
| ESPN.com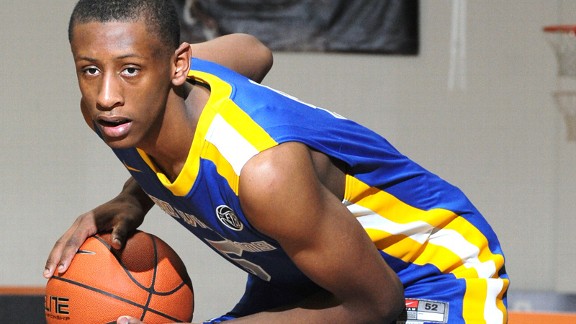 Scott KurtzTroy Williams of Oak Hill (Mouth of Wilson, Va.) was shocked that he had dropped to No. 42 from No. 6 in the ESPN rankings, but he says the shift forced him to focus more and play smarter.
Roughly two weeks ago,
Troy Williams
underwent a mental metamorphosis which caused him to develop a rather sizable chip smack-dab on his shoulder.
When ESPN
RecruitingNation
released its updated hoops class rankings, Williams learned he'd plummeted from No. 6 all the way to No. 42 in the
ESPN 100
, a drop that he said he "never saw coming."
"I was shocked that I dropped that low," said Williams, a rising senior swingman who runs with Boo Williams Summer League's AAU squad. "I don't get it at all, but that's someone's opinion, and it's up to me to prove them wrong. It definitely bothered me though."
Williams' sentiments were shared by plenty of players on the AAU circuit, who felt their ranking fell short of their production thus far this AAU season.
"I think most players think they should be ranked higher," said
Tyus Jones
, a rising junior point guard who runs with the Howard Pulley Panthers and is ranked No. 3 in the ESPN 60. "I wouldn't want the job of rankings players. Too many people would be mad at me."
It's no cakewalk for ESPN.com recruiting analyst Dave Telep and Co.
Not when the reality is that every player who isn't the top player in his respective class thinks he's underrated to some degree.
"It's extremely challenging," Telep said. "Rankings should be taken as a snapshot for where the players are and help them size-up the competition for where they want to go. If it motivates them, great, if they don't care, even better. The best players just put their heads down and go about their business. I've never had a conversation with John Wall (No. 5 in the ESPN 100 in 2009) about where he was ranked."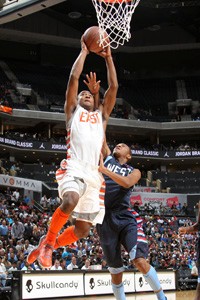 Kelly KlineN.C. State-bound guard Rodney Purvis used his No. 20 rank as motivation. He scored a game-high 22 points to earn co-MVP honors at this year's Jordan Brand Classic.
Added Jones: "I've never had a coach mention anything about where I'm ranked. They don't care about that stuff so that tells you all you need to know about rankings getting you to the next level. Most coaches don't even look at rankings."
Neither do players. Or so they say.
Most players are reluctant to even admit that they pay attention to rankings; a "defense mechanism" according to
Xavier Rathan-Mayes
.
"Guys try and say that they don't look at rankings, but they do," said Rathan-Mayes, a rising senior combo guard with
CIA Bounce
who is ranked No. 20 in the ESPN 100. "We all look at them; it's the difference between the guys that use rankings as motivation to get better and the guys who don't."
Rodney Purvis
was definitely part of the former.
Purvis always felt slighted when the rankings were updated, but eventually developed the mindset that he'd just have to prove why he should've been ranked higher. He focused particularly on one aspect.
"Any time you play a person ranked above you, you've got to destroy them," said Purvis, a shooting guard who will play at N.C. State next season and finished his senior season ranked No. 20 in the
ESPN 100
. "That's a must, but you also have to destroy the players ranked below you. Use it as fuel and build on that. That's what I did."
Purvis' result?
Roster spots in both the
Jordan Brand
and
McDonald's All-American
games.
"You can turn it around," Purvis said.
Still, it's important to keep rankings in proper perspective.
Jahlil Okafor
doesn't concern himself with ascending from No. 2 in the
ESPN 60
to No. 1 because the way he sees it "anyone of the top six players could be No. 1."
"Most times you dropping or not moving up doesn't mean you were bad, it just meant some other players were great," said Okafor, a rising junior center who runs with Mac Irvin Fire. "Rankings, for most players, are like adversity because we all want to be the best. So you've just got to approach it like you would a tough situation on the court. You just have to respond."
Williams is responding.
Two days after his fall from grace, he led BWSL to a 6-0 record in the fourth session of the Nike Elite Youth Basketball League, averaging 14 points per game.
"I think dropping like that helped me focus more and play smarter," Williams said. "I definitely learned a valuable lesson, and that's to go hard at all times and everything else will take care of itself. That's what's gonna make you a winner."
A fail-proof plan no matter where you're ranked.
May, 10, 2012
5/10/12
6:00
AM ET
Each week this summer leading up to the AAU National Championships in Orlando in July, ESPNHS will profile one of the nation's top AAU teams and tell you why you should be paying attention.
Team:
Mac Irvin Fire
Location:
Chicago, Ill.
Coach:
Mike Irvin
What you need to know about Mac Irvin Fire:
This team has star power. Leading the way is small forward
Jabari Parker
, the No. 1 junior in the country and reigning
Gatorade National Player of the Year
. But he's not the only elite talent on the squad. Power forward
Jahlil Okafor
is the No. 2 player in the class of 2014. There are two other
ESPN 60
players in the starting lineup:
Tommy Hamilton
at No. 42 and
Billy Garrett Jr.
at No. 50.
Coach Mike Irvin likes to play an up-tempo, open-court game in order to take advantage of all his playmakers.
"We get up and down," he says. "Jabari is 6-9 and runs the floor like a deer, and even Jahlil can run for a big man. We try to showcase the guys like that."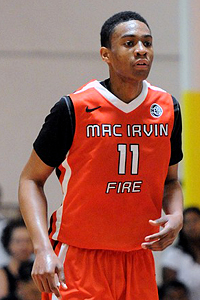 Chris Williams/Icon SMIWhen Jabari Parker, above, Tommy Hamilton and Jahlil Okafor are on the floor at the same time, the Mac Irvin Fire boasts the nation's best frontcourt.
Key Players:
Jabari Parker, F, 2013:
If there's a way to defend Parker effectively, we haven't seen it yet. The offense runs through the 6-foot-8 forward, who can score from any spot on the floor. "When you've got the No. 1 player in the country, you've got a shot to win any tournament," says Irvin.
Jahlil
Okafor, F, 2014:
Okafor gives the Fire a luxury that few other teams have -- an old-school low-post scorer. The 6-foot-9 forward has excellent touch around the basket, and the size to control the paint. "He's very strong around the basket," says Irvin. "He's a dominant big man."
Billy
Garrett Jr., G, 2013:
The No. 8 point guard in the ESPN 60, Garrett brings size and athleticism to the position. Irvin likes to let his 6-foot-5 floor general push the ball in transition. "We've got a lot of talent," says Garrett, "so I just try to get guys their shots."
Tommy
Hamilton, F, 2013:
A 6-foot-8 forward, Hamilton's smooth offensive game complements Okafor's power. When Hamilton, Okafor and Parker are on the floor at the same time, the Mac Irvin Fire boasts the nation's best frontcourt.
Key Dates:
EYBL Session 3: May 11-13 in Dallas
EYBL Session 4: May 25-28 in Oakland, Calif.
Nike Peach Jam: July 18-21 in North Augusta, S.C.
Las Vegas Fab 48: July 26-29 in Las Vegas
Garrett played on last year's Mac Irvin Fire team, which was bounced in the quarterfinals at the Nike Peach Jam, and he believes this squad has enough firepower to come out on top this time around.
"I think we have a great chance," says Garrett Jr. "We've got the players, we've got the coaches, we've got everything we need to win it this year. We can definitely do it."
Famous Alums:
Antoine Walker, Juwan Howard
Follow Mike Grimala on Twitter (@MGrimalaESPN).
April, 30, 2012
4/30/12
11:44
AM ET
By
Jason Jordan
| ESPN.com
HAMPTON, Va. -- CP3 All Stars (N.C.) swingman
Theo Pinson
doesn't mind admitting that when he glanced over to the sideline and saw coaches from Duke, North Carolina, Syracuse, North Carolina State and others watching his every move, it gave him extra incentive to work even harder on the court.
Pinson and CP3 were one of 40 teams competing in the second of four sessions in Nike's Elite Youth Basketball League here last weekend. The teams are vying for one of 24 spots in the Nike Peach Jam in July.
"Some guys say they block it out, but I don't think that's real," said Pinson, a sophomore who is ranked No. 9 in the
ESPN 25
. "I definitely think to myself that I need to do the little things and play better defense and concentrate on playing harder. The coaches are the big motivator."
Metro Hawks (N.Y.) junior guard
Isaiah Lewis
agreed.
He said that seeing the coaches who are recruiting him made him want to play harder to reinforce the fact that they want him.
"You don't want that interest to drop off," Lewis said. "There are so many good players in this league, and you just want to come out and play the best that you can. The coaches help you with that."
Last of the Unbeatens
With the second session of the EYBL in the books, CIA Bounce (Can.) is the lone undefeated team. The Canadians won five games this weekend by an average of 18.6 points per game and now sit at 9-0.
Bounce guard
Xavier Rathan-Mayes
said that even though they're the last undefeated squad, there's no pressure to remain perfect.
"We're just going to keep going out and performing at a high level," he said. "We feel we can go undefeated throughout the entire season."
Parker Sits Out
Mac Irvin Fire (Ill.) had to compete without its biggest piece this weekend, swingman
Jabari Parker
who is the top player in the
ESPN 60
. Parker stayed back in Chicago to nurse a sprained ankle and to receive an award, according to his teammate
Jahlil Okafor
.
"We just had to keep playing hard without him," said Okafor, a sophomore center who is ranked No. 2 in the ESPN 25.
The Fire went 3-2 this weekend without Parker, who is expected to be ready for session three in Dallas on May 11-13.
Randle's Shoe Obsession
Julius Randle
had to bring an extra bag on his trip to Hampton for the second session of Nike's Elite Youth Basketball League, but it wasn't for extra clothes. Randle needed a bag to store seven pairs of shoes.
"I mean come on, I'm a ball player," said Randle, a junior forward who ran with Team Texas Titans. "I've got to switch up my shoes for my different games."
Randle wasn't kidding.
From Kobe Bryant's grey and blacks shoes to Kevin Durant's black and blues, Randle wore a different pair each time he took the floor.
"I'm just a sneaker guy, I guess," said Randle, who is ranked No. 2 in the
ESPN 60
. "That's just my thing."
Rim Bender
Mac Irvin Fire (Ill.) center
Jahlil Okafor
caused quite a stir in his game against the Georgia Stars in the morning session on Sunday. Okafor bent the rim down when he missed a dunk in the second half, stopping play for more than an hour.
Immediately, players and spectators ran from the adjoining courts to snap pictures of the bent rim.
Eventually, the game was moved to another court and Mac Irvin won 65-51.
January, 8, 2012
1/08/12
12:33
AM ET
By
Jason Jordan
| ESPN.com
WHEELING, W.Va. -- Things couldn't get any worse for
Nate Britt
.
Here his Gonzaga College High School (Washington, D.C.) team was lucky to be down three to Whitney Young (Chicago) at the half and Britt had contributed just one steal and one foul.
"It was my worst first half of the year I'd say," said Britt, a junior point guard who is committed to North Carolina and ranked No. 15 in the
ESPNU 60
. "I knew we needed to pick it up, but I just couldn't get it going. I've been in a slump the last few games. We were gonna need someone else to step up."
Enter
Kris Jenkins
.
The junior forward used his quickness and relentless motor to dominate Whitney Young's frontcourt to the tune of 21 points and seven rebounds to help Gonzaga (10-0), ranked No. 11 in the
POWERADE FAB 50
, roll past the Dolphins (6-4) 54-44 Saturday night at the Cancer Research Classic in Wheeling, W.Va.
Jordan Abdur-Ra'oof
chipped in with 10 points for Gonzaga, and
Jahlil Okafor
, who is ranked No. 3 in the
ESPNU 25
, led Whitney Young with 16 points and eight rebounds.
"I definitely noticed that we needed a boost," said Jenkins, who was named Most Valuable Player. "They were a lot bigger than me, but I felt like I could beat them with my first step and that worked for me. That was a tough win, but we found a way to get it done."
The Dolphins jumped on Gonzaga early by pumping the ball inside to Okafor, who overpowered the Eagles' front court scoring 10 points in the first half to give the Dolphins a slim 32-29 lead at the half.
Gonzaga couldn't get anything going offensively in the first half. They shot just 34 percent from the floor and went 1-of-8 from the 3-point line.
The lone bright spot was Jenkins whose 16 first half points kept them within striking distance.
"We couldn't hit anything," Britt said. "We're usually a lot better shooting the ball so I don't know what was going on there. Jahlil was killing us in the first half so what we really talked about was turning it up defensively in the second half. We felt like that's where we'd have the best chance to win."
By the end of the third quarter, Gonzaga's intense defensive pressure had caused Whitney Young to commit 18 turnovers. The Eagles only had three.
Midway through the fourth quarter they'd turned those giveaways into a 19-6 run, a deficit the Dolphins couldn't recover from.
"We know that Whitney Young is a great team and Jahlil is a great player," Jenkins said. "And they play a tough schedule so we knew that their record didn't mean anything at all. We are really happy to come away with the win. It's huge for our program and to do it on national TV was really special."
Jason Jordan is the basketball editor for ESPNHS. He can be reached at jason.x.jordan.-ND@espn.com. Don't forget to follow him on Twitter: @JayJayESPN.