High-SchoolBoys-Basketball:

Jerami Grant
February, 10, 2012
2/10/12
10:05
PM ET
By
Jason Jordan
| ESPN.com
When pressed about the keys to DeMatha Catholic's (Hyattsville, Md.) rematch with Gonzaga College (Washington, D.C.), Stags point guard
James Robinson
offered one reason why he thought DeMatha would avenge its early-season loss to the Eagles.
"We've just got a lot of talent," Robinson said. "Too many weapons."
Too many indeed.
Jerami Grant
and
BeeJay Anya
dominated the paint, combining for 33 points, while
Jairus Lyles
was stellar in the backcourt with 15 points to help the Stags, ranked No. 29 in the
POWERADE FAB 50
, leave little doubt about who runs the Washington Catholic Athletic Conference with a 76-47 win over No. 14 Gonzaga Friday night at DeMatha in a game that was nationally televised on ESPN2.
The win avenged a two-point loss to the Eagles on Jan. 21.
Nate Britt
led Gonzaga with 21 points.
Fueled by a raucous crowd, the Stags stormed out of the gate early with a 9-2 run. But Gonzaga responded and Britt capped off a late first-quarter 8-0 run with a 3-pointer from the right wing to give the Eagles their first lead of the game, 13-12.
Lyles reignited the Stags' transition game midway through the second quarter, throwing down a hard breakaway slam and following that up with an easy layup to give the Stags a 28-21 lead.
When the Eagles answered with a 6-2 run, Lyles heaved a halfcourt buzzer-beater to give DeMatha a 33-27 lead at the half.
The Stags kept the momentum rolling, opening the third quarter with a 7-0 run to extend its lead to 40-27. Then with 4:33 left in the third quarter, Robinson got ejected when he picked up his second technical foul after hitting Gonzaga guard
Charles Glover
in the back with the ball. Robinson's first tech came in the first half after swatting Eagles' guard Tavon Blackmon's shot out of bounds and mouthing off about it.
It helped the Stags that the Eagles scored their first points of the second half – when Anya goaltended Britt's layup – at the 1:59 mark of the third quarter.
The Stags did an exceptional job down the stretch of exposing mismatches to continue the rout. The Stags also held
Kris Jenkins
, the Eagles' leading scorer, to just three points in the second half and 12 total.
Jason Jordan is the basketball editor for ESPNHS. He can be reached at jason.x.jordan.-ND@espn.com. Don't forget to follow him on Twitter: @JayJayESPN.
January, 16, 2012
1/16/12
5:21
PM ET
By
David Auguste
| ESPN.com
SPRINGFIELD, Mass. --
Shabazz Muhammad
began his scoring barrage against No. 5 DeMatha (Hyattsville, Md.) with a dunk just moments after the opening tip. He put the game away in the same manner with a ferocious fourth-quarter jam. In between, the Bishop Gorman (Las Vegas, Nev.) forward was equally brilliant, torching the Stags for 37 points and six boards in a 73-65 upset at the Spalding Hoophall Classic on Monday.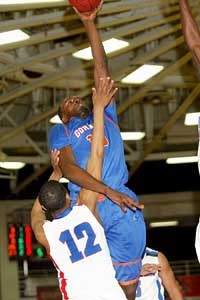 J. Anthony Roberts/ESPNHSShabazz Muhammad is still considering Kentucky, UNLV, Duke, Kansas, UCLA and USC.
"We were playing Superman, and I guess we didn't have enough kryptonite," said DeMatha head coach
Mike Jones
.
A slew of high-profile college coaches, including front-row spectators
Mike Krzyzewski
and
John Calipari
, witnessed Muhammad go to work.
The nation's No. 1 senior recruit
scored in a variety of ways and electrified Blake Arena with a series of dunks. Senior forward
Rosco Allen
did his part, chipping in 18 points and nine boards as the 24th-ranked Gaels (13-3) avenged last year's loss to DeMatha by scoring a victory that will surely shake up
the POWERADE FAB 50
.
"I definitely wanted to make an impact, because I knew they would devote a lot of attention to Shabazz," said Allen, a Stanford signee. "We lost to them last year at Les Schwab, so it's sweet winning this little rematch."
Gorman's length was evident on defense, as the Gaels forced several turnovers early and stormed to a 12-2 advantage in the first quarter. Muhammad's 19 first-half points paced the squad to a 33-25 edge at the intermission.
"We talked about making them make tough shots," said Gorman coach
Grant Rice
. "We made it tough on them all night. I think we're as deep and long as anyone in the country. I think that's always going to cause some problems."
DeMatha chipped away at the lead in the third quarter behind senior
Marcellous Bell
(12 points, 4-of-9 shooting from 3-point range) and junior
Jairus Lyles
(team-high 17 points). The Stags pulled within two early in the fourth, but Muhammad eventually put the game away with a scintillating windmill flush just feet from Coach K.
For DeMatha (15-1), the loss was the team's first of the season and its second straight on national television at Hoophall after losing to St. Anthony (Jersey City, N.J.) last year. Again, a slow start forced the Stags to play catch-up the rest of the way, while foul trouble limited frontcourt standouts junior
BeeJay Anya
and senior
Jerami Grant
to a combined 16 points.
"Every time we scored we thought we were going to get over the hump," Jones said. "I like the way our team kept fighting, kept fighting. But it wasn't enough."
Not with Muhammad on the prowl. It was a signature game for
one of the nation's most popular players
, who is deciding between Duke, Kansas, Kentucky, Arizona, USC, UCLA and UNLV. But it was more than just a one-man show.
"When we needed a big bucket," Rice said, "the guys came through."
David Auguste covers high school sports for ESPNHS. Be sure to follow him on Twitter @ESPNHS_Auguste or email him at David.Auguste@espn.com.
January, 14, 2012
1/14/12
11:30
PM ET
SPRINGFIELD, Mass. –
BeeJay Anya
, a junior forward who is ranked No. 37 in the
ESPNU 60
, scored 24 points and snagged nine rebounds to lead POWERADE FAB 50 No. 5 DeMatha (Hyattsville, Md.) past Northwest Catholic (West Hartford, Conn.) 78-57 Saturday at the Hoophall Classic in Springfield, Mass.
Jerami Grant
, a senior forward who is signed to Syracuse, added 14 points for the Stags, while
Zach Lewis
led Northwest with 23 points.
Read all about the Stags' big win
here
.