High-SchoolBoys-Basketball:

Jersey City St. Anthony
February, 8, 2012
2/08/12
11:54
AM ET
By
Mark Tennis & Doug Huff
| ESPN.com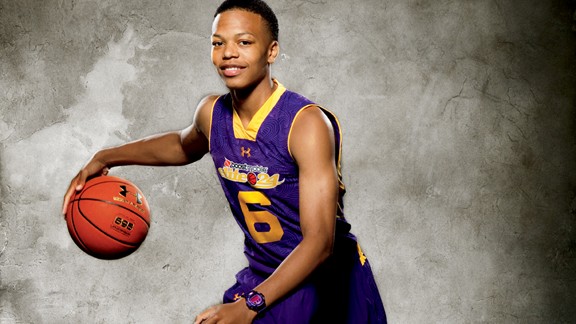 Kelly Kline/ESPNHSJunior guard and North Carolina recruit Nate Britt II will lead No. 14 Gonzaga (Washington, D.C.) against No. 29 DeMatha (Hyattsville, Md.) on Friday night on ESPN2.
The New Jersey-based PrimeTime Shootout has been around since 1976 and in recent years the event has served as the last major showcase for some
FAB 50 teams
before postseason playoffs and tournaments.
The 10-game, two-day event Saturday and Sunday at Roselle Catholic (Roselle, N.J.) features four top 20 teams, including all three New Jersey teams in the FAB 50 -- No. 3 St. Anthony (Jersey City, N.J.), No. 20 Gill St. Bernard (Gladstone, N.J.) and No. 24 St. Benedict's (Newark, N.J.). The other ranked team playing is No. 4 Chester (Pa.).
Last season, PrimeTime Shootout results had a major impact on crowning the FAB 50 national poll champion. Eventual No. 1 St. Anthony didn't take part, but Montrose Christian (Rockville, Md.) did and lost its only game of the season 57-53 to Linden (N.J.). Montrose later ended at No. 2 and would have been ahead of St. Anthony if it hadn't lost that game.
This weekend, St. Anthony, riding a 48-game win streak entering the week, faces a major Shootout challenge from once-loss Huntington Prep (Huntington, W.Va.), a private academy ineligible for the rankings that has already handed one FAB 50 ranked team its only loss -- No. 35 Northland (Columbus, Ohio).
Another long win streak is also on the line in the Shootout. Chester entered the week with a 45-game run and will face Neptune (N.J.).
Gill St. Bernard will be tested by East Region-ranked Plainfield (N.J.), while St. Benedict's, which lost its only game this season by one point to St. Anthony, plays two Shootout games. The Gray Bees go up against Lakewood (N.J.) Saturday, then meet St. Patrick (Elizabeth, N.J.) Sunday.
What2Watch4
No. 14 Gonzaga (Washington, D.C.) at No. 29 DeMatha (Hyattsville, Md.)
7:30 p.m. ET, Friday on ESPN2
This Washington Catholic Athletic Conference showdown is a rematch of a Jan. 21 game won by a shorthanded Gonzaga team 76-74.
Gonzaga's
Nate Britt II
, a 6-foot-1 junior guard who has committed to North Carolina, missed that game after injuring his left calf on Jan. 14 at the Hoophall Classic in Springfield, Mass., and was sidelined until last week's 75-48 win over Bishop Ireton (Alexandria, Va.).
Britt
came off the bench and scored 11 points with five assists.
Britt continued his comeback Tuesday night with 17 points, including four 3-pointers, in a win by the Eagles over Bishop O'Connell (Arlington, Va.). In Britt's absence, 6-6 junior forward
Kris Jenkins
has picked up the scoring slack.
DeMatha improved to 20-3 Tuesday with a 64-37 win over Good Counsel (Olney, Md.) and faces Bishop Ireton on Thursday before the Gonzaga showdown. The balanced Stags have five players with double-figure point averages, including 6-foot-9 junior
BeeJay Anya
, 6-foot-8 senior
Jerami Grant
and 6-foot-3 senior
James Robinson
. Grant is a Syracuse recruit, while Robinson has committed to Pittsburgh.
FAB 50 Spotlight Player of the Week
D'Vauntes Smith-Rivera, Oak Hill Academy (Mouth of Wilson, Va.)
The 6-foot-3, 220-pound senior shooting guard is making the most of his only year on the Warrior roster. A Georgetown recruit, he has been a consistent scoring threat as the FAB 50 No. 1 ranked Warriors have posted a 35-0 record entering the week.
Last weekend, Smith-Rivera scored 37 points to help the Warriors hold off Christ School (Arden, N.C.) 71-63 in overtime after netting 29 points in a 93-73 romp past previously unbeaten West Oaks Academy (Orlando, Fla.).
Smith-Rivera transferred to Oak Hill last summer after starting the last two seasons for Indiana power North Central (Indianapolis). He was a sophomore starter on an underclass-led Class 4A state title team and helped the Panthers advance to the 2011 state semifinals before bowing to eventual champion Bloomington South (Bloomington, Ind.).
Without Smith-Rivera, North Central is 16-4 this season and is ranked No. 3 in Indiana.
Highest-Ranked Newcomer
Trinity Christian (Lubbock, Texas)
Whether the Lions get another upset or get dumped in Saturday's matchup in Lubbock against FAB 50 No. 2 Findlay Prep (Henderson, Nev.), they have certainly put themselves on the map this season.
Last week's 57-56 win against previous FAB 50 No. 3 Grace Prep (Arlington, Texas) improved Trinity Christian's record to 34-1 and avenged an earlier 68-55 loss to Grace Prep.
Senior guard Parker Wentz netted a game-winning shot with 3.5 seconds left and finished with 31 points. The team's leading scorer is senior guard Dave Miller at 11.5 points per game.
Just a few years ago, it seemed impossible that a Texas school not part of the massive University Interscholastic League could be in the national rankings. With Trinity Christian going in this week, the Texas Association of Private Prep Schools (TAPPS) now has four schools in the FAB 50. The UIL has two.
January, 26, 2012
1/26/12
11:02
AM ET
By
Mark Tennis & Doug Huff
| ESPN.com
Four of the nation's five longest win streaks belong to teams ranked in the top 11 of the
POWERADE FAB 50.
Wichita Heights (Wichita, Kan.), No. 11 in the FAB 50, has won its last 55 games while seeking a fourth straight Class 6A state championship. The Falcons' last loss was on Dec. 19, 2009, when Rock Bridge (Columbia, Mo.) prevailed, 75-70. Heights ended that season with 19 straight wins before recording a 25-0 record in the 2010-11 campaign. The Falcons are off to an 11-0 record this season.
The next-longest win streak in the nation is claimed by No. 4 St. Anthony (Jersey City, N.J.). The Friars captured last season's FAB 50 national crown with a 33-0 record and have extended the two-season run to 45 wins in a row. The Friars' last setback was on March 13, 2010, in the state tournament when Trenton Catholic (Trenton, N.J.) registered a 57-56 decision.
The defending Pennsylvania Class 4A champion, Chester (Pa.), holds the fourth longest streak. The Clippers, No. 7 in the FAB 50, took a 41-game streak into this week. Chester's last loss, its only one last year, was on Dec. 30, 2010 to Sanford (Hockissen, Del.), 62-57.
The FAB 50's top-ranked team, Oak Hill Academy (Mouth of Wilson, Va.), is off to a 30-0 start after losing in last season's finale. Montrose Christian (Rockville, Md.) defeated the Warriors, 71-64, in the finals of the ESPNHS National High School Invitational.
Oak Hill Academy also could make national rankings history if it runs the table with a record that could reach 47-0. At the start of this week, the Warriors have 14 scheduled regular season games on tap and three more wins in the NHSI would result in an unmatched 47-0 mark for a national title team.
The best unbeaten record posted by a No. 1 team in the nation was 46-0 in 1975 by Kashmere (Houston). Since then, the best perfect mark was 40-0 for another Texas team, Lincoln (Dallas) back in 2002. That squad was led by current Miami Heat star
Chris Bosh
. Oak Hill's best record of 38-0 was achieved in 2004.
While Wichita Heights, St. Anthony, Chester and Oak Hill are piling up impressive streaks, they all have to take a back seat to a Missouri private school team that doesn't compete for a state championship. True Divine Word Academy (St. Louis) hasn't lost in the 96 games during its three years of existence. True Divine Word was sitting at 19-0 to start this week after going 41-0 and 36-0 in its first two seasons.
FAB 50 Spotlight Player of the Week:
Tony Cochran, Vianney (Kirkwood, Mo.)
Speaking of perfection, Cochran's near-perfect shooting from the free throw line and strong overall play has helped the No. 41 Golden Griffins to a 17-0 start this season.
In a 69-48 win last week over Chaminade (St. Louis), Cochran poured in 30 points as Vianney set a school record for consecutive wins in a season, breaking a mark that was set during the 1997-98 season.
On the year, the 5-foot-11 senior guard already has made 52 shots from behind the 3-point line while averaging 17.2 points per game. He averaged 16 points per game last season and has pushed his career 3-point total to nearly 300.
According to the
St. Louis Post-Dispatch
, Cochran also leads the St. Louis region by making 94.9 percent of his free throws. In 59 attempts heading into this week, Cochran has only missed three.
Highest-Ranked Newcomer: No. 45 Etiwanda (Etiwanda, Calif.)

After a pair of league wins last week, the Eagles improved their winning streak to 16 games and jumped into this week's FAB 50.
Etiwanda's lone loss came in early December at the Rose City Classic in Pasadena to defending CIF Division III state champ La Verne Lutheran. After that, the Eagles won three other tournaments they entered. Twelve of the teams Etiwanda has beaten so far this season also have won at least 13 games, which shows a better-than-average strength of schedule.
Sophomore guard
Jordan McLaughlin
has been the top player for coach
Dave Kleckner
with 16.9 points per game.
Kleckner has had nationally ranked teams before, such as in 2005 when the Eagles featured point guard
Darren Collison
and power forward
Jeff Pendergraph
. Those two former prep teammates are now playing together with the Indiana Pacers.
War-themed mascots prevail in this week's rankings

In the same week in which the movie "War Horse" was nominated for six Academy Awards, the FAB 50 boys' basketball rankings saw big gains for the War Eagles and Warhawks. It's just too bad the Warhorses aren't still in the mix.
The War Eagles from Wayne County (Waynesboro, Miss.) debuted at No. 49 after winning for the 53rd time in their last 54 games. The Warhawks from Germantown (Wis.) are new as well, checking in at No. 50.
It's very possible that the Warhorses from Peabody (La.) will go back into the rankings. Peabody was No. 35 until a loss knocked them from the list.
Other war-themed mascots in this week's FAB 50 include the No. 1 Oak Hill Academy Warriors (Mouth of Wilson, Va.); the No. 25 Pershing Doughboys (Detroit); the No. 39 Orlando Christian Prep Warriors (Fla.) and the No. 42 Rufus King Generals (Milwaukee).
Soldiers serving in World War I were commonly referred to as Doughboys, and bore little resemblance to an animated character in TV commercials.