High-SchoolBoys-Basketball:

John Calipari
January, 16, 2012
1/16/12
5:21
PM ET
By
David Auguste
| ESPN.com
SPRINGFIELD, Mass. --
Shabazz Muhammad
began his scoring barrage against No. 5 DeMatha (Hyattsville, Md.) with a dunk just moments after the opening tip. He put the game away in the same manner with a ferocious fourth-quarter jam. In between, the Bishop Gorman (Las Vegas, Nev.) forward was equally brilliant, torching the Stags for 37 points and six boards in a 73-65 upset at the Spalding Hoophall Classic on Monday.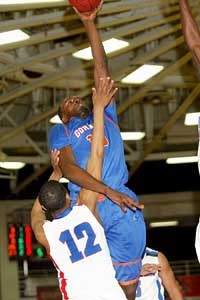 J. Anthony Roberts/ESPNHSShabazz Muhammad is still considering Kentucky, UNLV, Duke, Kansas, UCLA and USC.
"We were playing Superman, and I guess we didn't have enough kryptonite," said DeMatha head coach
Mike Jones
.
A slew of high-profile college coaches, including front-row spectators
Mike Krzyzewski
and
John Calipari
, witnessed Muhammad go to work.
The nation's No. 1 senior recruit
scored in a variety of ways and electrified Blake Arena with a series of dunks. Senior forward
Rosco Allen
did his part, chipping in 18 points and nine boards as the 24th-ranked Gaels (13-3) avenged last year's loss to DeMatha by scoring a victory that will surely shake up
the POWERADE FAB 50
.
"I definitely wanted to make an impact, because I knew they would devote a lot of attention to Shabazz," said Allen, a Stanford signee. "We lost to them last year at Les Schwab, so it's sweet winning this little rematch."
Gorman's length was evident on defense, as the Gaels forced several turnovers early and stormed to a 12-2 advantage in the first quarter. Muhammad's 19 first-half points paced the squad to a 33-25 edge at the intermission.
"We talked about making them make tough shots," said Gorman coach
Grant Rice
. "We made it tough on them all night. I think we're as deep and long as anyone in the country. I think that's always going to cause some problems."
DeMatha chipped away at the lead in the third quarter behind senior
Marcellous Bell
(12 points, 4-of-9 shooting from 3-point range) and junior
Jairus Lyles
(team-high 17 points). The Stags pulled within two early in the fourth, but Muhammad eventually put the game away with a scintillating windmill flush just feet from Coach K.
For DeMatha (15-1), the loss was the team's first of the season and its second straight on national television at Hoophall after losing to St. Anthony (Jersey City, N.J.) last year. Again, a slow start forced the Stags to play catch-up the rest of the way, while foul trouble limited frontcourt standouts junior
BeeJay Anya
and senior
Jerami Grant
to a combined 16 points.
"Every time we scored we thought we were going to get over the hump," Jones said. "I like the way our team kept fighting, kept fighting. But it wasn't enough."
Not with Muhammad on the prowl. It was a signature game for
one of the nation's most popular players
, who is deciding between Duke, Kansas, Kentucky, Arizona, USC, UCLA and UNLV. But it was more than just a one-man show.
"When we needed a big bucket," Rice said, "the guys came through."
David Auguste covers high school sports for ESPNHS. Be sure to follow him on Twitter @ESPNHS_Auguste or email him at David.Auguste@espn.com.
October, 6, 2011
10/06/11
11:24
PM ET
By
Jason Jordan
| ESPN.com
Shabazz Muhammad
will admit this much, that when he got to school Wednesday morning he wondered what schools would show up on the last day of the NCAA's contact period.
After all, college coaches had been coming to Bishop Gorman (Las Vegas, Nev.) in droves since the period began on September 9 vying to make lasting impressions on the top-ranked player in the
ESPNU 100
.
But while nearly every major college coach in the country is dying to be first on Muhammad's wish list, the coveted slot during the contact period is the last one.
"It makes sense," said Muhammad, a senior small forward. "I definitely think coaches want to come on the last day on purpose so we'll keep thinking about their school."
This year's last word winners?
Kentucky coach
John Calipari
and Duke coach
Mike Krzyzewski
.
"There were definitely a couple students hanging around after school that don't normally stay after," Muhammad said. "They're two of the best coaches and programs so it was good to see them again."
Calipari and his assistant
Orlando Antigua
were on the scene first and focused on how Muhammad could flourish in Kentucky's dribble-drive offense with his athleticism and skill set.
"I liked what Coach Cal had to say," said Muhammad, who will see Calipari in a week when he attends Kentucky's Big Blue Madness season kickoff event. "They talked a lot about how they could use me there. It was perfect timing because when Coach Cal was leaving, Coach K was coming."
Krzyzewski along with associate head coach
Steve Wojciechowski
and assistant
Jeff Capel
talked more about branding and exposure.
"They talked about the experience as a whole," Muhammad said. "Just how it could benefit me to come there. It was a really good talk. They both really showed me how much they wanted me."
Especially since Muhammad wasn't even running basketball drills; he was just, well, running.
"Yeah the team was outside doing conditioning drills on the track," Muhammad said. "Nothing too interesting, but they just stood there and watched me run. Like I said it showed me a lot."
Just not enough to pull the trigger on a commitment. Muhammad is considering "eight or nine" schools total and will likely go the distance with his recruitment.
"I'm just taking my time and hearing everything everyone has to say," Muhammad said. "I'm gonna wait until the spring more than likely. I had a lot of visitors during this contact period, but yeah the last two schools that came to see me where Kentucky and Duke. That means something to me."
Jason Jordan is the basketball editor for ESPNHS. He can be reached at
jason.x.jordan.-ND@espn.com
. Don't forget to follow him on Twitter:
@JayJayESPN
September, 21, 2011
9/21/11
3:56
PM ET
By
Jason Jordan
| ESPN.com
Goodwin Picks Kentucky
When
Archie Goodwin
took to
Twitter
Tuesday night to announce what he'd known ever since Kentucky coach
John Calipari
left his house less than a week ago, he expected that the response would be overwhelming.
"Any time someone commits it's big news," said Goodwin, a senior shooting guard at Sylvan Hills (Little Rock, Ark.). "But when you commit to a place like Kentucky, it can be a little crazy. There's so much tradition there."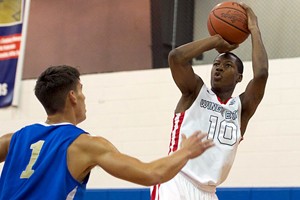 Steven Johnson/ESPNHSArchie Goodwin said he wants to play with other top players.
Goodwin, who is ranked No. 13 in the
ESPNU 100
, picked the Wildcats over Memphis and Arkansas, and estimates that he's fielded "more than 100 calls" since 11 p.m. last night from reporters, friends, family and fans.
"When I woke up this morning I had 160 text messages, 40 voicemails and I had over 200 emails," Goodwin said. "It's crazy. I've got about 2,000 more followers on
Twitter
since Tuesday night at 11 p.m. I couldn't get to a lot of the calls, there were just so many."
Goodwin did, however, find time to answer a few; specifically the ones he got from recruits expressing their interest in joining him in Lexington.
Hamilton Southeastern's (Fishers, Ind.)
Gary Harris
, a senior shooting guard who is ranked No. 10 in the
ESPNU 100
, and Arlington Country Day's (Jacksonville, Fla.)
Torian Graham
, a senior shooting guard who is ranked No. 38, both contacted Goodwin congratulating him and inquiring about the possibility of playing together in college.
And though Bishop Gorman (Las Vegas, Nev.) swingman
Shabazz Muhammad
, the top-ranked player in the
ESPNU 100
, didn't say so last night, Goodwin said the two have spoken about the possibility of teaming up as well.
"I told them let's do it," Goodwin said. "I'm not that guy who's gonna pressure anyone so I let them reach out to me first, but when they do I definitely try and get them to join me. I want to play with the best because I think it's the best way to win. And I definitely plan to win."
Don't forget to follow Jason Jordan on Twitter: @JayJayESPN