High-SchoolBoys-Basketball:

John Wall
February, 6, 2012
2/06/12
11:15
AM ET
By
Rodney Purvis
| ESPN.com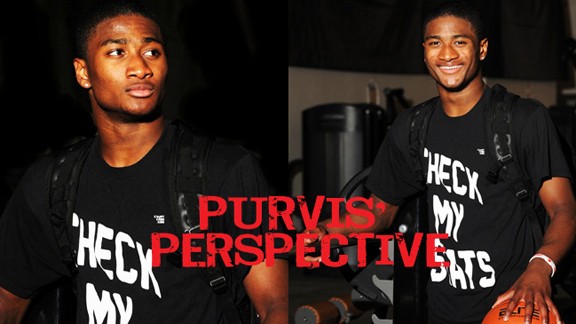 Scott Kurtz/ESPNHSESPNHS Student Blogger: Rodney Purvis
Rodney Purvis
| Senior | Shooting Guard | Upper Room Christian Academy (Raleigh, N.C.)
Purvis Blog 1
|
Purvis Blog 2
|
Purvis Blog 3
|
Purvis Blog 4
|
Purvis Blog 5
|
Purvis Blog 6
|
Purvis Blog 7
|
ESPNHS - North Carolina
Rodney Purvis is the No. 6 shooting guard in the ESPNU 100. Purvis, a senior at Upper Room Christian Academy (Raleigh, N.C.), ended one of the hottest recruitments of the summer in late September by picking North Carolina State. He's agreed to give ESPNHS exclusive access to his life and chronicle his thoughts in a monthly blog.
What's up world.
It's your boy Rodney Purvis again, and as you probably already know by now I'm a Jordan Brand All-American! I'm really excited about making this game because it's been a dream of mine for a long time now.
My bro
John Wall
played in this game and my bro
Dezmine Wells
did, too. When I told them about making the game they both said that they were proud of me and that they wanted to see me do my thing.
I'm honored and blessed to be a part of this game.
Michael Jordan
is the greatest so I'm looking forward to meeting him.
I was at school when I got the text from one of the Nike guys saying that I was picked for the game. I was so excited for the rest of the day I couldn't even think straight.
I was shocked. I've never been the type of player to think I automatically will be given things because I've always had to work for it. I just thanked him and called my mom immediately. Of course she was excited too.
I'm looking forward to seeing all of the guys down there at Jordan. I haven't really seen most of the guys since the summer in AAU. I know we'll have a good time together.
My bros
Kyle Anderson
and
Shabazz Muhammad
are coming so I already know we're gonna be buggin' out the whole time.
I know that a lot of people will come out to watch the game and I'm hoping a lot of N.C. State fans can make the game too. I would love to see guys who have played in this game in the past like John and
Kemba Walker
come back and watch us. That would be cool.
I don't really have any expectations about stats or anything like that. I just want to make an impact on the game and leave my mark.
That's it.
As always, thanks for reading my blog and check back soon for my next entry.
Take care y'all.
Don't forget to follow Rodney Purvis on Twitter:
@RPurvis_5
October, 4, 2011
10/04/11
11:26
PM ET
By
Jason Jordan
| ESPN.com
With the offseason in full effect, ballers around the country have begun what is widely regarded as one of the most grueling grind modes of the year as they prepare for the up-and-coming season.
Every week we'll profile an elite player and have them dish on one of their most unorthodox training methods and explain why it's been so beneficial.
Next up?
Washington Wizards point guard
John Wall
, the No. 1 pick in the 2010 NBA Draft.
The Drill:
Ball-less/Court-less dribble-juking
Associated Press/ESPNHSJohn Wall doesn't need a ball or a court to practice his ball handling skills.
The Rundown:
"I know it sounds a little crazy, but I'll just be walking down the street and, out of nowhere, I'll hit someone with an in-and-out move without having a ball. I scare them because they don't know what in the world I'm doing, but I think this game through so much that it just comes out anywhere.
I only work on the moves that I would do in a game though. I had one man tell me that I better not do that again because he got scared when I did a quick crossover in front of him when I was walking down the street. It ends up being pretty funny."
The Benefit:
"Basketball is so mental and with me being a point guard it's all about reaction. How are you going to react to any given situation? So I might be walking and see someone in front of me and do a crossover motion or I might spin.
Again, I know it sounds crazy, but it really helps you because it just becomes second nature. I play off my instincts so when you're constantly working on your handles and your moves it becomes even easier in the game."
Jason Jordan is the basketball editor for ESPNHS. He can be reached at
jason.x.jordan.-ND@espn.com
. Don't forget to follow him on Twitter:
@JayJayESPN