High-SchoolBoys-Basketball:

Justin Anderson
July, 3, 2012
7/03/12
10:00
AM ET
Goodluck Okonoboh
is in a tough spot.
The 6-foot-9 center is getting ready for his senior year at the Tilton School (Tilton, N.H.), and college offers are rolling in for the athletic big man. But it's not all good news for Okonoboh.
That's because no one wants to be "The Replacement."
In all of sports, it might the worst situation in which to find yourself: replacing a departed superstar. Especially at the high school level, where a dominant player can graduate, take his game to a Division I college and leave a huge hole in the lineup.
[+] Enlarge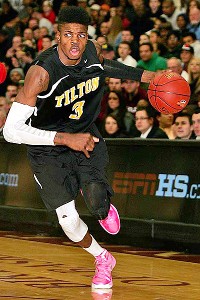 J.Anthony Roberts/ESPNHS.comIt will be a challenge replacing Nerlens Noel, pictured, at Tilton, but Goodluck Okonoboh is up for it.
Unfortunately for Okonoboh, that's exactly where he is right now. With former Tilton School star
Nerlens Noel
having graduated and heading to Kentucky, Okonoboh will step into the void next season, and he'll be tasked with replacing much of Noel's defensive presence, rebounding, shot-blocking and leadership.
Noel was the No. 1 player in the
Class of 2012
, so Okonoboh has some huge shoes to fill.
"I think I'm ready," Okonoboh said. "I learned a lot from Nerlens, and I give him credit for a lot of the things he has taught me. I think during the high school season I'm going to be a different player, and I'm going to open a lot of people's eyes."
Okonoboh is considered more raw than his predecessor was at this stage in his career, but it will be hard to stop people from holding Okonoboh up to the standard set by Noel. The comparisons are too easy: same school, same position, same style of play, same elite athleticism -- they even sport a similar high-top hairstyle.
Okonoboh has the talent to get the job done. He started in the frontcourt alongside Noel last year and put up solid numbers, and his defense was especially impressive. Schools like Syracuse, Pittsburgh, Missouri and Gonzaga have already offered, and he's ranked as the
No. 11 center
in the Class of 2013 by ESPN. Luckily for Okonoboh, he got to learn from Noel, one of the greatest shot-blockers in high school history, before trying to replace him.
"He taught me that, like anything else, you've got to work at it," said Okonoboh. "Blocking shots is an art form. It's not just about being big -- it's about timing. Nerlens has great timing, and I've been working on it."
Okonoboh also plays for the same AAU team that Noel did, and this summer he's performed well as the top big man on Boston-based
BABC
, averaging 3.0 blocks per game.
That should give him some experience in playing outside of Noel's shadow, but it still won't be easy next year. It's never easy being "The Replacement."
Who's got next?
Here's a look at five other big-name ballers with big shoes to fill this upcoming season:
Rashad Muhammad
replacing
Shabazz Muhammad
(No. 2 in Class of 2012)
Bishop Gorman (Las Vegas, Nev.)
Perhaps no player will be under the microscope as much as Rashad, who is tasked with stepping in for his older brother and last year's
Morgan Wooten National Player of the Year
in Gorman's lineup. Rashad, an unranked 6-foot-5 junior wing, is a talented playmaker and rebounder and has interest from the likes of Maryland, USC and UNLV.
Karviar Shepherd
replacing
Isaiah Austin
(No. 3)
Grace Prep Academy (Dallas)
Shepherd could very well join Austin at Baylor during the 2013 season, but for now, he'll take a shot at replacing the standout 7-footer in the middle of the Lions' lineup. Shepherd (No. 29 in the ESPN 100) is a physical presence in the middle with his 6-foot-9 and 215-pound frame, and he will use every bit of that size to alter shots and keep opponents off the offensive glass. While he lacks the refined offensive game Austin hung his hat on at Prep, Shepherd is a capable finisher and will form a nice 1-2 frontcourt tandem along with classmate
Jordan Mickey
.
Hallice Cooke
and
Josh Brown
replacing
Kyle Anderson
(No. 5)
St. Anthony (Jersey City, N.J.)
It just might take two players to replace the all-around play Anderson wowed spectators with every time he stepped on the floor for this storied program. St. Anthony's hasn't lost a contest in either of the past two seasons and won a national title in 2011 with Anderson running the show. Cooke is a 6-foot-3 off guard with a deft touch from the outside, while Brown is another dangerous perimeter threat and holds offers from Gonzaga, UVA and Temple, among others.
Ishmail Wainright
replacing
Justin Anderson
(No. 49)
Montrose Christian (Rockville, Md.)
Don't expect much of a drop off in production at the 3 spot this winter as Wainright and Anderson are similarly built forwards who could take over a contest with their athleticism and basketball smarts. Anderson averaged 18 points with 5.7 helpers last season to guide Montrose to a top-15 national ranking. Wainright, the No. 18 player in the rising senior class, should enjoy a spike in production after posting 8.0 points, 8.2 assists and 4.4 rebounds a contest as a junior.
May, 18, 2012
5/18/12
9:00
AM ET
By
David Auguste
| ESPN.com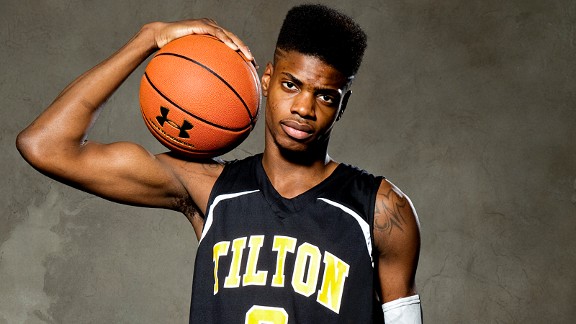 Kelly KlineWe think UK recruit Nerlens Noel is headed toward a bright future both on and off the court.
With graduation right around the corner, it's almost time to bid adieu to the class of 2012. Before the veteran ballers flip that tassel, we're going to bless them with some last-second love and immortalize them in the form of senior superlatives. We'll gaze into our crystal ball to make a few predictions as well as reflect on the myriad achievements of this talented crew.
These are our picks, but feel free to chime in with your selections on Twitter
@espnhs
.
Most important commitment
Kyle Anderson, St. Anthony (Jersey City, N.J.)
Sure, Anderson's commitment to UCLA might have been overshadowed by the subsequent pledges of Shabazz Muhammad and Tony Parker. But who knows if the Bruins would've landed those two prized recruits had it not been for Anderson -- the ultimate team-first guy and winner -- jumping on board first. Anderson's versatility will be valuable as the heralded class looks to restore UCLA's lore after a tumultuous last few years.
Runner-up: Baylor lands Isaiah Austin, Grace Prep (Arlington, Texas)
Most likely to succeed in the NBA
Shabazz Muhammad, Bishop Gorman (Las Vegas)
We're not the only ones envisioning Muhammad going toe-to-toe with Bron Bron and the rest of the league's heavyweights. The consensus among pro scouts at the Nike Hoop Summit was that 'Bazz was the most pro-ready domestic prospect in the class. His Kobe-like demeanor and ability to get buckets in a variety of ways should bode well for whatever squad scoops him up in the Association.
Runner-up: Anthony Bennett, Findlay Prep (Henderson, Nev.)
Most likely to land an acting role
Nerlens Noel, Tilton (Tilton, N.H.)
The high top fade alone should be enough to land this menacing shot blocker in the reboot of "The Fresh Prince of Bel-Air" or if they ever recast Kid or Play for the next "House Party." Combine his tight 'do with his affable personality and his ability to take over defensively on the hardwood, and we could be looking at a star both on and off the court.
Runner-up: Justin Anderson, Montrose Christian (Rockville, Md.)
April, 3, 2012
4/03/12
10:40
AM ET
By
Jason Jordan & Ronnie Flores
| ESPN.com
Cameron Ridley
, a center at Bush (Fort Bend, Texas), was upset after not getting the ball during the
West's 106-102 win over the East in the McDonald's All-American Game
on March 28, but when Ridley suited up for the West in the All-American Championship in New Orleans Sunday, his teammates must've got the memo that Ridley was the best low-post option.
Ridley pumped in 16 points and was named MVP for the West, but that wasn't enough to stop
Omar Calhoun
and the East. Calhoun, a shooting guard at Christ the King (Middle Village, N.Y.), scored a tournament record 26 points to lead the East to an 84-72 win over the West at Lakefront Arena.
In the second game,
Braxton Ogbueze
, a point guard at United Faith Christian Academy (Charlotte, N.C.), sank two free throws with nine seconds left to give the South an 86-85 win over the North.
Joel James
, a forward at Dywer (West Palm Beach, Fla.), was named MVP for the South, scoring 12 points and grabbing 10 rebounds, while
Glenn Robinson
, a forward at Lake Central (Schererville Ind.), took home MVP honors for the North with 16 points.
No McDonald's, No Sweat
Winston Shepard
doesn't mind admitting that he feels he should've been named to the McDonald's All-American Game along with his Findlay Prep (Henderson, Nev.) teammates
Anthony Bennett
and
Brandon Ashley
.
"I definitely felt like I should've been there," said Shepard, a San Diego State signee who is ranked No. 53 in the
ESPNU 100
. "But you can't control what other people decide. After watching the game, I don't mind that I wasn't a part of that."
Shepard had a great consolation, helping the
Pilots claim their third ESPNHS National High School Invitational title in four years
on March 31 with an 86-83 come-from-behind win over Montverde (Montverde, Fla.).
Montrose Christian (Rockville, Md.) forward
Justin Anderson
wasn't as committal as Shepard on his thoughts about not making McDonald's, but Anderson's coach Stu Vetter certainly was.
"The people who picked the players for McDonald's got it wrong," Vetter said. "That's just the truth. Justin is one of the best players in the country and he should've been in that game. Period."
We're Talking About Practice
It's no secret among long-time media scribes that the McDonald's All-American practices are often more meaningful than the game. The game is for friends, family and fans; practice is is for evaluation.
In practices,
Kyle Anderson
of St. Anthony (Jersey City, N.J.) felt he and fellow point guard
Tyler Lewis
of Oak Hill Academy (Mouth of Wilson, Va.) could do more damage playing together to create mismatches and openings for teammates. In the game, those East teammates never saw he floor together and Lewis struggled. No individual played less than Lewis, who went 1-of-7 from the field in 12 minutes.
Another player whose practice performances didn't translate over to the game was
Marcus Smart
of Marcus (Flower Mound, Texas). He went hard in practice and displayed the ability to defend on the wing and create offense at three different positions. For the victorious West, Smart struggled in the game. He failed to make a field goal to go with five assists and three turnovers.
Most keen practice observers would have loved to see Smart on the team opposite of
Shabazz Muhammad
of Bishop Gorman (Las Vegas, Nev.). He challenged Muhammad in practice, which lifted the intensity level two notches higher than the one the East displayed. Naturally, Muhammad quickly set the tone in the game, scoring nine consecutive points to give the West an early 11-2 lead in its eventual four-point victory.
March, 30, 2012
3/30/12
2:51
PM ET
By
Jason Jordan
| ESPN.com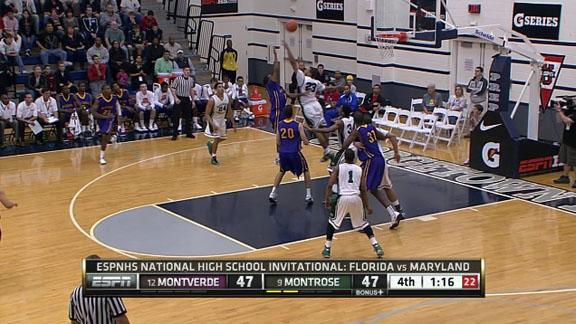 BETHESDA, Md. -- Instant analysis from No. 3 seed Montverde's (Fla.) 50-47 win over No. 2 seed Montrose Christian (Rockville, Md.) in the semifinals of the ESPNHS National High School Invitational at Georgetown Prep on Friday:
Overview:
The Eagles, who are ranked No. 12 in the
POWERADE FAB 50
, had to adjust to Montrose's frantic defensive pressure, but when they figured it out, they made the Mustangs pay by moving the ball around and finding the open man.
Michael Frazier
knocked down two threes to ignite an early 8-0 run and put the Eagles ahead after falling behind 4-0. Still, neither team could do much to separate itself in the first half. It wasn't until the third quarter that the Eagles' duo of Frazier and
Kasey Hill
, who led the Eagles with 20 points, started to really expose Montrose's overzealous defensive scheme. That led to a 12-point Montverde lead headed into the fourth. The Mustangs, who are ranked No. 9 in the FAB 50, stormed back in the fourth quarter and took their first lead, 41-40, with 2:11 left in regulation on
Michael Carrera's
putback layup. Down the stretch, Hill came up with big buckets to give the Eagles a cushion. Mustangs forward
Justin Anderson's
halfcourt heave at the buzzer missed off the back of the rim and the Eagles marched on. Montrose won the ESPNHS NHSI last year, a double-overtime thriller over Oak Hill Academy (Mouth of Wilson, Va.).
"They just couldn't score in the halfcourt set," said Montverde coach
Kevin Boyle
said. "They had one basket in the halfcourt in the first half. We just really tightened up defensively and got a big win over a great team."
Turning Point:
After the Mustangs opened the fourth quarter on a 14-2 run and eventually took the lead, Hill responded by scoring six of the Eagles' final 10 points to seal the win.
"I wasn't gonna lose the game," said Hill, a Florida commit. "I knew that I could get to the rim when I wanted to, and I would have to step up and make plays. I didn't want to let my team down."
Key Player:
Anderson, the No. 55 player in the
ESPNU 100
, had one of his worst statistical games of the season, shooting just 1 of 14 from the field and finishing with just three points. He was scoreless in the first half, and scored his only field goal on a breakaway layup with 5:14 left in the third quarter.
"It happens as a ballplayer," said Anderson, a Virginia signee. "Sometimes you have bad games. This was just a bad game for me."
Added Boyle: "Kasey did a terrific job guarding Justin. He forced him into tough shots all day and when he drove he had to shoot over our big guys. Kasey's impact defensively was huge."
Key Stat:
The Mustangs shot 7 of 16 from the 3-point line in their quarterfinal win over Ravenscroft (Raleigh, N.C.). But in the loss to Montverde, Montrose missed all seven of its attempts from downtown.
"We did a great job of getting our hands up on their shot attempts," Boyle said. "I don't think they had a clean look all day, and that's a credit to the kids and their defensive pressure."
Up Next:
The Eagles will face No. 1 seed Findlay Prep (Henderson, Nev.) in the title game Saturday (2 p.m. ET on ESPN). Findlay Prep is ranked No. 2 in the POWERADE FAB 50. Montverde Academy is ranked No. 12.
Jason Jordan is the basketball editor for ESPNHS. He can be reached at
jason.x.jordan.-ND@espn.com
. Don't forget to follow him on Twitter:
@JayJayESPN
.
March, 29, 2012
3/29/12
6:56
PM ET
By
Jason Jordan
| ESPN.com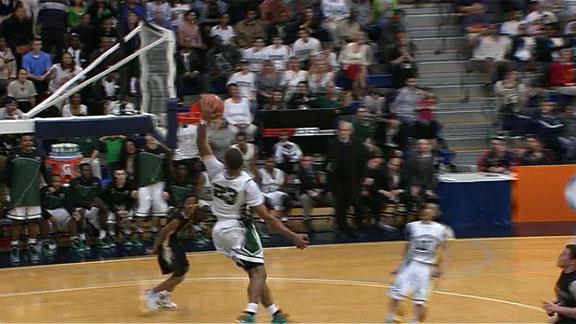 BETHESDA, Md. -- Instant analysis from No. 2 seed Montrose Christian's (Rockville, Md.) 64-48 win over No. 7 seed Ravenscroft (Raleigh, N.C.) in the quarterfinals of the National High School Invitational at Georgetown Prep Thursday:
Overview:
Montrose Christian, ranked No. 9 in the
POWERADE Fab 50
, caught fire early, draining three 3-pointers in the first quarter to claim an early 16-7 lead. Montrose forward
Justin Anderson
had two of his own and ramped up the defensive pressure to help the Mustangs force eight turnovers and keep the Ravens at bay for much of the first half.
Montrose shot 60 percent from the 3-point line in the first half. Then Mustangs went on a 9-0 run midway through the third that devastated Ravenscroft.
The Ravens started forcing tough, contested threes and folding under the Mustangs' intense defensive pressure.
"We had to get our rhythm back because we hadn't played in a long time," said Montrose coach Stu Vetter. "But these guys are strong and they really battled. Our defensive intensity was the difference in the game. We picked up our momentum defensively and that's what got it done."
Turning Point:
Up just 36-32 midway through the third quarter, Montrose forward
Ishmail Wainright
caught Yuri Togashi's missed three off the rim and flushed it with authority, sending the Montrose-heavy crowd into a frenzy. On the next play, the Mustangs forced a turnover and found Anderson in the right corner for the three. Then, after another Ravenscroft turnover, Togashi threw Anderson an alley-oop in transition.
That sequence of events seemed to take the Ravens' heart.
"Their physicality hurt us," Ravenscroft coach Kevin Billerman said. "We'd cut it to four, but then they went on that explosion and that made it really tough for us."
Key Player:
Anderson was a matchup problem for the Ravens all night. When they sagged off he drained threes and when they pushed up on him he drove the lane and made plays. Anderson finished with 21 points, four rebounds and three assists.
"Justin's one of the best players in the country," Vetter said. "I've coached a lot of great players and he's one of the best players I've ever coached. I think a lot of people have overlooked him as far as McDonald's and Jordan All-American games. He's one of the best players in the country without question."
Ravenscroft guard
Anton Gill
drained two 3-pointers in the loss, tying the Ravenscroft record for career 3-pointers at 106, which had been held by Corwin Davis, who starred at Ravenscroft from 1997-2001.
Key Stat:
The Ravens shot just 4 of 21 (19 percent) from the 3-point line in their loss. During the regular season they shot 34 percent and broke a school record for 3-pointers made with 138. The old record was 130.
"We haven't played a game in 32 days," Billerman said. "We've only had seven practices over that time so that's rough. We had good looks, but we just couldn't get them to fall."
Up Next:
The Mustangs will face No. 3 seed Montverde (Fla.) Friday (11:30 a.m. ET on ESPN2) in the semifinals. Montverde, ranked No. 12 in the
POWERADE FAB 50
, knocked off La Lumiere (La Porte, Ind.) 62-54 Thursday in the quarterfinals.
"They're a great team," Wainright said of Montverde. "They really play hard, and I'm looking forward to playing against them."
Jason Jordan is the basketball editor for ESPNHS. He can be reached at
jason.x.jordan.-ND@espn.com
. Don't forget to follow him on Twitter:
@JayJayESPN
.
March, 22, 2012
3/22/12
12:00
PM ET
Team:
No. 2 seed Montrose Christian (Rockville, Md.)
Record, FAB 50 Rank:
20-2, No. 9 (No. 4 in the East)
Head Coach:
Stu Vetter (13th year at school, 301-41 record; 36-year career, four schools, 858-107 record)
Key Players:
Justin Anderson
The 6-foot-7, 220-pound senior forward is capping his four-year Mustang career with a chance to repeat as an NHSI champion. Vetter describes him as a "winner" since he has played the last two years on teams with only three losses by a total of six points. The University of Virginia recruit is ranked No. 55 in the
ESPNU 100
and has surpassed the 1,000 point mark for his career. "He's improved each year on both ends of the court and is an amazing athlete, maybe the best I've coached and I've had some good ones," says Vetter. "He not only jumps high, but with power." This season, Anderson averages a team-best 18 points a game. He shoots over 70 percent both from the floor and free throw line.
Michael Carrera
A three-year Montrose veteran, the 6-foot-6 senior forward is the team's top rebounder (10.2) and second-leading scorer (13 ppg.). "Michael is one of six seniors who provide leadership to the team," Vetter says. "He's steady and consistent and makes plays. He's a rock under the basket and has been a big part of our success the last couple of years. He's gotten stronger and can match up with a lot of opponents." Carrera does more than turn in double-doubles, as he's also makes big defensive plays when the Mustangs need them and provides an emotional spark.
Ishmail Wainwright
Vetter labels this 6-foot-6, 220-pound forward "one of the best juniors in the country. He can play all five positions." Rated No. 27 in the
ESPNU 60
, Wainwright is one of the better passing forwards around with a team-best 8.2 assists per game. He also averages eight points and 2.9 steals a game. "He makes everyone better," Vetter notes. The touted underclassman has several college offers including UCLA, Kansas and Duke.
Road to NHSI:
The defending NHSI champion started the season ranked No. 4 in the FAB 50 and has only faltered twice — both by two points. The Mustangs bowed to host Marcus (Flower Mound, Texas) by 42-40 in mid-December before competing in the Iolani Holiday Classic in Honolulu, a regular stop in recent seasons.
At that event, the Mustangs defeated two teams who have been nationally ranked this season — Westbury Christian (Houston, Texas) and current FAB 50 No. 28 Orlando Christian Prep (Orlando, Fla.). Marcus, ranked No. 5 in the FAB 50, ended its season with a 39-2 record and repeat Texas championship.
The other Mustang loss came on Jan. 26 when District of Columbia champion and NHSI participate Coolidge scored a 51-49 win. Otherwise, it was business as usual for Montrose and its talented cast of cagers.
Inside Scoop:
It all starts with Anderson. "We go as he goes," Vetter offers. "He's our four-year veteran and plays like it." Vetter rotates a lot of players but starts Anderson, Carrera, Wainwright, 5-foot-8 four-year veteran point guard Yuki Togashi, and one of three players: 6-foot-10, 240-pound senior Kevin Larsen, 6-foot-6 senior Cedric Blossom or 6-foot-2 sophomore Kevin Zabo.
Larsen averages eight points and 7.4 rebounds, Blossom five points and 5.6 rebounds, and Zabo six points and 3.8 assists. In last season's NHSI championship win over Oak Hill Academy (Mouth of Wilson, Va.), Larsen played well off the bench.
"We're a deeper, stronger team than last year," Vetter says. "Eight of our 12 players were in the NHSI last season and the kids look forward to competing again for a national title. It's a great experience and one of our team goals each year to compete in the event. It's a chance to compete against the best and great for high school basketball. This year's field could be the best, top to bottom, in the four years. There's no easy games and all will be a battle. The TV exposure makes it special and some players not playing in it probably are envious of the ones competing."
March, 8, 2012
3/08/12
9:00
AM ET
By
Ronnie Flores
| ESPN.com
The fourth annual ESPNHS National High School Invitational, set for March 29-31 at Georgetown Prep (Bethesda, Md.), is highlighted by the return of previous champions among the eight-team boys' field.
Findlay Prep
(Henderson, Nev.), which won the inaugural event in 2009 and repeated as champions in 2010, is a slight favorite to win this year's NHSI title. The No. 2 ranked team in the
POWERADE FAB 50
is not a prohibitive favorite because the field of talented teams -- including No. 10
St. Benedict's Prep
(Newark, N.J.), and No. 11 and defending NHSI champion
Montrose Christian
(Rockville, Md.) -- includes the only team to beat the Pilots this season.
That team is No. 25
La Lumiere
(La Porte, Ind.), which made national headlines in late December by defeating Findlay Prep 67-66 at the Mike Miller Invitational in South Dakota. The Lakers jumped on the Pilots early and went up 18 points before holding on at the end. This will be the first opportunity for La Lumiere to play on national television and show the country the win over Findlay Prep was no fluke.
"I think we feel like we got something to prove," La Lumiere coach Allan Huss said. "What you'll see is a hungry group. We might be a little sloppy right off the bat from the layoff, but we have some guys who, individually, think they don't get the recognition they deserve."
Since many of the participating teams don't compete for state championships, there will be sizable layoffs before quarterfinal play begins on March 29 at 2 p.m. ET (ESPNU). For instance, No. 14
Montverde Academy
(Montverde, Fla.), the 2010 NHSI runner-up, concluded its regular season on Feb. 4.
The one team that might have an advantage in this area is St. Benedict's Prep, which will compete against a tough field at the Alhambra Catholic Invitational in Frostburg, Md., March 15-17. That tournament should be a good test for the level of competition the Gray Bees could face should they advance past the first round. If they lose at Alhambra, it will likely affect the seedings for this year's NHSI, which will be announced the week of March 19.
No. 16
Ely
(Pompano Beach, Fla.) will be a dangerous public school entrant and could be a dark horse to win it all, if last year is any indication. At the 2011 NHSI, Florida Class 5A state champ Dwyer (Palm Beach Gardens, Fla.) upset Findlay Prep in the first round as a No. 6 seed behind a memorable performance by
Jacoby Brissett
, currently the starting quarterback at Florida. Ely is currently ranked in the same spot as Dwyer was entering last year's tournament and the Class 7A state champ Tigers will enter the NHSI battle-tested. Led by forward
Clide Geffrard
, Ely's only two losses are to No. 13 Bishop Gorman (Las Vegas) and Montverde Academy.
Rounding out the field is North Carolina Independent Schools Athletic Association Class 3A champion
Ravenscroft
and District of Columbia Interscholastic Athletic Association champion
Coolidge
(Washington, D.C.). Coolidge will take on No. 9 Paul VI (Fairfax, Va.) for the city title on March 20. Win or lose, you can't count them out against this NHSI field. After all, they did hand Montrose Christian one of its two regular season losses.
Regardless of how the brackets play out, this year's NHSI has a tough act to follow. In last year's championship game, Montrose Christian defeated Oak Hill Academy (Mouth of Wilson, Va.) in double overtime 71-64.
"It's always good to get another chance to repeat," said Montrose Christian's
Justin Anderson
, whose last second 3-pointer sent last year's title game into a second overtime. "It's not the same team we had last year, so I want to put our heads together and lead my team to another title."
Ronnie Flores is a senior editor for ESPNHS. He can be reached at
ronnie.flores@espn.com
. Don't forget to follow him on Twitter:
@RonFloresESPN
November, 16, 2011
11/16/11
1:13
PM ET
Rodney Purvis, Upper Room Christian (Raleigh, N.C.)

No. 16 in the ESPNU 100
@rpurvis_5
Wolfpack Nation is thrilled to have Purvis, a relentless scorer who averaged more than 25 points per game last year, heading to NC State next year. Purvis' strength and knack for getting to the cup makes him one of the nation's most exhilarating talents to watch and one of the opposition's toughest players to defend. If you need further evidence the kid can ball, just ask fellow Carolinian Chris Paul, who Purvis claims to have beaten one-on-one this summer.
Justin Anderson, Montrose Christian (Rockville, Md.)

No. 61 in the ESPNU 100
@JDotAnderson23
Anderson's ranking may lead you to believe he's a dark horse, but his style of play and affable personality certainly endear him to fans. Always quick to rep the DMV (D.C.-Maryland-Virginia area), the Virginia-bound forward regularly throws down SportsCenter-worthy dunks and follows it up with a celebration worthy of old-school Chad Ochocinco. Anderson tallied 14 points and 7.2 rebounds to lead Montrose to last year's ESPNHS National High School Invitational crown.
Discuss this matchup on Twitter
#espnhsfans
.
Meet the other candidates on the
player intro page
.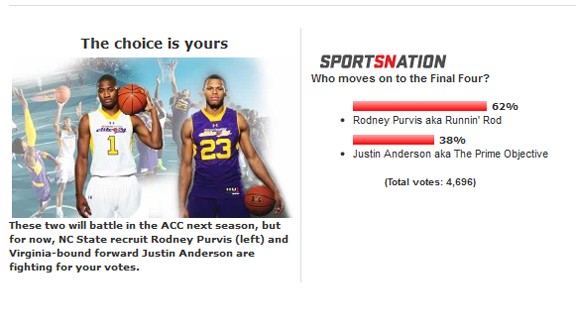 ESPNHSCongrats to Rodney Purvis for making it to the Final Four. The next round of voting begins on Jan. 11.
November, 13, 2011
11/13/11
8:07
PM ET
By
Ronnie Flores
| ESPN.com
Preseason ESPNHS All-State Teams
Mr. Basketball USA
is the title bestowed upon the National Player of the Year by ESPNHS.
During the regular season, ESPNHS will release its
Mr. Basketball USA Tracker
, a weekly look at the nation's top on-court performers, according to a panel made up of 10 high school basketball and recruiting experts, including five McDonald's All-American selection committee members. Now in its fifth year, the Mr. Basketball USA Tracker begins with its preseason voting results Nov. 17.
The early favorites*
Kyle Anderson, St. Anthony (Jersey City, N.J.) 6-7, PG
ESPNU 100 Rank: No. 5
Resume:
He was spectacular for the Friars last season, earning second team ESPNHS All-American honors after netting 14.4 points, 7.5 rebounds and 4.2 assists per game. He was one of the top two players on the No. 1-ranked team in the POWERADE FAB 50.
Why he could win:
Anderson is a legit triple-double threat every game he plays. He has a huge impact on the outcome of games, and the defending champs will play some big ones.
Why he wouldn't:
He'll have to carry more of the load and sometimes that's too much for a team shooting for the No. 1 spot in the ratings. The Friars can't afford many slip-ups. It remains to be seen if the lost production of guard Myles Mack hurts or helps Anderson's candidacy.
DaJuan Coleman, Jamesville-DeWitt (DeWitt, N.Y.) 6-10, C
ESPNU 100 Rank: 14
Resume:
As a junior, he was named second team ESPNHS All-American after averaging 24.5 points and 14 rebounds per game. He earned Class A Tournament MVP honors for the second straight season.
Why he could win:
It's simple -- if he leads his team to a sterling record and another state title he'll be in the running. Coleman earned ESPNHS National Freshman of the Year honors in 2008-09 and has led the Red Rams to a 75-7 record and three Class A state titles.
Why he wouldn't:
The lack of national competition he'll face outside of the East Region could hurt his candidacy. It will stand out as a negative factor if Jamesville-DeWitt doesn't win a state chip.
Shabazz Muhammad, Bishop Gorman (Las Vegas, Nev.) 6-6, SG
ESPNU 100 Rank: 1
Resume:
As a junior, the smooth lefty earned first team ESPNHS All-American honors by averaging 25.1 points and 7.7 rebounds for a 25-6 club. His junior campaign ended with a thud, as Gorman was upset in the state semifinals, but some analysts considered Muhammad the West Region's top player regardless of class last year.
Why he could win:
He has the talent and team around him to not only be regarded as the best player in Nevada's history, but the first ever ESPNHS National Player of the Year from the state.
Why he wouldn't:
The team around him. Only injury or a total Gorman collapse would prevent Muhammad from appearing on a ton of ballots each week. Gorman had up-and-down performances against national competition and his teammates need to rise to the occasion.
Jabari Parker, Simeon (Chicago, Ill.) 6-8, SF
ESPNU Super 60 Rank:
1
Resume:
As a sophomore, he averaged 15.3 points and 9.1 rebounds per game for a team that finished 30-2 and ranked No. 9 in the FAB 50. Parker was named ESPNHS National Sophomore of the Year and Nationa Freshman of the Year in those respective seasons.
Why he could win
: Being the top player on the No. 1 team in the POWERADE FAB 50 is a good start. Plus, Parker has the great combination of talent and work ethic. Traditionally Illinois teams don't travel far to play national competition (they don't really have to), but that's not the case with Simeon.
Why he wouldn't:
If he doesn't make those talented teammates better or Simeon doesn't live up to expectations, his candidacy will suffer. Traditionally, juniors don't win national player of the year honors and only three have been by ESPNHS -- LeBron James (2002), Lew Alcindor (1964) and Jerry Lucas (1957). You're talking about two of the top five high school players ever and another all-time great. Parker would have to prove he's in that select company.
Tony Parker, Miller Grove (Lithonia, Ga.) 6-9, PF
ESPNU 100 Rank: 31
Resume:
As a junior, he averaged 17.5 points, 15.6 rebounds and 3.9 blocks per game for a team that finished 31-2 on-court and ranked No. 6 in the POWERADE FAB 50. Parker was named the Peach State's second-ever ESPNHS National Junior of the Year, following Louis Williams of South Gwinnett (Snellville, Ga.) in 2003-04.
Why he could win:
If T.P. plays with consistency throughout the year, he could become Georgia's second winner in four years, alongside Derrick Favors of South Atlanta. Georgia's Class AAAA Player of the Year scored 21 points and grabbed 22 boards in a state title-game win. Similar performances this season, with the rugged schedule Miller Grove plays, makes for a strong candidate.
Why he wouldn't:
Miller Grove has a brutal five-week stretch in its schedule where it faces Oak Hill Academy, plays at the City of Palms Tournament and Bass Pro Tournament Champions, and squares off against No. 1 Simeon and defending FAB 50 champ St. Anthony. It's sink or swim time for Parker. To play at the level necessary every night for Miller Grove to win all those games may be asking a bit too much.
Marcus Smart, Marcus (Flower Mound, Texas) 6-4, SF
[+] Enlarge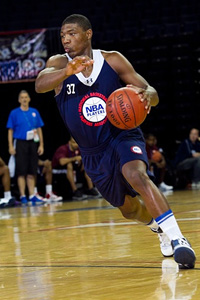 Davide De PasMarcus Smart is the No. 11 ranked prospect in the 2012 class but is one of the best players now.
ESPNU 100 Rank: 11
Resume:
Smart earned second-team ESPNHS All-American honors after pumping in 14 points, 8.7 rebounds, 4.8 assists and 2.5 steals per game. Marcus finished 39-1 and ranked No. 5 in the FAB 50.
Why he could win:
Is he a shooting guard? A point guard? A small forward? It's one of the most pressing recruiting questions of the 2011-12 season, but for what Smart does for his high school team the answer doesn't really matter. He's the ringleader on a team that has four starters back. He's simply a winner.
Why he wouldn't:
Panelists might view Smart as a product of a great team and system, not the most talented individual in the country. That could happen if he doesn't have big games on the big stages or clearly separates himself from teammates. To Smart's credit, he's a team-oriented player, but the varying opinions on his future potential could hurt his candidacy, especially if Marcus doesn't win its showcase games.
September, 21, 2011
9/21/11
3:32
PM ET
By
Ronnie Flores
| ESPN.com
At this year's
Boost Mobile Elite 24
, the
Marques Johnson
squad rolled to a 142-132 victory over the
Raymond Lewis
squad behind the play of Virginia recruit
Justin Anderson
of Montrose Christian (Rockville, Md.) and recent UCLA commit
Kyle Anderson
of defending
POWERADE FAB 50
mythical national champion St. Anthony (Jersey City, N.J.).
Nobody will remember the score as time passes, but besides the
broken backboard
caused by
Mitch McGary
of Brewster Academy (Wolfeboro, Mass.) in pre-game warm ups, the most memorable aspect of the event is, an will continue to be, the streetball nicknames earned by the players.
This year's streetball handles were given out by
Duke Tango
, the original voice of the The Entertainers Basketball Classic (EBC) held at Harlem's Rucker Park, and streetball entrepreneur
Bobbito Garcia
.
Outside of the nicknames game MVP's
Justin Anderson
aka "Slow-Mo" and
Aquille Carr
aka "The Crime Stopper" came to Venice Beach with, below are the nicknames handed out by Tango and Garcia, with a couple thrown in by the ESPNHS basketball staff!
2011 Boost Mobile Elite 24 Nicknames
Justin Anderson
aka "The Prime Objective" aka "Sinista"
Kyle Anderson
aka "Sinatra"
Brandon Ashley
aka "East Bay Funk"
Anthony Bennett
aka "The Barbarian"
Nate Britt
aka "Nate the Skate"
Savon Goodman
aka "The Rule Breaker" aka "Go Get It"
Rodney Purvis
aka "Runnin' Rod"
Aquille Carr
aka "Calling All Cars"
Robert Carter
aka "The Animal"
DaJuan Coleman
aka "Upstate" aka "Big Baby"
Aaron Harrison
aka "Ice"
Andrew Harrison
aka "Magic" aka "The Table Setter"
Grant Jerrett
aka "G"
Mitch McGary
aka "White Thunder" aka "Show stopper" aka "Unbreakable" aka "Full Metal Jacket"
Nerlens Noel
aka "Eraserhead" aka "The Eraser" aka "The 7-foot Leprechaun" aka "No No No No No"
Shabazz Muhammad
aka "The Real Deal" aka "Nice And Nasty Bazz"
Julius Randle
aka "The Jewels" aka "Much To Handle"
Rasheed Sulaimon
aka "Sheeeeeed"
Gabe York
aka "Yo Yo"
Some of the nicknames handed out by Tango are already the handle of well known players. There is no need to explain the origins of "Magic" and "Big Baby," but below are the original names behind some of the handles given out this year:
"Prime Objective" Lonnie Harrel
l -- The former Eastern (Washington, D.C.) standout is a 6-foot-7 guard who earned a scholarship to play for John Thompson at Georgetown. He finished his eligibility at Northeastern and has made stops in the ABA, USBL, IBL, and NBDL.
"Animal" Richie Adams
-- From now defunct basketball factory Ben Franklin (Harlem, N.Y.), Adams was one of two bookend high school All-Americans for a 1979-80 Franklin team (the other was Gary Springer) that spent a majority of that season ranked No. 1 in the country by Basketball Weekly. They were shocked by Stevenson (Bronx, N.Y.) in overtime of the PSAL semifinals, 65-63. Adams got his equivalency degree and matriculated to a junior college in Massachusetts before finishing his college career at UNLV. The 6-foot-9 left-handed shot-blocking phenom was twice named conference player of the year for the Runnin' Rebels, but a severe drug problem ruined not only is career, but his life.
"Ice" Jerry Reynolds
-- A 1980-81 prep All-American at Alexander Hamilton (Brooklyn, N.Y,), Reynolds was a 6-foot-8 wing who earned a scholarship to play for Dale Brown at LSU. He first attended Madison Tech Junior College in Wisconsin and developed into the No. 22 pick of the 1985 NBA Draft by the Milwaukee Bucks. He spent eight years in the NBA and is semi-famous for being the beneficiary of Scott Skiles' record-breaking 30th assist in a single game during the 1990-91 season and for coining the term "24/7" (as his jump shot was good "24/7").
"The Skate" Nate Archibald
-- In the NBA, the DeWitt Clinton (Bronx, N.Y.) product was known as "Tiny," the man who ran the point for the 1981 NBA champ Celtics and the only player to lead the league in points and assists in the same season. On the playgrounds, Archibald was known as "The Skate," the man who returned to Rucker Park (the original home of the Boost Mobile Elite 24) every summer even after he made it to the big-time. Archibald almost never made it, as academic troubles nearly derailed his prep career. He straightened things out by his senior season, when he was named all-city for a 21-0 team that won a mythical national championship. Archibald went the JUCO route and kept improving his game to the point where he was named one of the NBA's 50 Greatest Players in 1996.
Don't forget to follow Ronnie Flores on Twitter: @RonFloresESPN
September, 8, 2011
9/08/11
11:40
PM ET
By
Jason Jordan
| ESPN.com
From A-List star power to rim-rocking dunks to sick crossover dribbles the 2011
Boost Mobile Elite 24
had all the makings of an instant classic.
Check out the video to relive some of the exceptional highlights.