High-SchoolBoys-Basketball:

Katin Reinhardt
May, 18, 2012
5/18/12
9:00
AM ET
By
David Auguste
| ESPN.com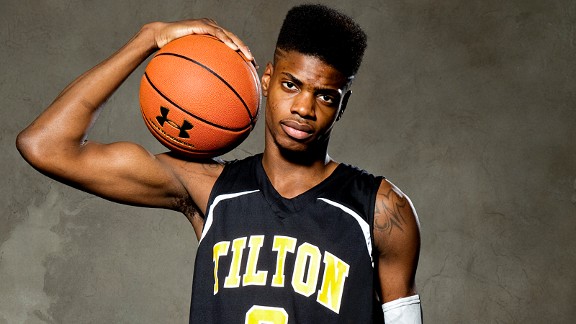 Kelly KlineWe think UK recruit Nerlens Noel is headed toward a bright future both on and off the court.
With graduation right around the corner, it's almost time to bid adieu to the class of 2012. Before the veteran ballers flip that tassel, we're going to bless them with some last-second love and immortalize them in the form of senior superlatives. We'll gaze into our crystal ball to make a few predictions as well as reflect on the myriad achievements of this talented crew.
These are our picks, but feel free to chime in with your selections on Twitter
@espnhs
.
Most important commitment
Kyle Anderson, St. Anthony (Jersey City, N.J.)
Sure, Anderson's commitment to UCLA might have been overshadowed by the subsequent pledges of Shabazz Muhammad and Tony Parker. But who knows if the Bruins would've landed those two prized recruits had it not been for Anderson -- the ultimate team-first guy and winner -- jumping on board first. Anderson's versatility will be valuable as the heralded class looks to restore UCLA's lore after a tumultuous last few years.
Runner-up: Baylor lands Isaiah Austin, Grace Prep (Arlington, Texas)
Most likely to succeed in the NBA
Shabazz Muhammad, Bishop Gorman (Las Vegas)
We're not the only ones envisioning Muhammad going toe-to-toe with Bron Bron and the rest of the league's heavyweights. The consensus among pro scouts at the Nike Hoop Summit was that 'Bazz was the most pro-ready domestic prospect in the class. His Kobe-like demeanor and ability to get buckets in a variety of ways should bode well for whatever squad scoops him up in the Association.
Runner-up: Anthony Bennett, Findlay Prep (Henderson, Nev.)
Most likely to land an acting role
Nerlens Noel, Tilton (Tilton, N.H.)
The high top fade alone should be enough to land this menacing shot blocker in the reboot of "The Fresh Prince of Bel-Air" or if they ever recast Kid or Play for the next "House Party." Combine his tight 'do with his affable personality and his ability to take over defensively on the hardwood, and we could be looking at a star both on and off the court.
Runner-up: Justin Anderson, Montrose Christian (Rockville, Md.)
February, 14, 2012
2/14/12
9:33
AM ET
By
David Auguste
| ESPN.com
Huntington Prep (Huntington, W.V.) senior forward
Elijah Macon
will always be grateful for his mom setting him up with his first true love: Basketball.
A die-hard Shaquille O' Neal fan, Renai Payne would tune into the Lake Show whenever the Lakers played on national television and often, little Elijah would park himself on the couch with her to ingest all the action. He quickly grew a fondness for the sport, taking a liking to Kobe Bryant's hunger for success and propensity for clutch plays.
"He was more of my generation than Michael Jordan was," says Macon of Bryant. "I just watched him hit buzzer-beaters and win all those championships. That was my generation of basketball, and he was my idol. That was in middle school, when I really started to love the game of basketball."
Now rated the No. 42 player in the
ESPNU 100
, Macon's love has intensified significantly over the years — to the point that he now can't live without the sphere.
"I love it. It's gotten me noticed as one of the top players in the country," Macon says.
So what does an elite hoop prospect do on Valentine's Day for the game he loves? Bouquet of flowers? Box of chocolate?
Nah. More basketball, duh.
"If I was to get a Valentine's Day gift for basketball, I'd take it out to eat then to see Kobe play," laughs Macon.
Macon isn't the only hoop recruit looking to profess his love today. We caught up with several of the nation's top players to see why they love this game.
February, 13, 2012
2/13/12
12:47
PM ET
By
David Auguste
| ESPN.com
We're just a few weeks away from crowning the first
ESPNHS Fans' Choice Player of the Year
. The final four candidates have made their pitches for the honor during the past few months on the campaign trail, voting in the second round ends Feb. 21 and final-round voting will begin Feb. 23.
To change things up a bit, we asked several of the nation's top ballers who they are endorsing in this election. Check out the video below to see who top 100 recruits like
Ricardo Gathers
,
Grant Jerrett,
Kyle Anderson
and
Katin Reinhardt
are throwing their support behind.
February, 5, 2012
2/05/12
9:59
AM ET
By
Ronnie Flores
| ESPN.com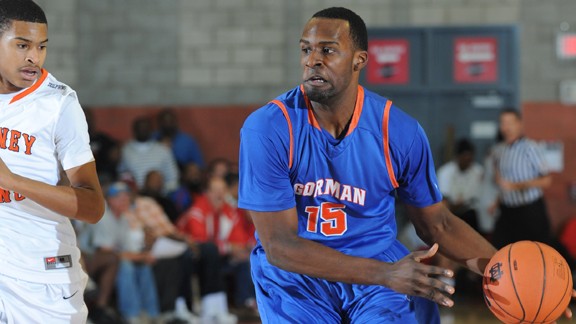 Scott Kurtz/ESPNHSShabazz Muhammad of Bishop Gorman (Las Vegas) had a 41-point performance in the final showcase game of his high school career.
Nike Extravaganza:
Saturday morning recap
|
Friday recap
|
Preview
SANTA ANA, Calif. -- Whitney Young (Chicago) came into its matchup against
POWERADE FAB 50
No. 20 Bishop Gorman (Las Vegas) on Saturday at the Nike Extravaganza without much to lose.
After all, Whitney Young was missing two starters, guard
Paul White
and center
Thomas Hamilton Jr.
, to injury. The team played a grueling national schedule and limped into the contest as a dangerous 12-7 squad.
Bishop Gorman had its own statement to make. It wanted to prove it was still among the nation's best teams despite four losses. Star player
Shabazz Muhammad
wanted to make a statement about being the nation's best player despite his recent drop from No. 1 to No. 2 in the
ESPNU 100
.
Gorman stated its case by capitalizing on a 29-12 third-quarter advantage en route to a 69-50 victory.
Muhammad did the same, converting 13 of 20 shots, including 6-of-6 from 3-point range, and making 9 of 10 free throws in a 41-point performance.
"I have been asked that question thousands of times," said Bishop Gorman coach Grant Rice on Muhammad's new spot in the ESPNU 100. "I don't have the answer, but I know [Muhammad] doesn't need motivation. You guys have seen him for the past two years. He's just trying to get through this season, make his college decision and leave his mark on high school basketball."
Muhammad, the top vote getter in the latest
ESPNHS Mr. Basketball USA Tracker
, scored Bishop Gorman's first 12 points. When he hit a 3-pointer near the end of the first quarter, he had 15 of the Gaels' 18 points.
Muhammad had 21 points in the first half. He keyed a 10-0 run in the pivotal third quarter with two 3-pointers.
January, 16, 2012
1/16/12
7:41
PM ET
By
Brandon Parker
| ESPN.com
SPRINGFIELD, Mass. — It's safe to say that
Shabazz Muhammad
is at the top of UNLV's — and just about every other college's — wish list this year. And while Muhammad was his usual
spectacular self
on Monday, it was the lights-out performance by another recruit at the Hoophall Classic that had plenty of Runnin' Rebels fans salivating.
UNLV-bound
Katin Reinhardt
was downright unconscious, draining a tournament-record-tying nine 3-pointers en route to 35 points and an 88-50 win for Mater Dei (Santa Ana, Calif.) over Christ the King (Middle Village, N.Y.).
While Christ the King came in with hopes of slowing Reinhardt, the senior guard knew early on that Monday could be a special night.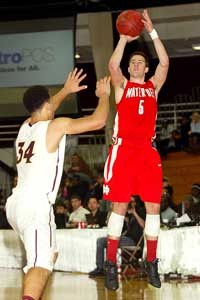 J. Anthony Roberts/ESPNHSKatin Reinhardt lit Christ the King up for 35 points in the Monarchs' big win.
"Usually when I start the game with a dunk, that gets my legs going and me in a rhythm," Reinhardt said. "So after I got that dunk in the first quarter, I felt like, 'OK, this could be big.'"
Stanley Johnson
also came up big, snatching 15 rebounds to help the Monarchs control the boards and capitalize on second-chance opportunities.
On the other hand, Christ the King, just two days removed from a tournament in Missouri, looked the part of a jet-lagged squad. The Royals were beaten early and often in transition by Mater Dei and shot just 26 percent from the field.
Omar Calhoun
tried to keep the Royals in it, but an off night (8-for-22) from the UConn recruit and a third quarter that saw the Royals get outscored 27-7 ultimately did them in.
"We saw some effects of Mater Dei," Royals coach Joe Arbitello said when asked if the long flight affected his team. "I saw Reinhardt play before and he played really well tonight, too. We were just a step slower than them. But losses like this can happen. We know we can compete."
The Monarchs, ranked No. 22 in the
POWERADE FAB 50
, improved to 16-2 on the year.
Brandon Parker covers high school sports for ESPNHS. Follow him on Twitter @brandoncparker or email him at brandon.c.parker@espn.com.