High-SchoolBoys-Basketball:

Kemba Walker
August, 23, 2012
8/23/12
1:24
PM ET
By
Ronnie Flores
| ESPN.com
Under Armour Elite 24 alumni
Brandon Jennings
and
Kemba Walker
will lead the coaching staffs at this year's event, which will be held Aug. 24-25 at Venice Beach, Calif.
Jennings, a point guard for the Milwaukee Bucks who dished out an event-record 23 assists in the 2007 game, will team with
Derrick Williams
, the No. 2 pick of the 2011 NBA draft, to lead the "Raymond Lewis" squad. Walker, who made 7-of-8 field goals en route to 16 points in that same 2007 game, will join forces with
DeAndre Jordan
, who participated in the inaugural event at Harlem's famed Rucker Park in 2006, to lead the "Marques Johnson" squad.
Teams, in the tradition of the event, are named after Los Angeles playground legends.
Featuring 24 of the nation's top high school basketball players, Under Armour Elite 24 participants are selected based on their performances during AAU tournaments and national summer camps by ESPN high school basketball experts.
The 2012 Under Armour Elite 24 will be held at the Venice Beach outdoor courts in Los Angeles. The game airs live on ESPNU at 7 p.m. ET Aug. 25, while the Under Armour Slam Dunk Contest will air at 7 p.m. ET Aug. 24 on ESPNU.
Raymond Lewis squad
Head Coach: Brandon Jennings (Milwaukee Bucks)
Assistant Coach: Derrick Williams (Minnesota Timberwolves)
Marques Johnson squad
Head Coach: Kemba Walker (Charlotte Bobcats)
Assistant Coach: DeAndre Jordan (Los Angeles Clippers)
Join
our Under Armour Elite 24 fan page on Facebook and don't forget to follow the event on twitter:
@UAElite24
February, 6, 2012
2/06/12
11:15
AM ET
By
Rodney Purvis
| ESPN.com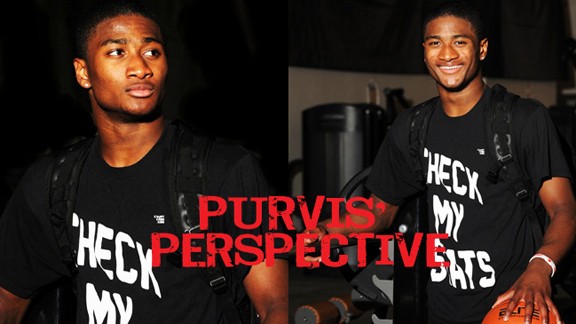 Scott Kurtz/ESPNHSESPNHS Student Blogger: Rodney Purvis
Rodney Purvis
| Senior | Shooting Guard | Upper Room Christian Academy (Raleigh, N.C.)
Purvis Blog 1
|
Purvis Blog 2
|
Purvis Blog 3
|
Purvis Blog 4
|
Purvis Blog 5
|
Purvis Blog 6
|
Purvis Blog 7
|
ESPNHS - North Carolina
Rodney Purvis is the No. 6 shooting guard in the ESPNU 100. Purvis, a senior at Upper Room Christian Academy (Raleigh, N.C.), ended one of the hottest recruitments of the summer in late September by picking North Carolina State. He's agreed to give ESPNHS exclusive access to his life and chronicle his thoughts in a monthly blog.
What's up world.
It's your boy Rodney Purvis again, and as you probably already know by now I'm a Jordan Brand All-American! I'm really excited about making this game because it's been a dream of mine for a long time now.
My bro
John Wall
played in this game and my bro
Dezmine Wells
did, too. When I told them about making the game they both said that they were proud of me and that they wanted to see me do my thing.
I'm honored and blessed to be a part of this game.
Michael Jordan
is the greatest so I'm looking forward to meeting him.
I was at school when I got the text from one of the Nike guys saying that I was picked for the game. I was so excited for the rest of the day I couldn't even think straight.
I was shocked. I've never been the type of player to think I automatically will be given things because I've always had to work for it. I just thanked him and called my mom immediately. Of course she was excited too.
I'm looking forward to seeing all of the guys down there at Jordan. I haven't really seen most of the guys since the summer in AAU. I know we'll have a good time together.
My bros
Kyle Anderson
and
Shabazz Muhammad
are coming so I already know we're gonna be buggin' out the whole time.
I know that a lot of people will come out to watch the game and I'm hoping a lot of N.C. State fans can make the game too. I would love to see guys who have played in this game in the past like John and
Kemba Walker
come back and watch us. That would be cool.
I don't really have any expectations about stats or anything like that. I just want to make an impact on the game and leave my mark.
That's it.
As always, thanks for reading my blog and check back soon for my next entry.
Take care y'all.
Don't forget to follow Rodney Purvis on Twitter:
@RPurvis_5