High-SchoolBoys-Basketball:

Kevin Boyle
June, 5, 2012
6/05/12
10:00
AM ET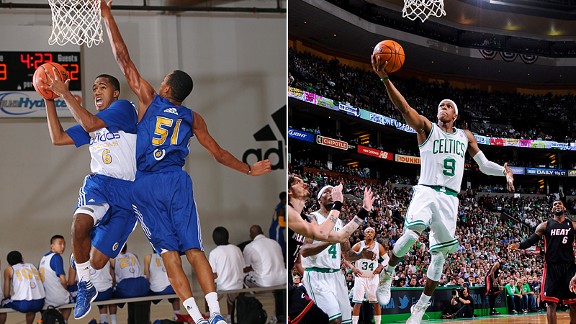 Kelly Kline/Getty Images and Brian Babineau/NBAE via Getty ImagesKasey Hill, the No. 6 player in the ESPN 100, enjoys being compared to Celtics superstar Rajon Rondo.
This summer, ESPNHS will sit down with some of the nation's elite players to break down their game, talk about the inevitable comparisons to college and pro players and get their take on who they pattern their game after.
Player:
Kasey Hill
School:
Montverde Academy (Montverde, Fla.)
Position:
Point guard
Height/weight:
6-0/170
ESPN 100:
No. 6
Who is Kasey Hill?
The term "pure point guard" is in vogue right now, and it's a label that describes Hill perfectly. A textbook floor general, Hill is always in complete command on the court. As a junior last season, he posted 15.4 points and 7.2 assists per game while guiding Montverde Academy to the finals of the
National High School Invitational
and a No. 9 ranking in the
POWERADE FAB 50
. But more impressive than the numbers is the way Hill controls the game.
"I don't get rattled under pressure," says Hill, a Florida recruit. "No matter what the defense is doing, I don't let them rush me into making decisions. I take my time and put my teammates in position to make plays."
Scouting report:
Sure, Hill can slither to the rim for lay-ups or step back and bury jumpers, but he's not a scorer -- he's a point guard first and foremost. Few high school players see the court the way Hill does, and he has the natural athleticism to make difficult passes, either on the break or in the half-court. According to
ESPN Recruiting Nation
, Hill can "get to wherever he wants on the court," combining a "tight and fluid" handle with "excellent court vision and feel for the game." His jump shot isn't perfect yet, but he shows good enough form to believe he'll eventually become a productive outside shooter. He should fit in perfectly at Florida, where coach Billy Donovan likes to run a guard-heavy spread offense.
Most frequent comparisons: Rajon Rondo, Kyrie Irving, John Wall

ESPNHS comparison: Rajon Rondo
Hill's coach at Montverde Academy, Kevin Boyle, knows a thing or two about point guards -- he also coached Kyrie Irving in high school. And some scouts see similarities between the two players, pointing to Hill as a mid-tempo point guard who can cruise into the lane at will. But we see Hill as a more natural and creative distributor, someone who can draw defenders and then whip a wraparound pass at an impossible angle and hit an open teammate in stride. Someone like Rajon Rondo, the Boston Celtics' triple-double machine. Hill can push the tempo when the opportunity is there, and his slick dribbling ability allows him to cave in defenses just like Rondo.
Kasey's comparison: Rajon Rondo
Hill says the two comparisons he hears most often are Rajon Rondo and John Wall, and he particularly enjoys the Rondo resemblance.
"People say that the way I pass is kind of like Rajon Rondo, and the way I move my feet is like John Wall," says Hill. "I love Rondo, and to say my passing is like his is like the highest level you can get. I love John Wall, too. I don't think I'm anywhere near their level yet, but I try to take things from them and put it in my game."
Follow Mike Grimala on Twitter (@MGrimalaESPN).
March, 31, 2012
3/31/12
6:05
PM ET
By
Ronnie Flores
| ESPN.com
BETHESDA, Md. -- It was a special moment for tournament MVP
Anthony Bennett
of Findlay Prep (Henderson, Nev.). Not many of the national television audience realize the No. 7 player in the
ESPNU 100
played only 10 games for the Pilots heading into the NHSI and missed the majority of their big wins this season.
With all the setbacks Bennett has endured over the past two seasons, he was relieved to finally lead Findlay Prep to an NHSI title by averaging 15.7 points and 8.7 rebounds in the Pilots' three victories here.
As a sophomore, he was a member of the Mountain State Academy (Beckley, W.Va.) team that lost to Findlay Prep 68-53 in the semifinals. He scored 10 points in 22 minutes in that loss and netted 12 points in 29 minutes for Findlay Prep in its quarterfinal loss to Dwyer (Pompano Beach, Fla.) last season.
"This is the farthest I came in this tournament," said Bennett, one of five Pilots in double figures with 13 points to go with a game-high 9 rebounds in the championship-game comeback win over Montverde Academy (Montverde, Fla.).
"Coming in, I really wanted to win it this year," Bennett said.
The unsigned Bennett, who lists Washington, Oregon, UNLV, Kentucky and Florida as his college finalists, missed nearly half of his junior season at Findlay. His back injury flared up again at the beginning of this season. His hamstring injury lingered all season long and he was relieved to be healthy for the NHSI.
He's crossing his fingers about next season.
"Hopefully that doesn't happen in college," Bennett said. "Hopefully my college trainer will take care of me."
Now The Fun Part
The final
POWERADE FAB 50
national rankings, which will be released on April 2, will have some shuffling based on the results of this year's NHSI. With No. 12 Montverde Academy giving up an 18-point lead and losing to No. 2 Findlay Prep, there will be a spirited No. 1 versus No. 2 rankings debate between No. 1 Oak Hill Academy (Mouth of Wilson, Va.) and the Pilots.
The big question is if one-loss Findlay has done enough to overcome 44-0 Oak Hill. On paper, the Pilots have a strong enough résumé to be ranked No. 1 in the country.
They own wins over No. 5 Marcus (Flower Mound, Texas), No. 6 Simeon (Chicago) and No. 11 Bishop Gorman (Las Vegas). For the past few seasons, most of those big wins came on the road and this season was no exception.
Ironically, this game had the same feel as Findlay's only loss this season -- a one-point setback to No. 23 La Lumiere (La Porte, Ind.) on Dec. 29 at the Mike Miller Classic in Sioux Falls, S.D. The Pilots trailed in that game by the same margin as they did to Montverde, but the difference was at the NHSI they were able to complete the comeback win.
"At halftime, I told the guys 'Here we go again, December 29, La Lumiere,'" Findlay Prep coach Michael Peck said. "I pulled out all the different motivation factors. At first I really got into them, then I tried to be calm and use logic."
Peck's tactics worked against Montverde, but the La Lumiere loss is still a part of the equation when it comes to the final FAB 50 rankings. Another key part of the equation is the common opponent factor, which has always been an important aspect of the FAB 50. Oak Hill Academy defeated the same La Lumiere team by 18 points and owns five wins over opponents currently ranked in the FAB 50.
Another smaller factor which will be used in the final analysis is the fact La Lumiere lost in the quarterfinals of the NHSI to Montverde. The Lakers didn't look overly impressive in the 62-54 defeat. Findlay has to be thrilled about its comeback win over Montverde, but had La Lumiere advanced to the NHSI finals, an avenging win would have been sweeter from a rankings perspective.
No Oak Hill, No Problem
After knocking off No. 12 Montverde in the NHSI title game, the popular question for No. 2 Findlay was whether the win meant as much despite not coming against No. 1 Oak Hill Academy.
The Warriors opted not to compete in the NHSI for the first time since its inception in 2009. Oak Hill, which finished the season 44-0, traveled to China from March 7 to 19 to play nine games against international competition. The Warriors went on spring break when they got back, according to coach Steve Smith.
Findlay finished 32-1.
"All we could control was playing these games and winning these games,"
Nigel Williams-Goss
said. "Whatever happens on Monday with the rankings happens. We're just happy about this win."
Added Peck: "That's something we can't control. All we could do is control us. Steve [Smith] has his reasons and that's his decision. We were focused on us."
2012 ESPNHS NHSI All-Tournament
Anthony Bennett
, Findlay Prep (MVP)
Brandon Ashley
, Findlay Prep
Kasey Hill
, Montverde Academy
Michael Carrera
, Montrose Christian
Melvin Johnson
, St. Benedict's
Jason Jordan contributed to this report.
March, 31, 2012
3/31/12
5:28
PM ET
By
Jason Jordan
| ESPN.com
BETHESDA, Md. --
Anthony Bennett
knew it all along.
While everyone else had written him and top-seeded Findlay Prep (Henderson, Nev.) off after falling behind by as many as 18 points late in the second half to No. 3 seed Montverde Academy (Montverde, Fla.) in the ESPNHS National High School Invitational title game, Bennett knew it was only a matter of time before the Pilots turned the tables.
With 1.2 seconds left in overtime, Bennett tipped Eagles forward
Patricio Garino's
inbounds pass out of bounds, clapped his hands together and yelled to the stands, "We ain't losing fam! We ain't losing!"
Bennett was right.
Findlay (32-1) managed an improbable comeback late in the fourth quarter to force overtime and eventually steal an 86-83 win over the Eagles (23-3) to claim the ESPNHS NHSI title Saturday at Georgetown Prep, in a game that was nationally televised on ESPN.
It was the Pilots' third ESPNHS NHSI title in four years. Findlay, which is ranked No. 2 in the
POWERADE FAB 50
, won back to back in 2009 and 2010.
Brandon Ashley
led the Pilots with 31 points, while
Nigel Williams-Goss
added 17 and Bennett, the tournament's MVP, chipped in with 13 points and eight rebounds.
Kasey Hill
led Montverde with 23 points and six assists.
"I pulled out everything motivational that I could," Findlay coach Michael Peck said. "I tried everything, but at some point their switch went on and they got it done. It was all them. It was all them."
Added Ashley: "This was the best way to go out. We fought hard and we got it done. We never got down or hung our heads. We always believed in ourselves and we got it done, man. We got it done."
In the first half it was the Eagles who were getting it done, dominating Findlay in all aspects and claiming a 38-29 lead. Findlay's big four -- Bennett, Ashley,
Dominic Artis
and
Winston Shepard
-- combined to shoot just 5-of-17 in the first half.
The Eagles continued to pour it on in the third quarter, beating the Pilots to loose balls, owning the offensive glass and beating them in transition.
Michael Frazier
made Findlay pay for switching to a 2-3 zone, draining three of the Eagles' four third-quarter 3s to extend the Eagles' lead to 54-39 headed into the fourth.
That's when Ashley came alive.
He scored 15 points in the fourth quarter, overpowering Montverde's frontcourt in the paint. Ashley drained two free throws with 20.5 seconds left in regulation to tie the game and send it to overtime.
"Brandon Ashley put the cape on," Peck said. "He was the Brandon he was supposed to be."
Montverde coach Kevin Boyle pointed out the fact that the Pilots lived at the free throw line late in the game. The Pilots made 24 of 27 free throws in the second half.
"They got a lot of calls and they were living on the line," Boyle said. "So that means they're scoring without the clock moving. They fought hard, but I thought they got a lot of whistles, too."
Late in overtime, Williams-Goss hit a floater to give the Pilots an 84-83 lead, then Shepard corralled a miss from Hill, got fouled and made both free throws to secure the win.
"This was pretty fun," Ashley said. "It's been a lot this week with [the]
McDonald's All-American Game
and this tournament, but we got it done. This was the best way to go out. Better than I ever imagined it."
March, 22, 2012
3/22/12
12:00
PM ET
By
Mark Tennis
| ESPN.com
Team:
No. 3 seed Montverde Academy (Montverde, Fla.)
Record, FAB 50 Rank:
21-3, No. 12 (No. 2 in the Southeast)
Head Coach:
Kevin Boyle (1st year at school; spent previous 23 years at St. Patrick of Elizabeth, N.J., where he won more than 400 games and coached many top players, including 2011 NBA No. 1 draft pick Kyrie Irving)
Key Players:
Michael Frazier
A transfer from Plant (Tampa, Fla.), the 6-foot-3 shooting guard leads the team in scoring and is a leading contender to be Mr. Basketball in Florida. An ESPNHS Second Team Underclass All-American last season, Frazier is rated the No. 3 prospect in the state of Florida by
RecruitingNation
and has signed with the University of Florida. Frazier was MVP of the Montverde Academy Invitational Tournament in January. He scored 16 points in the team's 49-40 triumph over
POWERADE FAB 50
ranked Orlando Christian Prep (Orlando, Fla.) in the title game. In the team's loss to Memphis Ridgeway (Memphis, Tenn.), Frazier went for 27 points, so they'll look to him for a big scoring night against a tough La Lumiere (LaPorte, Ind.) team.
Kasey Hill
He's regarded as one of the elite point guards in the nation among juniors. The 6-foot-1 floor general is No. 18 in the
ESPNU 60
and has committed to Florida, where he figures to join current teammate Michael Frazier on the roster for the Gators' 2013-14 season. Hill was MVP last summer at the Adidas Invitational Basketball Tournament in Indianapolis after he led the Florida Rams AAU squad to the championship. Hill began his prep career at Mount Dora Bible (Eustis, Fla.) and was a highly-regarded by Kevin Sutton, Montverde Academy's former coach. Hill had been a ESPNHS Underclass All-American the past two seasons.
Anthony "J.P." Cortesia
The No. 64 player in the
ESPNU 100
was one of the Eagles' most versatile talents from the first game of the season through the Montverde Academy tourney. The 6-foot-8 power forward will play next at Ole Miss. A native of Venezuela, Cortesia is not known for being a physical player, but with La Lumiere's towering size, he's going to have to battle down low and come up with key rebounds.
Note:
Six-foot-10 sophomore
Dakari Johnson
, who followed coach Kevin Boyle to Montverde from St. Patrick of New Jersey and was the 2011 ESPNHS National Freshman of the Year, had to sit out this season due to the transfer.
Road to NHSI:
There's little doubt the Eagles were the best team in Florida this season, regardless of school classification. They played a number of top teams in the state and when the Florida High School Athletic Association state playoffs were complete, Montverde had wins over the following champions: Hialeah Gardens (8A), Ely (7A), Lake Wales (5A) and Orlando Christian Prep (2A).
They did lose an in-state game to Hagerty of Oviedo, but were not at full strength at the time. The squad's only other losses were to Ridgeway of Memphis and Grace Prep (Arlington, Texas). Both of those teams were top 15 ranked in the FAB 50 at the time and Grace Prep went on to win a state title of its own.
Even with those two losses, Montverde Academy had an 8-2 record against FAB 50-ranked teams and in its 24 games they outscored the competition by an average of 16.3 points.
Inside Scoop:
Boyle may not have coached in the NHSI before but has been around big-time basketball for many years. At St. Patrick, he coached Kyrie Irving of the Cleveland Cavaliers and 2010-2011
Mr. Basketball USA
Michael Kidd-Gilchrist, currently starring at Kentucky. Boyle also will be coaching the USA team on April 7 at the Nike Hoop Summit in Portland, Ore.
Perhaps Boyle's biggest challenge is getting players ready to face a quality first-round opponent in the NHSI like La Lumiere without having been in a game since Feb. 4.