High-SchoolBoys-Basketball:

Kyrie Irving
June, 5, 2012
6/05/12
10:00
AM ET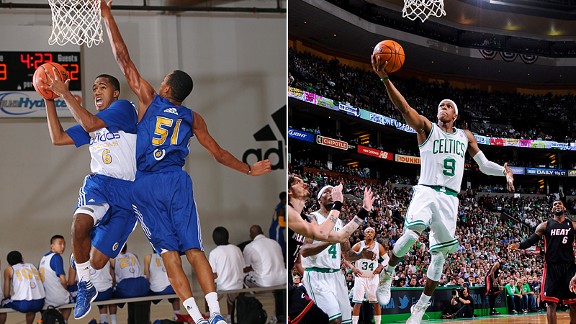 Kelly Kline/Getty Images and Brian Babineau/NBAE via Getty ImagesKasey Hill, the No. 6 player in the ESPN 100, enjoys being compared to Celtics superstar Rajon Rondo.
This summer, ESPNHS will sit down with some of the nation's elite players to break down their game, talk about the inevitable comparisons to college and pro players and get their take on who they pattern their game after.
Player:
Kasey Hill
School:
Montverde Academy (Montverde, Fla.)
Position:
Point guard
Height/weight:
6-0/170
ESPN 100:
No. 6
Who is Kasey Hill?
The term "pure point guard" is in vogue right now, and it's a label that describes Hill perfectly. A textbook floor general, Hill is always in complete command on the court. As a junior last season, he posted 15.4 points and 7.2 assists per game while guiding Montverde Academy to the finals of the
National High School Invitational
and a No. 9 ranking in the
POWERADE FAB 50
. But more impressive than the numbers is the way Hill controls the game.
"I don't get rattled under pressure," says Hill, a Florida recruit. "No matter what the defense is doing, I don't let them rush me into making decisions. I take my time and put my teammates in position to make plays."
Scouting report:
Sure, Hill can slither to the rim for lay-ups or step back and bury jumpers, but he's not a scorer -- he's a point guard first and foremost. Few high school players see the court the way Hill does, and he has the natural athleticism to make difficult passes, either on the break or in the half-court. According to
ESPN Recruiting Nation
, Hill can "get to wherever he wants on the court," combining a "tight and fluid" handle with "excellent court vision and feel for the game." His jump shot isn't perfect yet, but he shows good enough form to believe he'll eventually become a productive outside shooter. He should fit in perfectly at Florida, where coach Billy Donovan likes to run a guard-heavy spread offense.
Most frequent comparisons: Rajon Rondo, Kyrie Irving, John Wall

ESPNHS comparison: Rajon Rondo
Hill's coach at Montverde Academy, Kevin Boyle, knows a thing or two about point guards -- he also coached Kyrie Irving in high school. And some scouts see similarities between the two players, pointing to Hill as a mid-tempo point guard who can cruise into the lane at will. But we see Hill as a more natural and creative distributor, someone who can draw defenders and then whip a wraparound pass at an impossible angle and hit an open teammate in stride. Someone like Rajon Rondo, the Boston Celtics' triple-double machine. Hill can push the tempo when the opportunity is there, and his slick dribbling ability allows him to cave in defenses just like Rondo.
Kasey's comparison: Rajon Rondo
Hill says the two comparisons he hears most often are Rajon Rondo and John Wall, and he particularly enjoys the Rondo resemblance.
"People say that the way I pass is kind of like Rajon Rondo, and the way I move my feet is like John Wall," says Hill. "I love Rondo, and to say my passing is like his is like the highest level you can get. I love John Wall, too. I don't think I'm anywhere near their level yet, but I try to take things from them and put it in my game."
Follow Mike Grimala on Twitter (@MGrimalaESPN).
March, 30, 2012
3/30/12
6:20
PM ET
By
Jason Jordan
| ESPN.com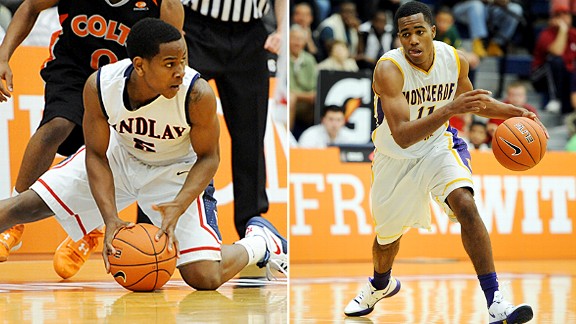 Joe Faraoni/ESPN ImagesMontverde coach Kevin Boyle said he wants Kasey Hill, right, to play "more cocky" and sees an NHSI matchup with Findlay point guard Dominic Artis as the perfect opportunity to up his on-court swag.
BETHESDA, Md. -- Montverde Academy (Montverde, Fla.) coach Kevin Boyle likes his point guards to have a certain pizzazz.
After 23 years at St. Patrick (Elizabeth, N.J.), Boyle became accustomed to guards like
Kyrie Irving
, Shaheen Holloway and
Dexter Strickland
, who were so dominant it was hard not to have an on-court swagger about them.
That's where he wants his current floor general,
Kasey Hill
, to get mentally.
"This kid's so humble and nice," Boyle said of Hill. "I almost want him to be a little cocky on the court. That's something that he's developing now so I like for him to play in games or against guys that help with that."
Hill will get a key opportunity to build that bravado when he and the No. 3-seed Eagles face No. 1 seed Findlay Prep (Henderson, Nev.) and dynamic point guard
Dominic Artis
Saturday (2 p.m. ET on ESPN) in the ESPNHS National High School Invitational boys' title game.
Findlay, which is ranked No. 2 in the
POWERADE FAB 50
, is going for its third NHSI title (2009, 2010) in four years. The Pilots beat Montverde, which is ranked No. 12, 59-46 to claim the title in 2010.
"I'm looking forward to matching up against Dominic, for sure," Hill said. "I don't know if that'll make me more cocky. I'm just not that kind of player, but it'd definitely give me even more confidence playing well against a big-time player like that."
Artis, a senior who is signed to Oregon, is the No. 8 point guard in the
ESPNU 100
. Boyle referred to him as "Findlay's head."
"If you can cut off the head then you've got a real shot, you know," Boyle said. "Kasey's a great defender and he'll have his hands full with Dominic, but Kasey's more than capable of being a lockdown defender against anyone."
Hill certainly proved that in the
semifinal win over Montrose Christian
(Rockville, Md.), last year's NHSI champ. He held Mustangs star forward
Justin Anderson
, a senior who is signed to Virginia, to just one field goal and three points.
"I really try and go hard on defense," said Hill, a junior who is the No. 3 point guard in the
ESPNU 60
. "Some guys rest on defense, but I go hard on both ends. I'll definitely do that tomorrow against Dominic."
Despite Boyle's hope for Hill to use the matchup with Artis as a way to build a court-conceited mentality, Artis was quick to point out that, "I'm not the guy people make a name off of."
"But either way, Kasey's a great player," Artis said. "He's gonna be tough to stop, but we'll do it together as a team. That's the best way to stop a player like him."
Through two games Hill is averaging 19.5 points and 6.5 assists. Artis is averaging 13 points, 3.5 assists and 3.5 steals.
Findlay coach Mike Peck coached Hill at the freshman All-American Camp in Lexington, Ky., back in 2010 and said that Hill reminded him of a young
Rod Strickland
, the former All-NBA point guard who averaged 13.2 points and 7.3 assists over 17 years.
"He's shifty and he's got a great feel for the game," Peck said of Hill. "One thing he's gotten a lot better at is his ability to shoot it. Obviously he's having a great tournament here, so he'll be a handful, there's no question."
Peck said that the Pilots would employ the same "elbow block" defensive scheme on Hill that they used against Irving in 2010 when they beat St. Patrick 71-70 at the Hoophall Classic.
"Basically any time Kasey has the ball, the strong-side elbow or block needs to be occupied," Peck said. "That way if he gets by his man, which he's good at, the help is right there. Sometimes that will discourage a guy from challenging that first line of defense."
Artis doesn't anticipate Hill being discouraged by any defensive scheme the Pilots throw his way.
"I know how great point guards think, and I know that whatever another team tries to throw at me won't matter," said Artis. "I'm still gonna do my thing. That's my mentality, and I know that Kasey probably thinks that same way."
Good guess.
Hill initially downplayed the matchup against Artis, but later admitted that a strong showing against him and the Pilots would "be a win for everyone."
"Of course I can't wait to play against a guy like Dominic," Hill said. "We're both competitive, and I know we'll both bring it. I want to play well because it will help my team win a national championship. That's what's most important. I know that everything else that comes with that will be a good opportunity for me, too."
Jason Jordan is the basketball editor for ESPNHS. He can be reached at
jason.x.jordan.-ND@espn.com
. Don't forget to follow him on Twitter:
@JayJayESPN
.
December, 13, 2011
12/13/11
9:51
AM ET
By
Jason Jordan
| ESPN.com
Don't misunderstand
Kyrie Irving,
he totally gets it.
The validation of being the top-ranked player at your position and the respect that accompanies that appointment is priceless.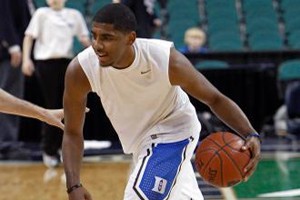 Associated PressCleveland Cavaliers guard Kyrie Irving, who was rated the No. 1 point guard in the ESPNU 100 in 2010, said being the best in high school is a process.
"I can totally understand that," said Irving, who was picked No. 1 overall in the NBA Draft in June by the
Cleveland Cavaliers
. "It's every high school player's dream."
Where the disconnect comes in for Irving is the mindset of how and when those players plan to reach that goal.
"They want it right now," said Irving, who averaged 17.5 points, 4.3 assists and 3.4 rebounds for Duke last season. "But my question is what are you doing to get there? It's not gonna just happen overnight. You've got to have a plan."
Irving finished high school as the No. 1 point guard and No. 3 overall player in the 2010 ESPNU 100, but he's quick to point out that he "wasn't always thought of as the best."
"I can remember thinking about how I was gonna get to where I wanted to be," said Irving, who starred for St. Patrick (Elizabeth, N.J.). "This is where I think kids mess up. My plan wasn't to be the top point guard in the country right away. First, I wanted to be No. 1 in my city, then my state and then my next goal was the country."
Irving's logic was simple: The smaller goals were more realistic to achieve in a timely manner.
"Just to jump to No. 1 in the country isn't realistic for a lot of different reasons," Irving said. "You have to know it's going to be a process and you have to love the process. You really do. When you have the smaller goals first, you're constantly achieving things throughout your process."
Ironically, the biggest detractors to attaining your ultimate goal are triumphs, according to Irving.
"It's crazy because you could blow up for a big game at a big tournament and immediately you think that should put you on top," Irving said. "That's not how it works. You just keep working hard and the rest will take care of itself. It's not an easy process, but it's necessary. You just have to love it and be realistic about your goals. It will work out the way it's supposed to, but you do everything you can."
Jason Jordan is the basketball editor for ESPNHS. He can be reached at
jason.x.jordan.-ND@espn.com
. Don't forget to follow him on Twitter:
@JayJayESPN