High-SchoolBoys-Basketball:

La Costa Canyon
December, 28, 2011
12/28/11
9:22
PM ET
By
Ronnie Flores
| ESPN.com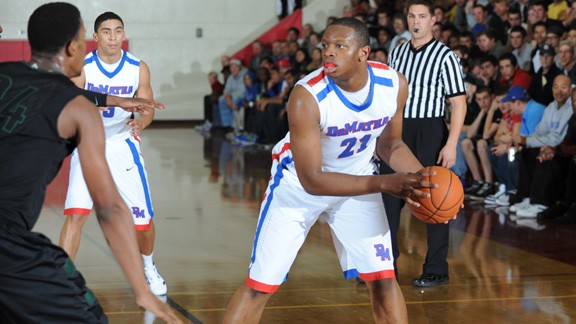 Scott Kurtz/ESPNHSJunior BeeJay Anya led DeMatha (Hyattsville, Md.) to a big win over Lincoln (San Diego, Calif.), but his team has a long way to go to be considered among the Stags' all-time best teams.
Related:
Quick Shots Day 1
Here are Day 2 notes from the 22nd Annual Torrey Pines Holiday Classic in San Diego, Calif., Dec. 27-30.
Recollections of DeMatha's first venture West
SAN DIEGO -- In the marquee matchup of the National Division opening round, DeMatha Catholic (Hyattsville, Md.) took on Lincoln (San Diego, Calif.) in a game that had a semifinal feel to it.
DeMatha, ranked No. 10 in the latest
POWERADE FAB 50
, is arguably the nation's most recognizable high school program. They have been a national power since
Morgan Wootten
, the predecessor to current coach
Mike Jones
, won the first of his four mythical national titles in 1962. Lincoln won a CIF Division II state title two years ago, has not lost to a team from San Diego County since the 2008-09 season and has a large, boisterous fan base.
That combination created an electric atmosphere as DeMatha rode a big performance for junior
BeeJay Anya
(21 points, 14 rebounds) to a 59-48 victory. On Wednesday night, the Stags cruised to a 83-47 quarterfinal win over Mayfair (Lakewood, Calif.) to improve to 7-0 on the season. They will take on 20o9 National Division runner-up Newark Memorial (Newark, Calif.) in one Thursday evening semifinal after the Cougars defeated St. Bernard (Playa del Rey, Calif.), 57-49, in their quarterfinal game.
As exciting as the DeMatha-Lincoln game may have been, the atmosphere, according to Jones, was not quite on par in comparison to DeMatha's first California road trip during the 1990-91 season in Jones' junior year.
"I think it was even more electric because we played Artesia (Lakewood, Calif.) on their home floor," Jones said. "They had a good team and I think we won by four or six. I remember it was fun; I had a good time."
That season Wootten's Stags were supposed to participate in an event called the Fiesta Bowl Tournament in Tempe, Ariz. The event, however, ran into financial difficulties that led DeMatha to a replacement tournament in California called the Gold Coast Artesia Classic, a five-team round robin event at Artesia.
DeMatha handily defeated a San Pasqual (Escondido, Calif.) team that featured future Duke forward
Erik Meek
and defeated the host Pioneers by six points.
Artesia had a young team led by three high-major sophomores (
Charles O'Bannon
,
Avondre Jones
,
James Cotton
). DeMatha also had an underclass-dominated team led by guard
Duane Simpkins
(Maryland) and Jones, a 6-foot-4 wing who matriculated to George Washington University.
Over twenty years later, it's amazing the images Jones' memory conjures up.
"I remember getting dunked on while taking a charge," Jones said. "I made the play I was supposed to."
That season, Jones averaged 17.7 points and 5.7 rebounds and helped the Stags to a 30-0 record and No. 5 final national rating. In fact, the program went 75-0, the only time the DeMatha program went unbeaten for a season.
Lance Booker seasoned tournament veteran
When St. Bernard (Playa del Rey, Calif.) senior guard
Lance Booker
takes the floor at Torrey Pines High School, only players from the host Falcons are more at home on the court.
That's because this is Booker's third consecutive year playing in the Holiday Classic -- and he's playing with his third different team.
Two years ago, he was a pint-sized reserve guard on a Leuzinger (Lawndale, Calif.) team that won the school's first-ever CIF Southern Section title. As a junior, he played at Crenshaw (Los Angeles) and is now reunited with
Reggie Morris, Jr.
, his former coach at Leuzinger who is now in his second year at St. Bernard.
"When I was at Leuzinger, I really loved playing for (Morris)," said Booker, who led his team to a 68-61 opening round win over Houston St. Thomas (Houston) by making all eight of his free throws and scoring 16 points. "If I would have followed him to St. Bernard, I would have had to sit out, but now I'm with him again."
Booker's high school journey has taken him from a modestly measured 5-foot-3 contributor at a large public school to a full-grown leader at a smaller parochial school. He's learned plenty about the game along the way, including how to deal with the trash talk that comes his way regarding his small frame. In fact, he has experience that players with more size, and perhaps even skill, would envy.
So does he still get ribbed about his size? Despite growing about six inches over the past two years, Booker's answer isn't surprising.
"Man, all the time. I play with a chip on my shoulder. I always feel like I have something to prove."
For the third consecutive season, "LB-Gwap" (as he referred to by teammates) knows his exact role on the team.
"When I came into St. Bernard, I already knew we were going to have a young team. I am trying to set an example for the younger guys."
"Lance is very familiar with the system we run," Morris Jr. said. "He brings another dimension with his ball-handling and outside shooting, plus he knows everything we're trying to do.
"He's definitely one of my leaders. He sets the barometer with his energy and he gets after it defensively."
Back in the game
Matt Shrigley
of La Costa Canyon (Carlsbad, Calif.), bound for
Steve Fisher's
program at San Diego State, did not play in Monday's special tip off games at Torrey Pines. It didn't matter much for the Mavericks, who improved their record to 10-1 with a 59-39 victory over Poway (Poway, Calif.).
Shrigley reportedly was nursing a sore ankle. He suited up for the Mavericks' Tuesday night American Division opener against Folsom (Folsom, Calif.) at LCC's gym.
La Costa Canyon traditionally hosts the American Division bracket and thus does not compete in the top National Division. The Mavericks are currently ranked No. 20 in the FAB 50
West Region rankings
and No. 13 in the
Cal-Hi Sports
state top 20, so it would be interesting to see how they would fare against the top competition the National Division has to offer.
The Mavericks, who have lost only to National Division contender Taft (Woodland Hills, Calif.) so far this season, opened with a 71-50 victory over Folsom (Folsom, Calif.). Shrigley led all scorers with 15 points. On Wednesday night, he was at it again, netting 28 points in La Costa Canyon's 69-58 quarterfinal victory over Chino Hills (Chino, Calif.).
Pac-12 bound guard shines
College basketball fans in the San Diego area got a glimpse of a future Pac-12 guard in the form of 6-foot-4
Christian Sanders
of Houston St. Thomas (Houston).
The Stanford-bound Sanders netted a team-high 21 points in his team's 68-61 loss to St. Bernard (Playa del Rey, Calif.). He came back with a better performance in the loser's bracket on Wednesday afternoon, leading Houston St. Thomas to a 64-53 win over La Verne Lutheran (La Verne, Calif.).
Sanders dropped in 29 points, as La Verne Lutheran dropped its second consecutive game at the Holiday Classic. Ranked in the FAB 50 to begin the season, Lutheran's performances are the most disappointing among the highly regarded teams thus far.
Ronnie Flores is a senior editor for ESPNHS. He can be reached at
ronnie.flores@espn.com
. Don't forget to follow him on Twitter:
@RonFloresESPN
December, 27, 2011
12/27/11
9:51
PM ET
By
Ronnie Flores
| ESPN.com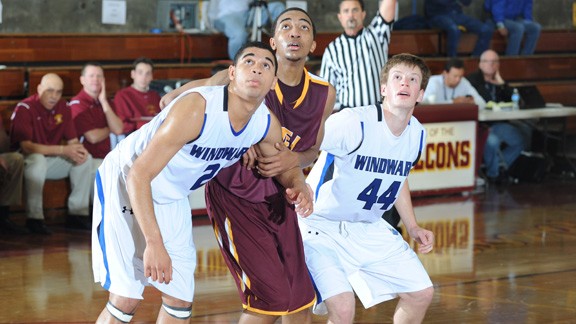 Scott Kurtz/ESPNHSMason Shepard (left) is a standout freshman for Windward (Los Angeles).
Here are some day one news and notes from the 22nd Annual Torrey Pines Holiday Classic in San Diego, Calif., Dec. 27-30.
Seven-foot center at Holiday Classic
SAN DIEGO -- One of the most intriguing players at this year's event is 7-foot-1 center
Cheikh N'diaye
of Army-Navy Academy (Carlsbad, Calif.).
The Senegal native has lived in the United States for approximately three years and when he came to California to attend the all-boys boarding school, he didn't speak any English.
He's been a quick learner -- both on and off the court. The military discipline instilled in all students at the school plays a big role in N'diaye's accelerated learning curve, even though only five percent of them actually enroll in the military, according to school president
Steve Bliss
.
In the season opener against El Camino (Oceanside, Calif.), N'diaye showed off some of the discipline he's learned by taking a charge. Unfortunately, he sustained a concussion and has not played since, including Army-Navy's 76-53 loss to regionally-ranked Lincoln (San Diego, Calif.) on Monday in a "play-in" game with a spot in the tournament's National Division on the line.
N'diaye hopes he's able to suit up by the second day of the tournament.
"I am going to see a doctor on Wednesday morning... if he clears me I'll play that afternoon," N'diaye said. "I feel good, but it's really up to him."
From the tone of his voice you can tell N'diaye is itching to play, but the time off has also given the seven-footer a new perspective watching from the bench.
"I notice that we can play more together. I provide defense and shot-blocking, so when I'm not playing, they got to go hard."
Freshman steps up for Windward
Windward (Los Angeles) opened National Division play against O'Dea (Seattle) and pulled out a 66-62 victory. It was a struggle as top player
Nick Stover
, a Loyola Marymount recruit, picked up is fourth foul halfway through the third quarter.
Mason Shepard
, a 6-foot-6, 210-pound freshman, picked up the slack.
With Windward clinging to a one-point lead with 1:45 remaining, Shepard's contested follow-up shot on a Stover field goal attempt gave the Wildcats a 61-58 lead. With Windward leading 64-62 with 8.4 seconds remaining, they were called for a five-second violation and survived a 3-point attempt by O'Dea's
Jalen Jones
to pull out the win.
"Nick is obviously our best player, but when he went down I had to step up," said Shepard, who finished with a team-high 19 points and double digit rebounds (13 unofficially). "I did good, but I think I can play better."
Windward actually has middle school students on campus, but this is Shepard's first year in the program. He witnessed Windward's run to a Division IV state title last season and felt comfortable enrolling because he already knew many of the players in the program. He has big aspirations this year and is confident his 6-4 club can compete with and defeat
POWERADE FAB 50
No. 16 Mitty (San Jose, Calif.) in Wednesday's National Division quarterfinal.
"I'm not satisfied at all, plus this was our first game with a full team with guys coming over from football and back from injury. I'm really looking forward to the next game."
Unique view for successful first year coach
Arguably the most distinguished coach at the tournament is also one of the least recognizable. After all, his team comes into the Holiday Classic 7-2 and as underdogs in its Senators Division opener against unbeaten Cathedral Catholic (San Diego, Calif.).
Jeff Sink
won four state titles, 10 CIF Southern Section tiles and 16 league titles in 17 years coaching the nationally renowned girls' team at Brea Olinda (Brea, Calif.). He gave two reasons why he stepped down and decided to take over the boys' program -- challenge and frustration.
"I made the change for two basic reasons," Sink said. "I'm 60, so if I was going to try something else now was the time. Second, I had my best team ever last season at Brea. We were ranked No. 1 in the country. With a couple of weeks to go in the season, we got hit by a bout of selfishness. I always ran a tight ship and it was very unfamiliar to me. Let's just say I didn't handle it well."
The Ladycats didn't win their section title and lost to a Canyon Springs (Moreno Valley, Calif.) team in the state regional 11 days after beating the same team by 18 points.
He offers straightforward advice for the boys players at the Holiday Classic from his unique perspective.
"Guys don't study opponents and don't work hard at exploiting other guys' weaknesses, such as overplaying their strong hand. Guys would benefit if they became more students of the game."
Sink doesn't mind blending in as just another boys' coach and doesn't seem to miss the tremendous expectations and pressure of coaching a program like the Ladycats'. But in spite of the change of scenery, it's evident his competitive juices still burn.
"It's fun, but my team is short and honestly were not that good," Sink said. "I do miss having one of the top teams in the country. I'm learning along with the players."
Right on cue with Sink's comments, Brea Olinda came away with a 54-51 victory over host Cathedral Catholic, which came into Tuesday's game with a 11-0 record.
Senior guard
Jonny Alarcon
netted a team-high 14 points for Brea Olinda.
New school, new nickname
It had been a full calendar year since
Anthony January
suited up in a regulation high school game before taking the floor earlier this month for
regionally ranked
Taft (Woodland Hills, Calif.).
The 6-foot-7 senior forward left Compton (Compton, Calif.) last year and was home schooled for the rest of the academic school year.
Before venturing to Torrey Pines for the Holiday Classic, January led Taft to the Mission Prep Christmas Classic national division title in San Luis Obispo, Calif. He scored a game-high 20 points in the title game victory over
state-ranked
La Costa Canyon (Carlsbad, Calif.).
January wanted to let everyone know how hungry he is to make a big splash in his return to high school hoops that he now goes by the moniker "Dinnertime."
"I came up with it myself," January said after scoring a team-high 17 points in Taft's 64-60 opening round National Division victory over Lake Washington (Kirkland, Wash.). "I was just thinking one day about being hungry to get back on the court."
January's father, also known as
Anthony January
, was an all-state player at Carson (Carson, Calif.) in the mid-1980s and played for the late
Don Haskins
at UTEP. During his playing days he went by "A.J." and his son has been called "Little J" by family members and close friends since childhood.
January hopes that his new nickname sticks, despite the occasional ribbing by teammates and classmates.
"Sometimes when I'm by the cafeteria at school people tell me to go cook and stuff like that," January said. "I most definitely want to keep it going."
Ronnie Flores is a senior editor for ESPNHS. He can be reached at
ronnie.flores@espn.com
. Don't forget to follow him on Twitter:
@RonFloresESPN