High-SchoolBoys-Basketball:

Maryland
June, 12, 2012
6/12/12
8:00
AM ET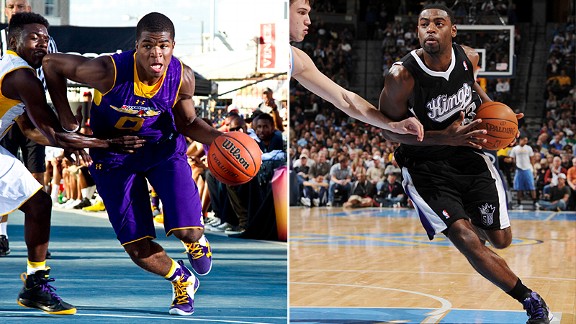 Kelly Kline and Garrett W. Ellwood/NBAE via Getty ImagesClass of 2013 No. 1 point guard Andrew Harrison likes the comparison to Kings guard Tyreke Evans.
This summer, ESPNHS will sit down with some of the nation's elite players to break down their game, talk about the inevitable comparisons to college and pro players and get their take on who they pattern their game after.
Player:
Andrew Harrison
School:
Travis (Fort Bend, Texas)
Position:
Point Guard
Height/Weight:
6-5/210
ESPN 100:
No. 3
Who is Andrew Harrison?
Harrison appears to be cut from the same cloth as the rash of scoring point guards who have popped up in recent years. The 6-foot-5, 210-pounder is the No. 3 player in the ESPN 100 and the nation's No. 1 PG. Harrison is a matchup problem for opposing floor generals, and his size, length and tight handle allow him to make a living in the paint. This past winter, he tallied 12.3 points, 6.0 dimes and 4.9 boards a contest during Travis' run to the Class 5A title game. Harrison, whose twin brother,
Aaron
, is No. 8 in the Class of 2013, holds offers from a host of hoops heavyweights, with Maryland, Baylor and national champ Kentucky vying for his services. RecruitingNation's Damon Sayles profiled the twins for an
article
on June 8.
Scouting Report
According to
ESPN RecruitingNation
, Harrison's frame, ability to change speeds in transition, deft passing and scoring punch make him one of the most dangerous players in the country. He can score in a variety of ways, killing defenders in transition or burying long-range daggers off the bounce. Harrison can get into the lane with ease to create open shots for teammates or finish via a pull-up jumper, a feathery floater or a furious dunk. Defensively, he can guard all three wing spots using his length and lateral quickness to put the cuffs on opponents.
Most frequent comparison:
Deron Williams
,
Tyreke Evans
,
Derrick Rose
, Derek Harper
ESPNHS Comparison: Deron Williams
While Harrison is built more in the mold of Tyreke Evans, his offensive creativity and ability to facilitate for others as a true point guard is more akin to that of Nets All-Star Deron Williams. And you can't discredit the Southern bloodlines, either.
Williams displayed Texas-sized talent while at The Colony (Texas), and Harrison has followed a similar blueprint to ascend to the top of the ESPN 100.
The change-of-pace factor is what sealed the deal for us. Both players can accelerate and decelerate to keep defenders off balance and boast incredible change of direction abilities, making them virtually impossible to stop in transition.
One-on-one, these two will give the business to even the staunchest defenders. Both floor generals set up opponents with the dribble before rocking them to sleep with a crossover that is simply poetry in motion. And they know what to do once they get in the lane, scoring and dishing in a variety of ways and with stunning flash. Harrison has shown an uncanny ability to finish through contact -- a staple of Williams' game.
Harrison will need to become a more consistent shooter and incorporate more of a post up arsenal to live up to the Williams' comp, but he's only a rising senior and has a solid foundation already in place.
Harrison's Comparison: Tyreke Evans
"I get the Deron Williams stuff because we can both come off of picks and pull up for threes," says Harrison. "But I first started hearing the Evans comparison in the ninth grade. I think he was still in college. I was honored to be compared to him."
Harrison is quick to note that he doesn't put much stock in player comparisons and would rather play his own brand of ball. But he doesn't shy away from the obvious similarities between himself and Evans.
"We're both big guards and we can take smaller guards off the dribble," says Harrison. "Not just with power, but speed and using the dribble."
Harrison still keeps tabs on Evans but makes a strong effort to study all of the league's elite playmakers. Games featuring Williams, Russell Westbrook and his favorite player, Derrick Rose, are on regular rotation at the Harrison house, as Andrew continues to look for new avenues for fine-tuning his game.
"I try to watch every good point guard," he says. "It's great motivation to try and catch up to those guys."
February, 10, 2012
2/10/12
10:05
PM ET
By
Jason Jordan
| ESPN.com
When pressed about the keys to DeMatha Catholic's (Hyattsville, Md.) rematch with Gonzaga College (Washington, D.C.), Stags point guard
James Robinson
offered one reason why he thought DeMatha would avenge its early-season loss to the Eagles.
"We've just got a lot of talent," Robinson said. "Too many weapons."
Too many indeed.
Jerami Grant
and
BeeJay Anya
dominated the paint, combining for 33 points, while
Jairus Lyles
was stellar in the backcourt with 15 points to help the Stags, ranked No. 29 in the
POWERADE FAB 50
, leave little doubt about who runs the Washington Catholic Athletic Conference with a 76-47 win over No. 14 Gonzaga Friday night at DeMatha in a game that was nationally televised on ESPN2.
The win avenged a two-point loss to the Eagles on Jan. 21.
Nate Britt
led Gonzaga with 21 points.
Fueled by a raucous crowd, the Stags stormed out of the gate early with a 9-2 run. But Gonzaga responded and Britt capped off a late first-quarter 8-0 run with a 3-pointer from the right wing to give the Eagles their first lead of the game, 13-12.
Lyles reignited the Stags' transition game midway through the second quarter, throwing down a hard breakaway slam and following that up with an easy layup to give the Stags a 28-21 lead.
When the Eagles answered with a 6-2 run, Lyles heaved a halfcourt buzzer-beater to give DeMatha a 33-27 lead at the half.
The Stags kept the momentum rolling, opening the third quarter with a 7-0 run to extend its lead to 40-27. Then with 4:33 left in the third quarter, Robinson got ejected when he picked up his second technical foul after hitting Gonzaga guard
Charles Glover
in the back with the ball. Robinson's first tech came in the first half after swatting Eagles' guard Tavon Blackmon's shot out of bounds and mouthing off about it.
It helped the Stags that the Eagles scored their first points of the second half – when Anya goaltended Britt's layup – at the 1:59 mark of the third quarter.
The Stags did an exceptional job down the stretch of exposing mismatches to continue the rout. The Stags also held
Kris Jenkins
, the Eagles' leading scorer, to just three points in the second half and 12 total.
Jason Jordan is the basketball editor for ESPNHS. He can be reached at jason.x.jordan.-ND@espn.com. Don't forget to follow him on Twitter: @JayJayESPN.
January, 14, 2012
1/14/12
11:30
PM ET
SPRINGFIELD, Mass. –
BeeJay Anya
, a junior forward who is ranked No. 37 in the
ESPNU 60
, scored 24 points and snagged nine rebounds to lead POWERADE FAB 50 No. 5 DeMatha (Hyattsville, Md.) past Northwest Catholic (West Hartford, Conn.) 78-57 Saturday at the Hoophall Classic in Springfield, Mass.
Jerami Grant
, a senior forward who is signed to Syracuse, added 14 points for the Stags, while
Zach Lewis
led Northwest with 23 points.
Read all about the Stags' big win
here
.
November, 28, 2011
11/28/11
2:08
PM ET
By
Matthew Remsberg
| ESPN.com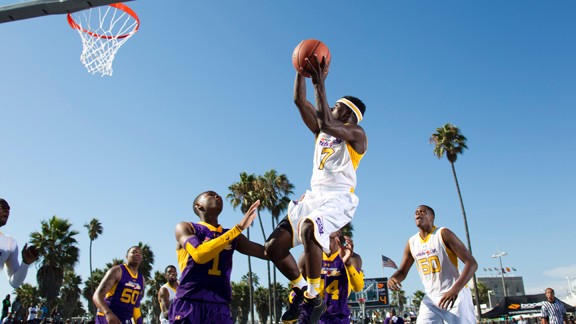 Kelly Kline/ESPNHSAquille Carr turned down a $750,000 contract to play overseas.
According to the
ESPNU 60
, there are 58 players from the Class of 2013 better than
Aquille Carr
.
That may be true. After all, he's a 5-foot-7 guard who struggles from the outside. So when you look at it like that, Carr's ranking seems generous.
There's another way to look at it, though. A way that puts less emphasis on measurables and projection and more on results. And if you look at it like that, Carr is in a class by himself.
Let's start with a quick glance at his high school play for Patterson (Baltimore, Md.). After regularly dropping 30-plus points as a freshman, he led the Clippers to their first city title since 1976 last season and their first-ever state title game appearance while averaging 31.3 points per game.
Along the way he has become a city legend. Fans flock to watch his games, earning him the nickname The Crime Stopper because typically dangerous streets are empty every time he suits up.
And there's more.
On a trip to Europe last fall for an international tournament, Carr captivated a whole different audience. Italian fans literally carried him off the court after he dropped 45 points in one game, and he was offered a $750,000 contract by the professional team Lottomatica Roma — the same team
Brandon Jennings
played for during his stint overseas.
Carr turned the offer down, but not before giving it some serious thought.
"It wasn't the right time," Carr says. "It was fun in Italy, but I have other things I want to do."
He crossed one item off his to-do list in August when he played in the prestigious Boost Mobile Elite 24 in Venice Beach, Calif. The game was televised on ESPNU, allowing Carr to show his stuff on the national stage against many of the nation's top recruits.
All he did was effortlessly slice through traffic and get to the rim at will en route to a 21-point, 10-assist performance that earned him co-MVP honors.
"That meant a lot," he says. "Getting to play with those big names, that's what I work hard for every day, for that opportunity."
So that's the other case for Aquille Carr. Local fans idolize him, foreign teams want to sign him and top recruits can't match him.
Which case is correct? Only time will tell.
But we can't wait to watch.
September, 12, 2011
9/12/11
2:00
PM ET
By
Jason Jordan
| ESPN.com
If you watched
Quinn Cook
run the point for Oak Hill Academy (Mouth of Wilson, Va.) last season then what he's about to say will probably shock you.
"I'm finally back to 100 percent," said Cook, now a freshman playing at Duke. "It feels great."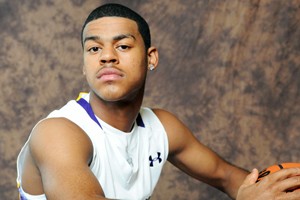 Kelly Kline/ESPNHSQuinn Cook says he's 100 percent after a year of playing on an injured knee.
The immediate "head-scratch" reaction would come from the fact that, despite playing his entire senior season with torn ligaments in his right knee, Cook managed to average 21 points and 11 assists to lead the Warriors, who finished ranked No. 7 in the
POWERADE Fab 50
.
Cook averaged 28 points per game in the ESPNHS National High School Invitational in April but fell in the championship game to Montrose Christian (Rockville, Md.), 71-64, in a
double-overtime thriller
.
The lingering injury left Cook sidelined for Duke's trip to China and Dubai in August, but for Cook it's all about what's ahead.
"I'm happy to be healthy now," Cook said. "I'm ready to go."
Don't forget to follow Jason Jordan on Twitter:
@JayJayESPN
September, 8, 2011
9/08/11
11:40
PM ET
By
Jason Jordan
| ESPN.com
From A-List star power to rim-rocking dunks to sick crossover dribbles the 2011
Boost Mobile Elite 24
had all the makings of an instant classic.
Check out the video to relive some of the exceptional highlights.
September, 2, 2011
9/02/11
2:59
PM ET
By
Jason Jordan
| ESPN.com
Aquille Carr
didn't think it could get any better.
Here he was walking around the blacktop at Venice Beach tossing the gold basketball he'd just been awarded as
MVP of the Boost Mobile Elite 24
, after dropping 21 points, 10 rebounds and seven assists, as his
Raymond Lewis
squad fell to the
Marques Johnson
squad, 142-132.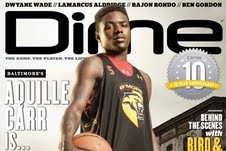 Courtesy of Dime Magazine/OtherAquille Carr's legend will only grow with him donning the cover of a national magazine.
Seemingly every other step he's being hounded either by a reporter who "just needs a few minutes" or a fan who wants an autograph or a picture with the kid whose on-court alias is "The Crime Stopper."
It's said that when Carr, a junior point guard at Patterson (Baltimore, Md.), is playing back home the crime rate drops because people are too entranced with his skills to be up to no good.
"Winning MVP at the Elite 24 was just so crazy," Carr said. "I had so much fun out there. I just didn't think it could get any better than that."
That was until Carr learned he'd grace the cover of
Dime Magazine
, a national basketball publication which has only featured high school players alone on its cover four times --
Dwight Howard, O.J. Mayo, Tyreke Evans
and
Lance Stephenson
.
"To be in that kind of company is really big for me," Carr said. "I just feel like there's no turning back now. I've got to work even harder to get to where those guys are at."
Don't forget to follow Jason Jordan on Twitter: @JayJayESPN