High-SchoolBoys-Basketball:

Michael Frazier
March, 31, 2012
3/31/12
6:05
PM ET
By
Ronnie Flores
| ESPN.com
BETHESDA, Md. -- It was a special moment for tournament MVP
Anthony Bennett
of Findlay Prep (Henderson, Nev.). Not many of the national television audience realize the No. 7 player in the
ESPNU 100
played only 10 games for the Pilots heading into the NHSI and missed the majority of their big wins this season.
With all the setbacks Bennett has endured over the past two seasons, he was relieved to finally lead Findlay Prep to an NHSI title by averaging 15.7 points and 8.7 rebounds in the Pilots' three victories here.
As a sophomore, he was a member of the Mountain State Academy (Beckley, W.Va.) team that lost to Findlay Prep 68-53 in the semifinals. He scored 10 points in 22 minutes in that loss and netted 12 points in 29 minutes for Findlay Prep in its quarterfinal loss to Dwyer (Pompano Beach, Fla.) last season.
"This is the farthest I came in this tournament," said Bennett, one of five Pilots in double figures with 13 points to go with a game-high 9 rebounds in the championship-game comeback win over Montverde Academy (Montverde, Fla.).
"Coming in, I really wanted to win it this year," Bennett said.
The unsigned Bennett, who lists Washington, Oregon, UNLV, Kentucky and Florida as his college finalists, missed nearly half of his junior season at Findlay. His back injury flared up again at the beginning of this season. His hamstring injury lingered all season long and he was relieved to be healthy for the NHSI.
He's crossing his fingers about next season.
"Hopefully that doesn't happen in college," Bennett said. "Hopefully my college trainer will take care of me."
Now The Fun Part
The final
POWERADE FAB 50
national rankings, which will be released on April 2, will have some shuffling based on the results of this year's NHSI. With No. 12 Montverde Academy giving up an 18-point lead and losing to No. 2 Findlay Prep, there will be a spirited No. 1 versus No. 2 rankings debate between No. 1 Oak Hill Academy (Mouth of Wilson, Va.) and the Pilots.
The big question is if one-loss Findlay has done enough to overcome 44-0 Oak Hill. On paper, the Pilots have a strong enough résumé to be ranked No. 1 in the country.
They own wins over No. 5 Marcus (Flower Mound, Texas), No. 6 Simeon (Chicago) and No. 11 Bishop Gorman (Las Vegas). For the past few seasons, most of those big wins came on the road and this season was no exception.
Ironically, this game had the same feel as Findlay's only loss this season -- a one-point setback to No. 23 La Lumiere (La Porte, Ind.) on Dec. 29 at the Mike Miller Classic in Sioux Falls, S.D. The Pilots trailed in that game by the same margin as they did to Montverde, but the difference was at the NHSI they were able to complete the comeback win.
"At halftime, I told the guys 'Here we go again, December 29, La Lumiere,'" Findlay Prep coach Michael Peck said. "I pulled out all the different motivation factors. At first I really got into them, then I tried to be calm and use logic."
Peck's tactics worked against Montverde, but the La Lumiere loss is still a part of the equation when it comes to the final FAB 50 rankings. Another key part of the equation is the common opponent factor, which has always been an important aspect of the FAB 50. Oak Hill Academy defeated the same La Lumiere team by 18 points and owns five wins over opponents currently ranked in the FAB 50.
Another smaller factor which will be used in the final analysis is the fact La Lumiere lost in the quarterfinals of the NHSI to Montverde. The Lakers didn't look overly impressive in the 62-54 defeat. Findlay has to be thrilled about its comeback win over Montverde, but had La Lumiere advanced to the NHSI finals, an avenging win would have been sweeter from a rankings perspective.
No Oak Hill, No Problem
After knocking off No. 12 Montverde in the NHSI title game, the popular question for No. 2 Findlay was whether the win meant as much despite not coming against No. 1 Oak Hill Academy.
The Warriors opted not to compete in the NHSI for the first time since its inception in 2009. Oak Hill, which finished the season 44-0, traveled to China from March 7 to 19 to play nine games against international competition. The Warriors went on spring break when they got back, according to coach Steve Smith.
Findlay finished 32-1.
"All we could control was playing these games and winning these games,"
Nigel Williams-Goss
said. "Whatever happens on Monday with the rankings happens. We're just happy about this win."
Added Peck: "That's something we can't control. All we could do is control us. Steve [Smith] has his reasons and that's his decision. We were focused on us."
2012 ESPNHS NHSI All-Tournament
Anthony Bennett
, Findlay Prep (MVP)
Brandon Ashley
, Findlay Prep
Kasey Hill
, Montverde Academy
Michael Carrera
, Montrose Christian
Melvin Johnson
, St. Benedict's
Jason Jordan contributed to this report.
March, 30, 2012
3/30/12
2:51
PM ET
By
Jason Jordan
| ESPN.com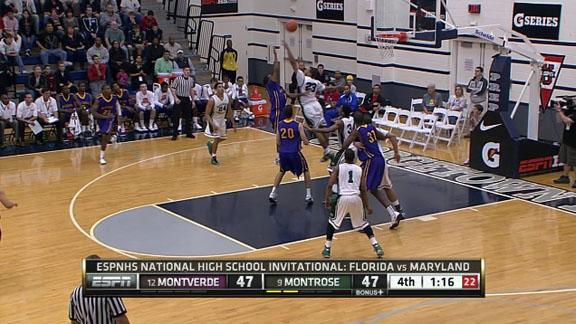 BETHESDA, Md. -- Instant analysis from No. 3 seed Montverde's (Fla.) 50-47 win over No. 2 seed Montrose Christian (Rockville, Md.) in the semifinals of the ESPNHS National High School Invitational at Georgetown Prep on Friday:
Overview:
The Eagles, who are ranked No. 12 in the
POWERADE FAB 50
, had to adjust to Montrose's frantic defensive pressure, but when they figured it out, they made the Mustangs pay by moving the ball around and finding the open man.
Michael Frazier
knocked down two threes to ignite an early 8-0 run and put the Eagles ahead after falling behind 4-0. Still, neither team could do much to separate itself in the first half. It wasn't until the third quarter that the Eagles' duo of Frazier and
Kasey Hill
, who led the Eagles with 20 points, started to really expose Montrose's overzealous defensive scheme. That led to a 12-point Montverde lead headed into the fourth. The Mustangs, who are ranked No. 9 in the FAB 50, stormed back in the fourth quarter and took their first lead, 41-40, with 2:11 left in regulation on
Michael Carrera's
putback layup. Down the stretch, Hill came up with big buckets to give the Eagles a cushion. Mustangs forward
Justin Anderson's
halfcourt heave at the buzzer missed off the back of the rim and the Eagles marched on. Montrose won the ESPNHS NHSI last year, a double-overtime thriller over Oak Hill Academy (Mouth of Wilson, Va.).
"They just couldn't score in the halfcourt set," said Montverde coach
Kevin Boyle
said. "They had one basket in the halfcourt in the first half. We just really tightened up defensively and got a big win over a great team."
Turning Point:
After the Mustangs opened the fourth quarter on a 14-2 run and eventually took the lead, Hill responded by scoring six of the Eagles' final 10 points to seal the win.
"I wasn't gonna lose the game," said Hill, a Florida commit. "I knew that I could get to the rim when I wanted to, and I would have to step up and make plays. I didn't want to let my team down."
Key Player:
Anderson, the No. 55 player in the
ESPNU 100
, had one of his worst statistical games of the season, shooting just 1 of 14 from the field and finishing with just three points. He was scoreless in the first half, and scored his only field goal on a breakaway layup with 5:14 left in the third quarter.
"It happens as a ballplayer," said Anderson, a Virginia signee. "Sometimes you have bad games. This was just a bad game for me."
Added Boyle: "Kasey did a terrific job guarding Justin. He forced him into tough shots all day and when he drove he had to shoot over our big guys. Kasey's impact defensively was huge."
Key Stat:
The Mustangs shot 7 of 16 from the 3-point line in their quarterfinal win over Ravenscroft (Raleigh, N.C.). But in the loss to Montverde, Montrose missed all seven of its attempts from downtown.
"We did a great job of getting our hands up on their shot attempts," Boyle said. "I don't think they had a clean look all day, and that's a credit to the kids and their defensive pressure."
Up Next:
The Eagles will face No. 1 seed Findlay Prep (Henderson, Nev.) in the title game Saturday (2 p.m. ET on ESPN). Findlay Prep is ranked No. 2 in the POWERADE FAB 50. Montverde Academy is ranked No. 12.
Jason Jordan is the basketball editor for ESPNHS. He can be reached at
jason.x.jordan.-ND@espn.com
. Don't forget to follow him on Twitter:
@JayJayESPN
.
March, 29, 2012
3/29/12
5:19
PM ET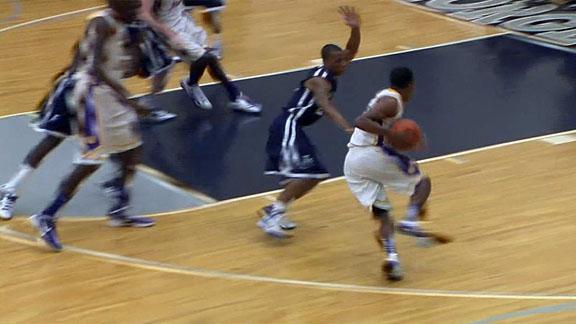 BETHESDA, Md. -- Instant analysis from No. 3 seed Montverde Academy's (Montverde, Fla.) 62-54 win over No. 5 La Lumiere (La Porte, Ind.) in the quarterfinals of the National High School Invitational at Georgetown Prep Thursday:
Overview:
If you like defense, this was the game for you. Montverde Academy used a pressure, trapping D to force La Lumiere into 19 turnovers en route to a 62-54 win in the opening game of the ESPNHS National High School Invitational.
Montverde, No. 12 in the
POWERADE FAB 50
, didn't need much offense to win this one, but most of the Eagles' scoring came from the backcourt of senior
Michael Frazier
and junior
Kasey Hill
. The duo combined for 35 points and consistently came up with big plays whenever La Lumiere threatened.
On the other end, Montverde's defensive performance was staggering. The Eagles held La Lumiere to 32.3 percent shooting from the field and totally shut down the Lakers' top offensive players. La Lumiere scored just six points in the first quarter and never recovered.
Turning Point:
La Lumiere came into the NHSI ranked No. 23 in the POWERADE FAB 50 thanks in large part to the frontcourt of senior forwards
Rapheal Davis
,
Hanner Perea
and
Jay Simpson
. But that trio was almost completely neutralized by Montverde, combining for just 35 points (on 32 shots). Davis and Perea averaged 36.5 combined during the regular season.
Montverde senior forwards
Michel Enanga
,
Landry Nnoko
and
Patricio Garino
were dominant on defense. Enanga grabbed 15 rebounds, Nnoko blocked three shots and Garino played solid man-to-man defense on Davis. They set the tone from the opening tip and La Lumiere was never able to effectively run its offense.
"That was absolutely the difference in the game — they took us out of everything we wanted to do," said La Lumiere coach Alan Huss. "Nnoko is the key to the whole thing. He's back there protecting the rim, and even when we were able to beat the press we had trouble finishing."
Key Players:
Florida Gators fans are probably still numb after their loss in the Elite 8, but the performances of Florida recruits Michael Frazier and Kasey Hill must have made them feel a bit better. Hill, a junior point guard, scored a game-high 19 points, while Frazier, a senior shooting guard, tallied 15.
Hill shot just 6-of-21 from the floor, but he put in work at the free-throw line, hitting seven of his eight attempts. Frazier shot 5-of-14 from the field and added seven rebounds while playing tough defense.
"I just tried to play hard," said Frazier. "My shot wasn't falling, so I tried to contribute in other ways."
Key Stat:
Montverde Academy coach Kevin Boyle recognized that La Lumiere was lacking in quality ball-handlers, so he applied a pressure defense from the opening tip. The result was 19 turnovers for La Lumiere, which led to 15 points for MVA.
"Whenever they got close, we were able to force a couple turnovers and get easy baskets," said Boyle."
Up Next:
Montverde Academy will take on the winner of the Ravenscroft-Montrose Christian game. Boyle is hoping for a better performance from Frazier, who was unable to practice for more than three weeks before Thursday's game because of an illness.
"He missed some shots that he normally makes," said Boyle of his leading scorer. "If he makes those, this is a completely different game. Hopefully he knocked the rust off and we get his normal results tomorrow."