High-SchoolBoys-Basketball:

Mike Grimala
June, 19, 2012
6/19/12
11:58
AM ET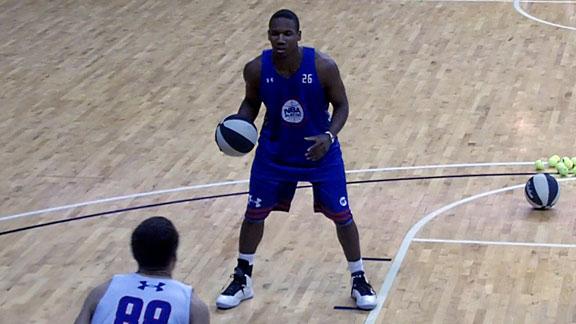 Wayne Selden
recently
reclassified
from the Class of 2014 to the Class of 2013, but that doesn't mean the Tilton School (Tilton, N.H.) shooting guard is in a hurry.
A week after starting the process of joining the senior class of 2013, Selden's college recruitment is still wide open.
"I'm still weighing my options," Selden said. "Nothing is close to definite yet."
An athletic 6-foot-5 slasher, Selden is ranked No. 20 in the
ESPN 100
, and he has no shortage of early suitors.
He lists Florida, UCLA, Missouri, Kentucky and Ohio State among the schools that have been recruiting him hardest so far, but he's not close to trimming them to a final list.
"I'm going to form a list by the end of the summer," he said. "Those schools are recruiting me hard, but I want to look at everything."
Selden says he's putting an emphasis on the programs and coaches that would best foster his game.
"Whether it's a run-and-gun or a slower pace, I want to be able to develop in the system," Selden said.
Follow Mike Grimala on Twitter (@MGrimalaESPN).
June, 18, 2012
6/18/12
2:39
PM ET
Jahlil Okafor
is in the middle of the busiest summer of his life. In addition to criss-crossing the country while playing for one of the nation's
elite AAU teams
, he's currently in Colorado trying out for the USA Basketball U17 National Team.
With such a stuffed schedule, it's understandable that Okafor is putting his college plans on the back burner for now.
"I'm just listening to everyone," said Okafor. "There's a lot of other things going on right now, so I'm taking my time. I haven't cut down my list yet."
The Class of 2014 center is in high demand. Ranked No. 2 in the
ESPN 60
, Okafor has the size, the hands and the footwork to be a dominant big man, and his gift for scoring in the post is rare for a player his age. He'll find out on Tuesday whether he makes the final cut for the U17 team, but you have to like his chances.
Last year, the 6-foot-9 Okafor played for the U16 team and averaged 14.6 points and 9.2 rebounds during the 2011 FIBA Americas Championships, shooting an incredible 71 percent from the field to help Team USA win gold.
The leading scorer on that U16 squad was fellow Chicago native
Jabari Parker
, the No. 1 player in the Class of 2013 and the reigning
Gatorade National Player of the Year
. Okafor and Parker both play for the same AAU team, and they'll both likely make the final cut for the U17 team.
Okafor says he talks recruiting with Parker, who can relate to being a top uncommitted prospect. Parker has said he will decide on a college before the start of his senior season.
"Jabari gives me advice," said Okafor. "He tells me what to expect, just the things that he's going through now and how it's going to be for me."
Okafor is still in the early stages of his decision process, but there are a few things he's looking for as he zeroes in on prospective colleges.
"I definitely want to play for a school that throws the ball in the post," he said. "I like playing in the post, so a system that plays to my strengths is important. My decision will also involve the players around me. I want good players around me, because it's all about winning."
Okafor already has offers from schools like Duke, North Carolina, Ohio State, Michigan State, Illinois, Arizona and UConn.
June, 8, 2012
6/08/12
10:42
AM ET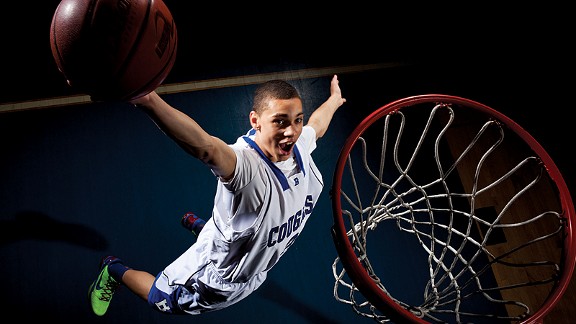 Rick DahmsZach LaVine could continue to climb the rankings with a good performance at the NBPA Top 100 camp.
The roster for the National Basketball Players Association Top 100 camp (June 14-16) was announced, and it left us with several questions. ESPNHS basketball editors Mike Grimala and David Auguste break down the Top 100 roster below. See the
complete roster here
.
True or False: The NBPA Top 100 is the most important skills camp of the summer.
Grimala:
TRUE. I believe that for a lot of players, this is the biggest event on their calendar because of three letters -- NBA. Every single kid there wants to play in the league someday, and for now this is basically as close as they can get, as they'll be receiving instruction and counseling from the pros.
Auguste:
TRUE. Despite the field being somewhat watered down due to USA Basketball tryouts and other scheduling conflicts, this camp remains the preeminent event of the summer. No disrespect to any other skills camp, but there's something to be said about the unique opportunity to learn about the on-court work needed to get to the league from guys who have previously embarked on that journey.
True or False: Someone's stock will skyrocket after their performance at the Top 100.
Grimala:
TRUE. A number of players have already made their move up the rankings so far this summer, and nothing boosts your stock like playing well against other elite guys. I could envision someone like
Zak Irvin
or
Kuran Iverson
playing lights out at the Top 100 camp and climbing up the rankings because of it.
Auguste:
TRUE. There's no easier way to prove you're a top 100 player than holding your own against other elite ballers. No question. Look for
Zach LaVine
, whose stock is high coming off his performance at the
Pangos All-American Camp
, along with fringe top 50 guys like
Billy Garrett, Jr.
,
Nigel Williams-Goss
and
Rashad Vaughn
to ascend with a strong effort at UVA.
True or False: Julius Randle is the non-invitee you would've most liked to see on the roster.
Grimala:
FALSE. Randle is great -- he's No. 2 in the
ESPN 100
for a reason -- but I think we know what he is at this point. It would have been more exciting to see
Andrew Wiggins
at the camp. Wiggins is No. 1 in the
Class of 2014
, and he's probably the most electrifying player in the country. His ceiling is higher than anyone else's, and I would have like to see him competing against the best at the Top 100 camp.
Auguste:
TRUE. Come on, Mike. Why wouldn't you want to see the big Texan try to wrestle away the No. 1 spot from Simeon's
Jabari Parker
. Like the saying goes: to be the best, you have to beat the best. With Randle not in attendance, us hoop fans could again be denied a chance to see the game's top two stars go head-to-head (come on, LeBron).
True or False: Troy Williams, who plummeted to No. 42, has the most to prove at NBPA Top 100.
Grimala:
TRUE. Williams' recent drop in the rankings (from the fringe of the Top 10 down to No. 42) has been rough, and this will be his first chance to bounce back. If Williams shows out at Top 100, he could start moving back up; if he doesn't perform as well as expected, his slide could continue.
Auguste:
FALSE.
Bobby Portis
made a huge vault in the latest rankings and has emerged as the new it guy in the senior class. So like he
told ESPNHS last week
, other players will now be looking to outperform him. Expect lower ranked players to affix a target on Portis' back throughout the event to see if he's really the 12
th
-best player in the country.
May, 25, 2012
5/25/12
10:20
AM ET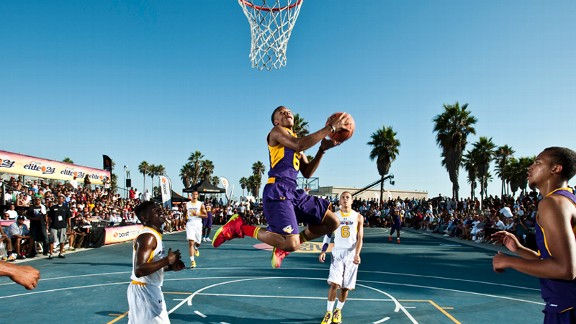 Kelly KlineNot only is Nate Britt the GM of his squad, the UNC pledge is also the starting point guard.
How would you construct the ultimate high school hoops powerhouse?
Do you begin with a high-scoring wing or grab one of the premier big men to run the offense through? Do you roll with a pass-first point guard or hand the reins over to a scoring floor general in the mold of a Russell Westbrook? Do you value a lockdown perimeter defender over a shot-erasing post?
After yesterday's new player rankings for the
Class of 2013
and
2014
were released, the ESPNHS hoops staff, with an assist from recruiting gurus Dave Telep and Paul Biancardi and highly touted rising senior guards Tyler Ennis of St. Benedict's (Newark, N.J.) and Nate Britt III of Gonzaga (Washington, D.C.), set out to answer these questions via our hoops mock draft. The rules are simple: each GM selected a starting 5 and one reserve from the rising senior and junior classes.
Take a look at how the draft played out and let us know which squad would have the best shot at winning a national title below.
Team Britt
(
@NateTheeeGreat
)
G —
Nate Britt
, Gonzaga (Washington, D.C.)
G —
Aaron Harrison
, Travis (Houston)
F —
Andrew Wiggins
, Huntington Prep, (Huntington, W.V.)
F —
Noah Vonleh
, New Hampton School (Haverhill, Mass.)
C —
Kennedy Meeks
, West Charlotte (Charlotte, N.C.)
Sixth Man —
Allerik Freeman
, Findlay Prep (Henderson, Nev.)
GM's Breakdown:
We would play an uptempo game, UNC style. We got Meeks inside; he's one of the best rebounders and outlet men in the country. He'll outlet to me and Aaron, and we can get it to Andrew and Noah. Freeman is a knock down 3-point shooter. Aaron and I like to get to the basket and Andrew can get to the basket whenever he wants.
SportsCenter
plays? Yes. All type of dunks, especially with Andrew. On D, our starting 5 is a big lineup. Meeks is a big body and can block shots. Noah is versatile and can guard 4s and 5s and Andrew is athletic. Aaron is a big 2, and I think I'm a pretty good on-ball defender.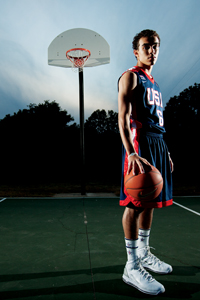 Carlos GonzalezTyus Jones is the No. 2 recruit in the Class of 2014, but should continue to battle for the top spot.
Telep's Team Touchscreen
(
@DaveTelep
)
G —
Tyus Jones
, Apple Valley (Minn.)
G —
Emmanuel Mudiay
, Grace Prep (Arlington, Texas)
F —
Jabari Parker
, Simeon (Chicago)
F —
Bobby Portis
, Hall (Little Rock, Ark.)
C —
Dakari Johnson
, Montverde Academy (Montverde, Fla.)
Sixth man —
Nick Emery
, Lone Peak (Highland, Utah)
GM's Brakdown:
Now I know what the Cowboys felt like when they pulled off the Herschel Walker deal and robbed the Minnesota Vikings. There's a certain euphoria that comes with the turf when you pull off a heist of this magnitude. Ask Fran Fraschilla. Ask Chad Ford. I'm trying to get Jay Bilas to NOT tweet about my team but they all know: it's the real deal! Let me tell you about these Punishers. All Parker does is win championships. USA Basketball's Player of the Year and the Gatorade POY with the second pick? Then the best point guard in HS basketball, Tyus Jones, was still on the board at No. 11. My counterparts were asleep at the wheel while this juggernaut was being put together. Mudiay, Portis and Johnson round out my five. The Jones-to-Parker hookup is at least Stockton and Malone-esque. Those guys are great players, big time talents. However, when it came time to take a sixth man, there was no way Emery wasn't getting the call. Junior Jimmer is my Vinnie Johnson (for you under-30 kids that's "The Microwave," a huge scorer and sixth man from the Pistons title teams).
Auguste's Team Ball So Hard
(
@DAugusteESPN
)
G —
Andrew Harrison
, Travis (Houston)
G —
Matt Jones
, DeSoto (Texas)
F —
Brannen Greene
, Tift County (Tifton, Ga.)
F —
Jimmie Taylor
, Greensboro (Ala.)
C —
Trayvon Reed
, Shiloh (Snellville, Ga.)
Sixth Man —
Troy Williams
, Oak Hill Academy (Mouth of Wilson, Va.)
GM's Breakdown
: Great teams feature great play in the backcourt, and my squad features a four-guard rotation blessed with height, instincts, length and crazy scoring abilities. I'd like to see how many of these guy's 6-foot-1 point guards will be able to defend 6-foot-5 Harrison without bringing some help. And once they get sick of being abused by Andrew (and trust me, that will be the case), they'll have to bring an extra man. That's fine. Because my boy can dish the rock to prolific wing scorers in Greene and Williams, and to the best sniper in the nation (hands down) in Jones aka Jesus Shuttlesworth 2.0. My bigs may not be as heralded as say a Dakari Johnson or an Aaron Gordon, but they're both athletic, versatile guys who run the floor and board in addition to blocking shots. And I haven't even mentioned bringing in a near-20-point scorer off the bench. Now tell me, who wants to test this squad?
Grimala's Team Lottery
(
@MGrimalaESPN
)
G —
Billy Garrett, Jr.
, Morgan Park (Chicago)
G —
Jabari Bird
, Salesian (Richmond, Calif.)
F —
Trey Lyles
, Arsenal Tech (Indianapolis)
F —
Aaron Gordon
, Archbishop Mitty (San Jose)
C —
Jahlil Okafor
, Whitney Young (Chicago)
Sixth Man —
Wayne Selden
, Tilton (Tilton, N.H.)
GM's Breakdown:
I've put together the biggest, baddest team in this competition. I've got the best big man in Okafor, a stud power forward in Lyles and a super-sized SF in Gordon. That trio will pulverize opponents on the boards, and my backcourt of 6-foot-5 Garrett and 6-foot-6 Bird can bang, too. Throw in swingman Selden as my James Harden off the bench, and we can play big or small. If we slow it down, we can throw it to Okafor, the best low-post scorer in the country. If we get out on the break, I have two of the country's best above-the-rim finishers in Gordon and Bird. I may not have elite shooters on the perimeter, but with Okafor, Lyles and Gordon under the basket, I almost WANT my guards to miss shots -- those misses become easy putbacks for the best frontcourt in the nation. My team of grinders wouldn't win pretty, but we'd win -- against anyone.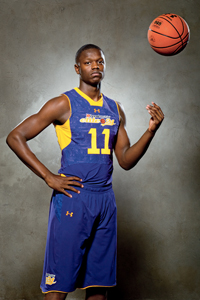 Kelly KlineJulius Randle showed out in the playoffs last week, erupting for 35 points.
Ennis' Team Canada
(
@tdot_ennis
)
G —
Tyler Ennis
, St. Benedict's Prep (Newark, N.J.)
G —
James Young
, Troy (Troy, Mich.)
F —
Rondae Jefferson
, Chester (Chester, Penn.)
F —
Julius Randle
, Prestonwood Christian Academy (Dallas)
C —
BeeJay Anya
, DeMatha (Hyattsville, Md.)
Sixth Man —
Stanley Johnson
, Mater Dei (Santa Ana, Calif.)
GM's breakdown
: We would probably go with the run-and-gun. Everyone is athletic and everybody will like to run. They can all score. On D, I think we'll be able to guard anyone. If not, we'll go zone since everyone is tall and long. Our length will be crazy. James Young would be our best shooter and Stanley is solid off the bench because he can score, rebound and do the little things. We would have all the pieces: shooting, rebounding and leadership. We would finish No. 1, for sure.
Coach B's Team
(
@PaulBiancardi
)
G —
Kasey Hill
, Montverde Academy (Montverde, Fla.)
G —
Justin Jackson
, Home-schooled (Houston)
F —
Isaiah Hicks
, Webb (Oxford, N.C.)
F —
Chris Walker
, Holmes County (Bonifay, Fla.)
C —
Moses Kingsley
, New Albany (Miss.)
Sixth Man —
Keith Frazier
, Kimball (Dallas)
GM's Breakdown:
The most important position on the floor is the point, and with Hill, we may have one of the best in high school. We will utilize him as the primary ball handler with the green light to break off any set play. The strength of our team is our pure shooters (Frazier and Jackson), who we can put on the floor and stretch out any defense. We plan on pushing it hard with Hill and letting our shooters spot up in various spots. In the half court, we will run various types of pick and roll/pop action as well as some set plays. Look for us to utilize our shooters in off-ball screening action (down screens, flare screens and back screens) to create open looks. Our bigs can take opposing bigs off the bounce or facing up at the mid-post area. Defensively, we must speed up the game with some trapping, and because we are not overly big, use some zone in the half court.