High-SchoolBoys-Basketball:

Montrezl Harrell
May, 29, 2012
5/29/12
8:01
AM ET
By
Jason Jordan
| ESPN.com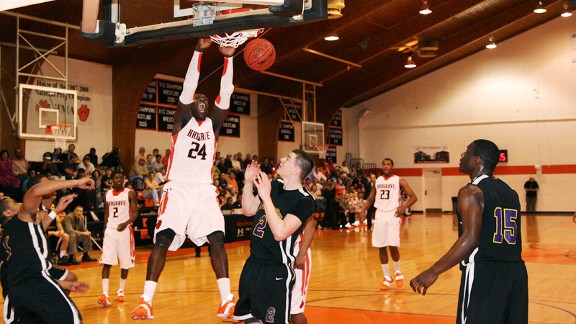 Courtesy of William WiebkingAfter being released from his commitment to Virginia Tech, senior Montrezl Harrell is starting the recruiting process from square one. Now Louisville, Kentucky, Florida, Alabama and more are calling.
TARBORO, N.C. --
Montrezl Harrell
has truly arrived.
He leans back in the tan metal chair inside the vacant lobby at North Edgecombe High School, interlocks his fingers behind his head, crosses his legs and smiles.
Perhaps it's fitting that he's lounging in the school where he dominated for three years in front of fans who never quite understood why he wasn't getting much national hype because now the hype machine is about to overheat.
"I've always felt like I was underrated," said Harrell, a 6-foot-8 forward who recently finished his senior year at Hargrave Military Academy (Chatham, Va.). "So it feels good to be getting all of this attention now even if it's because of things I had no control over. I'm starting all over with my recruitment, and this is a different level, but I like it."
Harrell, who is ranked No. 89 in the
class of 2012 ESPN 100
, originally committed to Virginia Tech last March, and was the prize of the Hokies' 2012 haul -- a relentless workhorse who earned a reputation for his versatility and power dunks.
In February, Harrell threw down 18 dunks in a 122-119 overtime win over Fishburne Military School (Waynesboro, Va.). He finished with 51 points, 17 rebounds and six blocks.
"I was definitely ready to put that kind of work in at Tech," Harrell said. "I liked it there so much I committed without ever going on an official visit anywhere. I loved Tech."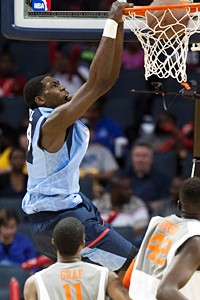 Cal Sport Media via AP ImagesMontrezl Harrell earned MVP honors at the 2012 Jordan Brand Classic Regional Game in Charlotte, N.C. in April.
That all changed on April 23 when Virginia Tech fired its head coach Seth Greenberg, who, Harrell said, was the main reason he picked Tech.
"Montrezl got really close to Coach Greenberg," Harrell's father Samuel Harrell said. "So when he was gone, Montrezl knew right away that he wanted to open things back up."
Harrell eventually received a release from his scholarship on May 16, which green-lit calls from Louisville, Kentucky, Florida, Alabama, LSU, South Carolina, Xavier, Cincinnati, Auburn, Illinois and Baylor. North Carolina State also expressed interest in Harrell, but due to ACC rules, Harrell would have to sit out one year if he chose to transfer within the conference, unless he's granted a waiver.
"I was definitely interested in State, but I don't want to sit a year," Harrell said. "I've got a lot of big time schools recruiting me now. It's another level."
Still, don't get him wrong; Harrell is fully aware that he's reaping the rewards of the recruiting dust settling.
"Some schools didn't get the guys they wanted and now here I am," Harrell said. "Now they want me. I know that. It definitely doesn't bother me because I'm a confident player. Honestly, I kind of look at it like it's about time."
That's the best approach, according to ESPN.com recruiting analyst
Paul Biancardi
.
"There's a reason that he's in this position," Biancardi said. "When that kind of size and skill is on the board at this stage of the game you've got to have it. True, some teams didn't get their guy, but he shouldn't be concerned with why he's getting the attention now. It's here and he earned it, but he can't let the attention get to him."
Nerlens Noel
concurred, and he would know.
As the top player in the ESPN 100, Noel received the recruiting process's star treatment from some of the same schools before picking Kentucky.
"It can be stressful if you let it," said Noel, a senior center at Tilton (N.H.). "Montrezl just has to do what's right for him. Of course I think that's Kentucky, but no pressure. When you're getting this kind of attention it's just a different level."
Harrell certainly put up high-level numbers to validate the attention.
He averaged 28 points, 13 rebounds and three blocks for Hargrave, whose only loss came to Brewster Academy (Wolfeboro, N.H.), 87-76, in the
National Prep Championship
on March 7. In two postseason games – the Jordan Brand Regional and Capital Classic -- Harrell averaged 23 points, 10 rebounds and six blocks per game. He took home MVP honors in both.
"I worked hard this year," Harrell said. "I feel like all this is just a sign that's it's paid off. It's weird having to go through the process all over again. I definitely learned a lesson though, and that's to hear everyone out. I'm sticking to that plan."
The short-term plan is to take three visits, the first of which will be to Louisville from May 31-June 2. Harrell has yet to decide which of the other schools will get the last two visits.
"I'll decide that in the next week or so," Harrell said. "But, like I said, I definitely want to go through the process because I didn't do that last time. So nothing's gonna stop me from doing that."
Not even if Florida's Billy Donovan will be his coach at the Team USA U18 National Team training camp in Colorado Springs, Colo., from June 5-12.
"I guess that could be a little awkward since he's recruiting me now," Harrell said of Donovan. "But I'll be OK. I'll just be down there ready to learn. He's a great coach. I'm not gonna let anything be stressful about my second recruitment. I'm in the position that I worked hard to be in. I'm happy even if I think the schools caught on late."
Better late than never.
April, 24, 2012
4/24/12
3:55
PM ET
By
Jason Jordan & Ronnie Flores
| ESPN.com
After the first session of the prestigious Nike Elite Youth Basketball League last weekend, only six teams left Minneapolis, Minn., with unblemished records. Houston Hoops, Oakland Soldiers (Calif.), CIA Bounce (Can.), E1T1 (Fla.), California Supreme and Albany City Rocks (N.Y.) all went 4-0, and will head to Hampton, Va., this weekend for session two.
"To come out 4-0 is big time," CIA Bounce coach Mike George said. "Guys picked up right where they left off. Our goal for this year is just to take it one game and one play at a time."
Rams Run Vegas
The Florida Rams took home the adidas VIP Exclusive Run 17U title in Las Vegas on April 22 with a 77-64 win over the Garner Road Bulldogs (N.C.).
Kasey Hill
, a point guard at Montverde (Montverde, Fla.), was named MVP after dropping 16 points and dishing out eight assists in the win.
Chris Walker
, a forward at Holmes County (Bonifay, Fla.), scored 12 points and grabbed 12 rebounds and
Brannen Greene
, a shooting guard at Mary Persons (Forsyth, Ga.), added 17 points for the Rams.
Walker won the highly-anticipated individual matchup with North Carolina bound forward
Isaiah Hicks
of J.F Webb (Oxford, N.C.) by beating him on the glass, creating space in the paint and making an impact the entire contest. Hicks finished with eight points in the championship game.
Anton Gill
, a junior shooting guard at Ravenscroft (Raleigh, N.C.), led Garner Road with 17 points.
The Florida Rams also captured the 16U title with a 64-56 victory over Indiana Elite. MVP Lance Tejada of Miramar (Miramar, Fla.) finished with 16 points. The victors also got a 17-point performance from 6-foot-4
Adonys Henriquez
of Orlando Christian Prep (Orlando, Fla.).
Edwards Shines in 15s
One of the players who made the biggest impression on scouts and college coaches last weekend in Vegas was
Hyron Edwards
of Central (East Chicago, Ind.). He led the Indiana Elite to a 86-76 victory over Dream Vision (Calif.) in the adidas VIP Exclusive Run 15U title game. The 5-foot-10 freshman impressed with his feel for the game, ability as a passer and knack for making the correct play after driving the lane. Edwards, who reportedly holds offers from Indiana and Purdue, finished with a game-high 30 points.
Leading the way for Dream Vision with 22 points was 6-foot-2 freshman Stephen Thompson Jr. of Bishop Montgomery (Torrance, Calif.). He's the son of former NBA player, Syracuse star, and Crenshaw (Los Angeles) standout Stephen Thompson, who Slam Magazine named one of the 50 best dunkers of all-time in 1999. Son doesn't quite have the bounce of his father, but his shooting stroke is much more promising.
Another freshman (2015) who impressed was
Tyler Dorsey
, a 6-foot-4 combo guard at Ribet Academy (Los Angeles). Dorsey played up with Belmont Shore (Calif.) in the 17U Invitational Division at the Pangos Spring Spectacular. Belmont Shore was one of the favorites to capture the 17U title, but they were beaten by Play Hard Play Smart Elite (Calif.) in the semifinals, 84-78. That team went on to defeat the Danny Granger D1 Ambassadors Elite (N.M.) in the championship game, 94-76.
Dorsey told ESPNHS he'll likely head to another school for his sophomore season. His coach at Ribet Academy last season, William Middlebrooks, is now the coach at Cathedral (Los Angeles).
Harrell Leads U.S. to Win

Hargrave Military Academy (Chatham, Va.) forward
Montrezl Harrell
scored 24 points and snatched 12 rebounds to lead the U.S. All-Stars past the Capital All-Stars 105-93 in the Capital Classic April 21 at T.C. Williams (Alexandria, Va.).
Montrose Christian (Rockville, Md.) swingman
Justin Anderson
scored 17 points for the Capital All-Stars.
"It was a great honor for me to win MVP in that game," Harrell said. "There was a lot of talent in that game, but I had a lot of fun just playing. It was a great honor to even have been in the game."
Next year Bob Geoghan, founder of the Capital Classic, will hold the long-running all-star game for the 40th consecutive year.
Jason Jordan is the basketball editor for ESPNHS. He can be reached at
jason.x.jordan.-ND@espn.com
. Don't forget to follow him on Twitter:
@JayJayESPN
.
April, 14, 2012
4/14/12
9:49
PM ET
By
Jason Jordan
| ESPN.com
CHARLOTTE, N.C. -- It didn't really dawn on
Shabazz Muhammad
until he walked into Time Warner Cable Arena in Charlotte, N.C., to play in the Jordan Brand Classic on Saturday, but when he thought about the fact that this was the last time he'd get the chance to lace 'em up as a high schooler, he could think of only one thing.
"It was important for me to finish strong," said Muhammad, a UCLA-bound swingman at Bishop Gorman (Las Vegas). "This was the last time to go out and showcase what you can do with all of your friends, so it was important to finish strong and have fun."
Muhammad had a ball leading the West past the East 99-95. He scored 20 points and grabbed four rebounds en route to claiming the West's MVP trophy.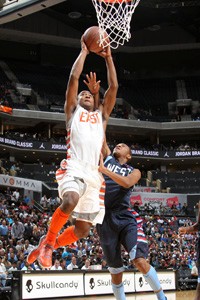 Kelly KlineN.C. State-bound guard Rodney Purvis scored a game-high 22 points to earn co-MVP honors at the Jordan Brand Classic.
Rodney Purvis
, a shooting guard at Upper Room Christian Academy (Raleigh, N.C.), was named MVP for the East after scoring 22 points in the loss.
"We all had a lot of fun this week, but it was definitely important to go out with a strong performance," Purvis said. "You want to set the tone for what you're gonna do next season. Since I was playing in front of my hometown fans from NC State, I wanted to put on a good show."
Noel's Influx Of Followers

So much for the myth that once you commit to a college, you lose Twitter followers due to the fans of the schools you didn't pick clicking the "unfollow" button.
When
Nerlens Noel
, a center at Tilton (Tilton, N.H.), announced Wednesday night on ESPNU that he was going to Kentucky, his Twitter-follower numbers skyrocketed from 23,000 to 38,000 that very night.
As of Saturday, he was up to 44,000 and counting.
"That's the power of Big Blue Nation," said Noel, who suited up for the East. "I knew they would have my back. That's a major reason that I picked Kentucky. You can't find better fans anywhere else on the planet."
Parker Ready To Decide

Looks like we're finally going to find out where
Tony Parker
is headed for college.
Parker, who is considering Duke, Ohio State, Georgia, UCLA, Georgetown, Kansas and Memphis, said he'll make his decision late next week at his school.
"I haven't worked out all of the details yet, but next week is the week," said Parker, a forward at Miller Grove (Lithonia, Ga.) who suited up for the East. "I'm just ready to get it over with. It's been a long process, and I'm ready for it to be over. I'm still weighing things out, but I gave myself 'til next week. That's when it's happening."
Bennett For Three
On April 7, after Team USA battled back from an 18-point deficit, World Select forward
Anthony Bennett
buried a 3-pointer, which was deep by NBA standards, to thwart any chance of a USA win. World Select went on to win 84-75 at the Rose Garden in Portland, Ore.
At practice for the Jordan Brand Classic, Bennett, a senior forward at Findlay Prep (Henderson, Nev.), re-enacted the big shot during water breaks, taunting the eight All-Americans who had suited up for Team USA.
"It was a pretty good shot, huh?" Bennett said. "That thing was pretty!"
None of the other players agreed. Go figure.
Harrell Leads East
Hargrave Military Academy (Chatham, Va.) forward
Montrezl Harrell
scored 22 points and grabbed 12 rebounds to lead the East past the West 84-82 in the Jordan Brand Regional game.
Wesleyan Christian (High Point, N.C.) forward
Montay Brandon
led the West with 12 points, 12 rebounds and four assists.
Jason Jordan is the basketball editor for ESPNHS. He can be reached at
jason.x.jordan.-ND@espn.com
. Don't forget to follow him on Twitter:
@JayJayESPN
.