High-SchoolBoys-Basketball:

Montrose Christian
March, 29, 2012
3/29/12
6:56
PM ET
By
Jason Jordan
| ESPN.com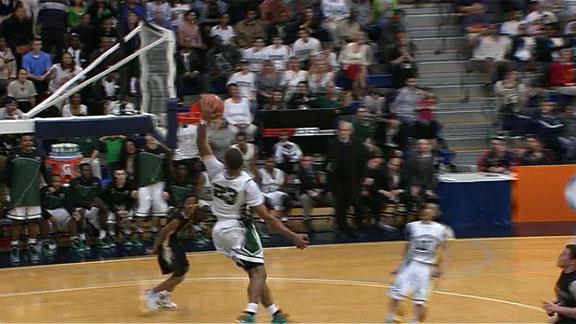 BETHESDA, Md. -- Instant analysis from No. 2 seed Montrose Christian's (Rockville, Md.) 64-48 win over No. 7 seed Ravenscroft (Raleigh, N.C.) in the quarterfinals of the National High School Invitational at Georgetown Prep Thursday:
Overview:
Montrose Christian, ranked No. 9 in the
POWERADE Fab 50
, caught fire early, draining three 3-pointers in the first quarter to claim an early 16-7 lead. Montrose forward
Justin Anderson
had two of his own and ramped up the defensive pressure to help the Mustangs force eight turnovers and keep the Ravens at bay for much of the first half.
Montrose shot 60 percent from the 3-point line in the first half. Then Mustangs went on a 9-0 run midway through the third that devastated Ravenscroft.
The Ravens started forcing tough, contested threes and folding under the Mustangs' intense defensive pressure.
"We had to get our rhythm back because we hadn't played in a long time," said Montrose coach Stu Vetter. "But these guys are strong and they really battled. Our defensive intensity was the difference in the game. We picked up our momentum defensively and that's what got it done."
Turning Point:
Up just 36-32 midway through the third quarter, Montrose forward
Ishmail Wainright
caught Yuri Togashi's missed three off the rim and flushed it with authority, sending the Montrose-heavy crowd into a frenzy. On the next play, the Mustangs forced a turnover and found Anderson in the right corner for the three. Then, after another Ravenscroft turnover, Togashi threw Anderson an alley-oop in transition.
That sequence of events seemed to take the Ravens' heart.
"Their physicality hurt us," Ravenscroft coach Kevin Billerman said. "We'd cut it to four, but then they went on that explosion and that made it really tough for us."
Key Player:
Anderson was a matchup problem for the Ravens all night. When they sagged off he drained threes and when they pushed up on him he drove the lane and made plays. Anderson finished with 21 points, four rebounds and three assists.
"Justin's one of the best players in the country," Vetter said. "I've coached a lot of great players and he's one of the best players I've ever coached. I think a lot of people have overlooked him as far as McDonald's and Jordan All-American games. He's one of the best players in the country without question."
Ravenscroft guard
Anton Gill
drained two 3-pointers in the loss, tying the Ravenscroft record for career 3-pointers at 106, which had been held by Corwin Davis, who starred at Ravenscroft from 1997-2001.
Key Stat:
The Ravens shot just 4 of 21 (19 percent) from the 3-point line in their loss. During the regular season they shot 34 percent and broke a school record for 3-pointers made with 138. The old record was 130.
"We haven't played a game in 32 days," Billerman said. "We've only had seven practices over that time so that's rough. We had good looks, but we just couldn't get them to fall."
Up Next:
The Mustangs will face No. 3 seed Montverde (Fla.) Friday (11:30 a.m. ET on ESPN2) in the semifinals. Montverde, ranked No. 12 in the
POWERADE FAB 50
, knocked off La Lumiere (La Porte, Ind.) 62-54 Thursday in the quarterfinals.
"They're a great team," Wainright said of Montverde. "They really play hard, and I'm looking forward to playing against them."
Jason Jordan is the basketball editor for ESPNHS. He can be reached at
jason.x.jordan.-ND@espn.com
. Don't forget to follow him on Twitter:
@JayJayESPN
.
March, 21, 2012
3/21/12
2:01
PM ET
By
Ronnie Flores
| ESPN.com
ESPNHS has announced the
seedings
for the eight boys' teams that will compete in the fourth annual ESPNHS National High School Invitational.
The year's event, which features six
POWERADE FAB 50
-ranked teams, will be March 29-31 at Georgetown Prep in Bethesda, Md. The championship game is set for 2 p.m. ET March 31 on ESPN.
As expected, two-time NHSI champion
Findlay Prep
(Henderson, Nev.) was awarded the top seed and will face No. 8 seed
Coolidge
(Washington, D.C.) March 29. Coolidge (29-7) will have its hands full with the No. 2 team in the country. In three years, only Montrose Christian (Rockville, Md.) has played the top seed in the No. 1 versus No. 8 game down to the wire, and that came in 2010 when Montrose lost to Montverde Academy (Montverde, Fla.) by two points.
This year, FAB 50 No. 9
Montrose Christian
(20-2) snagged the second seed and opens the tournament with seventh-seeded
Ravenscroft
(Ravenscroft, N.C.). The North Carolina Independent Schools Athletic Association Class 3A champions come in with a 31-3 mark, but they didn't venture too far from home this season and are decided underdogs against the defending NHSI champions.
Returning from last year's championship team is emotional leader
Justin Anderson
, a Virginia recruit, and
Michael Carrera
, who averaged a record 12.7 rebounds in Montrose Christian's three victories. Stu Vetter's club has to show its backcourt is capable without reigning tourney MVP Tyrone Johnson (now at Villanova), but Ravenscroft has even more to prove. The last two years, the NCISAA entrant has been routed in its opener.
After missing last year's event because of key early season losses, No. 12
Montverde Academy
is back in the fold as the third seed. Kevin Sutton coached the team in 2010 when they advanced to the finals, but this year the 21-3 Mustangs have a new coach in Kevin Boyle. He turned
St. Patrick (Elizabeth, N.J.)
into a national power but his program never had the opportunity to compete at the NHSI.
Boyle now gets the opportunity against No. 6 seed
La Lumiere
(La Porte, Ind.), a newcomer on the national scene with a big and talented roster. Montverde not only faces the challenge of a hungry 25-2 team ranked No. 23, they also face the challenge of idle time. Montverde had not played another high school since Feb. 4.
One team that certainly won't have any problems with idle time is fourth seed
St. Benedict's
(Newark, N.J.), which competed in the prestigious Alhambra Catholic Invitational last weekend. Gray Bees lost only their second game of the season (33-2) to eventual tournament champion DeMatha Catholic (Hyattsville, Md.) in the semifinals.
Had St. Benedict's won that tournament without its point guard (Tyler Ennis) and sixth man (Jordan Forehand), there's a strong possibility they would have been seeded second. They only dropped five spots in the FAB 50 to No. 15 (two spots behind DeMatha) and will open the NHSI against fifth-seeded
Ely
(Pompano Beach, Fla.), the FHSAA Class 7A state champ ranked No. 16. If Ennis and Forehand are not healthy for St. Benedict's, they could have trouble stopping the backcourt of Ely, which has proven its scoring ability in big games this season.
If St. Benedict's situation is any indication, this could be the most balanced NHSI field yet. Findlay Prep wants another crack at La Lumiere to avenge its only loss, but in order for that to occur both teams have to advance to the championship game. If history is any indication, La Lumiere might have a good shot at the semifinals (where defending champion Montrose Christian could be waiting) since the No. 6 seed has won in the opening round the past two years.
"You play 30 games for a seeding, but when the ball goes up, everyone is 0-0," said Findlay Prep coach Michael Peck. "We're blessed to be able to participate, as these games give the competing teams some closure."
Ronnie Flores is a senior editor for ESPNHS. He can be reached at
ronnie.flores@espn.com
. Don't forget to follow him on Twitter:
@RonFloresESPN
March, 8, 2012
3/08/12
9:00
AM ET
By
Ronnie Flores
| ESPN.com
The fourth annual ESPNHS National High School Invitational, set for March 29-31 at Georgetown Prep (Bethesda, Md.), is highlighted by the return of previous champions among the eight-team boys' field.
Findlay Prep
(Henderson, Nev.), which won the inaugural event in 2009 and repeated as champions in 2010, is a slight favorite to win this year's NHSI title. The No. 2 ranked team in the
POWERADE FAB 50
is not a prohibitive favorite because the field of talented teams -- including No. 10
St. Benedict's Prep
(Newark, N.J.), and No. 11 and defending NHSI champion
Montrose Christian
(Rockville, Md.) -- includes the only team to beat the Pilots this season.
That team is No. 25
La Lumiere
(La Porte, Ind.), which made national headlines in late December by defeating Findlay Prep 67-66 at the Mike Miller Invitational in South Dakota. The Lakers jumped on the Pilots early and went up 18 points before holding on at the end. This will be the first opportunity for La Lumiere to play on national television and show the country the win over Findlay Prep was no fluke.
"I think we feel like we got something to prove," La Lumiere coach Allan Huss said. "What you'll see is a hungry group. We might be a little sloppy right off the bat from the layoff, but we have some guys who, individually, think they don't get the recognition they deserve."
Since many of the participating teams don't compete for state championships, there will be sizable layoffs before quarterfinal play begins on March 29 at 2 p.m. ET (ESPNU). For instance, No. 14
Montverde Academy
(Montverde, Fla.), the 2010 NHSI runner-up, concluded its regular season on Feb. 4.
The one team that might have an advantage in this area is St. Benedict's Prep, which will compete against a tough field at the Alhambra Catholic Invitational in Frostburg, Md., March 15-17. That tournament should be a good test for the level of competition the Gray Bees could face should they advance past the first round. If they lose at Alhambra, it will likely affect the seedings for this year's NHSI, which will be announced the week of March 19.
No. 16
Ely
(Pompano Beach, Fla.) will be a dangerous public school entrant and could be a dark horse to win it all, if last year is any indication. At the 2011 NHSI, Florida Class 5A state champ Dwyer (Palm Beach Gardens, Fla.) upset Findlay Prep in the first round as a No. 6 seed behind a memorable performance by
Jacoby Brissett
, currently the starting quarterback at Florida. Ely is currently ranked in the same spot as Dwyer was entering last year's tournament and the Class 7A state champ Tigers will enter the NHSI battle-tested. Led by forward
Clide Geffrard
, Ely's only two losses are to No. 13 Bishop Gorman (Las Vegas) and Montverde Academy.
Rounding out the field is North Carolina Independent Schools Athletic Association Class 3A champion
Ravenscroft
and District of Columbia Interscholastic Athletic Association champion
Coolidge
(Washington, D.C.). Coolidge will take on No. 9 Paul VI (Fairfax, Va.) for the city title on March 20. Win or lose, you can't count them out against this NHSI field. After all, they did hand Montrose Christian one of its two regular season losses.
Regardless of how the brackets play out, this year's NHSI has a tough act to follow. In last year's championship game, Montrose Christian defeated Oak Hill Academy (Mouth of Wilson, Va.) in double overtime 71-64.
"It's always good to get another chance to repeat," said Montrose Christian's
Justin Anderson
, whose last second 3-pointer sent last year's title game into a second overtime. "It's not the same team we had last year, so I want to put our heads together and lead my team to another title."
Ronnie Flores is a senior editor for ESPNHS. He can be reached at
ronnie.flores@espn.com
. Don't forget to follow him on Twitter:
@RonFloresESPN
December, 1, 2011
12/01/11
2:46
PM ET
The
2011-12 GEICO ESPNHS Basketball Showcase
will feature 16 televised games plus a Skills Competition which will include a Slam Dunk and 3-point shooting contest on ESPN, ESPN2, ESPNU and ESPN3.
This year's Showcase will highlight the top nine teams ranked in the
POWERADE FAB 50 ESPNHS Preseason Rankings
: No. 1 Simeon (Ill.), No. 2 Miller Grove (Ga.), No. 3 Oak Hill Academy (Va.), No. 4 Montrose Christian (Md.), No. 5 Marcus Flower Mound (Texas), No. 6 Mater Dei (Calif.), No. 7 Bishop Gorman (Nev.), No. 8 Findlay Prep (Nev.) and No. 9 St. Anthony (N.J.).
The 2012 Spalding Hoop Hall Classic will be featured on ESPN, ESPNU and ESPN3 the weekend of Jan. 15-16. The event will bring together nine ranked teams for a weekend of basketball with top high school teams, prep schools and prospects from across the nation including No. 1
Shabazz Muhammad
of Bishop Gorman (Las Vegas), No. 2
Mitch McGary
of Brewster (Wolfeboro, N.H.), No. 3
Isaiah Austin
of Grace Prep (West Arlington, Texas), No. 4
Brandon Ashley
of Findlay Prep (Henderson, Nev.) and more.
To view the complete television listings,
CLICK HERE.