High-SchoolBoys-Basketball:

Myck Kabongo
March, 28, 2012
3/28/12
11:10
PM ET
By
Jason Jordan
| ESPN.com
CHICAGO --
Brandon Ashley
had to admit that the point was valid, but he wasn't about to agree with it completely.
Last year,
Quinn Cook
,
Austin Rivers
and
Myck Kabongo
were all adamant that their hectic schedule during the week of the McDonald's All-American Game plus the minimal amount of sleep they got the night before they flew from Chicago to Bethesda, Md., to play in the National High School Invitational wouldn't have any bearing on how they performed in the opening round.
The result?
Kabongo's Findlay Prep (Henderson, Nev.) and Rivers' Winter Park (Winter Park, Fla.) squads both got sent packing on the first day, while Cook and the Oak Hill Academy (Mouth of Wilson, Va.) Warriors made it to the title game and lost in double overtime to Montrose Christian (Rockville, Md.).
All three later conceded that fatigue from a week's worth of Windy City grinding played a major role in their teams' ultimate demise.
"I hear all that, and that makes sense, but I'm gonna say exactly what they said," said Ashley, a forward at Findlay Prep who suited up for the West in the McDonald's All-American Game. "I'm gonna say it won't affect my game in the least."
Added Ashley's
Findlay Prep
and West teammate
Anthony Bennett
: "We do this. We will be ready to go out there and do what we've got to do at the NHSI, no question."
We'll find out Thursday (8 p.m. ET on ESPNU) when the top-seeded Pilots take on No. 8
Coolidge
(Washington, D.C.) in the quarterfinals at Georgetown Prep.
"See, what most people don't understand is that the schedule we've been on this week isn't even as bad as our AAU schedule," said Ashley, an Arizona signee. "It's way crazier during the summer. Three games a day; play at 10 p.m. one night and 8 a.m. the next morning. This is nothing."
Their "nothing" would be overwhelming for many high school players, but at Findlay Prep, even with a lighter load, the travel schedule is more Division I college than high school.
"What's crazy is we haven't even traveled as much as we did in the past," said Bennett, a forward who is ranked No. 7 in the
ESPNU 100
. "We still play in the big tournaments, but the schedule hasn't been as hectic this year."
That's something that "shocked" Ashley, who transferred to Findlay from Bishop O'Dowd (Oakland, Calif.) for his senior season.
"I expected the travel to be a little worse," said Ashley, who is ranked No. 10 in the ESPNU 100. "Because it's 'Findlay' and all that. It hasn't been that bad at all. This week may have been the craziest week, travel-wise, for us."
Ashley and Bennett will hop on a plane Thursday morning and plan to head straight to the shootaround. After that, both said they plan to grab a long nap before tonight's game.
"We'll just rest up and relax as much as possible," Bennett said. "We know how important this tournament is and we know what happened last year, so we won't have a repeat of that."
Kabongo, who just finished his freshman season running the point at Texas, said that the Pilots should be playing "with an enormous chip on their shoulders" after falling so early in last year's NHSI.
"We fell short of the Findlay standard," Kabongo said. "They will have to come out and play hard to regain that. I know they will."
Even if that means they won't get a shot at knocking off Oak Hill, the top team in the
POWERADE FAB 50
. Warriors coach Steve Smith opted not to participate in the NHSI this season for the first time since the tournament's inception in 2009 due to the timing.
The Warriors just returned from a 12-day trip to China on March 20 and immediately went on spring break.
"As a competitor we would've loved to see Oak Hill because they're No. 1 and we're No. 2," Ashley said. "But they went and did their thing in China, so it's all good. We're focused on what's in front of us and that's Coolidge. That's all we're worried about."
To the casual observer, a No. 1 facing a No. 8 is a gift, but Bennett was quick to point out that such thinking was "fool's gold."
"I don't know a whole lot about Coolidge, but I know you've got to be good to get in this tournament," Bennett said. "Only big-time teams get in this."
Added Ashley: "This isn't the NCAA tournament. It's not like a 16-seed playing the top seed. This is a small tournament and everyone is elite. You can't come in and expect a blowout. I'm not guaranteeing a championship, but what I will say is that we'll be giving a championship effort."
Jason Jordan is the basketball editor for ESPNHS. He can be reached at
jason.x.jordan.-ND@espn.com
. Don't forget to follow him on Twitter:
@JayJayESPN
.
September, 19, 2011
9/19/11
12:58
AM ET
By
Jason Jordan
| ESPN.com
Myck Kabongo
isn't as eccentric as
Ron Artest
, er,
Metta World Peace
, as accomplished as
Kobe Bryant
and doesn't have
Shaquille O'Neal's
larger-than-life persona, but all four have a commonality that transcends ankle-breaking crossovers and rim-rocking dunks.
"Rapping," Kabongo said matter-of-factly. "It's just in me. It's something that I used to play around with and grew to really love. So I decided to do it for real."
That's right, Kabongo, Texas' highly-touted freshman point guard, is joining the ranks of hoopers who double as hip hop emcees. His debut, 15-track album entitled "Late Nights and Early Mornings," is set to drop next spring after basketball season.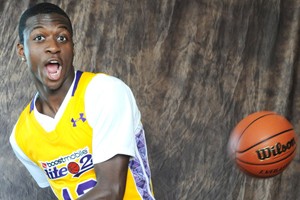 Kelly Kline/ESPNHSTexas point guard Myck Kabongo says he's "definitely" the top rapper in college basketball.
"It won't be for sale or anything," said Kabongo, whose stage name is Yung Swag. "Just for free. I haven't worked out where people will be able to get it and all that, but I'll make sure it's available to everyone. It should be pretty tight."
It certainly won't lack star power, not with Oklahoma City Thunder star
Kevin Durant
, the reigning NBA scoring champ, spitting hot bars on the album.
"K.D. can really flow… Like really," Kabongo said. "I definitely had to get him on the album. He goes hard on the tracks. People just don't know. K.D.'s style is real unique."
As for his own flow, Kabongo, who claimed to be "by far, easily the best rapper in college basketball," said he's a cross between rappers
J. Cole
and
Drake
.
"I'm a very positive person and that comes out in my music," Kabongo said. "I'm from a tough neighborhood back in Canada so I rap about things I've seen and been through and how I overcame things. Now I'm rapping about the college experience. I'd say I'm a motivational rapper. I've been in both extremes so that's what I rap about. That's my lane."
Kabongo's close friend
Austin Rivers
said that he can vouch for Kabongo's skills in the booth.
"Everything I've heard from him goes hard," said Rivers, a freshman scoring guard at Duke. "He's nice."
Still, Kabongo knows that news of his impending album will undoubtedly prompt an immediate eye-roll reaction, but said he's confident that "when people hear the music they'll see it's not just another basketball player trying to rap."
"I didn't want it to be corny or anything like that," Kabongo said. "It's really good and I guarantee that it'll be better than what people expect."
Don't forget to follow Jason Jordan on Twitter: @JayJayESPN