High-SchoolBoys-Basketball:

NBA lockout
December, 12, 2011
12/12/11
7:00
AM ET
By
Ronnie Flores
| ESPN.com
After a grueling 161 days of countless meetings, finger-pointing and accusations which at times got nasty, NBA owners and players ratified a new collective bargaining agreement last Thursday. The ratified deal ended a work stoppage that was on pubic display and scrutinized as much as the league's actual games.
The 19-year old age limit rule did not change with the new CBA, so high school players are not directly affected by the new labor deal this season.
So, what did prep players around the country learn from the NBA lockout?
ESPNHS interviewed high school players from across the country and found out teenagers are happy the NBA will return on Christmas. We also found out that they appreciated the insight that they got on the business aspect of the pro game during these lockout months.
The lockout also opened some eyes about the importance of education and a non-basketball related career.
Prepsters also learned about the dedication required to become one of the best players in the world and that ample opportunities exist to earn a living playing the game outside of the NBA.
Predictably, some players can't wait until Christmas, while others are not particularly enthralled by the star-driven league.
Here is what some high school players had to say about the NBA lockout:
[+] Enlarge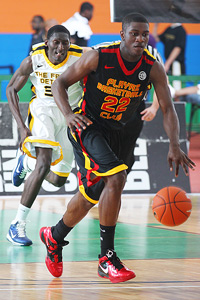 Andrew Shurtleff for ESPN.comSavon Goodman and others learned alot about basketball's business side during the NBA lockout.
"I learned players definitely have a voice. I also learned basketball can be taken away from you... you have to learn to get money from other things in life. I learned a lot about basketball from the lockout. I didn't know players had an association to help them understand and fight for what was right for them. I also didn't know there were so many leagues out there. I thought there was the NBA and a European league. I got to play with some NBA players and it was an eye-opening experience to see how hard they work at their game."
-Stanley Johnson, Mater Dei (Santa Ana, Calif.) 2014
"It taught me how really important a college degree is. Also that nothing is promised so always have a backup plan. And control what you can control."
-Rodney Purvis, Upper Room Christian Academy (Raleigh, N.C.) 2012
"I learned that you have to be smart and understand at the end of the day, it's a business. I also learned that you always have to work on your game because in a situation like the NBA lockout you don't have it written in stone when your going to play again."
-Savon Goodman, Constitution (Philadelphia) 2012
"I learned you always need a back up plan when basketball ends. It can't last forever and that's where education comes into place. It taught me to really take care of my academics and try something new that could get me a job besides basketball."
-Grant Jerrett, La Verne Lutheran (La Verne, Calif.) 2012
"I learned to have a backup plan, because the NBA is not always going to be there. I don't look at the NBA differently. For me, it's always fun to just play basketball. I was surprised how long it took to come up with a deal."
-Demarquise Johnson, Westwind Prep (Phoenix, Ariz.) 2012
"I learned a few things. First, stars and superstars never stop working. No matter what, basketball never stops for those guys. Two, if you make it to the NBA you have to be smart with your check. If you get to that level, you have to put yourself in a good financial situation. I don't look at the NBA different, basketball is still basketball, but I do realize now it's more of a business."
-Archie Goodwin, Sylvan Hills (Little Rock, Ark.) 2012
"I just realized at the end of the day, the game is about money. These guys work so hard to get paid for what they do. Money is a big issue. The lockout was tough. I'm a huge Lakers fan, plus I want to see how the new NBA draft picks perform."
- Zena Edosomwan, Harvard-Westlake (North Hollywood, Calif.) 2012
"The main thing I learned is to not take the NBA for granted. I remember how exciting it was last year with the Miami Heat, the trades and the playoffs. You even see it this year already with the Dwight Howard/Chris Paul to the Lakers talk. Personally, I enjoy watching college basketball more. It's more about teamwork and plays."
-Kaleb Rodriguez, ThunderRidge (Littleton, Col.) 2012
"I learned you can't take nothing for granted. I realized it's a job for them. Once they were stripped of it [playing basketball], it put a tremendous strain on the players and fans. Personally, I'm ecstatic about the NBA coming back. Whenever I'm at home relaxing, I watch basketball. I want to watch the great games on Christmas Day."
-Jalen Ward, O'Dea (Seattle) 2012
Ronnie Flores is a senior editor for ESPNHS. He can be reached at
ronnie.flores@espn.com
. Don't forget to follow him on Twitter:
@RonFloresESPN
November, 25, 2011
11/25/11
1:02
PM ET
Khadeen Carrington
, a sophomore shooting guard at Bishop Loughlin (Brooklyn, N.Y.) escaped the littered streets of New York City for a bit of Southern Hospitality in Atlanta, Ga. this Thanksgiving weekend for the
Big Apple vs. Big Peach Battle
. The holiday tournament showcased some of the top high school teams from New York and Georgia alongside providing off-court life lessons for the participants.
"I'm from Brooklyn, so there is a lot of stuff going on, like shootings and gangs," Carrington said. "Every day you hear about someone dying. It's nice to come down here and take a break from all of that."
Dorian Lee
and
Robert "Bobby" Parker Jr.
, who saw life beyond their small town hoop dreams in Mobile, Ala., established the inaugural Big Apple vs. Big Peach Battle. They played basketball together at Spring Hill College in Mobile and found ways to stay involved in the game after their playing days. Lee and Parker created the Save the Ball Foundation, a non-profit organization that helps guide young adults through the labyrinth of being a student-athlete.
"The main thing I hope the kids grasp this weekend is that basketball can be whatever you allow it to be for you," Parker said. "As athletes we get exploited a lot, get used up, tossed out and told to go do something we don't like once the game is over. I want the kids to know there are a ton of things within in the game that you can build a career from and incorporate your passion."
Before hitting the hardwood, Carrington and about 50 other players from the Big Apple received lessons in character from the program's keynote speaker and one of the NBA's most veracious players,
Charlie Ward
. The retired point guard and 1993 Heisman Trophy winner at Florida State lectured the athletes on his four C's: character, commitment, choice, and community.
"It doesn't matter where you come from, it's about grasping that these are the attributes that go into developing into the type of person that God wants you to be," Ward said.
Ward emphasized to the young student-athletes to perform in life and on the court for the approval of only one person.
"In life you are working for the applause of one, God," Ward told the New Yorkers. "Our foremost reason for getting an education and participating in extracurricular activities is to gain his approval."
The former multi-sport standout at Central (Thomasville, Ga.) drew an example from the current NBA lockout when talking about living just for God's approval. While others lived above their means, Ward lived a respectable lifestyle during his playing days and wasn't worried about impressing anyone with material possessions. By doing this, he weathered the storm of the 1998-99 NBA lockout.
"In situations like that, instead of being the one who needs the help you should be the one who is providing the help for those in need."
Ward, who was known for bringing his unwavering faith to the court, didn't just focus on faith but also addressed tangible life issues student-athletes could relate to.
"I want to be successful and Ward talked about being committed to using basketball as a medium for success," said
Kentan Facey
, a junior power forward from Long Island Lutheran (Brookville, N.Y.). "I like engineering and want to be a civil engineer when I grow up."
Bishop Loughlin sophomore forward
Elisha Boone
added, "I took from Charlie's speech that girls could be a big distraction in my career and that it could mess me up going forward. I have lots of things to think about in terms of commitment now."
The inaugural Big Apple vs. Big Peach battle began with a learning aspect and continued with a community service effort with Hosea Feed the Hungry and Homeless at the Georgia World Congress Center on Thanksgiving day. The weekend will culminate with games on Friday and Saturday to determine whether New York or Georgia has the best high school boys' basketball teams among the two basketball hotbeds.
Adena Andrews is a contributor for espnW. She can be reached at
adenaandrews6@mac.com
. Don't forget to follow her on Twitter:
@adena_andrews