High-SchoolBoys-Basketball:

New York
October, 9, 2011
10/09/11
11:32
PM ET
By
Jason Jordan
| ESPN.com
Last Wednesday marked the end of the NCAA's contact period, which had been in effect since September 9. That meant hundreds of high school hoopers around the country had to sift through all of their visits from college coaches and decide who made the most lasting impressions.
We rounded up a handful of the top players in the country and had them dish on the big winners over the last month.
Coolest customers:
Providence
Brannen Greene, Mary Persons (Monroe, Ga.), 2013, SG:
"Coach (Ed) Cooley told me he only recruits anacondas and not garden snakes. Very cool guy."
Best perspective:
Texas Christian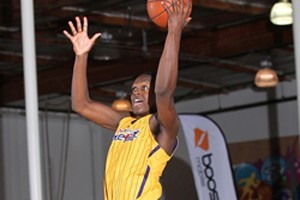 Kelly Kline/ESPNHSJulius Randle was impressed with TCU's "create your own legacy" perspective.
Julius Randle, Prestonwood Christian (Plano, Texas), 2013, F:
"TCU gave me a whole different way to look at things. They told me that I could come in and change the program and begin my own legacy. That's a different perspective than the other schools. A lot of those schools can't present that to me. Most already have hall of fame players. So definitely TCU on perspective because who wouldn't want to have their very own legacy."
Most swag:
Kentucky
Chris Walker, Holmes County (Bonifay, Fla.), 2013, F:
"The coach with the most swag… I would have to say Coach (John) Calipari and assistant Coach Orlando (Antigua). They came in and everyone was going crazy. Coach Cal is running things and he's put a lot of players in the NBA. Plus he came in wearing a suit. That's swag."
Best sales pitch:
Duke
Shabazz Muhammad, Bishop Gorman (Las Vegas, Nev.), 2012, SF:
"Coach K (Mike Krzyzewski) definitely has the best sales pitch. He talks a lot about the Duke brand and what he could do for me and how he could develop me and about all of the exposure that I could get at Duke. I think the thing that makes his sales pitch so good is that he's really speaking from the heart. That's the best part."
Most relatable:
Louisville
Isaiah Lewis, Christ the King (Middle Village, N.Y.), 2013, SG:
"I just had fun getting to know the coaches at Louisville, especially Coach (Wyking) Jones. After my workout he offered me, but that was in the middle of us talking about school, football, what kind of shoes we like. He just seemed like one of the guys. I definitely felt like he was just one of my friends."
Best gear:
Georgetown
Troy Williams, Phoebus (Hampton, Va.), 2013, SF:
"Definitely had to be Georgetown because they wear Jordan everything. The shoes were just fresh and the sweat suits they had were cool. I told them I like to ball in Nike's, but I walk around in J's. They had on the new Melo's (Carmelo Anthony) and they weren't tied all the way up."
Jason Jordan is the basketball editor for ESPNHS. He can be reached at
jason.x.jordan.-ND@espn.com
. Don't forget to follow him on Twitter:
@JayJayESPN
September, 13, 2011
9/13/11
1:21
AM ET
By
Jason Jordan
| ESPN.com
ESPNHS - New York
Isaiah Lewis
can still remember sitting courtside watching
Tayshana Murphy
, or "Chicken" as she was more commonly known, give his Royals from Christ the King (Middle Village, N.Y.) "the business" almost every time she faced them.
"She used to just give it to our girls out there," said Lewis, a junior shooting guard for the Royals. "I'd always watch her play when our girls played against her. She was definitely a special player. You just could tell that she was gonna make it in basketball."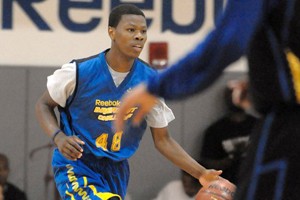 Anthony Doran/ESPNHSIsaiah Lewis said he's in shock after the murder of Tayshana Murphy Sunday.
Those dreams were dashed early Sunday morning, when Murphy, 18, was shot to death at a housing project in Harlem's Morningside Heights neighborhood where she lived. Media reports suggest that Murphy, a senior at Murry Bergtraum (Manhattan, N.Y.), may have been the victim of mistaken identity.
"It's just so tragic," Lewis said. "Everyone was talking about it on Monday. I haven't even cried. It's like everyone's in shock. Tayshana and I knew each other through basketball for the most part, but it's still hard because my girlfriend,
Nyree Alston
, is her sister."
Lewis classified getting the call from Alston on Sunday as "something you never want to have to experience."
"She was just hysterical when she called and told me what happened," said Lewis, a highly-touted guard who is considering Louisville, Florida, North Carolina, Kansas and Kentucky among others. "I just have to be there for her and her family. It's hard because she was just here and now… She's gone."
Murphy was rated No. 16 among point guards in 2012 by ESPN.com's HoopGurlz recruiting site and had drawn interest from several colleges.
Lewis admitted that the tragic situation has served as a major eye-opener for him.
"It just goes to show you that none of us are invincible," Lewis said. "Things like this really make you step back and think. That's why I don't stay out late and I'm always aware of who I'm hanging around and where I'm at. It's just so sad because it sounds like she was in the wrong place at the wrong time. How can you avoid that?
"We'll just try and remember the good things. She was a great basketball player and a great person. This didn't have to happen."
Don't forget to follow Jason Jordan on Twitter: JayJayESPN