High-SchoolBoys-Basketball:

Nick Emery
May, 15, 2012
5/15/12
11:15
AM ET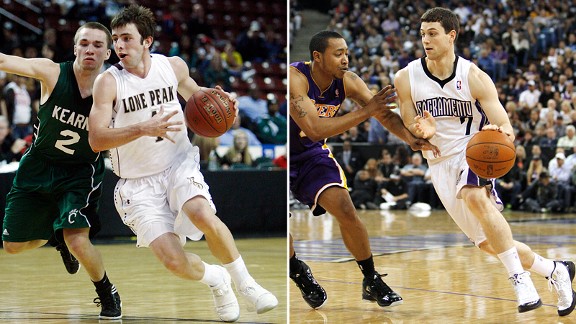 Deseret News, Scott G. Winterton and AP Photo/Rich PedroncelliBYU commit Nick Emery, left, is a 6-foot-2 guard with ridiculous scoring ability and range. It's hard not to compare him to former BYU scoring machine Jimmer Fredette.
This summer, ESPNHS will sit down with some of the nation's elite players to break down their game, talk about the inevitable comparisons to college and pro players and get their take on who they pattern their game after.
Player:
Nick Emery

School:
Lone Peak (Highland, Utah)
Position:
Combo Guard
Height/Weight:
6-2/180
ESPN 60
: No. 52
Who is Nick Emery?
Emery is a smooth-stroking lefty whose game consists of seemingly endless range on his jumper, combined with an uncanny ability to get to the rack at will. The combo guard's immense talents, non-stop motor and extreme competitiveness endears him to fans and coaches while frustrating opponents to no end. Emery pumped in 21.7 points, ripped down 4.3 boards and dished out 2.4 dimes a contest to cop Class 5A MVP honors this past winter. The BYU commit led the Knights to their second consecutive state crown in April and earned a spot on the
ESPNHS Underclass All-American
squad. He is the younger brother of former Cougar guard Jackson Emery and garnered Gatorade State Player of the Year honors as a sophomore.
Scouting Report
According to ESPN RecruitingNation, Emery is an extremely confident player who is a prolific shot-maker and can finish in the lane through contact despite not having prototypical 2-guard quickness. He is a calculated player who bides his time with the dribble before unleashing a textbook jumper and makes sagging defenders pay with his NBA range. When he's not filling up the basket, Emery is adept at creating easy buckets for teammates. His knack for burying long-range daggers helps space the floor for other wing players and could make him an instant hit whenever he lands on BYU's campus.
Most frequent comparison: Jimmer Fredette, Manu Ginobili, Jackson Emery
ESPNHS Comparison: Jimmer Fredette
Come on, a 6-foot-2 guard heading to BYU with ridiculous scoring ability and range? You know you were thinking it, too. ESPN senior analyst Dave Telep cosigns the comparison stating, "During his formative basketball years, the guy Nick saw the most was Jimmer. It's easy to say, here's a white kid from Provo, Utah, going to BYU and think Jimmer. But I think with this kid it works. Someone else could try and take some of the things Jimmer could do and it would look fake. But this guy has that game and an unwavering confidence."
Before slaying Mountain West Conference defenders to the tune of 18.7 career points, Fredette made a name for himself at Glen Falls High (N.Y.) with his scoring punch. The 6-foot-2 scoring machine kept rolling once he got to BYU, emerging as Division I's premier perimeter shooter while leading the nation in scoring as a senior (28.9 ppg).
Emery's height, ability to play either guard spot and penchant for pulling up from long distance mirrors that of Fredette's. There's no questioning either player's ability to score, but one constant knock on their game is their ability to defend at the other end. Quickness and ball handling are other areas of concerns but take a back seat to the duo's production on the offensive end.
Nick's Comparison: Fredette
Emery fully embraces the comparisons to Fredette and admits he models his game after the BYU legend.
"My brother was at BYU, so I watched Jimmer play a lot in college," Emery said. "I try and emulate the way he moves and the way he finishes around the basket.
The similarities in Emery's game can also be attributed to one-on-one sessions the two engaged in at BYU's practice facilities. There, Emery got a first-hand look at what catapulted Fredette to the 2011 AP Player of the Year.
"He likes to shoot from deep and I like to shoot from deep," Emery says. "If I feel open once I cross halfcourt, I'm shooting."
To become a more well-rounded player and a better offensive threat, Emery is looking to incorporate more of Ginobili's repertoire into his own arsenal. This summer's focus will be on honing his handle and crossover as well as fine-tuning an already potent euro step.
"I want to be a blend of those two guys and I love how crafty Manu is," Emery said. "I love winning, and being in a winning environment. Both of those guys are winners."
David Auguste covers high school sports for ESPNHS. Be sure to follow him on Twitter @DAugusteESPN or email him at David.Auguste@espn.com.
January, 4, 2012
1/04/12
1:29
PM ET
Related:
Players of the Week (Dec. 28)
(After games of Saturday, Dec. 31)
Here are this week's high school boys basketball Players of the Week. One player is chosen from each region of the country. The only other criteria is that no player will be chosen more than once during a season.
EAST
Devin Thomas, Central Dauphin (Harrisburg, Pa.)
The 6-foot-9 senior and Wake Forest recruit had double-doubles on back-to-back nights as the unbeaten Rams (7-0) won a four-team local holiday tournament. In a 59-52 overtime win over Souderton (Souderton, Pa.), Thomas scored 31 points and collected 22 rebounds. The next night, he scored 19 points and had 10 rebounds in a 52-48 victory over Norristown (Norristown, Pa.). He also totaled eight blocked shots in the two wins. Thomas was selected a tournament MVP for the second time in three weeks. He averages 21.3 points, 12.6 rebounds and 2.9 blocks this season after earning all-state honors as a junior.
SOUTHEAST
Imara Ready, Parkview (Little Rock, Ark.)
For the first time since 1992, a team from outside Texas has won the
Whataburger holiday tourney
and that team was unbeaten Parkview, led by its 5-foot-11 junior point guard. Ready pumped in 32 points in the title game of the 54-year tourney's top division as Parkview defeated Rufus King (Milwaukee) 72-64. In last year's final, Parkview lost to Marcus (Flower Mound, Texas), a FAB 50-ranked team that also was in this year's field but lost in an early-round game to Richland (Richland, Texas). Ready averaged 17 points and seven assists as a sophomore starter for Parkview's Class 6A state title team. He's improved in all facets of his game and has already committed to Nebraska.
MIDWEST
Zak Showalter, Germantown (Germantown, Wis.)
The 6-foot-2 senior guard exploded for 15 first-quarter points and ended with a game-high 28 as the unbeaten (10-0) Warhawks defeated previously unbeaten and state-ranked De Pere (De Pere, Wis.) 60-49 in the Wisconsin Basketball Yearbook Shootout at Mequon. Germantown jumped out to a 22-8 first-quarter cushion against a team that had beaten the Warhawks last year at the same event. Showalter, son of Germantown coach Steve Showalter, has elected to accept a preferred walk-on invitation from Wisconsin coach Bo Ryan after considering 15 other scholarship offers. An all-state and local Player of the Year choice as a junior, he averaged 19 points and 4.5 assists last season.
MIDLANDS
Martez Harrison, University Academy (Kansas City)
The 5-foot-11 senior point guard is among the nation's top scorers at 34.0 points per game and led his team last week to the championship of the Bishop LeBlond Holiday Tournament in St. Joseph, Mo. Harrison had 30 points, eight assists and four steals when the Gryhpons topped the host school 59-50 in the title game. Earlier in the event, he had 34 points with seven assists and four steals when University Academy beat Mid-Buchanan (Faucett, Mo.) 66-51. Harrison exploded for a 58-point game early in the season against Harrisonville (Harrisonville, Mo.) and his game-high for assists so far is 11. He has generated interest from a few mid-major colleges, but remains uncommitted.
WEST
Nick Emery, Lone Peak (Highland, Utah)
He helped Lone Peak bounce back from an early in-state loss with a solid runner-up finish at the prestigious Beach Ball Classic in Myrtle Beach, S.C. Although Lone Peak was defeated by Milton (Milton, Ga.) in the title game, Emery set a four-game tournament record with 119 points to best the previous mark set by ESPNHS All-American Chris Wright of St. John's (Washington, D.C.) in 2006. He scored 21 points in the title game and 29 in a 72-67 overtime semifinal thriller over Whitney Young (Chicago) in which there was 15 lead changes. A BYU recruit, Emery is one of the better shooting guards in the West region for the class of 2013 and has led Lone Peak back this week into the
POWERADE FAB 50
national rankings.