High-SchoolBoys-Basketball:

Nigel Johnson
June, 14, 2012
6/14/12
10:55
AM ET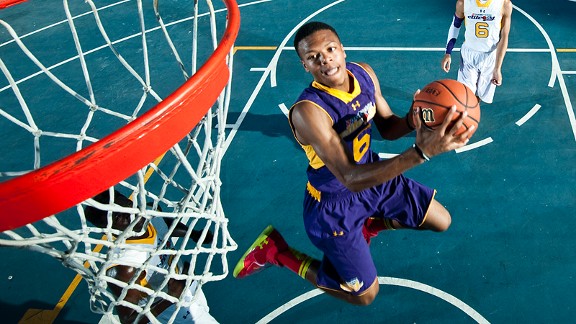 Kelly KlineD.C. Assault is in good hands with Nate Britt running the show at the point.
Each week this summer leading up to the AAU National Championships in Orlando in July, ESPNHS will profile one of the nation's top AAU teams and tell you why you should be paying attention.
Team:
D.C. Assault
Location:
Washington, D.C.
Coach:
Eddie Jordan
What you need to know about D.C. Assault:
If you ever get out to a D.C. Assault practice, make sure to keep an eye out for the front entrance.
Frequent visitors and program alums
Michael Beasley
,
Nolan Smith
,
Quinn Cook
,
Keith Bogans
or
Tyler Thornton
could come strolling through the gym for an impromptu pick-up game with the current members -- you know, just to make sure the young guns are ready to rep the squad the right way.
"They school us on how to be a great team," says forward
Kris Jenkins
, the No. 46 player in the
ESPN 100
. "We are on the outside looking in and they are where we want to eventually be."
Since its inception, Assault has landed nine of its ballers in the McDonald's All-American Game and spawned the career of a multitude of collegiate and NBA stars. The program's stellar player development puts Assault in exclusive company nationally, as does its new head coach,
Eddie Jordan
. The former Washington Wizards coach, who recorded more than 250 wins in the Association, is in his first year at the helm of the Under Amour-sponsored squad and is hoping to orchestrate a championship campaign with the loaded U-17 Gold squad. He has quickly instilled an NBA-like work ethic in his players with a strong emphasis on defense.
"Our identity is to really get after you," says Jordan. "All of our guys defend. We like to run out and play in the open floor.
"We don't take haphazard shots; we are very selective. We're very cerebral and share the ball. You help your teammates first and then help yourself."
Jordan inherited an extremely talented roster, with ESPN 100 members
Nate Britt
and Jenkins as the main headliners. Add in microwave scorer
Nigel Johnson
, post bruiser
Junior Etou
and versatile wing
Ahmad Fields
, and Jordan features a destructive lineup likely to spark barbershop discussions on where it ranks amongst Assault's all-time great squads.
"It's really about the way we choose our team," says Jordan. "(Co-founder) Curtis Malone and his staff chose the right kind of people. They're good players but they're also good people."
Jordan guided Assault to the title at the Real Deal in the Rock in Arkansas, taking down a Houston Defenders team that features a pair of top-10 guards in highly touted twins
Andrew
and
Aaron Harrison
in the finals. Assault also advanced to the final four in two other tourneys, giving Jordan high hopes for the upcoming July schedule.
"It hurts when they lose, because they want to be the best," says Jordan.
Key Players:
Nate Britt:
Britt has the makeup of an elite point guard, displaying a knack for penetrating defenses to score or to create easy looks for teammates. The UNC commit is rated the No. 22 player (No. 3 PG) in the ESPN 100 and has proved to be a valuable leader playing at Gonzaga the past two years. Britt, a smooth stroking lefty and a flytrap defender, qualified for the USA Men's U18 national team earlier this week.
Kris Jenkins:
The 6-foot-6 Jenkins is an undersized power forward for Gonzaga during the high school season, but he will play the 3 in Jordan's offense. He is a versatile inside-outside threat and has the tools (perimeter shooting and ability to attack the cup) to excel in the 1-3 pick-and-roll sets along with Britt.
Nigel Johnson:
This dynamic, Virginia-bred guard turned heads in February when he dropped a double-nickel during a regular season contest. "He's just an assassin, and he reminds me of Gilbert Arenas," says Jordan.
Junior Etou:
A rugged, defensive-minded post, the 6-foot-7, 210-pound Etou provides the squad with toughness on the interior and a strong presence on the boards. He holds offers from Kansas State, Maryland and West Virginia, among others.
Key Dates:
Under Armour Summer Jam in Milwaukee, Wisc. on July 18-22
Fab 48 in Las Vegas, Nev. On July 26-29
Player Breakdown:
We caught up with Jenkins to get his take on what he feels year's squad can accomplish and how it can maintain the club's rich pedigree.
"This is a team that's going to play hard and give all we got and hopefully win a national tournament," says Jenkins. "If we don't win, we need to walk away with our heads high and know the ball just didn't bounce our way.
"It would mean a lot (to win a national title) and go down in history as a D.C. team that won a national championship. It's something this team is always working toward."
Famous Alums:
Beasley (Minnesota Timberwolves forward)
Bogans (Chicago Bulls NBA guard)
Smith (Portland Trailblazers guard)
NaVorro Bowman
(San Francisco 49ers LB)
February, 15, 2012
2/15/12
10:07
AM ET
Here are this week's high school boys' basketball Players of the Week. One player is chosen from each region of the country. No player will be chosen more than once during a season.
(After games of Sunday, Feb. 12)
EAST
Nigel Johnson, Broad Run (Ashburn, Va.)

The 6-foot-1 junior point guard highlighted a 110-point, three-game week with a career-high 55 points in a 109-104 overtime loss to Osbourn (Manassas, Va.). Johnson converted 20 of 22 free throws and cashed in five shots from 3-point land in the outburst, which was witnessed by several college coaches. Johnson has nine 30-point games this season with a low of 19 points. He leads Virginia's Class AAA in scoring at 29.2 points per game and also sports averages of 8.5 assists and 4.6 rebounds. Johnson scored 34 and 21 points in his other two contests last week.
SOUTHEAST
Alex Poythress, Northeast Clarksville (Clarksville, Tenn.)

After being selected to the
2012 McDonald's All-American Game
last week, Poythress celebrated by scoring a career-high 48 points to lead Northeast Clarksville past Dickson County (Dickson, Tenn.) 68-60. The 6-foot-9 Kentucky recruit also hauled in 22 rebounds. He surpassed his previous career bests of 46 and 47 established earlier this season. Poythress is averaging better than 31 points per game, well above the 22.3 mark he turned in last winter. In addition to scoring, rebounding and leading his team to a 25-2 record, Poythress also boasts a 3.9 GPA.
MIDWEST
Connar Tava, Warren De La Salle (Warren, Mich.)

The 6-foot-6, 230-pound senior forward had a monster game in a 72-53 Detroit Catholic League Central Division win over U-D Jesuit. The Western Michigan recruit scored 43 points and collected 22 rebounds to lead the Pilots, who are favored to win the Catholic League playoffs for the fourth straight year, something that hasn't been done since 1952. In avenging the team's only league loss, Tava scored 29 of his points in the second half while connecting on 14 of 17 shots from the floor as the Pilots claimed their fifth straight Central Division crown.
MIDLANDS
Justise Winslow, St. John's (Houston)

Following a 31-point outing from the previous week, Winslow came through for two more all-around top-notch efforts that lifted his team to the Southwest Preparatory Conference Division I championship. Winslow, a 6-foot-6 sophomore forward ranked No. 15 in the ESPNU 25, had 27 points, eight rebounds and three blocks in a 49-46 triumph against Episcopal (Dallas) and then put up 25 points with 10 rebounds and eight assists as St. John's beat Kinkaid (Houston) 70-60 in the final. Winslow averages 22.5 points per game.
WEST
Nick Stover, Windward (Los Angeles)

A 6-foot-5 senior on his way to Loyola Marymount, Stover collected 65 points in two wins last week to help the Wildcats vault back into the top 20 of the
Cal-Hi Sports
state rankings. Stover, who is averaging 21.7 points per game this season, had 33 points in a 77-71 triumph over Campbell Hall (North Hollywood, Calif.). He then hit for 32, including the game-tying free throws with 1.5 seconds remaining in regulation, in a 75-71 overtime win over state-ranked Pacific Hills (Los Angeles). Earlier this season, Stover had 23 points as Windward beat defending CIF Division II state champion Archbishop Mitty (San Jose, Calif.). He was a major contributor last year, leading the Wildcats to the CIF Division IV state crown.