High-SchoolBoys-Basketball:

Nigel Williams-Goss
August, 9, 2012
8/09/12
1:42
PM ET
By
Ronnie Flores
| ESPN.com
The final 12 players selected to participate in the seventh annual Under Armour Elite 24 event at California's Venice Beach were announced on Thursday.
Featuring 24 of the nation's top high school basketball players, Under Armour Elite 24 participants are selected based on their performance during AAU tournaments and national summer camps by ESPN high school basketball experts. The
first 12 players
were announced last week.
The 2012 Under Armour Elite 24 will be held at the Venice Beach Courts in Los Angeles Aug. 24-25. The game airs live on ESPNU at 7 p.m. ET Aug. 25, while the Under Armour Slam Dunk Contest will air Aug. 24 at 7 p.m. ET on ESPNU.
Aaron Gordon
, ranked No. 6 in the
ESPN 100
, leads the class of 2013 contingent. Also included is
Jabari Bird
, ranked No. 20 in the ESPN 100 and Gordon's teammate on the Oakland Soldiers AAU club. The duo led the Oakland Soldiers to the Nike Peach Jam title last month. The Elite 24 roster includes five of the top 10 players in the ESPN 100.
Tyus Jones
, the No. 2-ranked player in the
ESPN 60
, leads the class of 2014 contingent. Three of the top six players in the ESPN 60 are on the Elite 24 roster.
Five Under Armour Elite 24 players have committed to colleges:
Nate Britt
II to North Carolina,
Aquille Carr
to Seton Hall,
Nigel Williams-Goss
to Washington, and both
Conner Frankamp
and
Brannen Greene
to Kansas.
Below is the full list of the second 12 players selected to the game. The specific team rosters and dunk contest participants will be announced prior to the event. To view the first dozen players,
CLICK HERE
.
Join
our Under Armour Elite 24 fan page on Facebook and don't forget to follow the event on twitter:
@UAElite24
February, 14, 2012
2/14/12
9:33
AM ET
Huntington Prep (Huntington, W.V.) senior forward
Elijah Macon
will always be grateful for his mom setting him up with his first true love: Basketball.
A die-hard Shaquille O' Neal fan, Renai Payne would tune into the Lake Show whenever the Lakers played on national television and often, little Elijah would park himself on the couch with her to ingest all the action. He quickly grew a fondness for the sport, taking a liking to Kobe Bryant's hunger for success and propensity for clutch plays.
"He was more of my generation than Michael Jordan was," says Macon of Bryant. "I just watched him hit buzzer-beaters and win all those championships. That was my generation of basketball, and he was my idol. That was in middle school, when I really started to love the game of basketball."
Now rated the No. 42 player in the
ESPNU 100
, Macon's love has intensified significantly over the years — to the point that he now can't live without the sphere.
"I love it. It's gotten me noticed as one of the top players in the country," Macon says.
So what does an elite hoop prospect do on Valentine's Day for the game he loves? Bouquet of flowers? Box of chocolate?
Nah. More basketball, duh.
"If I was to get a Valentine's Day gift for basketball, I'd take it out to eat then to see Kobe play," laughs Macon.
Macon isn't the only hoop recruit looking to profess his love today. We caught up with several of the nation's top players to see why they love this game.
January, 16, 2012
1/16/12
6:35
PM ET
SPRINGFIELD, Mass. — There will likely be a new team atop the next
POWERADE FAB 50
rankings after No. 1 Simeon (Chicago, Ill.) fell to No. 6 Findlay Prep (Henderson, Nev.), 75-50, at the Spalding Hoophall Classic on Monday.
Simeon never found its offense, frequently forcing bad shots and allowing Findlay to run out on the fast break after misses. For the game, Simeon shot just 4 of 24 on 3-point attempts (16.7 percent), while Findlay Prep shot 66.7 percent from downtown (61 percent overall).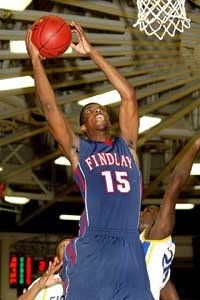 J. Anthony Roberts/ESPNHSWinston Shepard finished with high-flying dunks all night against Simeon.
The game was also billed as a matchup of two of the country's top players — Simeon junior
Jabari Parker
and Findlay Prep senior
Brandon Ashley
. Parker, the No. 1 player in the
ESPNU 60
, was solid with 24 points and 12 rebounds, but the smooth superstar felt he could have done more to stop Findlay from pulling away in the second half.
"I waited too long to get it going," said Parker. "I didn't do a lot of scoring in the third quarter. If I don't show up, my team's going to lose by a lot of points."
Ashley, the No. 4 player in the
ESPNU 100
, posted 13 points and nine boards, including back-to-back dunks to seal the game in the fourth quarter. He also received more help from his teammates.
Findlay Prep junior guard
Nigel Williams-Goss
chipped in 18 points, and senior guard
Dominic Artis
(No. 72 in the ESPNU 100) earned Player of the Game honors with 21 points, eight assists and seven rebounds.
The 6-foot-2 Williams-Goss also drew plenty of attention with his defensive performance, even switching onto the 6-foot-8 Parker at times and doing a good job.
"Obviously, our focus was on [Simeon junior guard]
Kendrick Nunn
and Jabari Parker," said Williams-Goss. "I took it personally, because I knew I'd have to defend both of them during the game."
Williams-Goss also said that Findlay Prep felt it had something to prove at Hoophall.
"We had a slip-up earlier in the season with our loss to La Lumiere," he said. "But it was motivation to us that Simeon was ranked No. 1. We feel we're still the best team in the country. Being No. 1, that put a bull's-eye on their back and we were coming for them."
Findlay Prep's victory was even more impressive considering that the team was without senior forward
Anthony Bennett
, the No. 7 player in the ESPNU 100. Bennett sat out the game with a hamstring injury.
Simeon dropped to 15-1 with the loss. The Wolverines have spent the entire season at No. 1 in the POWERADE FAB 50, but the blowout loss is likely to drop them at least several spots. Findlay Prep improved to 18-1 with the win.
There were plenty of top college coaches on hand, presumably to get a close look at Parker, who is still uncommitted. Among those in the crowd were Duke's
Mike Krzyzewski
and Kentucky's
John Calipari
.
After the game, Parker said he hasn't formed any list of college favorites yet. "I'm wide open," he said.
Mike Grimala covers high school sports for ESPNHS. Follow him on Twitter @ESPNHSGrimala or email him at michael.grimala@espn.com.