High-SchoolBoys-Basketball:

Nik Stauskas
March, 8, 2012
3/08/12
9:00
AM ET
By
Mark Tennis & Jason Jordan
| ESPN.com
With this year's field of teams set for the
National High School Invitational
, a question on the minds of many is whether the final No. 1 ranking in the
POWERADE FAB 50
has been locked away in a closet at Oak Hill Academy (Mouth of Wilson, Va.).
Oak Hill has been No. 1 since January and has done little to give the ESPNHS rankings compilers a reason to ponder moving any other team into that position. The Warriors wrapped up the best record they've ever had last week (44-0) with a 130-69 triumph over Body of Christ Academy (Raleigh, N.C.).
With Oak Hill not participating in the NHSI, there is the possibility that No. 2 Findlay Prep (Henderson, Nev.) could enhance its case by winning an event loaded with top-ranked teams.
Based on results already in the books, it's a no-brainer to rank Oak Hill in front of Findlay Prep. This is because Oak Hill has a 77-59 win over La Lumiere (La Porte, Ind.) while the Pilots' only loss was 67-66 to the same team.
So how could Findlay perhaps overcome the common opponent disadvantage with Oak Hill? Here's the possibilities:
1.
The Pilots get a chance to play No. 25 La Lumiere in the NHSI and avenge that one-point loss with a convincing win.
2.
Findlay wins the NHSI over a field that also will include No. 10 St. Benedict's (Newark, N.J.); No. 11 Montrose Christian (Rockville, Md.); No. 14 Montverde Academy (Montverde, Fla.); No. 16 Ely (Pompano Beach, Fla.); and La Lumiere.
3.
The Pilots not only win the NHSI, but do it with their McDonald's All-Americans -- Anthony Bennett along with 6-foot-8 Brandon Ashley -- both putting on a show. Bennett was not at 100 percent in the December game with La Lumiere.
4.
The two best non-NHSI teams that Findlay has beaten this season -- current FAB 50 No. 5 Marcus (Flower Mound, Texas) and No. 6 Simeon (Chicago) -- both complete their seasons by winning state titles and thus assuring themselves of very high final rankings.
5.
One or two of the best teams that Oak Hill has beaten this season -- led by current No. 9 Paul VI (Fairfax, Va.) and including No. 44 Science Hill (Johnson City, Tenn.) -- do not complete their season by winning championships and thus slightly diminish Oak Hill's strength of schedule. It should be noted that coach Steve Smith's team will already own big wins over the two top Texas Association of Private Prep Schools champions: No. 12 Prestonwood Christian (Plano, Texas) and No. 24 Grace Prep (Arlington, Texas).
It would definitely take a lot for Findlay Prep to have a strong enough case to move into No. 1. We also wouldn't want such a move to be viewed in any way as a knock against the Warriors for going on their exhibition tour in China. That's an opportunity that the players will remember the rest of their lives.
Still, with rankings that are based on criteria such as strength of schedule, it is possible that Findlay can put together a resume that could in the end be superior to Oak Hill's.
Oak Hill's tour of China
Oak Hill Academy (Mouth of Wilson, Va.) closed its season at a historic 44-0, which earned them the top spot in the
POWERADE FAB 50
.
But the Warriors won't participate at the ESPNHS National High School Invitational on March 29-31. Oak Hill is sitting out for the first time since the tournament's inception in 2009 due, in large part, to its basketball tour of China, which runs from March 7-19.
"If we weren't going to China we'd definitely play in the NHSI," said Oak Hill coach
Steve Smith
, whose Warriors will play nine games against international competition. "But this is something that will be very special for the kids and very special for the school. I wanted them to experience this."
The Warriors have never won the NHSI and have lost twice in the finals, including last year's double-overtime thriller to Montrose Christian (Rockville, Md.).
Smith said he never felt the Warriors played their best ball at the NHSI because of the timing of the event.
"We usually have about 17 days off then have to turn right around and play in that big a tournament," Smith said. "We finish our season in February and play in late March, early April and that's just tough to do. You can't find teams to scrimmage because their seasons are over and then we wouldn't have our point guard because right when we get back
Tyler's (Lewis)
headed off to the McDonald's game. It's just a tight squeeze with all that we have going on this season."
January, 15, 2012
1/15/12
4:43
PM ET
By
Jason Jordan
| ESPN.com
SPRINGFIELD, Mass. -- St. Mark's (Southborough, Mass.) forward
Nik Stauskas
had an epiphany while he sat inside the Lions' locker room at halftime of their game against Friends' Central (Wynnewood, Pa.).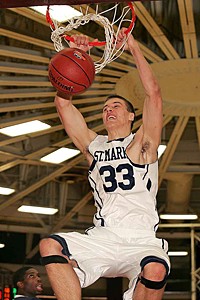 J. Anthony Roberts/ESPNHSArizona commit Kaleb Tarczewski scored 22 points and grabbed six rebounds for St. Mark's.
"If we could just continue getting the ball inside to
Kaleb (Tarczewski)
things would be a lot easier," said Stauskas, a senior who is signed to
Michigan
. "That's what we focused on. That's where I felt we'd have the best chance to win."
Good call.
Tarczewski, a 7-foot senior, scored 22 points and grabbed six rebounds to lead the Lions past the Phoenix 67-57 Sunday at the Spalding Hoophall Classic in Springfield, Mass.
Stauskas chipped in with 16 points and
Jaymie Spears
added 15 for the Lions.
Conrad Chambers
led the Phoenix with 19 points.
"They didn't have much size down there and we knew that working inside-out was the best plan," said Tarczewski, an Arizona signee who is ranked No. 6 in the
ESPNU 100
. "
Amile (Jefferson)
was their tallest player (6-foot-9) and he picked up two fouls early and they left him in so he was trying not to foul out. That's when we really started rolling."
The Lions jumped ahead early behind the hot hand of Spears, who drained two 3-pointers in the first quarter to give St. Mark's a 14-11 lead.
The Lions extended their matchup zone in the second quarter, which wreaked havoc on the Phoenix and Tarczewski and Stauskas combined to score 11 points in the final two minutes of the half to give the Lions a 32-24 lead.
St. Mark's forced eight first-half turnovers.
"We really buckled down defensively and forced them into situations where they weren't as comfortable," Stauskas said. "I felt like we would have to turn up our defensive pressure even more in the second half."
The Lions started punishing Friends' Central in the paint in the third quarter, pumping the ball inside to Tarczewski who, often times, managed to either get fouled or finish with an easy layup or dunk.
Then midway through the fourth quarter, Spears swiped a steal from
Karonn Davis
and took it the other way for the score and came back on the next play and drained a three to extend the Lions' lead to an insurmountable 13 points.
"They're a tough team and obviously Kaleb is a big body down there," said Jefferson, a senior forward who is ranked No. 24 in the
ESPNU 100
. "That gave us a lot of problems all game, but we continued to fight. We definitely could've played a lot better, but I was proud of my team for continuing to fight."
Jason Jordan is the basketball editor for ESPNHS. He can be reached at jason.x.jordan.-ND@espn.com. Don't forget to follow him on Twitter: @JayJayESPN.
January, 2, 2012
1/02/12
6:00
AM ET
By
Jason Jordan
| ESPN.com
RALEIGH, N.C. --
Nik Stauskas
is completely aware that New Year's resolutions are practically synonymous with famous last words.
Still, he thinks it's important to have aspirations, especially on the court.
"It's important to have something to reach for in basketball," said Stauskas, a senior shooting guard at St. Mark's (Southborough, Mass.). "You need those goals for sure."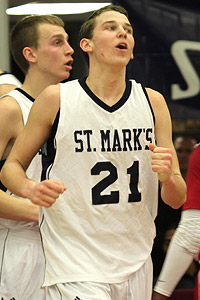 Courtesy of Brendan NolanNik Stauskas said New Year's resolutions are important on the hardwood.
We caught up with players at the High School OT Holiday Invitational and had them dish on their basketball-related New Year's resolutions.
Rasheed Sulaimon
Strake Jesuit (Houston), 2012, SG
College:
Duke
New Year's resolution:
"Get bigger, stronger and quicker so I can absorb contact when I'm driving into the lane and finish on a more consistent basis."
Nik Stauskas
St. Mark's (Southborough, Mass.), 2012, SG
College:
Michigan
New Year's resolution:
"Wake up at 6 a.m. four days a week and get in the gym and work on my floaters and my midrange game. That's something that I really want to improve on before I get to Michigan. I just want to stay consistent and stay motivated, and I think this will help me."
Rodney Purvis
Upper Room Christian Academy (Raleigh, N.C.), 2012, SG
College:
North Carolina State
New Year's resolution:
"Get more consistent with my jump shot and my handles. Those are the things that I'm constantly trying to improve so with 2012 here I'm determined to master both of those areas."
Andrew White
Miller School (Charlottesville, Va.), 2012, SG
College:
Kansas
New Year's resolution:
"Work on my scoring off the dribble. That would be so huge for me because I'm a shooter. Also to work on my foot speed and my dribbling, those are the main things I'm making my New Year's resolutions."
Kaleb Tarczewski
St. Mark's (Southborough, Mass.), 2012, C
College:
Arizona
New Year's resolution:
"Get my team to continue to jell together so that we can accomplish our goals. We want to win the states and we've come up short in the past and this is the year that I want it to all come together so my main resolution is to do everything that I can to continue to help this team grow."
Jason Jordan is the basketball editor for ESPNHS. He can be reached at jason.x.jordan.-ND@espn.com. Don't forget to follow him on Twitter: @JayJayESPN.