High-SchoolBoys-Basketball:

Nike EYBL
June, 1, 2012
6/01/12
12:26
PM ET
Let's get something out the way real quick:
Bobby Portis
could care less about player rankings.
The Hall (Little Rock, Ark.) junior rarely visits recruiting databases, opting to test his mettle against the nation's top players on the hardwood rather than in cyberspace.
But after receiving a tweet last week notifying him that he was rated the No. 12 player in the new
ESPN 100 rankings for the Class of 2013
, the Arkansas commit grew a bit curious and had to sneak a peek. Portis' new rating heading into the thick of the AAU season was 20 spots higher than his previous status in the ESPN 60.
"I hadn't looked at them since last August when I was like 35th," says the 6-foot-9 power forward. "I think it's an honor, but you can't get caught up looking at it."
Portis made a name for himself during his sophomore season as a defensive ace with the ability to defend up to four spots on the court. But he was admittedly a weak player who was soft in the paint and lacked the conditioning of an elite prospect. Therefore, he didn't garner the same attention as his peers.
"I think being ranked in the 30s was right at the time," Portis said. "People said I should have been higher, but I never looked at it like that. I just kept working hard."
Portis attributes his recent rise in notoriety to enhancements to his mid-range game and ball handling. He also became a high motor player on both ends of the floor thanks to improved conditioning and put more of an emphasis on his leadership and doing the grunt work necessary to will his team to victory.
He was a changed player during the high school season, notching 17 points and ripping down 11 boards a contest as Hall completed a three-peat at state. His retooled offensive arsenal (13.4 points a game) has turned heads nationally on the AAU scene, as he powered the Arkansas Wings to a 13-7 record at EYBL and a berth in July's Nike Peach Jam.
"If you're not getting better, you're getting worse," says Portis. "Looking on ESPN and seeing No. 12, it motivates me. But when I step on the court, (I know) other players want to out-perform me. I just want to move up even more."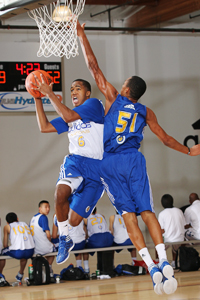 Kelly Kline/Getty ImagesFresh off a huge performance at NHSI, Montverde guard Kasey Hill is No. 6 in the Class of 2013.
Like Portis, Montverde Academy (Montverde, Fla.) point guard
Kasey Hill
has never been a big believer in player rankings. But after lighting it up at some prestigious postseason events, Hill saw his stock rise from No. 18 to No. 6 in the current ESPN 100.
The Florida recruit averaged 15.4 points and 7.2 assists per game during the regular season, but it was his showing at the
National High School Invitational
in April that helped vault him toward the top of the rankings. Hill posted 20 points and seven assists in a semifinal win over Montrose Christian (Rockville, Md.), then exploded for 23 points and six assists in the championship game against powerhouse Findlay Prep (Henderson, Nev.).
Hill was the best player on the floor against Findlay Prep, which finished No. 2 in the
POWERADE FAB 50
. His quickness, court vision and superior ball-handling were on full display in an overtime loss.
"I think it started with the NHSI," says Hill. "I played pretty well there. I showed I can get my teammates involved and play consistently against the best competition."
Hill tries not to think about his current ranking, but that doesn't mean he's satisfied, either.
"I like being ranked highly," says Hill. "But the important thing is for me to continue to work hard and stay consistent so I don't drop. If I work hard enough, I feel like I can go even higher."
Here's a look at four other players who have seen their stock rise dramatically.
Ishmail Wainright
, Montrose Christian (Rockville, Md.)
Previous ranking: No. 27
Current ranking: 18
Differential: 9
Why the rise: This talented small forward boasts an NBA body at 6-foot-6, 220-pounds, and he is coming off a junior season in which he helped power the Mustangs to No. 14 in the POWERADE FAB 50. Wainwright was a stat-stuffer playing alongside Virginia-bound star Justin Anderson, averaging 8.0 points, 8.2 assists, 4.4 rebounds and 2.6 steals per game in his first season at Montrose after transferring from St. Louis, Mo. He ended the year on a high note by averaging a near double-double at NHSI.
Sindarius Thornwell
, Oak Hill Academy (Mouth of Wilson, Va.)
Previous ranking: 47
Current ranking: 23
Differential: 24
Why the rise: Thornwell has been one of the most impressive players during Nike Elite Youth Basketball League play, scoring 16.9 points per game while leading Team United to a 9-5 record and a berth in the Nike Peach Jam. At 6-foot-4, Thornwell brings physicality to his shooting guard position, as evidenced by his 7.3 rebounds per game in EYBL. If he improves his outside shooting touch, he has the potential to rise even higher in the rankings.
Rondae Jefferson
, Chester (Pa.)
Previous ranking: No. 38
Current ranking: 22
Differential: 16
Why the rise: Jefferson is all about versatility. The 6-foot-6, 210-pounder is still growing into his body, and his potential has college coaches salivating. This past season, Jefferson showed he could play anywhere from point guard to power forward, and while he averaged just 12.1 points per game, he flashed the kind of offensive skills that could someday translate to the NBA game.
James Young
, Troy (Mich.)
Previous ranking: No. 10
Current ranking: 5
Differential: 5
Why the rise: High school juniors are usually far from finished products, and that's what makes Young so impressive. The 6-foot-6 shooting guard is a polished scorer, able to score off the dribble or from the outside with his smooth shooting stroke. This past season, he averaged 25.1 points and 10.5 rebounds per game, and he's continued to show a well-rounded scoring arsenal on the summer circuit.
May, 31, 2012
5/31/12
9:00
AM ET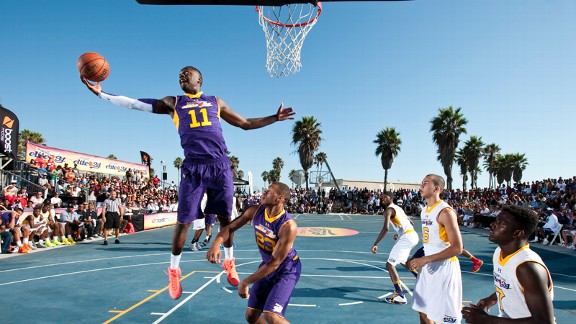 Kelly KlineThe Texas Titans rely on forward Julius Randle, an "absolute beast," to dominate the paint.
Each week this summer leading up to the AAU National Championships in Orlando in July, ESPNHS will profile one of the nation's top AAU teams and tell you why you should be paying attention.
Team:
Texas Titans

Location:
Dallas, Texas
Coach:
Scott Pospichal
What you need to know about the Texas Titans:
The Texas Titans are just in their seventh year of existence, but coach Scott Pospichal has already developed his squad into an elite national program. Many of the key contributors on the Titans' 17U team have played together for the entire seven years, so they're extremely familiar with each other and with Pospichal's system.
"We've been together since the fifth grade," said Class of 2013 shooting guard
Matt Jones
. "We just know how to play together. As a team, we know what we want. We know where the ball should go, so we don't have to worry about that. We're just out there, playing and having fun."
Combine that continuity with the Titans' absurd talent level and you've got a recipe for a national championship contender. In addition to Jones, one of the sweetest shooters in the country, the Titans also have
Julius Randle
, the No. 2 player in the
ESPN 100
and power forward
Damian Jones
, No. 70 on the list. And all of the team's stars buy into Pospichal's defense-first approach
"We're a very disciplined team," says Pospichal. "We want to be a tough defensive team. We're not trying to be great in transition, and very rarely do we take the first shot. We're a deliberate, half-court team and we pride ourselves on execution."
The Titans went 15-5 during Nike Elite Youth Basketball League play, tying for the fourth-best record during the circuit's regular season. That qualified the squad for the Nike Peach Jam, where they reached the quarterfinals in 2011.
Key Players:
Julius Randle, F, 2013:
At 6-foot-9, 225 pounds, Randle is almost impossible to defend around the basket. "He's an absolute beast," says Pospichal. "He's a talent like I've never seen." Randle is the Titans' No. 1 option on offense, and he's posted 16.7 points and 9.3 rebounds per game during EYBL play.
Matt Jones, G, 2013:
A pure shooter in the
Ray Allen mold
, Jones stretches defenses and makes opponents pay for double-teaming Randle. The Duke recruit hit 51 percent of his 3-point attempts in EYBL play and averaged a team-high 17.0 points per game. "I try to pick my spots when I want to score or attack," says Jones. "I want to focus on making my teammates better and helping our offense run with confidence."
Preston Troutt, G, 2013:
Troutt doesn't get as much attention as his highly-recruited teammates, but the 5-foot-11 guard has been with the Titans since the beginning and understands how to run the system. "He's our third scorer," says Pospichal. "He's a really good jump shooter, and he plays an important role in spacing the floor for us." Despite playing through a shoulder injury, Troutt has averaged 7.0 points per game this summer while hitting 47 percent of his 3-pointers.
Damian Jones, F, 2013:
A new addition to the Titans, Jones hasn't been in the system as long as lifers like Matt Jones and Troutt. But the Louisiana native brings a rugged low-post game and a willingness to do the dirty work under the basket.
Key Dates:
Great American Shootout: June 8-10 in College Station, Texas
Great American Shootout: June 22-24 in Pearland, Texas
Nike Peach Jam: July 18-22 in North Augusta, S.C.
AAU Super Showcase: July 24-30 in Orlando, Fla.
The Titans were one of the most impressive teams during the EYBL regular season, and they have to be considered among the favorites to win the Nike Peach Jam. The team has championship experience, as Randle, Jones and Troutt have all won national titles before in various age groups.
"It's something we've done before," says Pospichal. "Our younger teams have won national championships, and these guys expect to win."
Beyond Peach Jam, the Titans will also be playing at the AAU Super Showcase in Florida. Because of team's familiarity, they expect to be playing their best ball at the end of the summer.
"We've got a deep team," says Matt Jones. "The whole team believes we can win. When everyone is out there playing and performing their role, we can really get it rolling. We're just trying to get better with every game."
Follow Mike Grimala on Twitter (@MGrimalaESPN).
May, 24, 2012
5/24/12
12:35
PM ET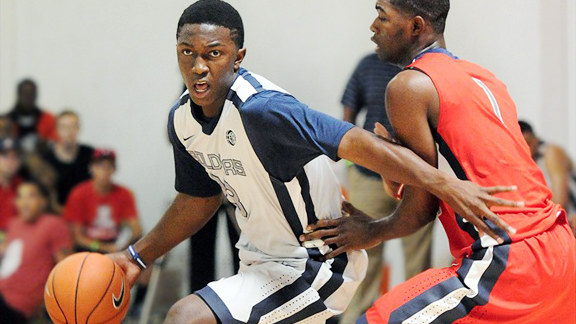 Chris Williams/Icon SMIStanley Johnson's "meat and potatoes" game has powered the Oakland Soldiers this summer.
Each week this summer leading up to the AAU National Championships in Orlando in July, ESPNHS will profile one of the nation's top AAU teams and tell you why you should be paying attention.
Team:
Oakland Soldiers

Location:
Oakland, Calif.

Coach:
Mark Olivier
What you need to know about the Oakland Soldiers:
The Oakland Soldiers are probably best known for being one of
LeBron James
' AAU teams back when the King was in high school, but the program has produced enough NBA talent in addition to James to form its own All-Star team.
Coach Mark Olivier says that's one of the reasons why the Soldiers are able to draw such elite talent, year after year.
"I think we have a history that makes kids want to play for us," says Olivier. "Guys like LeBron James played for us. And in the last couple years we've had
Nick Johnson
,
Jabari Brown
. That's a draw for kids."
The current roster is loaded with elite prospects, led by
Aaron Gordon
and
Jabari Bird
, both of whom are highly ranked in the
Class of 2013
. Gordon, a 6-foot-7 forward, can
dominate the paint and play in the open court
, while Bird is one of the nation's top scoring guards. Small forward
Stanley Johnson
is ranked No. 28 in the
Class of 2014
, with multiple Division I offers already on the table.
"We've got a really well-rounded team," says Gordon. "We don't have a lot of bigs, but we have a lot of athletes who can get out and run. We outrun other teams."
The Soldiers are currently playing without Gordon, who is resting a foot injury, and Bird has been forced to miss time with a shoulder injury. But the team has hardly missed a beat, compiling an impressive 9-5 record in Nike Elite Youth Basketball League play. Johnson has come up big, leading the team with 16.1 points per game in EYBL action.
"My role kind of changed when we had the injuries," says Johnson. "I went from basically having one-third of the scoring load to having two-thirds of the scoring load. I'm just trying to do a little bit of everything."
Key Players:
Aaron Gordon, F, 2013: Gordon is currently sitting out with a broken bone in his foot, but he's progressing nicely and expects to be back by the end of the summer. "He told me he could play right now if he had to," says Olivier. "But the foot needs rest. He'll be back at 100 percent." Gordon is No. 4 in the ESPN 100.
Jabari Bird, G/F, 2013: A 6-foot-5 swingman, Bird possesses a deadly outside shot. "I think he's the best mid-range shooter in the country," says Gordon. "I know that's a bold statement, but I really think he's the best." Bird is averaging 11.2 points per game during EYBL play. He's ranked No. 11 in the ESPN 100.
Stanley Johnson, F, 2014: A 6-foot-5 forward, Johnson has stepped up in Gordon's absence, averaging a team-high 16.1 points during EYBL play. He's also posting 6.6 rebounds per game and shooting 50 percent from the floor. "He's a meat-and-potatoes player," says Olivier. "He's just so fundamentally sound. He's the ultimate team player."
Key Dates:
EYBL Session 4: May 25-27 in Oakland, Calif.
Nike Peach Jam: July 18-22 in Augusta, S.C.
Fab 48 AAU Finals: July 22-28 in Las Vegas
The Soldiers came up short at last year's Nike Peach Jam but rebounded to take the FAB 48 title in Las Vegas. They would like to win both crowns this season, and once Gordon returns to the lineup, they may have to be considered the favorite at both events.
"When we had everybody playing, we were really good," says Johnson. "So I think as we start to get them back and the season goes on and we get more practice, I think we'll be able to compete for the final four at Peach Jam, or even win the championship."
"That's our main focus this summer," says Gordon. "We don't just want to get to Peach Jam, we want to compete and come out on top there."
Famous Alums:
LeBron James (Three-time NBA Most Valuable Player)
Kendrick Perkins
(2003 1st-round NBA Draft pick)
Chauncey Billups
(2004 NBA Finals Most Valuable Player)
Brandon Jennings
(2009 1st-round NBA Draft pick)
Follow Mike Grimala on Twitter (@MGrimalaESPN).
April, 30, 2012
4/30/12
11:44
AM ET
By
Jason Jordan
| ESPN.com
HAMPTON, Va. -- CP3 All Stars (N.C.) swingman
Theo Pinson
doesn't mind admitting that when he glanced over to the sideline and saw coaches from Duke, North Carolina, Syracuse, North Carolina State and others watching his every move, it gave him extra incentive to work even harder on the court.
Pinson and CP3 were one of 40 teams competing in the second of four sessions in Nike's Elite Youth Basketball League here last weekend. The teams are vying for one of 24 spots in the Nike Peach Jam in July.
"Some guys say they block it out, but I don't think that's real," said Pinson, a sophomore who is ranked No. 9 in the
ESPN 25
. "I definitely think to myself that I need to do the little things and play better defense and concentrate on playing harder. The coaches are the big motivator."
Metro Hawks (N.Y.) junior guard
Isaiah Lewis
agreed.
He said that seeing the coaches who are recruiting him made him want to play harder to reinforce the fact that they want him.
"You don't want that interest to drop off," Lewis said. "There are so many good players in this league, and you just want to come out and play the best that you can. The coaches help you with that."
Last of the Unbeatens
With the second session of the EYBL in the books, CIA Bounce (Can.) is the lone undefeated team. The Canadians won five games this weekend by an average of 18.6 points per game and now sit at 9-0.
Bounce guard
Xavier Rathan-Mayes
said that even though they're the last undefeated squad, there's no pressure to remain perfect.
"We're just going to keep going out and performing at a high level," he said. "We feel we can go undefeated throughout the entire season."
Parker Sits Out
Mac Irvin Fire (Ill.) had to compete without its biggest piece this weekend, swingman
Jabari Parker
who is the top player in the
ESPN 60
. Parker stayed back in Chicago to nurse a sprained ankle and to receive an award, according to his teammate
Jahlil Okafor
.
"We just had to keep playing hard without him," said Okafor, a sophomore center who is ranked No. 2 in the ESPN 25.
The Fire went 3-2 this weekend without Parker, who is expected to be ready for session three in Dallas on May 11-13.
Randle's Shoe Obsession
Julius Randle
had to bring an extra bag on his trip to Hampton for the second session of Nike's Elite Youth Basketball League, but it wasn't for extra clothes. Randle needed a bag to store seven pairs of shoes.
"I mean come on, I'm a ball player," said Randle, a junior forward who ran with Team Texas Titans. "I've got to switch up my shoes for my different games."
Randle wasn't kidding.
From Kobe Bryant's grey and blacks shoes to Kevin Durant's black and blues, Randle wore a different pair each time he took the floor.
"I'm just a sneaker guy, I guess," said Randle, who is ranked No. 2 in the
ESPN 60
. "That's just my thing."
Rim Bender
Mac Irvin Fire (Ill.) center
Jahlil Okafor
caused quite a stir in his game against the Georgia Stars in the morning session on Sunday. Okafor bent the rim down when he missed a dunk in the second half, stopping play for more than an hour.
Immediately, players and spectators ran from the adjoining courts to snap pictures of the bent rim.
Eventually, the game was moved to another court and Mac Irvin won 65-51.