High-SchoolBoys-Basketball:

Omar Calhoun
April, 3, 2012
4/03/12
10:40
AM ET
By
Jason Jordan & Ronnie Flores
| ESPN.com
Cameron Ridley
, a center at Bush (Fort Bend, Texas), was upset after not getting the ball during the
West's 106-102 win over the East in the McDonald's All-American Game
on March 28, but when Ridley suited up for the West in the All-American Championship in New Orleans Sunday, his teammates must've got the memo that Ridley was the best low-post option.
Ridley pumped in 16 points and was named MVP for the West, but that wasn't enough to stop
Omar Calhoun
and the East. Calhoun, a shooting guard at Christ the King (Middle Village, N.Y.), scored a tournament record 26 points to lead the East to an 84-72 win over the West at Lakefront Arena.
In the second game,
Braxton Ogbueze
, a point guard at United Faith Christian Academy (Charlotte, N.C.), sank two free throws with nine seconds left to give the South an 86-85 win over the North.
Joel James
, a forward at Dywer (West Palm Beach, Fla.), was named MVP for the South, scoring 12 points and grabbing 10 rebounds, while
Glenn Robinson
, a forward at Lake Central (Schererville Ind.), took home MVP honors for the North with 16 points.
No McDonald's, No Sweat
Winston Shepard
doesn't mind admitting that he feels he should've been named to the McDonald's All-American Game along with his Findlay Prep (Henderson, Nev.) teammates
Anthony Bennett
and
Brandon Ashley
.
"I definitely felt like I should've been there," said Shepard, a San Diego State signee who is ranked No. 53 in the
ESPNU 100
. "But you can't control what other people decide. After watching the game, I don't mind that I wasn't a part of that."
Shepard had a great consolation, helping the
Pilots claim their third ESPNHS National High School Invitational title in four years
on March 31 with an 86-83 come-from-behind win over Montverde (Montverde, Fla.).
Montrose Christian (Rockville, Md.) forward
Justin Anderson
wasn't as committal as Shepard on his thoughts about not making McDonald's, but Anderson's coach Stu Vetter certainly was.
"The people who picked the players for McDonald's got it wrong," Vetter said. "That's just the truth. Justin is one of the best players in the country and he should've been in that game. Period."
We're Talking About Practice
It's no secret among long-time media scribes that the McDonald's All-American practices are often more meaningful than the game. The game is for friends, family and fans; practice is is for evaluation.
In practices,
Kyle Anderson
of St. Anthony (Jersey City, N.J.) felt he and fellow point guard
Tyler Lewis
of Oak Hill Academy (Mouth of Wilson, Va.) could do more damage playing together to create mismatches and openings for teammates. In the game, those East teammates never saw he floor together and Lewis struggled. No individual played less than Lewis, who went 1-of-7 from the field in 12 minutes.
Another player whose practice performances didn't translate over to the game was
Marcus Smart
of Marcus (Flower Mound, Texas). He went hard in practice and displayed the ability to defend on the wing and create offense at three different positions. For the victorious West, Smart struggled in the game. He failed to make a field goal to go with five assists and three turnovers.
Most keen practice observers would have loved to see Smart on the team opposite of
Shabazz Muhammad
of Bishop Gorman (Las Vegas, Nev.). He challenged Muhammad in practice, which lifted the intensity level two notches higher than the one the East displayed. Naturally, Muhammad quickly set the tone in the game, scoring nine consecutive points to give the West an early 11-2 lead in its eventual four-point victory.
February, 8, 2012
2/08/12
10:31
AM ET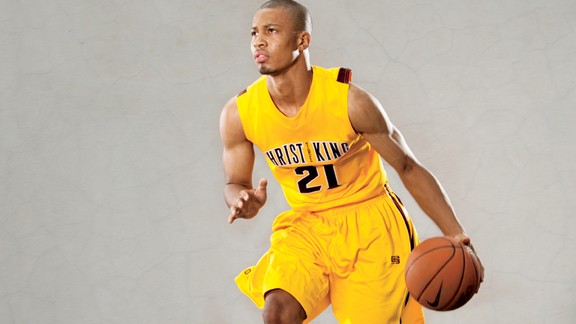 Steve Boyle/ESPNHSChrist the King (Middle Village, N.Y.) senior guard and UConn recruit Omar Calhoun scored a combined 60 points in two wins last week.
Here are this week's high school boys' basketball Players of the Week. One player is chosen from each region of the country. No player will be chosen more than once during a season.
(After games of Sunday, Feb. 5)
EAST
Omar Calhoun, Christ the King (Middle Village, N.Y.)
The 6-foot-3 shooting guard, who will play next season at UConn, came up big in two key victories last weekend to propel the Royals to the top the New York City rankings. The four-year varsity player scored 60 points in wins over St. Raymond's (Bronx, N.Y.) and Cardinal Hayes (Bronx, N.Y.).
Calhoun
netted 33 in an 84-74 victory over St. Raymond's and 27 the next night in a 68-52 win over Cardinal Hayes. Against St. Raymond's, Calhoun scored 20 points in a fast-paced first-half that saw the Royals take a 44-39 lead.
SOUTHEAST
Jacob Roark, Concord (Ark.)
The 5-foot-10 sophomore guard from a top Class 1A school in Arkansas started this week with three straight 40-point games. Roark, who received Class 1A all-state honors as a freshman, had 40 points in his last game from the previous week. He followed that with 41 in a 89-81 win against Viola (Ark.) and then hit for 41 again to lead his team past Sacred Heart (Morrilton, Ark.) 86-77. In the win against Sacred Heart, Roark converted two rare 4-point plays in the fourth quarter.
MIDWEST
Sam Meyer, Totino-Grace (Fridley, Minn.)
The 6-foot-1 senior guard was a one-player shooting star in a 90-59 romp past St. Francis (St. Francis, Minn.), converting 12-of-13 on 3-point attempts and scoring a personal-high 47 points. The sharpshooter outscored the Saints' team in the first half with 34 points, including 9-of-10 from beyond the 3-point arc, as the Eagles took a 52-32 cushion into intermission. Meyer averages 16.9 points a game and his previous personal scoring best this season came in the opening game, a 79-50 win over Rogers (Minn.) when he scored 32 points.
MIDLANDS
Conner Frankamp, Wichita North (Wichita, Kan.)
Once Perry Ellis leaves nearby Heights and heads off to the University of Kansas, Frankamp won't be far behind. The Kansas commit poured in 47 points, making seven straight 3-pointers during one stretch, in a 69-66 victory last week over East (Wichita, Kan.). It was the junior guard's fourth 40-point game of the season (he scored a season-high of 48 points in one game), and he' averaging 33.7 points per game. While Frankamp isn't a huge inside presence like Ellis, his prolific scoring from the perimeter will make him a bona fide All-American candidate next season.
WEST
Justin Johnson, Green River (Utah)
Another small-town hero, Johnson attracted our attention by scoring 54 points last week in a 72-38 victory over Monument Valley (Utah). He also had a 51-point game to lead the Pirates past Navajo Mountain (Utah) and is averaging 36.7 points per game. The 6-foot-4 senior also plays baseball and was recently named to the Academic All-State Team with a 4.0 GPA. Small schools in Utah actually play a fall season in baseball, so Johnson's senior season in that sport is done. He threw a no-hitter in one game, which gives him the distinction of throwing a no-hitter in baseball and scoring more than 50 points in a basketball game. Small school or not, that's hard to beat.
January, 16, 2012
1/16/12
7:41
PM ET
By
Brandon Parker
| ESPN.com
SPRINGFIELD, Mass. — It's safe to say that
Shabazz Muhammad
is at the top of UNLV's — and just about every other college's — wish list this year. And while Muhammad was his usual
spectacular self
on Monday, it was the lights-out performance by another recruit at the Hoophall Classic that had plenty of Runnin' Rebels fans salivating.
UNLV-bound
Katin Reinhardt
was downright unconscious, draining a tournament-record-tying nine 3-pointers en route to 35 points and an 88-50 win for Mater Dei (Santa Ana, Calif.) over Christ the King (Middle Village, N.Y.).
While Christ the King came in with hopes of slowing Reinhardt, the senior guard knew early on that Monday could be a special night.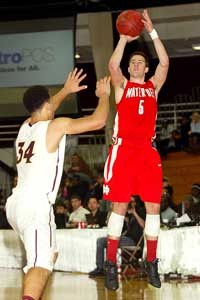 J. Anthony Roberts/ESPNHSKatin Reinhardt lit Christ the King up for 35 points in the Monarchs' big win.
"Usually when I start the game with a dunk, that gets my legs going and me in a rhythm," Reinhardt said. "So after I got that dunk in the first quarter, I felt like, 'OK, this could be big.'"
Stanley Johnson
also came up big, snatching 15 rebounds to help the Monarchs control the boards and capitalize on second-chance opportunities.
On the other hand, Christ the King, just two days removed from a tournament in Missouri, looked the part of a jet-lagged squad. The Royals were beaten early and often in transition by Mater Dei and shot just 26 percent from the field.
Omar Calhoun
tried to keep the Royals in it, but an off night (8-for-22) from the UConn recruit and a third quarter that saw the Royals get outscored 27-7 ultimately did them in.
"We saw some effects of Mater Dei," Royals coach Joe Arbitello said when asked if the long flight affected his team. "I saw Reinhardt play before and he played really well tonight, too. We were just a step slower than them. But losses like this can happen. We know we can compete."
The Monarchs, ranked No. 22 in the
POWERADE FAB 50
, improved to 16-2 on the year.
Brandon Parker covers high school sports for ESPNHS. Follow him on Twitter @brandoncparker or email him at brandon.c.parker@espn.com.