High-SchoolBoys-Basketball:

Pangos Camp
June, 6, 2012
6/06/12
8:00
AM ET
By
Ronnie Flores
| ESPN.com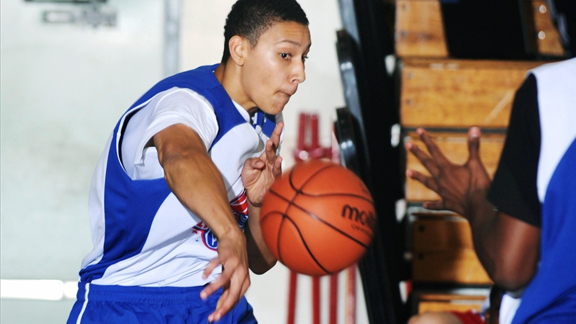 Scott KurtzPower forward Ben Simmons, a class of 2015 prospect from Australia, created some buzz at the Pangos Camp last week.
Wait 'til next year
Akoy Agau
of Omaha Central (Omaha, Neb.) wasn't getting the attention of some of the other high-major forwards at last weekend's Pangos Camp in Long Beach, Calif., but was one of the most accomplished players in attendance.
As a junior, he led Omaha Central to a 30-0 record, its third consecutive Class A state title and a No. 31 spot in the final
POWERADE FAB 50
rankings. Next season with most of the starting lineup returning intact, the Eagles stand a good chance of finishing higher than No. 31 in the FAB 50.
Last month, the Nebraska School Activities Association board
granted Omaha Central a waiver
for its Christmas moratorium to allow the highly-regarded team an opportunity to travel to Fort Myers, Fla., for the prestigious City of Palms holiday tournament. Agau added that his team is scheduled to play the FAB 50 No. 1-ranked team Oak Hill (Mouth of Wilson, Va.) next season and that they are trying to schedule a bout with Chicago's Simeon,
Jabari Parker's
team that finished No. 6 in the rankings.
For Agau and his teammates, the goal is to become the best team the state of Nebraska has ever produced. The highest FAB 50-ranked Nebraska team ever is the 2004-05 unit from Bellevue West of Bellevue, which finished No. 17.
"We have definitely talked about it and it's definitely something we're working for," Agau said about the lofty goal of finishing ranked higher than Bellevue West. "Most people don't think of Nebraska when they think of basketball, but we have the chance to achieve something special. Before last season, I was thinking of perhaps transferring to Oak Hill, but I play for a winning program already and I want to accomplish something people around the state can be proud of."
High riser from Down Under
The player who created the biggest buzz at the Pangos Camp wasn't
Cliff Alexander
, the first underclassmen ever to earn camp Most Outstanding Player honors, but 6-foot-8
Ben Simmons
, a 2015 prospect from Australia. A smooth lefty with the ability to play both forward positions, Alexander turned heads with his touch around the basket and his knack for being around the ball in the correct spots on the floor.
There is no doubt Simmons, who attends Box Hill in Melbourne, Australia, will be a high major college basketball player. The big question at camp was what American high school he'll eventually end up at. The rumors are rampant, but Simmons told ESPNHS the plan is to play one more year Down Under before heading to the states.
"The camp was good for me," Simmons said. "It was good to see where I'm at compared to the other top players. The game is more up-tempo and more athletic here. In Australia, just one or two of the players can dunk, but here even the point guards can."
As far as colleges, Simmons obviously doesn't have a list right now, but he's most familiar with Duke. He stated there are not many televised college basketball games in Australia, but mentioned the Blue Devils and Texas as the schools he's most familiar with.
Little things equal big results
At the Pangos Camp last weekend, the games were dominated by short offensive possessions and shoot-first guards. It was difficult for players who thrive off teammates' play or who do the little things to stand out.
Brandon Austin
of Imhotep (Philadelphia) was one of those players. A long and skilled guard with the ability to operate and finish with both hands, Austin was satisfied with his showing far from home.
"Coming in, I knew there was going to be a lot of competition," said Austin after scoring four points on three shot attempts in the Top 30 all-star game. "I wanted to show my talent and I think I accomplished my goals this weekend."
Austin was one of two Penn State recruits to shine at Pangos -- the other being Top 60 all-star game participant
Geno Thorpe
of Shaler (Pittsburgh).
Ballin' like I'm Rodney
You know you're big when an artist spits your name in a verse.
Well, Upper Christian (Raleigh, N.C.) guard
Rodney Purvis
must be feeling rather large these days after local rappers Woozie and JayRoc dropped a song last week paying homage to the N.C. State recruit.
The near-four minute track features a catchy hook that goes:
"They yelling, Wolfpack, Wolfpack, Wolfpack, Wolfpack. Put me in the game, 'cause I'm ballin' like I'm Rodney. Coming through the lane, and nobody can stop me."
The track can be heard here on
YouTube
and also shows some love to Brewster Academy (Brewster, N.H.) small forward
T.J. Warren
, another Wolfpack recruit.
"I actually heard it in the car with loud speakers (before it was on YouTube) so it made it that much better to me," said Purvis. "The song is nice, man. I appreciate those guys for it. It needs to get on the radio around the world."
We're not sure if the song will blow up, but we'll cosign Purvis as an instant hit once he touches down at N.C. State. The 6-foot-4 guard earned
McDonald's All-American
honors as a senior and is targeted as an impact college freshman.
David Auguste contributed to this report. Ronnie Flores is a senior editor for

ESPNHS

. He can be reached at
ronnie

.

flores

@

espn

.com
. Don't forget to follow him on Twitter:
@

RonFloresESPN
June, 4, 2012
6/04/12
10:58
AM ET
By
Ronnie Flores
| ESPN.com
LONG BEACH, Calif. -- The tenth annual

Pangos

All-American Camp didn't have the star power at the top compared to last year's camp when talents such as
Shabazz

Muhammad
(UCLA) and future NBA pick Andre

Drummond

(

UConn

) dominated, but there were plenty of lesser known players that made a name for themselves on a national scale.
The play of guard
Zach

LaVine
of

Bothell

(

Bothell

, Wash.) immediately stood out. His controlled athleticism and ball skills made him a difficult defensive assignment. The confidence level of

LaVine

, ranked No. 97 in the
ESPN 100
, is through the roof and it helped him gain an edge on other

backcourt

players in attendance.
"I came here to get my name out (on a national level)," said

LaVine

, who is uncommitted and has offers from the likes of Washington, Louisville and UCLA. "Coming all the way down from Washington, unless you're a Tony

Wroten

, you won't get that publicity and have a big reputation until people see what you can do. I have the mindset coming in that I think I'm better than everyone else. I feel like I know what I can do."
LaVine

pointed out
Solomon Poole
of Parker (Jacksonville, Fla.) and
Ikenna
Iroegbu
of Oak Hill Academy (Mouth of Wilson, Va.) as guards who impressed him.
Other

backcourt

performers who stood out included
Derrick Walton
of Chandler Park (Detroit),
Billy Garrett Jr.
of Morgan Park (Chicago),
Conner

Frankamp
of North (Wichita, Kan.) and
Dakari

Allen
of Sheldon (Sacramento, Calif.).
Frankamp

, a Kansas commit, was applauded for his unselfishness, perimeter shooting and winning basketball plays. Allen was the consensus choice among the camp's coaches and national scouts as the top perimeter defender.
Cream of the Crop
After two and a half days of instruction and competition, the most deserving players were selected to play in one of the

Pangos

Camp's two all-star games Sunday afternoon.
A panel of respected scouts aided camp director Dinos Trigonis in the selection of players for the Cream of the Crop Top 30 and Top 60 games.
Leading the way for the victorious White squad in the Top 30 all-star game was wing
Stanley Johnson
of Mater

Dei

(Santa Ana, Calif.). The White squad led 65-60 with five minutes remaining when Johnson helped his team take control in its 82-67 victory with strong drives to the basket. He finished with a game-high 18 points on 8-of-10 shooting and dished out a team-high four assists.
Named game

tri

-

MVPs

along with Johnson were

Frankamp

and
Zena

Edosomwan
.

Frankamp

had five points, three assists and a steal while

Edosomwan

finished with 15 points on 7-of-9 shooting. Edosomwan, a 6-foot-8 forward originally from Harvard-

Westlake

(North Hollywood, Calif.), will go the prep school route after reclassifying to the 2013 class. He's headed to

Northfield

Mount Hermon School (

Northfield

, Mass.) and is still committed to Harvard.
The standout of the Top 60 all-star game was guard
Kevin Zabo
of

Montrose

Christian (

Rockville

, Md.). He netted a team-high 14 points, including two 3-pointers, in his Blue squad's 69-66 victory over the White squad.
Ja'Quon Newton
of
Neumann
-
Goretti
(Philadelphia) also finished with a team-high 14 points, on 7-of-9 shooting, for the losing team.
"I think I finished off camp strong, especially in the Sunday morning games through the Top 60 game," said Newton, who hasn't narrowed down his list from offers including Georgetown, Villanova, Wake Forest, Rutgers, Temple and Virginia. "This weekend I was impressed by the play of Cliff Alexander."
Veteran camp instructor Tom "Tootie" Cirincione called Pangos a "big man's camp." There certainly were a lot of standout power forward types, none more impressive than
Cliff Alexander
of Currie (Chicago), who was named the 2012

Pangos

Camp Most Outstanding Player.
Other bigs who impressed included
Jarrell

Martin
of Madison Prep (Baton Rouge, La.),
Jermaine Lawrence
of Pope John XXXIII (Sparta, N.J.),
Mike Young
of St. Benedict's (Newark, N.J.) and
Jonathan Williams III
of

Southwind

(Memphis, Tenn.).
Ultimate camp veteran
Some of the campers fought nerves in early games, but the level of play picked up on the second day, especially in the evening session. One player who didn't have jitters and fully knew what to expect coming in was
Kaelen

Malone
, a junior-to-be at McKinney Christian Academy (McKinney, Texas).
In his

pre

-teen years, he would accompany his father Mitch Malone (founder of the Texas

Bluechips

AAU

program) to shoe-sponsored summer camps such as

ABCD

. He would serve as a ball-boy and run around doing errands for the camp coaches. More importantly, he was soaking in invaluable knowledge while watching future pros like O.J. Mayo (Grizzlies) make a name for themselves on the summer circuit.
"I used to hop in drills with the older guys when I got a chance and one memory that stands out was a game at

ABCD

," Malone said. "On the first play, Bill Walker tried to dunk on Greg

Oden

but he blocked it and said,

'nope

, not today.' It gave me a chance to see how hard guys had to work in order to make it (to the pros)."
Malone intends to do a year of prep school after he's done at McKinney Christian.
"I think it will help me mature and find myself," Malone said. "The experience of being away from home without starting my eligibility will help me be successful. Going to all those camps watching guys that are now making some real money gave me a chance to understand what it takes to be successful."
The blueprint
In the summer of 2011, Iroegbu left his home in Elk Grove, Calif., for the Appalachian Mountains of Mouth of Wilson, Va., to play for national powerhouse Oak Hill Academy.
At this camp last year,

Iroegbu

showed flashes of being a high-major Division I guard, but he pressed -- trying to do too much on one possession -- and was often out of control with the ball. During Oak Hill's 44-0 national championship season, I

roegbu

didn't get as much playing time as he would have liked. He had the same on-court problems with the Warriors, but made tremendous strides during practice under the tutelage of Oak Hill coach Steve Smith, noted for his work developing lead guards.
Future teammate Tyler Lewis was also at the

Pangos

Camp last year and parlayed an excellent senior season into a McDonald's All-American berth. Lewis wasn't considered a strong candidate for the prestigious game last summer and his senior season is something

Iroegbu

is working to duplicate in 2012-13.
"Tyler's season showed me that even if you're not ranked at the top, if you're successful on the court, positive things can happen,"

Iroegbu

said. "You just need to win. This off-season, coach Smith has already talked to me about being a team leader. He wants me to be smart and have fun."
The maturity in his game was evident at this year's Pangos Camp. National scouts also noticed his improved strength and controlled explosiveness.
"Ike can blow by anybody, he can be really good," said Oak Hill teammate
R.J.

Currington
. "Another thing ... he's humble."
Pangos

Camp All-Time

MOPs
2012: Cliff Alexander, Currie (Chicago) 6-9 PF
2011:

Shabazz

Muhammad, Bishop

Gorman

(

Las

Vegas) 6-6

WF
2010: Myck Kabongo, Findlay Prep (Henderson, Nev.) 6-2 PG
2009: Harrison Barnes,

Ames

(

Ames

, Iowa) 6-7

WF
2008: John Wall, Word of God Academy (Raleigh, N.C.) 6-3 PG
2007: Brandon Jennings, Oak Hill Academy (Mouth of Wilson, Va.) 6-1 PG
2006: James Harden,

Artesia

(Lakewood, Calif.) 6-5

SG
2005: Jerry-Davon Jefferson,

Lynwood

(

Lynwood

, Calif.) 6-8

WF
2004: C.J. Miles, Skyline (Dallas) 6-6 WF
2003: Robert Swift, Bakersfield (Bakersfield, Calif.) 7-0 C
Ronnie Flores is a senior editor for

ESPNHS

. He can be reached at
ronnie

.

flores

@

espn

.com
. Don't forget to follow him on Twitter:
@

RonFloresESPN