High-SchoolBoys-Basketball:

Quincy Miller
June, 29, 2012
6/29/12
12:05
AM ET
By
Ronnie Flores
| ESPN.com
Four of top eight picks in 2012 NBA Draft are event alumni, including No. 3 pick Bradley Beal
Now in its seventh year, the Under Armour Elite 24 has established itself as a premier high school basketball event where players not only battle for bragging rights and streetball nicknames, but use the event's platform as a springboard to the highest level of the game.
Bradley Beal
, an athletic shooting guard from Chaminade (St. Louis, Mo.) who starred for one season at the University of Florida, was the highest draft pick among event alumni Thursday night. Selected No. 3 overall by the Washington Wizards, the 2011 Gatorade National Player of the Year becomes the fifth top three NBA Draft pick who played in a previous Under Armour Elite 24 game.
Nine former Under Armour Elite 24 participants were chosen in the first round of the 2012 NBA Draft, breaking the previous record of eight set in 2011.
Two former high school teammates who played in the event went in the first round:
Terrence Ross
(No. 8) and
Terrence Jones
(No. 18). The duo led Jefferson (Portland, Ore.) to the 2008 Class 5A state title. The next season, Ross transferred to Montrose Christian (Rockville, Md.) while Jones eventually led Jefferson to three consecutive state titles.
Ten players who participated in the 2009 game in the Bronx, N.Y., were drafted Thursday night. Originally slated for world-famous Rucker Park in Harlem, inclement weather forced the game indoors to the famed Gauchos' Gym.
For the third consecutive year, the Under Armour Elite 24 will be held at the Venice Beach Courts in Southern California. The game is scheduled to tip-off Aug. 25 on ESPNU (7pm ET). A slam dunk contest, also on ESPNU, precedes it Aug. 24 (7pm ET).
History shows there's a good chance a handful of players wowing the Venice Boardwalk crowd later this summer will one day be lottery picks.
ELITE 24 Alumni Drafted to the NBA
Draft No. -- Name (Elite 24), NBA Team (Year Drafted)*
No. 1 -- Kyrie Irving (2009), Cleveland Cavaliers (2011)
No. 1 -- John Wall (2008), Washington Wizards (2010)
No. 2 -- Michael Beasley (2006), Miami Heat (2008)
No. 3 -- Bradley Beal (2010), Washington Wizards (2012)
No. 3 -- Derrick Favors (2008), New Jersey Nets (2010)
No. 4 -- Dion Waiters (2009), Cleveland Cavaliers (2012)
No. 4 -- Tristan Thompson (2008-09), Cleveland Cavaliers (2011)
No. 4 -- Tyreke Evans (2006-07), Sacramento Kings (2009)
No. 5 -- Kevin Love (2006), Memphis Grizzlies (2008)
No. 7 -- Harrison Barnes (2009), Golden State Warriors (2012)
No. 8 -- Terrence Ross (2009), Washington Wizards (2012)
No. 8 -- Brandon Knight (2008), Detroit Pistons (2011)
No. 9 -- Kemba Walker (2007), Charlotte Bobcats (2011)
No. 9 -- DeMar DeRozan (2007), Toronto Raptors (2009)
No. 10 -- Austin Rivers (2009-10), New Orleans Hornets (2012)
No. 10 -- Brandon Jennings (2006-07), Milwaukee Bucks (2009)
No. 11 -- Cole Aldrich (2006), New Orleans Hornets (2010)
No. 11 -- Jerryd Bayless (2006), Indiana Pacers (2008)
No. 12 -- Xavier Henry (2007-08), Memphis Grizzlies (2010)
No. 13 -- Kendall Marshall (2009), Phoenix Suns (2012)
No. 13 -- Ed Davis (2007), Toronto Raptors (2010)
No. 14 -- Anthony Randolph (2006), Golden State Warriors (2008)
No. 16 -- Luke Babbitt (2007), Minnesota Timberwolves (2010)
No. 17 -- Jrue Holiday (2007), Philadelphia 76ers (2009)
No. 18 -- Terrence Jones (2009), Houston Rockets (2012)
No. 19 -- Tobias Harris (2009), Charlotte Bobcats (2011)
No. 19 -- J.J. Hickson (2006), Cleveland Cavaliers (2008)
No. 21 -- Jared Sullinger (2009), Boston Celtics (2012)
No. 21 -- Nolan Smith (2006), Portland Trailblazers (2011)
No. 24 -- B.J. Mullens (2007), Dallas Mavericks (2009)
No. 25 -- Tony Wroten Jr. (2008-09), Memphis Grizzlies (2012)
No. 26 -- Jordan Hamilton (2008), Dallas Mavericks (2011)
No. 28 -- Donte Greene (2006), Memphis Grizzlies (2008)
No. 29 -- Cory Joseph (2009), San Antonio Spurs (2011)
No. 33 -- Kyle Singler (2006), Detroit Pistons (2011)
No. 35 -- DeAndre Jordan (2006), L.A. Clippers (2008)
No. 37 -- Trey Thompkins (2007), L.A. Clippers (2011)
No. 38 -- Quincy Miller (2010), Denver Nuggets (2012)
No. 39 -- Jeremy Tyler (2008), Charlotte Bobcats (2011)
No. 40 -- Will Barton (2009), Portland Trail Blazers (2012)
No. 40 -- Lance Stephenson (2006-08), Indiana Pacers (2010)
No. 42 -- Doron Lamb (2008-09), Milwaukee Bucks (2012)
No. 43 -- Devin Ebanks (2007-08), L.A. Lakers (2010)
No. 49 -- Josh Selby (2009), Memphis Grizzlies (2011)
*Players in bold drafted this year
Ronnie Flores is a senior editor for

ESPNHS

. He can be reached at
ronnie

.

flores

@

espn

.com
. Don't forget to follow him on Twitter:
@

RonFloresESPN
December, 7, 2011
12/07/11
9:47
AM ET
By
Julius Randle
| ESPN.com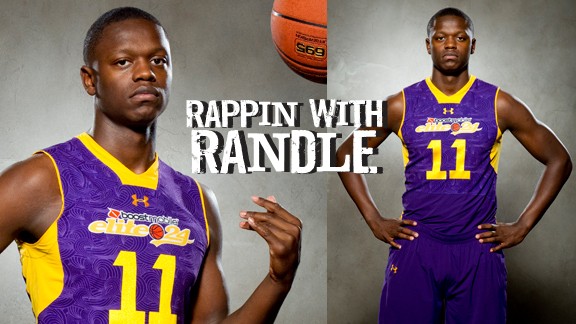 Kelly Kline/ESPNHSESPNHS Student Blogger: Julius Randle
Julius Randle
| Junior | Forward | Prestonwood Christian (Plano, Texas)
Randle Blog 1
|
Randle Blog 2
|
Randle Blog 3
|
Randle Blog 4


Julius Randle is ranked No. 3 in the ESPNU 60. As a junior, Randle, a forward at Prestonwood Christian (Plano, Texas), is one of the most sought after prospects in the country, regardless of class, with heavyweights like Duke, North Carolina, Kentucky and Texas all pursuing him hotly. Randle has agreed to give ESPNHS exclusive access to his world by chronicling everything from intimate details about his recruitment to cooking recipes in a monthly diary.
What's up everyone, it's your boy
Julius Randle
and I'm back with my latest blog entry.
First off, I want everyone to click on this
link
and go vote for me in the ESPNHS Fans' Choice Player of the Year award. I need your votes.
So far our season has been going really well. We've gotten off to a good start and we're really playing together as a team and winning games. It's been really fun.
I played against my boy
Rodney (Purvis)
at the Thanksgiving tournament and we got the win. There was no way I was gonna let him beat me in my home state. That was fun playing against him, but it was just a payback game for when his AAU team knocked my AAU team out in the Final Four of the Super Showcase when I was a freshman.
I was supposed to be visiting Kentucky last weekend but I had to take the SAT so I wasn't able to go. I'm definitely gonna get there soon. I did get a chance to visit Baylor about three weeks ago and that was a really good visit. I got a chance to hang out with
Quincy Miller
and we had a good time together. Q is real cool to hang out with.
I got to see their practice and tour the campus and I had a good time with that. To top it all off I got to see a great football game when they beat Oklahoma so that was pretty exciting.
Also, I visited Kansas a little over a month ago and that was one of, if not the best visit that I've been on so far. The fans there are just crazy and they've got a lot of energy so that was just great.
I know that I'm gonna visit Duke after I leave the Beach Ball Classic later this month. My plan is to go to the Duke game then go to the North Carolina game in the same day so I know that will be a crazy experience. I'm really looking forward to getting down there.
Me and Rodney have been talking about me staying an extra day and visiting North Carolina State with him. I liked N.C. State before he committed, but now with him definitely going there along with what else they're bringing in is attractive. I don't know a whole lot about the new coaching staff but they're definitely on my radar.
I know most of you guys know that my boy
Matt Jones
committed to Duke recently. I've been tight with Matt since the fifth grade and I was so excited when he committed to Duke. He's come such a long way and I know he'll fit in really well there.
Of course Matt is my teammate during the AAU season with the Team Texas Titans so everyone wants to know if that makes Duke more attractive.
Well, first they were pretty attractive anyway. I can't say that it doesn't make them more attractive, but I can't make my decision based off the fact that my boy is there. It's all about being the right fit. I've got to do what's right for me. Duke is definitely one of the schools I'm taking a strong look at.
I know I'll hear a lot more about Duke all summer when we start AAU though. I'm sure Matt will be coming on strong.
I also liked North Carolina's pickup of
Nate Britt
. North Carolina kinda recruits the same type of guards. Nate, Marcus Paige and Kendall Marshall are all past-first point guards so that's something that I noticed about them.
They even look alike, Haha! I love the way they play.
I definitely have been watching a few college basketball games too, but not for anything besides fun.
I was really impressed with Ohio State. They just have great spacing and they get up and down the floor really well. After they beat Duke, I talked to Coach
(Thad) Matta
and he was telling me that I wouldn't have a set position there, I could just play.
Recently, I spoke with Coach
(Steve) Robinson
and Coach
(Roy) Williams
at North Carolina and they just keep telling me about how much they'd like me there. I spoke to Coach
(Mike) Krzyzewski
too. It's funny; lately we haven't spoken very much about basketball. He just makes sure everything else is going well with me and keeps me up to speed about what's going on at Duke. That's a little different.
Well, I know this is usually the part of the blog when I give you guys one of my famous recipes, but I'd like to get the word out about the Team Connor Childhood Cancer Foundation.
Connor Cruse
was a young guy that went to my school who was diagnosed with cancer when he was just 4 years old. He fought hard, but he eventually died of cancer on July 10, 2009.
It hit pretty close to home for us and this year we're wearing his foundation's symbol on the back of our jerseys. We just want to get awareness out there. If you want to learn more about the foundation please visit
TeamConnor.org
.
Well, that's all I've got for now everyone.
As always, I appreciate you reading my blog. Definitely check back soon for my next blog entry.
Until next time.
Don't forget to follow Randle on Twitter:
@J30_Randle
September, 6, 2011
9/06/11
1:31
PM ET
By
Jason Jordan
| ESPN.com
When
L.J. Rose
committed to Baylor over the weekend after a visit to the school, Rose, a senior point guard at Westbury Christian (Houston, Texas), listed the typical reasons for pulling the proverbial trigger.
He talked about the academics, the campus life, the coaches… But the one thing that just may have vaulted the Bears past Texas, Arizona, Memphis, Virginia and Houston, was their 6-foot-10 freshman with the gift of gab.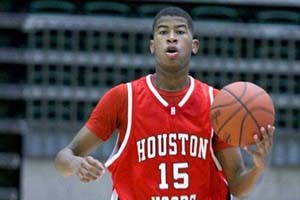 Scott Kurtz/ESPNHSL.J. Rose agreed that Baylor forward Quincy Miller played a role in landing him.
"I'll have to take come credit for landing L.J.," said
Quincy Miller
, who is expected to star for the Bears this season. "I just basically told him about how our system works and how the coaches let us play our natural game. I told him what our great school was like and the campus life. I showed him how much team gear we get too! L.J. was one of our prized recruits. My success rate with recruiting is 100 percent."
Rose conceded that Miller's constant sales pitches helped lure him to Waco, Texas, and said that the environment at Baylor was also a major factor.
"Baylor is more like a family rather than just being teammates," Rose said. "I'll be able to grow not only physically but also mentally and spiritually. But I'd have to agree that Q helped."
It's clear that Miller's influence is already seeping through.
Before parting ways with ESPNHS, Rose let out the famous Baylor yell, "Sic 'Em!"
Rose joins Grace Prep (Arlington, Texas) center
Isaiah Austin
, who is ranked No. 3 in the
ESPNU 100
, to form the Bears' 2012 class thus far.
Don't forget to follow Jason Jordan on Twitter: @JayJayESPN